These 3 Ingredient Tex Mex Chicken Wings are so easy and make an irresistible appetizer or simple dinner!
A few months ago, I made Honey Dijon Glazed Chicken Wings for the Super Bowl and the whole family was hooked!
Homemade wings are at least a thousand times better than what we had a wings place that *one* time my husband convinced me to try it. Homemade wings for me, thanks.
Ever since that first batch, I've been working to create another baked chicken wings recipe that we would love just as much…and here it is, just in time for Cinco De Mayo!
Easy, 3 Ingredient Tex Mex Chicken Wings
I love that these wings only take 3 minutes and are pretty hands off once you get them marinated – just spread them on a roasting pan and pop them in the oven!
While the wings are cooking, I put together a big salad (topped with the same Honey Lime Vinaigrette the wings are marinated in), whip up a batch of my homemade guacamole, and open a bag of tortilla chips.
When the wings are done, I garnish with some fresh cilantro, and what ever other Tex Mex-y things I have laying around, set the roasting pan on the table with some tongs and call it done.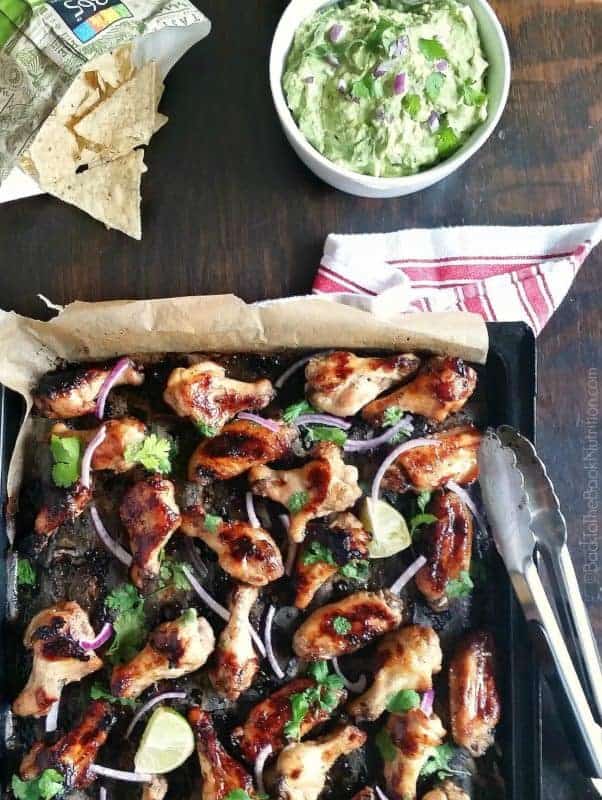 These would also make a great appetizer to take to a party or Cinco de Mayo gathering since they can be made ahead and reheated just before serving.
And they work well in kids' lunch boxes too! What kid doesn't love getting a miniature chicken leg in their lunch??
3 Ingredient Tex Mex Chicken Wings with Cilantro, Honey, and Lime
2016-05-03 08:17:56
Ingredients
1 batch Honey Lime Vinaigrette dressing (click here for the recipe)
3 pounds chicken wings and drumettes
Fresh cilantro
Instructions
Divide chicken wings and drumettes into two gallon-size Ziploc bags and pour about 1/3 of the dressing into each bag (you should have about 1/3 of the dressing left over for basting later).
Marinate in the refrigerator for up to 24 hours.
Spread the marinated chicken evenly across two parchment lines roasting pans and bake at 400 degrees for 20 minutes. Remove pans from oven, turn all pieces over, and bake for another 20 minutes.
If desired, broil for a few minutes on each side to get a deep brown and a slight crisp on the surface (I broil mine).
Brush the finished wings/drumettes with the remaining dressing, then sprinkle with fresh cilantro just before serving.
Back To The Book Nutrition https://www.backtothebooknutrition.com/
Check out these other Tex Mex Favorites!