Healthy school lunch foods you can make ahead and freeze for the entire week, month, or semester to save time and make those busy school mornings so much easier! Instructions to show you how to do it plus 30+ freezer friendly foods to pack!
Every fiber of my well-rested summer self loathes the return of rushed mornings, car lines, and last minute lunch packing. I tried my best to plug my ears and pretend it wasn't real but, alas, August is here and the countdown has begun.
So, I figured I better make the best of it by thinking of a few ways to reduce the stress of busy school mornings and, Ta-dah! Make-ahead, freezer friendly school lunches!
Bonus points if you have your kids make these freezer friendly school lunches themselves, which I totally intend to do!
Note: This post contains affiliate links. By making purchases through these links, you pay the same amount for products, but a portion of the sale will be sent my way to help with blog expenses. Thanks!
How To Freeze & Defrost School Lunches
Not all lunch foods freeze well (hello, lettuce). I've gathered a list of truly freezer friendly lunch box foods that keep their flavor and texture when frozen and defrosted. I'd suggest making and individually bagging a week or a month's worth of these at a time (these small paper bags are a nice alternative to plastic!), and then freezing them in larger, freezer safe bags labeled, "Sandwiches", "Fruit", etc.
The night before school, just grab one item from each freezer bag and place it in the child's lunch box with fresh veggies, fruit, and a healthy packaged snack or treat. Store the packed lunch in the refrigerator and, in the morning, you're ready to grab and go!
30+ Freezer Friendly School Lunch Foods
Freezer Friendly Sandwiches
Ham and cheese
Turkey and cheese
PB&J (substitute other nut/seed butters for peanut free)
Chicken salad
Egg salad
Grilled Cheese (it will loose it's crisp, but will still taste great!)
Other Freezer Friendly Main Courses
Quesadillas
Wraps (no lettuce or fresh veggies – instead, send these in a separate baggie and let your child add them at lunch time)
Pita + hummus
Tacos or burritos
Healthy homemade lunchables
Rotisserie chicken meat
Hamburger patties
Hot dogs
Uncured meats (Sopresseta, etc.)
Eggs or egg muffins
Yogurt
Dry roasted nuts or seeds
Freezer Friendly Chips & Crackers
Potato chips (I like the ones made with Avocado Oil by Kettle or Boulder Canyon)
Tortilla chips
Crackers (all kinds)
Freezer Friendly Fruits
Grapes
Berries
Orange slices
Melon
Pineapple
Freezer Friendly Sweet Treats
Check out these other kids' health posts!
4 School Lunch Ideas to Keep You Sane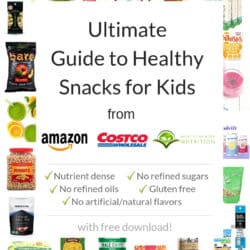 Ultimate Guide to Healthy Snacks for Kids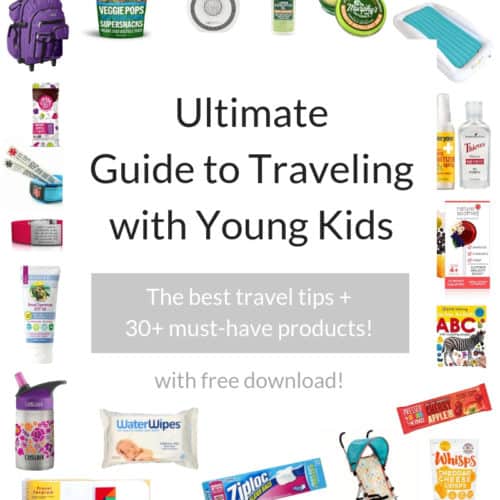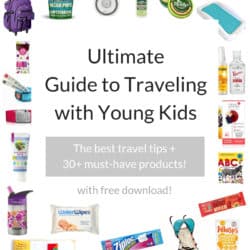 Ultimate Guide to Traveling with Young Kids