30 delicious rice bowl recipes, mostly gluten free, and all ready in around 30 minutes! Beef, pork, lamb, chicken, seafood, and vegetarian recipes included.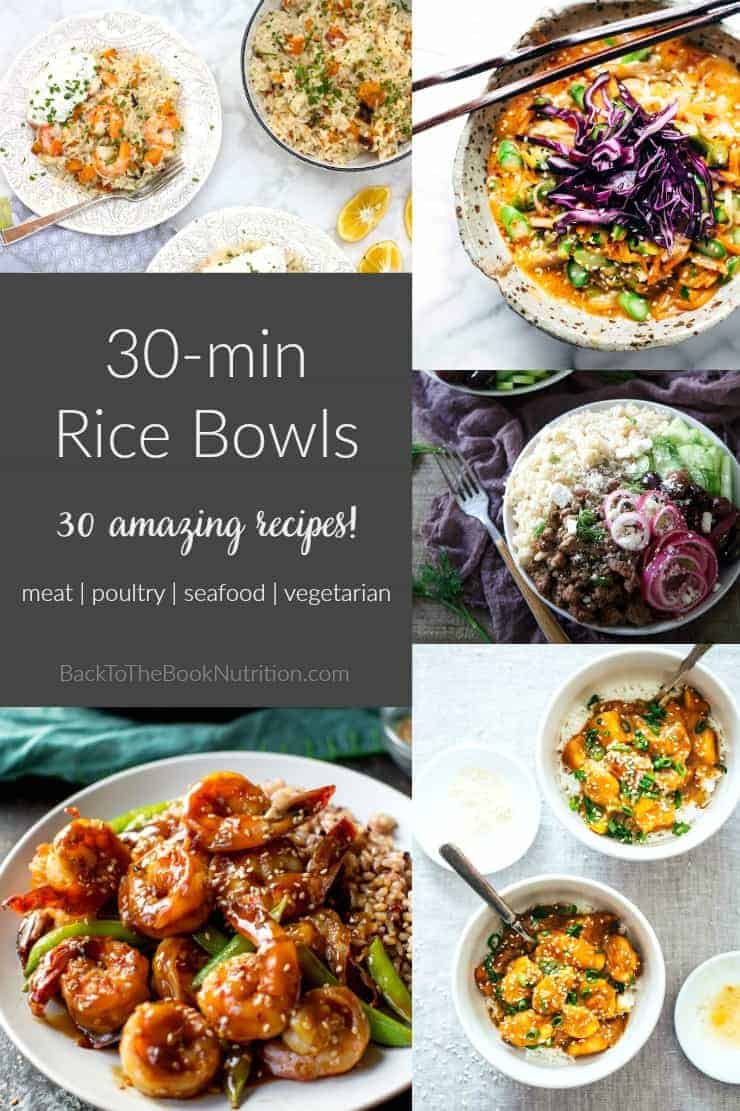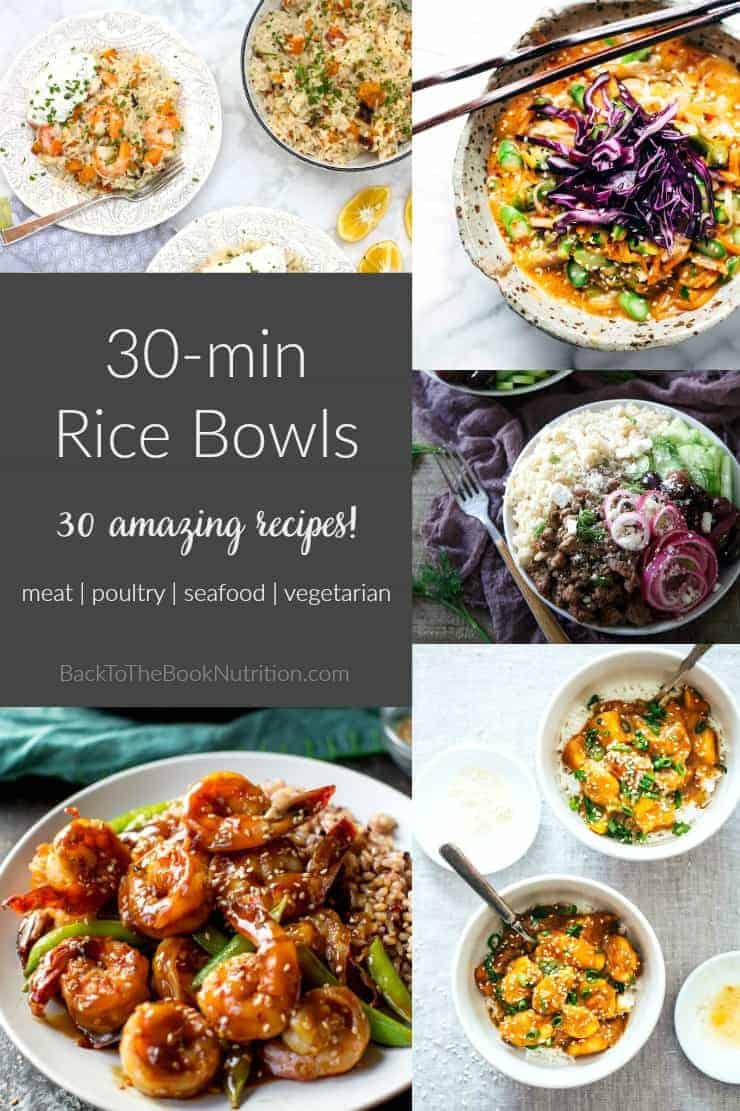 I usually create blog posts to share amazing recipes, nutrition and health information, or new products I know you need in your life. But, sometimes, I selfishly make them just for me.
This is one of those posts. We're celebrating some big news at our house. My youngest, who's been on the GAPS diet for just over a year now, can finally eat rice again! Unless you've gone without grains for a whole year, that probably sounds like a small thing. But, let me tell you, it is not! We're so happy for him and so thankful to God for the healing he has experienced!
If my boy can have rice, he's gonna get rice! And, thanks to this list, he can have it 30 different ways! 😀
I think you'll love this one too, though. Because, couldn't we all use more 30 minute recipes? (Need even more? Check out this list of 50 healthy, 30 minute dinners!) A few of these drift up into the 40 minute range, but I think we're all okay with that, right? This list also has a smattering of different types of foods to mix things up – Asian, Mediterranean, Cajun, Greek, and more! And, since rice or rice noodles are the only source of grain in most of these dishes, many of them are gluten free, or very easy to make gluten free. Of course, you could sub in cauliflower rice to make them grain free if you need that too.
So, without further ado…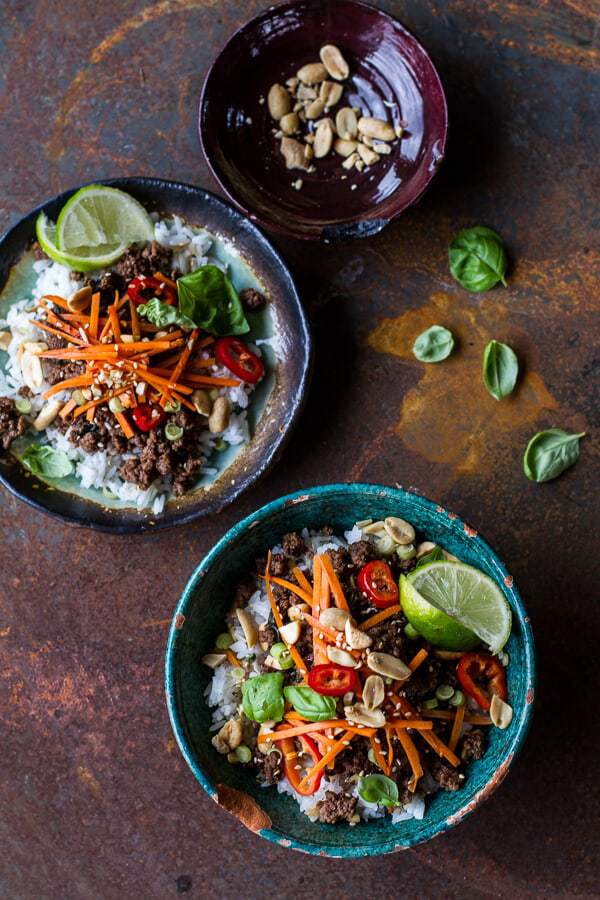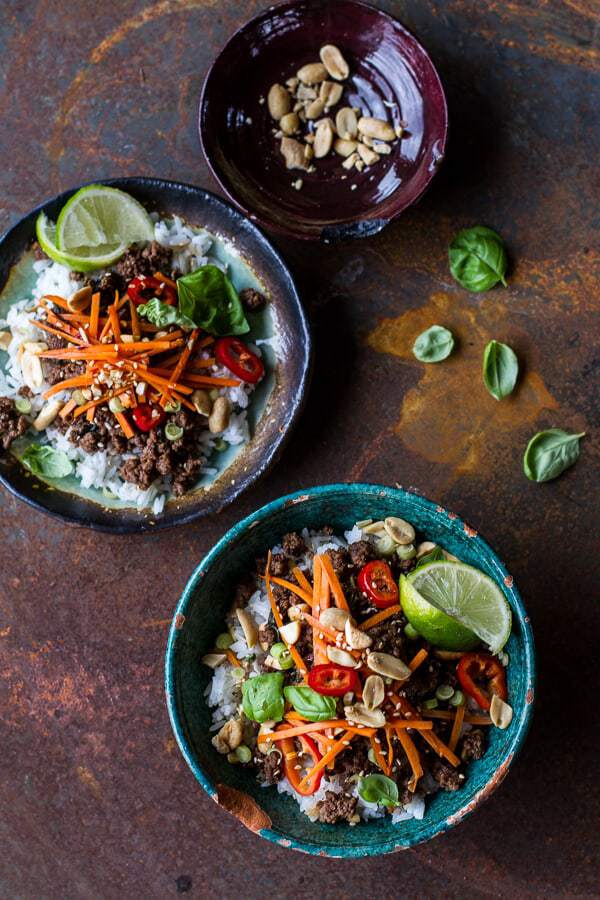 Photo: Half Baked Harvest
Beef, Pork, + Lamb Rice Bowls in around 30 Minutes
20 Minute Thai Basil Beef and Lemongrass Rice Bowls from Half Baked Harvest (pictured above)
Greek Brown Rice Bowls (with Lamb) from Running To The Kitchen (pictured at top)
Korean Beef Bulgogi Bowls from Foodie Crush
Beef Shawarma Bowls with Persian Rice from Little Spice Jar
Thai Pork Rice Bowl with Lime Rice from Seasons & Suppers
Better than Takeout Hawaiian Fried Rice from The Recipe Critic
One Pot Wonder Spanish Rice with Chorizo from The Wholesome Dish
Hearty Rice Bowl with Roasted Tomatoes, Bacon, Spinach, and Egg from 5 Minutes for Mom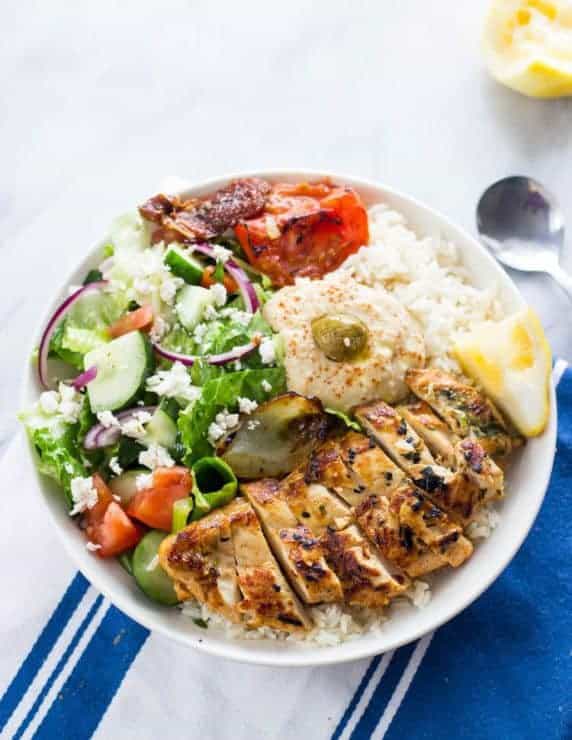 (Photo: Gimme Delicious Food)
Chicken Rice Bowls in around 30 Minutes
Mediterranean Chicken Rice Bowls from Gimme Delicious Food (pictured above)
30 Minute Sesame Mango Chicken Teriyaki from Pinch of Yum (pictured at top)
California Chicken, Veggie, Avocado, and Rice Bowls from Half Baked Harvest
Pineapple Red Curry Chicken Stir Fry from Carlsbad Cravings
Peanut Sauce Chicken and Broccoli Bowls from Fox and Briar
Orange Ground Chicken Rice Bowls from Frugal Nutrition
Bali Island Chicken Rice Bowls from Le Creme De La Crumb
Buffalo Chicken and Broccoli Bowls from Fox and Briar
Healthy 30 Minute Sriracha Teriyaki Meatball Bowls from Baker by Nature
Cajun Chicken and Rice Skillet from Life Made Simple Bakes
Ginger Peanut Hoisin Noodles with Chicken from Alaska from Scratch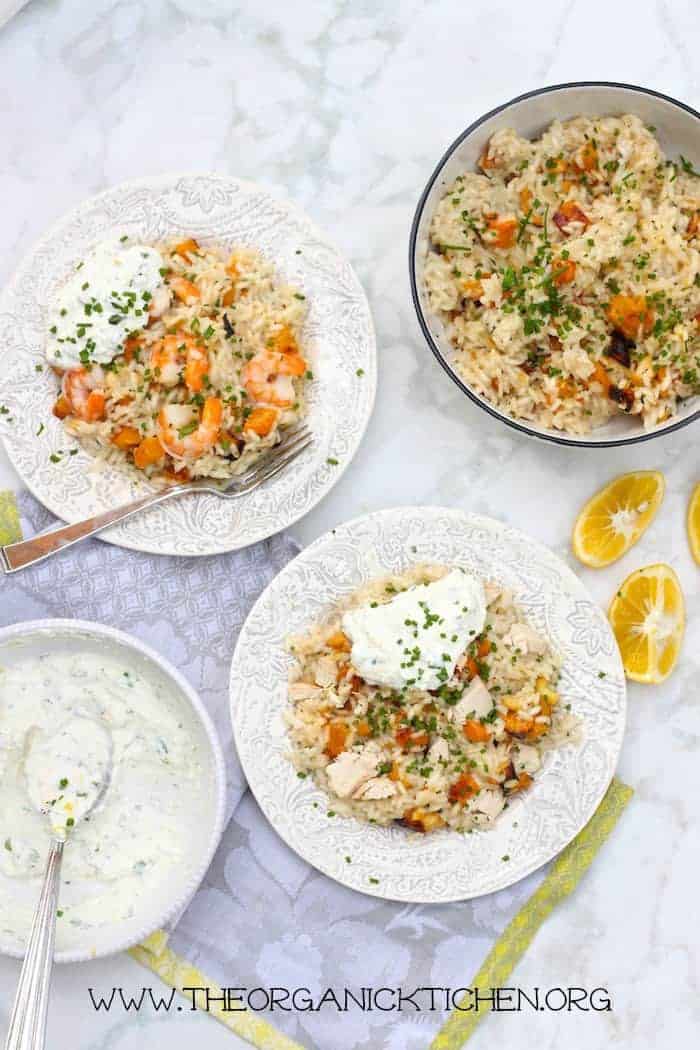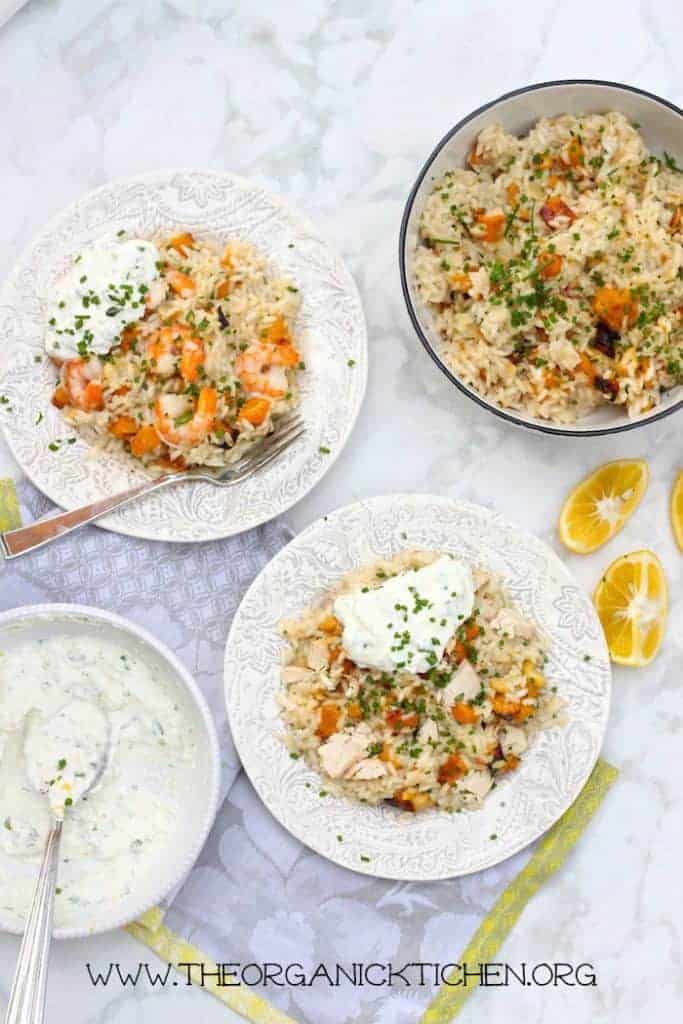 (Photo: The Organic Kitchen)
Fish + Shrimp Rice Bowls in around 30 Minutes
Lemon Risotto with Shrimp from The Organic Kitchen (pictured above and at top)
30 Minute Teriyaki Shrimp from Sally's Baking Addiction (pictured at top)
Fish Taco Bowls with Cilantro Lime Crema from As Easy as Apple Pie
Teriyaki Salmon Bowl from Simple Healthy Kitchen
Pad Thai Noodles with Shrimp from Julias Album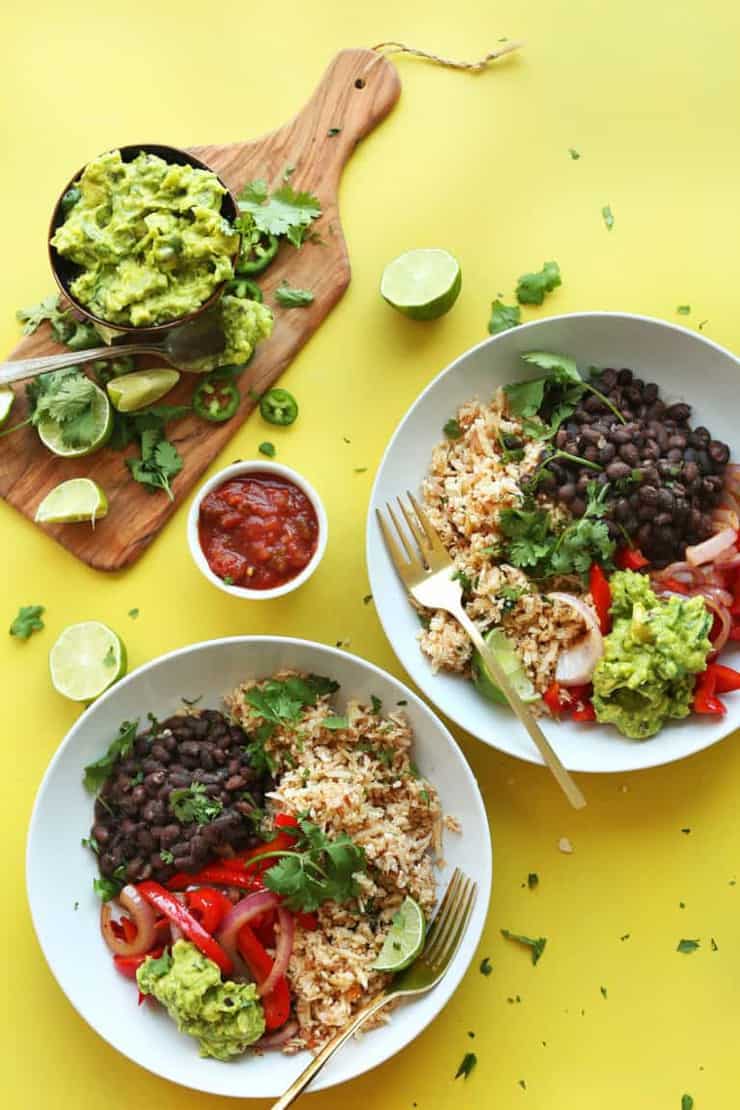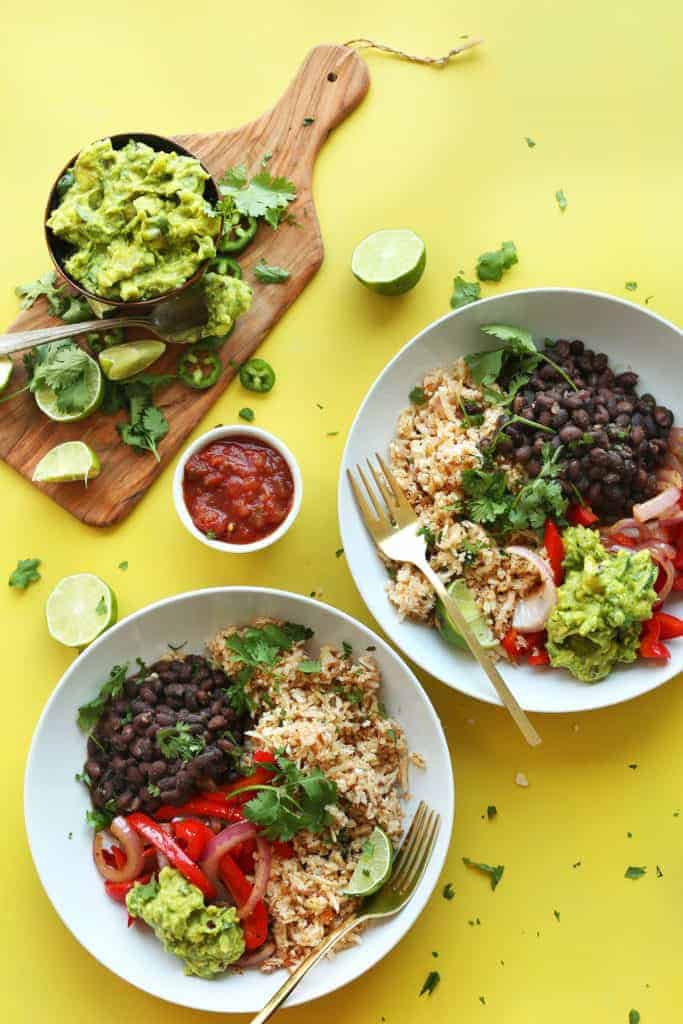 (Photo: Minimalist Baker)
Vegetarian Rice Bowls in around 30 Minutes
Cauliflower Rice Burrito Bowl from Minimalist Baker (pictured above)
Bangkok Coconut Curry (Rice) Noodle Bowls from Pinch of Yum (pictured at top)
Superfood Quinoa Bowl from Two Raspberries
One Pot Chickpea Tiki Masala from Making Thyme for Health
Huevos Rancheros Rice Bowl with Guacamole Salsa from The Adventure Bite
15 Minute Garlic Fried Noodles from Served From Scratch
Got a favorite 30 minute rice bowl recipe to add to my list? Link to it in the comments!