I confessed in my Oatmeal Raisin Breakfast Cookie post earlier this week that, despite this being my first year to pack and send lunches to school, I've not actually read much of the Back To School lunch buzz that's filling our feeds lately. The few posts I have read have been chock-full of great tips and recipes, and I'm sure I'll find myself clicking over them for fresh ideas as the fall wears on.
But today I want to share with you something that's equally important and that I haven't seen much of this year: what NOT to pack in your child's lunch box.
These items aren't the flagrant offenders – most of us know to stear clear of those (I'm looking at you, Lunchables).
No, these are foods that many good intentioned moms choose (and often pay more for), thinking they're "healthy." You might send one as an occasional treat, but today I'll give you reasons why they shouldn't be in the regular lunch rotation, and provide healthier alternatives for each.
Sound good?
5 "Healthy" Back To School Lunch Foods NOT to Pack
1. Organic Juice Drinks
Really, this goes for all juice beverages, but I realize many moms pay less attention to ingredients in foods and beverages labeled "organic," assuming that the ingredients are healthier. Unfortunately, even those that claim "100% fruit juice" on the front of the box often include added flavors. Here are the ingredients in a popular brand of organic juice drink:
Filtered water, organic apple juice from concentrate, natural flavors, organic natural flavors, ascorbic acid (vitamin C), organic natural flavors, citric acid, malic acid.
But aren't "natural flavors" natural? Weeell, yes and no. The bottom line is that "natural flavors" must be derived from nature, but can still contain a number of things you might not want your child consuming – things like MSG, bugs, and secretions from the anal gland of beavers (eeeww, right?). Read more about natural flavors.
Pack this Instead

:
Water or 100% fruit juices without added flavors or sweeteners. Here are a few (click each to buy):
2. Kids Yogurt
Whether it's spoonable or squeezable, organic or nonorganic, most flavored yogurts marketed for kids have added flavors and refined sugars. We've already discussed the concerns about natural flavors, and I don't think "refined sugar" needs much explanation.
Pack this Instead:
Store-bought or homemade plain yogurt, with healthy stir-ins like fruit, nuts, chia seeds, oats, and maybe a touch of raw honey or pure maple syrup.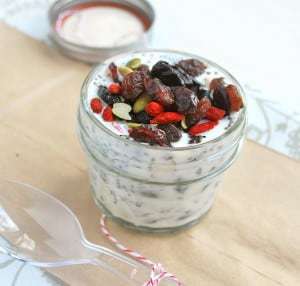 Creamy Homemade Yogurt in the Crock Pot
Or, make a batch of homemade drinkable yogurt, then pack it in a reusable container:
Drinkable Yogurt in the Crock Pot Recipe
3. Homemade Fruit Leather
I'm really meddling now, aren't I….homemade fruit leather is bad for them?? It's really not, from a nutritional perspective. Tons of great, all-fruit recipes for homemade fruit snacks, fruit strips, and fruit leathers are out there, and they're definitely a preferable alternative to Fruit Roll-Ups. However, anything sticky and gummy is going to leave behind a sugary reside on kids' teeth and gums, feeding cavity-causing bacteria for hours.
Pack this Instead:
Go ahead and send your fruit leathers and strips – but maybe once a week as a treat, with whole fruits on all other days. Or, just save the sticky stuff for afternoon snacks, when they can brush their teeth afterward.
4. Cereal Bars and Granola Bars
Bars are such a vast category that it's hard to know where to start. The key here, as with so many packaged foods, is to pay more attention to the ingredient list than to the claims on the front of the box. The large majority of cereal bars and granola bars are a mixture of highly processed ingredients. Take this ingredient list for Kashi cereal bars – actually one of the better ones out there:
Strawberry Filling (Pear Juice Concentrate, Tapioca Syrup, Evaporated Cane Juice, Apple Powder, Strawberry Puree Concentrate, Unmodified Cornstarch, Vegetable Glycerin, Water, Natural Strawberry Flavor With Other Natural Flavors, Fruit Juice Concentrate For Color), Kashi Seven Whole Grain Flour (Whole: Oats, Hard Red Wheat, Brown Rice, Rye, Triticale, Barley, Buckwheat), Organic Whole Wheat Flour, Evaporated Cane Juice Syrup, Expeller Pressed Canola Oil, Organic Rolled Oats, Honey, Tapioca Syrup, Arabic Gum, Vegetable Glycerin, Oat Fiber, Leavening (Sodium Acid Pyrophosphate, Baking Soda), Soy Lecithin, Natural Flavor, Xanthan Gum.
I bolded the ingredients of concern to me – everything from refined sugars (4 different types!) to natural flavors to GMO laden corn, canola and soy ingredients. It's a shame we have to be so careful to read food labels on even the "healthiest" looking packages!
Pack this Instead:
A snack bag of nuts is an easy and satisfying replacement for granola bars and cereal bars.
Or make "breakfast" cookies! They're the perfect size for a lunchbox treat. They're gluten free and dairy free, with no refined sugars or grains. Plus they're delicious and really easy to make!
Oatmeal Raisin Breakfast Cookies Recipe
KIND Bars are some of the healthiest store-bought bars out there, if you can afford them! My friend Kelly from The Nourishing Home created 4 different homemade bar recipes that are just as healthy as KIND, but so much cheaper!

Fruit and Nut Grain Free Bars Recipe
5. Wraps
Just about any sandwich is more fun as a wrap. And they're easy to make. But, the vast majority of store-bought tortillas are made with interesterified or trans fats (partially or fully hydrogenated oils).
Pack this Instead:
Lavash or other flat breads without hydrogenated or partially hydrogenated ingredients or good substitutes for tortillas. If your children like corn tortillas, they usually have much shorter ingredient lists, and rarely contain trans or interesterified fats. Or, make your own flour tortillas – large batches can be made ahead and frozen, then defrosted when ready to use (Tip: Roll the dough as thin as you can if using them for wraps).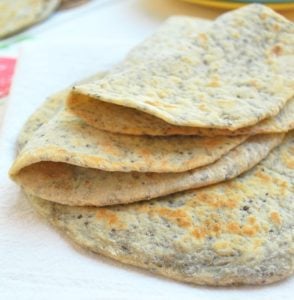 Healthy Whole Wheat and Chia Tortillas Recipe
What are you packing, or NOT packing in your child's lunch box this Back To School season?
Note: This post contains affiliate links. By making purchases through these links, you'll be sending a little extra money my way so I can buy truly "healthy" lunch box foods for my kids. Thanks!