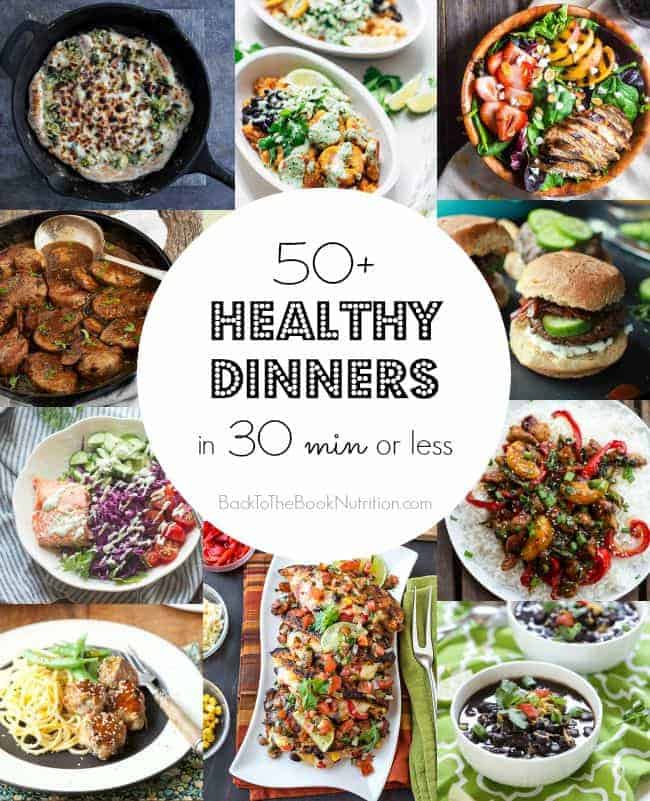 Back To School time is here again.
If you're like me, you're squeezing every bit of fun out of these final days of summer, and feeling a little panicky about early mornings, carlines, and homework.
Well, I'm here to make the summer-to-school-year transition a little easier for all of us – I've gathered more than 50 healthy dinner recipes (more than 60 if you count the Crock Pot "bonus section" at the end!) that are ready in half and hour or less!
Just think, with this list, you can serve a different dinner nearly every weeknight of the fall semester, spend only 30 minutes in the kitchen each night, and know you're feeding your family wholesome, healthy food!
#letsdothis
50+ Healthy Dinners in 30 Minutes or Less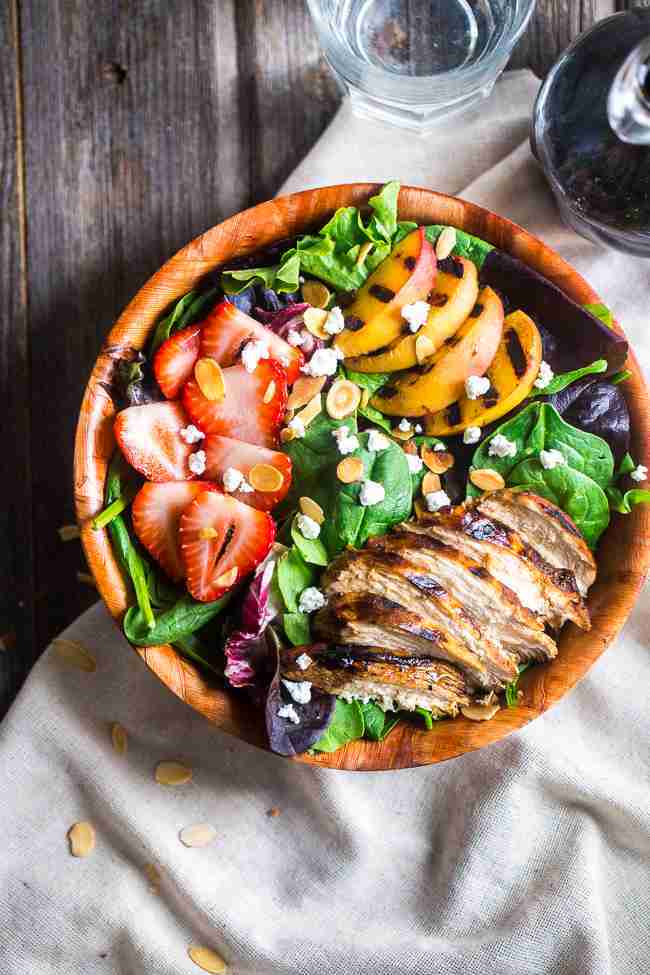 SALADS
Strawberry Salad with Grilled Nectarines and Balsamic Vinaigrette from Food Faith Fitness (Photo above)
Cherry Kale Summer Salad with Balsamic Vinaigrette from Joyful Healthy Eats
Bacon Avocado Blue Cheese Salad with the Best Blue Cheese Dressing from Back To The Book Nutrition
Brussels Sprouts Salad with Warm Bacon Dressing from Back To The Book Nutrition
SANDWICHES
Grilled Lamb Burgers with Whipped Feta and Cucumbers from Joyful Healthy Eats (Photo above)
Salmon Burgers with Lemon Dill Mayo from Love Lola
Grilled Ham and Cheese Sandwich with Tangy Mustard Dip from Back To The Book Nutrition
5 Minute Veggie Sandwich with Hummus and Feta from Back To The Book Nutrition
CHICKEN
Southwest Stuffed Chicken Breast from The Cozy Apron (Photo above)
5 Ingredient Lemon Chicken with Asparagus from Pinch of Yum
Grilled Chicken Breasts with Spicy Peach Glaze from The Nourishing Home
One Skillet Mediterranean Chicken from Tastes of Lizzy T's
3 Ingredient Greek Chicken from Back To The Book Nutrition (Requires marinating)
PORK
Skillet Pork Medallions in Mushroom Marsala Sauce from Seasons and Suppers (Photo above)
Apple Cider Glazed Pork Chops from Delightful E Made
Pan Seared Pork Chops from Our Life Tastes Good (Requires pre-seasoning)
SEAFOOD
Salmon + Tzatziki Sauce from MJ and Hungryman (Photo above)
Cajun Mahi Mahi with Mango Pineapple Salsa from Joyful Healthy Eats
Spanish Shrimp with Garlic Bread Sauce from Pinch of Yum
Creamy Shrimp, Potatoes, and Kale from Back To The Book Nutrition
Crab Cakes with Butter Wine Sauce from Back To The Book Nutrition
PASTA
Savory Pasta with Onions, Bacon, and Greens from Don't Waste The Crumbs (Photo above)
One Pot Linguine with Tomatoes, Red Peppers, and Chard from Heather's French Press
Homemade Spaghetti-O's from Don't Waste The Crumbs
4 Ingredient Shrimp and Pesto Pasta from Holley Grainger
TEX MEX
30 Minute Weeknight Veggie Quesadillas from Blogging Over Thyme (Photo above)
30 Minute Chicken and Black Bean Nachos from Live Simply
Spicy Fish Tacos with Cabbage Slaw and Lime Crema from Foodess
Beef Fajitas with Cilantro Lime Marinade from Back To The Book Nutrition (Requires marinating)
Shrimp Tacos with Mango, Cilantro, and Lime from Back To The Book Nutrition
ASIAN
Sweet Asian Chili Pork, Ginger and Tangerine Stir-Fry from Half Baked Harvest (Photo above)
3 Stir-Fry Meals that will Have Your Kids Gladly Eating Their Veggies from Raising Generation Nourished
Paleo Sweet and Sour Chicken from Mommypotamus
Thai Steak Salad with Spicy Peanut Dressing from Joyful Healthy Eats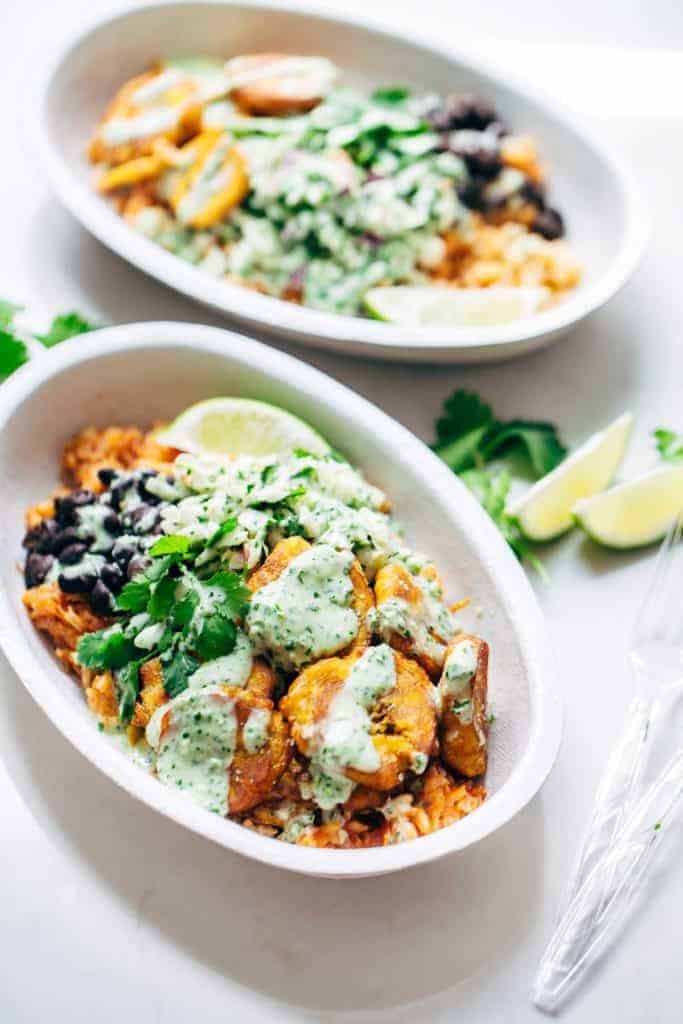 VEGETARIAN RECIPES
Spicy Brazilian Burrito Bowls from Pinch of Yum (Photo above)
Fried Green Meatlessballs from Food 52
Polenta Bowl with Garlicky Spinach, Chicken Sausage, and Poached Egg from The Kitchn
20 Minute Marsala Mushrooms from Back To The Book Nutrition
5 Minute Veggie Sandwich with Hummus and Feta from Back To The Book Nutrition
BREAKFAST FOR DINNER
Breakfast Tacos with Sausage, Potatoes, and Peppers from Back To The Book Nutrition (Photo above)
Chorizo and Egg Breakfast Nachos from Closet Cooking
Whole Wheat Apple Ring Pancakes from Back To The Book Nutrition
PIZZA
(Note: Make the dough ahead or buy a refrigerated dough with "cleaner" ingredients to keep the time under 30 minutes)
Cast Iron Skillet Brussles Sprouts Bacon Pizza (Photo above)
Buffalo Chicken Pizza from Don't Waste The Crumbs
Zucchini Crust Pizza from My Humble Kitchen
Lamb Flatbreads with Feta Yogurt Sauce from Nourish RDs
Portobello Mushroom Pizza from Lisa Harris Pantry
Kitchen Skillet Pizza from Wit and Delight
Grilled Potato, Mushroom, and Onion Pizza with Balsamic and Burrata from Back To The Book Nutrition
GLUTEN/GRAIN FREE
Grain Free Sweet and Sour Meatballs (Photo above)
Turkey Bolognese with Zoodles from The Nourishing Home
Beef Vegetable Skillet from Worth Cooking
Baked Chicken Parmesan with Zoodles from The Nourishing Home
Gluten Free Pizza Margherita from Saveur
**BONUS ROUND!**
CROCK POT RECIPES WITH LESS THAN 30 MIN HANDS-ON TIME
Crock Pot Black Bean Soup from Live Simply (Photo above)
Quinoa Black Bean Stuffed Peppers from Pinch of Yum
Slow Cooker Pot Roast from Deliciously Organic
Slow Cooker Roasted Chicken from The Nourishing Home
Slow Cooker Kielbasa Sauce, Potatoes, and Veggies from The Rising Spoon
Easy Pulled Pork in the Crock Pot from Back To The Book Nutrition
Classic Chicken Noodle Soup from Back To The Book Nutrition
Crock Pot Baked Potato Bar from Back To The Book Nutrition