The weekend's almost here again.
That means more cold weather, more lazy mornings, and more Apple Ring Pancakes!
Note: This post contains affiliate links. By making purchases through these links, you pay the same amount for products, but a portion of the sale will be sent my way to help with blog expenses. Thanks!
Healthy, Homemade Apple Ring Pancakes
Don't we all love a nice tall stack of pancakes?
I have a thing for fluffy, homemade pancakes. I admit, though, I usually eat more than I really need and then leave the table wondering if I'll ever be hungry again.
But these apple ring pancakes are different – they're half pancake-half fresh fruit, so you don't feel like you need to go into hibernation after breakfast.
Plus, the batter is made with whole wheat flour and honey – not an ounce of refined grain or sugar in them!
Three cheers for healthy breakfast makeovers!
Pancake Breakfast, Any Time of Day!
I don't know about you, but I've always liked breakfast for dinner.
When I was younger, it was simply because I loved breakfast foods. But, now that I'm the mom, and I sometimes feel like I never leave the kitchen for all the cooking and dish washing, I love how easy it is to whip up a pan of eggs and a batch of pancakes at the last minute from ingredients I almost always have on hand.
My husband, on the other hand…he was always a "breakfast for breakfast and dinner for dinner" kind of guy.
Then, after seven years of marriage, I did it. Breakfast – in the evening.
My linch pin? These irresistible apple ring pancakes!
After just one bite, he was singing their praises! If I had known he'd be that easy to win over, I would have done this years ago!
But, we're here now and I'm grateful. We (meaning, I) can now enjoy a simple, homemade breakfast any time of day. Splendid!
Ingredients
2

large Opal Gold or other sweet apples

washed, cored and sliced horizontally into 1/2" thick slices (about 20 slices total)

1 1/4

cup

organic white whole wheat flour

1/2

tsp

apple pie spice

try my easy homemade recipe!

1/4

tsp

sea salt

1

pastured egg

beaten

2

Tbsp

raw honey or maple syrup

2

Tbsp

melted ghee or pure coconut oil

1

cup

milk

I use raw

Butter for melting on griddle

Pure maple syrup or raw honey for topping

Chopped walnuts

optional
Instructions
In a large mixing bowl, stir together the flour, baking powder, apple pie spice, and sea salt.

Make a well in the center and add egg, honey, ghee/oil, and milk. Stir the wet ingredients to mix, then gently incorporate them into the dry mixture.

Prepare a cast iron griddle by heating over medium heat. As the griddle heats, add a few small pats of butter and spread evenly with a knife or spatula as it melts.

Use clean hands or tongs to coat each apple ring in pancake batter before dropping on the griddle (I let the excess batter drip off a little so that the coating is thin and the edges of the apples show through).

Cook for a couple minutes on each side, remove from griddle, and repeat with remaining slices. If desired, cooked slices can be transferred to a warming oven until ready to serve.

Serve with toppings of choice - I like pure maple syrup and chopped walnuts.
Notes
These cook a little more quickly than traditional pancakes, so watch them closely!
Using plenty of butter on your griddle will prevent the batter from sticking - don't skimp!
Leftover pancakes can be reheated on a baking sheet in a 300 degree oven for 5-7 minutes.
Recipe Tools
These items aren't essential, but are super helpful when making this recipe:
Check out these other healthy breakfast recipes!
Oatmeal Raisin Breakfast Cookies
Orange Pineapple Green Smoothie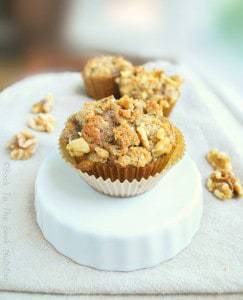 Zucchini Muffins with Maple Walnut Streusel