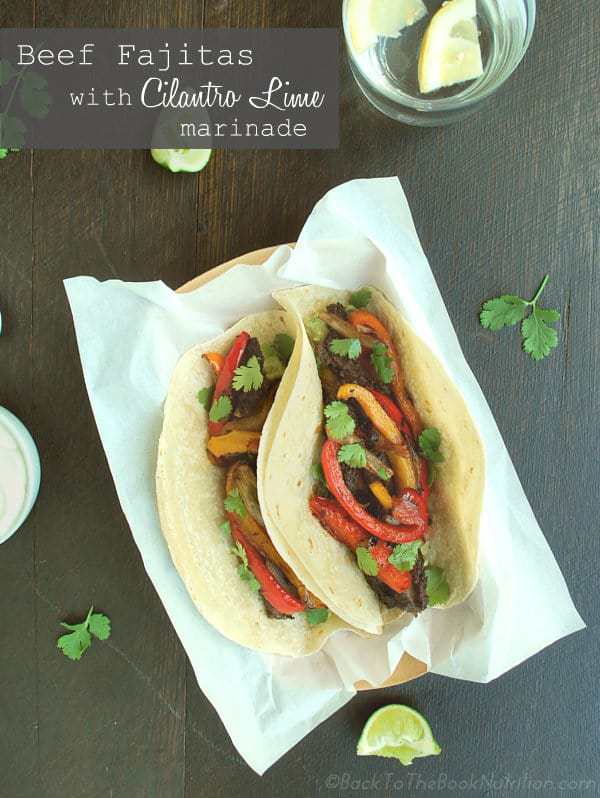 Authentic Beef Fajitas at Home
Cinco De Mayo is just a couple weeks away. I don't know about the rest of the country but, here in Texas, fajitas are king on May 5th!
…come to think of it, fajitas are king most of the year here in Texas.
Because we have a plethora of fantastic Mexican and Tex Mex restaurants within a few miles of home, we enjoy great fajitas about once a month.
But now, we can have them at home too because this recipe rivals our favorite restaurant fajitas, only it uses pastured meat from our farmer, raw cheese, and healthier tortillas. Ole!
"Healthy" Store Bought Tortillas
Store bought flour tortillas are notorious for hydrogenated oils and other unwanted ingredients. Trader Joe's and Whole Foods both carry flour tortillas with fairly clean ingredient lists. Pictured are the organic wheat and corn tortillas from Trader Joe's.
But, when I have the time to make them, we love my homemade, Healthy Whole Wheat and Chia Tortillas!
Note: This post contains affiliate links. By making purchases through these links, you pay the same amount for products, but a portion of the sale will be sent my way to help with blog expenses. Thanks!
Indoor vs. Outdoor Grilling
This fajita recipe can be grilled on either a standard outdoor grill, or indoors on a cast iron grill pan. We don't own an outdoor grill so I use my large grill pan that doubles as a griddle for making the most amazing pancakes!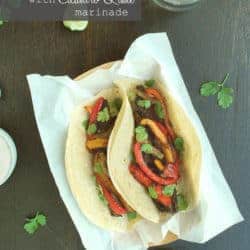 Ingredients
Marinade
6

cloves

garlic

pressed

1

heaping tsp ground cumin

1/4

tsp

ground black pepper

1

Tbsp

pure maple syrup

Juice from 2 small limes

1/4

cup

Tamari soy sauce

see which I buy in the Recipe Notes section below

1/4

cup

avocado oil

1/3

cup

fresh chopped cilantro
Fajitas
3

pounds

pastured beef fajita meat

skirt steak works well - slice before marinating/cooking if you like well done fajita meat (otherwise, cook in slab form, and slice after removing from grill pan)

1

each: red

yellow, and orange bell pepper, sliced

1

small white onion

sliced

Tortillas

or rice or salad if serving bowl style

Cheese

sour cream, pico de gallo, guacamole, fresh cilantro (and anything else you need to make a great fajita!)
Instructions
To marinate
Place the beef into 1 gallon zipper bag (or spread across 1/2 of a large jellyroll pan to avoid plastic). Place the sliced peppers and onion in a second bag (or on the other half of the jellyroll pan).

In a mixing bowl, combine the first five marinade ingredients (garlic through limes). Drizzle avocado oil in, whisking constantly to create an emulsion. Stir in cilantro.

Pour marinade evenly over all and seal bags (or cover pan very tightly with foil). Store in fridge for 8-24 hours (much longer, and you risk the acid "cooking" the meat similar to ceviche)
To grill
Heat outdoor grill or grill pan if cooking indoors (I used a large cast iron grill pan) - it should be smokin' hot (literally!)

Brush grill with additional avocado oil, pastured ghee, or pastured lard. Add the veggies (they should sizzle as soon as they hit the pan) and allow to cook, turning often, until softened and until the edges are nicely charred.

Once cooked, transfer to a warming oven while you grill the meat. (Alternatively, cook the veggies in a large cast iron skillet over the stove while you grill the meat.)

For the meat, brush a fresh layer of oil/ghee/lard over the grill and add the meat (again, you want sizzling). Cook for a few minutes on each side, or until the meat tests around 130 degrees internally (medium-rare to medium). Remove from grill and allow to rest a few minutes before slicing.

After beef has rested, slice it against the grain and serve it and the peppers and onions with tortillas and all the fixin's.
Recipe Notes
1. I buy this Tamari soy sauce
because it's GMO free and is naturally fermented using traditional methods.
2. If you're in central or southeast Texas, consider ordering grass fed and free range fajita meat from Yonderway Farm!
3. If not, you can order grass fed beef fajita meat online!
4. Though I used store bought organic tortillas this time, I love making homemade tortillas when I have the time!
5. If you like guacamole, stay tuned! Next week I'll share an amazing recipe for homemade Creamy Guacamole!
Check out these other great Tex Mex recipes!