These healthier double chocolate muffins with ancient grains and squash are mom and kid approved!
My kids have been asking for muffins for months now.
It took me all summer to get around to it, but it was worth it to see their faces when I brought these out of the oven. I mean, really – what kid doesn't love chocolate muffins?
And what mom doesn't love chocolate muffins DOUBLE chocolate muffins??
Healthy(ish) Double Chocolate Squash Muffins
Let's be clear. These muffins have one foot in the breakfast category since the word "muffin" is in the name, but the flavor definitely leans pretty hard in the cupcake direction.
I'm not above eating dark chocolate at breakfast every now and then, especially when it's a from-scratch recipe made with ancient grains and vegetables. But, if that pushes your boundaries a little, feel free to serve these as a healthy dessert instead! 😉
They make adorable mini-muffins for a special lunch box treat or after school snack too!
Instructions
Preheat oven to 350 degrees and line a 12-cup muffin tin with muffin/cupcake liners.

In a large bowl, whisk together the dry ingredients (flour through salt).

In a medium bowl, whisk together wet ingredients (eggs through vanilla).

Add wet ingredients to dry and stir until just moistened. Fold in squash and 3/4 cup of chocolate chips. 

Pour batter into lined muffin tin. Sprinkle remaining 1/4 cup chocolate chips on top (approx 1 tsp per muffin). 

Bake 15 min or until toothpick just comes out clean. Do not overbake!
Notes
These freeze and defrost well for a quick and healthy treat. 
Check out these other favorite muffin recipes!
Zucchini Muffins with Maple Walnut Streusel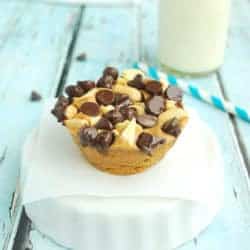 20 Minute Chocolate Peanut Butter Blender Muffins