We're in the middle of a blog series called Making Friends with Fat and, in Part 2 posted last week, I reviewed why butter, cream, and lard are actually healthy.
I'll wrap up the series soon enough, but today I thought it would be fun to take a little break to share the recipe for these easy, 3-ingredient, homemade sweet potato chips fried in – what else? – lard!
We make plenty of baked chips and baked fries at our house, but there's just nothing like the salty crisp of a fried chip!
This was actually my first attempt, and what a treat they were!
Baked vs. Fried Sweet Potato Chips
It's nice that baked chips can cook in the oven unattended while you work on the main dish, but I've never been able to get them to crisp like "real" chips.
The light and crispy end result of this recipe was definitely worth the extra time required to batch fry them.
Plus, I probably could have shaved a few minutes off of my time if I had resisted popping hot, freshly salted chips into my mouth as I worked through the batches and didn't have to fry up extra ones to account for those I'd eaten…*ahem*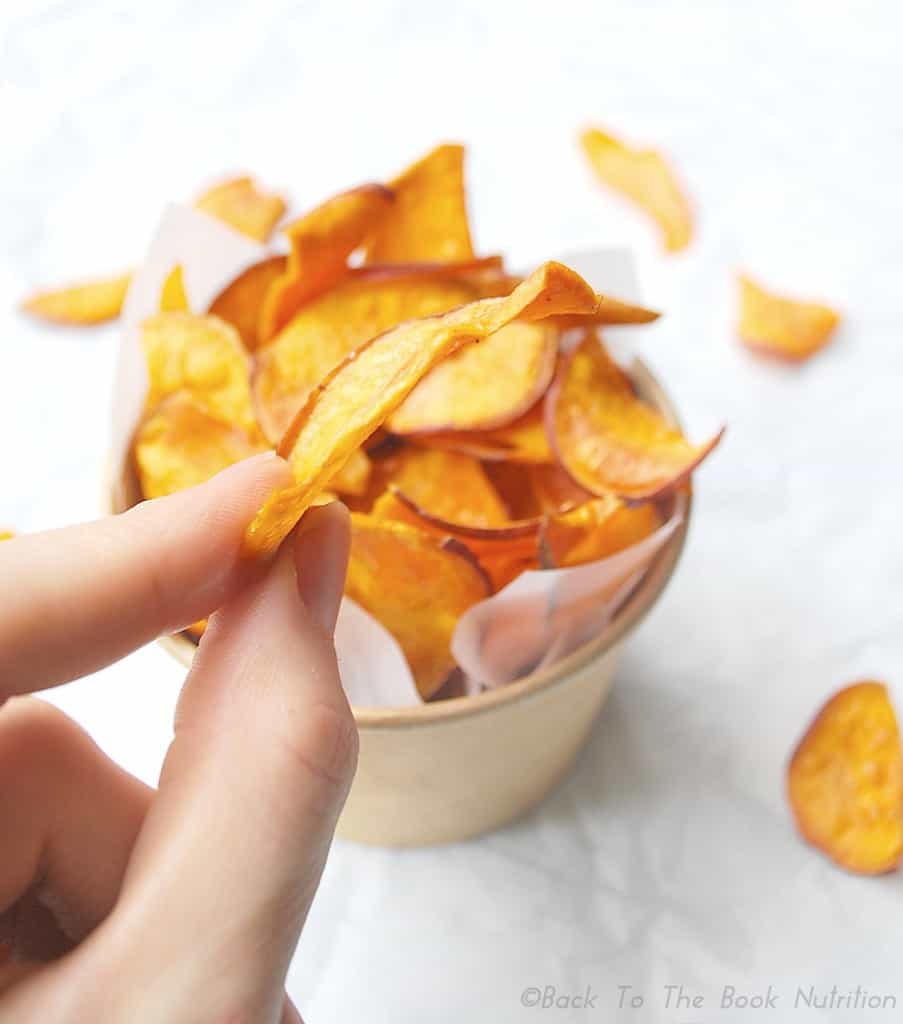 The Best Fats for Frying Chips
Occasional frying should be done in fats with higher smoke points – the temperature at which the fat will begin to smoke when heated. We'll get to the details of why this is in Part 3 of tge Making Friends with Fat series. For now, I'll just cut to the chase and tell you that the least refined fats with the highest smoke points are tallow, chicken fat, duck fat, and lard.
Of those four, tallow and lard are the most common since neither chickens nor ducks are a very concentrated source of fat. Here's a quick primer on lard and tallow:
---
Lard vs. Tallow and How to Make Them
• Lard is pork fat that has been rendered (melted).
• Tallow is beef fat that has been rendered.
• Lard and tallow can be rendered in a few easy steps, either in the oven, over the stove, or – my personal favorite – in the Crock Pot. I plug my Crock Pot in on my back porch so we don't smell it cooking all day long.
• For baking, my friend Diana has a great step-by-step guide to rendering snow white, odorless lard.
• Lard and tallow are preferred for occasional frying due to the stability of the fats at high temperatures. If an odorless method is used, they also work well as an alternative to butter in baked goods.
• Fat tissues in animals can accumulate chemical toxins. For this reason, I'd strongly encourage buying pastured fat from a farmer or, at the very least, buying organic, which will be free of hormones and antibiotics.
---
And now, the simple recipe for my Easy Homemade Sweet Potato Chips!
Easy Homemade Sweet Potato Chips
Homemade chips are a real treat and are made from 3 simple, all natural ingredients. Betcha' can't eat just one!
Ingredients
2

large sweet potatoes

Enough lard

or tallow to measure 2 inches high when melted in a large frying pan or dutch oven

Sea salt to taste
Instructions
Wash sweet potatoes. Using a knife, mandolin, or food processor with the thin slicing disc attached, slice potatoes into 1/8-1/4" slices (we like them thinner). I used my food processor, but had to cut the potatoes in half lengthwise to feed them through the chute for slicing. The result was smaller, very "poppable" chips that cooked quickly.

Heat lard in a large pot until it starts to bubble slightly.

Drop a test slice into the melted lard - if it bubbles and makes a slight crackling sound, it's ready.

Gently drop enough potato slices into the pot to create a single layer on the surface of the lard. Cook for 2-3 minutes, stirring often. Chips are done when edges curve slightly and surface is a deep orangy-brown.

Use a "spider" tool or metal tongs to remove the cooked chips from the pot. Transfer onto a large surface lined with a double layer of paper towels to absorb excess moisture. Sprinkle both sides with sea salt immediately.

Continue frying the remainder of the chips in batches. Serve immediately.
Recipe Notes
Store leftover chips in a paper sack for up to a few days. If they lose their "crisp", pop them into a 425 degree oven for a few minutes just before eating.
If you liked these, check out my Homemade Root Vegetable Chips Recipe too!