These no-bake Peanut Butter Rice Crispy Treats are a healthy, 5 ingredient version of a favorite childhood treat! (Gluten free, dairy free)
As a rule, I don't buy cereal. In fact, I wrote an entire post about why my kids don't eat cereal for breakfast, and what they eat instead.
But a friend recently introduced us to sprouted brown rice cereal and we're all heart eyes over here.
She who makes the rules can break the rules, right? 😉
Actually, we still aim to eat whole foods like fruits, nuts, or eggs for breakfast most days. But having a healthy cereal option has made for a fun treat at breakfast time and, with this peanut butter rice crispy treat recipe, at snack time too!
Note: This post contains affiliate links. By making purchases through these links, you pay the same amount for products, but a small portion of the sale will be sent my way to help support the mission of Back To The Book Nutrition. Thank you!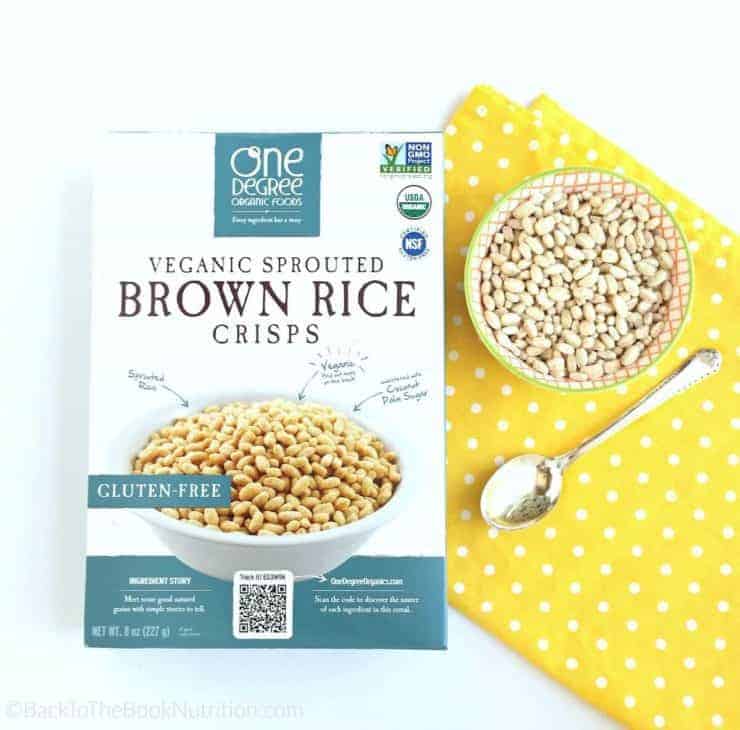 Healthy Sprouted Brown Rice Crisps Cereal
I've been living under the no-cereal rock for so long, I had no idea there were now brown rice cereals that are actually crispy! When my friend mentioned One Degree Sprouted Brown Rice Cereal, I had visions of the chewy puffed brown rice cereal I tried years ago that turned soggy as soon as I added milk. Bleh! Definitely not anything to write home about.
But this stuff? Amazing.
It's crispy!
It has a nice, light flavor.
It has only 4 ingredients.
It's made with sprouted whole grain rice.
It has less than 1 gram of (coconut) sugar.
It's gluten free.
It's organic, non-GMO certified, and doesn't have any artificial or natural flavors (why I avoid natural flavors).
The kids like it with milk or stirred into yogurt, but they went nuts when I made peanut butter rice crispy treats with it!
Healthy Peanut Butter Rice Crispy Treats (Gluten free, dairy free)
Rice Krispies Treats are dead to me.
I grew up on the old fashioned version with butter, marshmallows, and snap-crackle-pop cereal. But they didn't hold a candle to these healthier peanut butter rice crispy treats!
These things are incredible and guaranteed to please kids of all ages. I'd take them over the original any day!
Plus they're made with just 5 healthy, whole food ingredients and only take a few minutes to mix up.
They're already gluten free and dairy free, and you could easily substitute nut or seed butters for peanut allergies or if you're sharing them on a peanut-free school campus.
Healthy Peanut Butter Rice Crispy Treats (Gluten free, dairy free)
Print
Pin
Rate
Instructions
Bring the honey to a boil for 2 minutes in a small saucepan. (Don't skip this step! It's the key to getting the treats to hold their square shape and not crumble!)

While honey is heating, pour cereal into a large mixing bowl and set aside. 

Line a medium casserole dish with parchment and set aside. 

Remove boiled honey from heat and stir in peanut butter, vanilla, and sea salt. Pour mixture over the cereal and use a spatula to combine. Transfer mixture to prepared pan and press down firmly with the back of the spatula. Allow to rest 30 minutes before slicing.
Notes
*The cereal is much cheaper at my local grocery than on Amazon- check your store first if you want to save a few bucks!
Check out these other healthy treats!
Oatmeal Chocolate Chunk Snack Bars (Gluten free, dairy free)