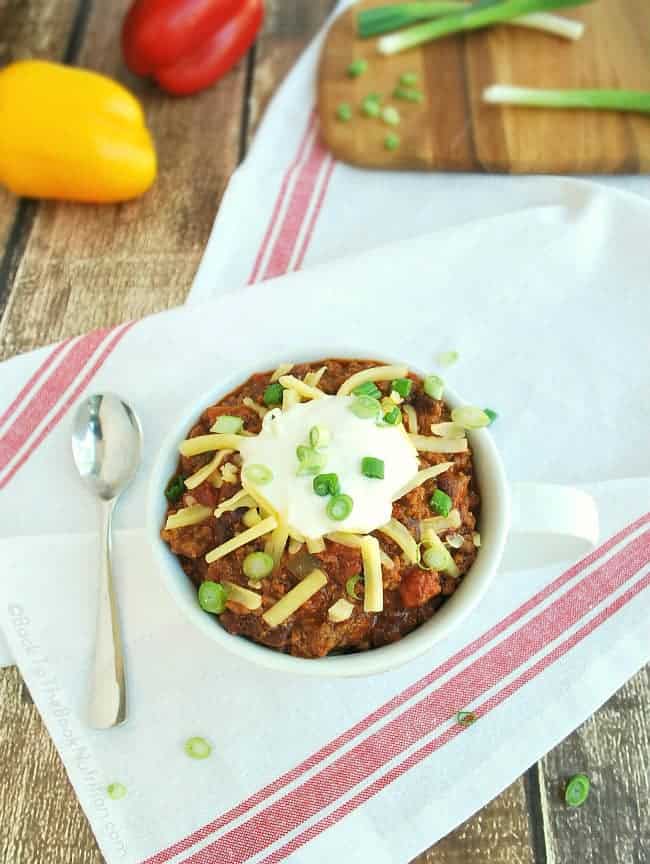 There's nothing like a steaming bowl of chili and a piece of from-scratch cornbread to warm you on a cold day. At my house, it ranks right up there with beef stew and shepherd's pie as one of our favorite comfort foods.
And since we're experiencing record low temperatures across most of the country, and since National Chili Day is coming up on February 26th, I thought I'd share my family's favorite version of this Texas classic!
What Makes Great Chili
Chili has its roots in the Mexican American culture, dating back to the 1800s when it was made with ground meat and lots of fresh chili peppers by families living in the San Antonio area. This frugal and flavorful soup quickly caught on and, by the early 1900s, was on restaurant menus across the country.
Today there are about as many versions of chili as there are Texans, but this simple recipe is similar to the authentic Texas chili I grew up eating – a simple yet hearty blend of ground beef, beans, and plenty of chili flavor without too much spice.
I typically cook chili on the stove, but I've also tossed all the ingredients into the slow cooker for 6-8 hours a couple of times. The flavor isn't quite as rich as the stovetop method, but it's still really good and gets the job done on a busy day!
Whether it's cooked on the stove or in the Crock Pot, what you put on top of the chili is almost as important as what you put in it! Cheddar and sour cream are key since they provide the perfect compliment to the chili spices. And since we now know animal fat is good for us, they're actually considered healthy too! I also like a few chopped fresh green onions to finish things off with a little color and kick.
Easily Adjust the Level of Chili Spice
Some people like to feel a little sweat on their brow when they eat chili. I personally can't take the heat, and neither can my kids. But the beauty of this recipe is that you can increase the spice to your liking:
For Milder Chili:
Follow the recipe below as it's written.
For Medium Spice Chili:
Increase the amounts of chili powder, black pepper, and cayenne called for by about 50% (to 3 Tbsp chili powder and 1 1/2 tsp each, black pepper and cayenne).
For "3 Alarm Chili" (Hot):
Follow instructions for Medium Spice Chili, and add 1-2 fresh jalapeno or habanero peppers (seeded and chopped) along with the bell pepper.
Real Texas Chili (with slow cooker option)
2015-02-18 21:49:18
Serves 8
My family's favorite chili recipe! I prefer the stovetop method, but I've included slow cooker instructions in the Notes section.
Ingredients
2 Tbsp pastured tallow, lard, or ghee
1 large yellow onion, chopped
2 bell peppers, any color, stem and seeds removed, chopped
2 pounds pastured ground beef
1 (14-16 oz) can diced tomatoes
1 (6 oz) can tomato paste
2-3 cups water
2 Tbsp pure maple syrup or organic granulated sugar (use more/less to your liking)
2 Tbsp chili powder
1 tsp cumin
1 1/2 tsp garlic powder
2 Tbsp smoked paprika
2 tsp sea salt
1 scant tsp black pepper
1 scant tsp cayenne pepper
1 can (or 2 cups cooked) dark red kidney beans (could also use pinto or red beans)
Sour cream, shredded cheddar, and sliced green onions for serving
Instructions
Melt the tallow/lard/ghee over medium high heat, then saute onions and bell pepper for a few minutes. Add the ground beef and cook, stirring occasionally until just browned (I don't drain the fat, but you can if you prefer)
Add tomatoes, tomato paste, and water, and simmer for about an hour.
Stir in remaining ingredients and simmer for another 30-45 minutes. (This is a great time to put a batch of homemade cornbread in the oven!)
To serve, top each bowl with shredded cheddar, sour cream, and sliced green onions, and add a slice of cornbread on the side.
Notes
I don't use cornmeal or masa to thicken my chili, but you could easily add either of these or a little arrowroot powder toward the end of the cooking if you'd like.
I think the stovetop method is more flavorful, but you can place all ingredients (except the cheese, sour cream, and green onions) into a slow cooker and cook on low for 6-8 hrs.
Back To The Book Nutrition https://www.backtothebooknutrition.com/
Note: This post contains affiliate links. By making purchases through these links, you pay the same amount for products, but a portion of the sale will be sent my way to help with blog expenses. Thanks!
A Note about BPA in Canned Foods
Canned goods are notorious for using BPA-linings and, despite some companies offering BPA-free canned goods, I can't help but wonder whether there are other similar polymers used in can linings that are just as harmful.
My approach is to limit the number of canned items I use in my cooking – and to choose BPA-free canned options when possible.
Here are a few brand recommendations:
BPA-free Canned Beans
Eden Organic
Westbrae Natural
BPA-free Canned Tomatoes
Tomato Products in Glass Jars (Best option, BPA-free)
Jovial
Bionaturae
Do you have a favorite chili recipe?