Why quantity and quality of sleep are both needed for optimal health, plus a a simple, 5-question Sleep Quality Quiz!
Note from Dena: I'm excited to share this guest post series on the topic of sleep, which affects each and every one of us. It was written by Sarah Fennewald, Dietetic Intern, as part of a research partnership between Back To The Book Nutrition and post-graduate nutrition students from the University of Houston.
---
When I was younger my mom used to tell me to "get my beauty sleep". At the time, I thought it was a ploy to get me to go to bed, but it turns out beauty sleep is a real thing. But it's not just getting enough sleep that matters – the quality of our sleep is vitally important as well.
The problem is more Americans than ever have trouble sleeping or sacrifice sleep to accommodate for a busy, stressful lifestyle. According to the American Sleep Association, between 50 and 70 million Americans have some type of sleep disorder. (1)
How Much Sleep You Really Need
1 in 3 adults do not get enough sleep according to a study conducted by the Centers for Disease Control and Prevention (CDC). (3) But what actually counts as enough sleep?
The National Sleep Foundation recommends 7 to 9 hours of sleep each night for adults, but reports that women between 30-60 years old only average around 6 ½ hours/night. (2,10)
How Inadequate Sleep Can Ruin Your Health
If you think about it, almost one third of our life is spent sleeping. That may seem like a lot of time, but sleep is absolutely necessary for optimal health.
While scientists are still trying to understand the many ways sleep affects us, it is clear that less than 7 hours of sleep a night has profoundly negative impact on our health. A lack of sleep is associated with the following: (4,5,6,7,8)
Altered Brain Function – A study using brain scans found that sleep deprivation strongly alters the connectivity of many networks in the brain, including those important for memory and attention.
Weight – Sleeping less than 7 hours per night significantly increases your chances of being obese. Sleep affects leptin and ghrelin, which help to regulate appetite.
Blood Sugar & Diabetes – As little as 4 nights of poor quality sleep in a row can lead to insulin resistance which, over time, can lead to the development of diabetes.
Immunity – A lack of sleep weakens the immune system, which makes us more vulnerable to both acute and chronic illnesses.
Heart Health – Getting less than 6 hours of sleep a night is associated with an increased risk for cardiovascular disease. In addition, one night without enough sleep can raise systolic blood pressure by 17 points.
Mood and Mental Health – Poor sleep and fatigue is strongly associated with depression and anxiety.
Hormone Imbalance – Sleep is associated with several hormones including growth hormone, melatonin, cortisol, leptin, and ghrelin. Sleep deprivation may reverse melatonin and cortisol rhythms, which are a key factor in HPA Axis dysregulation.
Inflammation – Poor sleep has been linked to long-term inflammation, which is a driver of most major chronic diseases.
Lifespan – Sleeping less than 6 hours per night could increase death risk by 70% compared to those who sleep 7-8 hours each night.
More vs. Better –The Importance of Sleep Quality
Most of us know we need more sleep, but just being in bed for 7-9 hours each night may not be enough. Sleep quality is hugely important as well. (9,11)
One-third of Americans report their sleep quality as "poor" or "only fair" and about half of all women report trouble falling asleep or staying asleep at least once each week. (2) These delays or interruptions to deep (REM) sleep compromise vital "rest and repair" functions your body is designed to perform all through the night.
If you answered "yes" to all of these questions, congratulations! You're probably getting good quality sleep.
If you answered "no" to any of these, read Part 2 of this series to learn how to overcome the factors disrupting your sleep!
---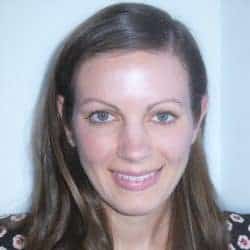 About the author: Sarah Fennewald is currently a Dietetic Intern at the University of Houston. She completed her B.S. in Dietetics at Fontbonne University in St. Louis, Missouri. Her goal is to use her nutrition knowledge to empower individuals to make real life changes that will improve their quality of life.
---
Disclaimer: Information on this site is intended only for informational purposes and is not a substitute for medical advice. Always consult with a trusted healthcare provider before implementing significant dietary change. Read additional disclaimer info here.
Sources:
1. American Sleep Association. (2017). Sleep and sleep disorder statistics. Retrieved from https://www.sleepassociation.org/sleep/sleep-statistics/
2. National Sleep Foundation. (2014). Lack of sleep is affecting Americans, finds the National Sleep Foundation. Retrieved from https://sleepfoundation.org/media-center/press-release/lack-sleep-affecting-americans-finds-the-national-sleep-foundation
3. Centers for Disease Control and Prevention. (2106). 1 in 3 adults don't get enough sleep. Re-trieved from https://www.cdc.gov/media/releases/2016/p0215-enough-sleep.html
4. Kaufmann, T., Elvsåshagen, T., Alnæs, D., Zak, N., Pedersen, P. Ø., Norbom, L. B., … & Malt, U. F. (2016). The brain functional connectome is robustly altered by lack of sleep. NeuroImage, 127, 324-332.
5. Cappuccio, F. P., Taggart, F. M., Kandala, N. B., & Currie, A. (2008). Meta-analysis of short sleep duration and obesity in children and adults. Sleep, 31(5), 619.
6. Kim, T. W., Jeong, J. H., & Hong, S. C. (2015). The impact of sleep and circadian disturbance on hormones and metabolism. International journal of endocrinology, 2015.
7. Broussard, J. L., Ehrmann, D. A., Van Cauter, E., Tasali, E., & Brady, M. J. (2012). Impaired insulin signaling in human adipocytes after experimental sleep restriction: a randomized, crossover study. Annals of internal medicine, 157(8), 549-557.
8. Leech, J. (n.d.). 10 reasons why good sleep is important. Retrieved from https://authoritynutrition.com/10-reasons-why-good-sleep-is-important/
9. Ohayon, M., Wickwire, E. M., Hirshkowitz, M., Albert, S. M., Avidan, A., Daly, F. J., … & Hazen, N. (2017). National Sleep Foundation's sleep quality recommendations: first report. Sleep Health, 3(1), 6-19.
10. Kim, M. A., Kim, E. J., Kang, B. Y., & Lee, H. K. (2017). The Effects of Sleep Deprivation on the Biophysical Properties of Facial Skin. Journal of Cosmetics, Dermatological Sciences and Applications, 7(01), 34.
11. Foster, R. (2013). Why do we sleep? Retrieved from https://www.ted.com/talks/russell_foster_why_do_we_sleep/transcript?language=en
12. Buysse,D.J., Reynolds,C.F., Monk,T.H., Berman,S.R., & Kupfer,D.J. (1989). The Pittsburgh Sleep Quality Index (PSQI): A new instrument for psychiatric research and practice. Psychiatry Research, 28(2), 193-213.