In part 2 of our All About Sleep series, we'll review 5 things that sabotage sleep and how to overcome them to sleep better naturally!
Note from Dena: I'm excited to share this guest post series on the topic of sleep, which affects each and every one of us. It was written by Sarah Fennewald, Dietetic Intern, as part of a research partnership between Back To The Book Nutrition and post-graduate nutrition students from the University of Houston.
---
In Part 1 of the All About Sleep series, we discussed the critical role that adequate sleep plays in optimizing our immune function, weight management, blood sugar regulation, mood, hormone balance, and other vital areas of our health. I also shared a 5-question Sleep Quality Quiz so you could learn whether you're sleep is truly adequate. If you missed it, be sure to go back and check it out!
Today, we're moving onto Part 2 of the series with 5 things that sabotage sleep and how to sleep better naturally. Let's jump in!
Several hormones regulate our circadian rhythm and sleep cycle, including melatonin and cortisol. Melatonin is the hormone that lets our body know it is time to sleep and it is released when it gets dark. When melatonin is released, the hormone cortisol decreases. Just before waking up, the reverse happens and cortisol increases to give us energy to help us wake up and face the day. Multiple factors can interfere with this melatonin-cortisol rhythm, sabotaging sleep patterns.
5 Things that Sabotage Sleep
1. Chronic Stress
Stress triggers cortisol production as part of the "fight or flight" response. This is helpful to overcome occasional temporary stress but, when stressful triggers (whether physical, emotional, or psychological) become the norm, the abundance of cortisol causes a whole host of problems, including HPA axis dysregulation, thyroid and reproductive hormone imbalance, and sleep disruption. (3,4)
2. Poor Gut Health
The gut microbiome can positively or negatively affect circadian rhythms and, with the average American dealing with chronic gut issues, this is a factor affecting most people at some level. (2)
3. Artificial Light/Circadian Disruption
A 2-hour exposure to light from self-luminous electronic displays can suppress melatonin by about 22%, which can significantly alter sleep patterns. (1) Conversely, just one week of camping can reset circadian rhythms and promote sleep. (14)
4. Hormone imbalance + PMS
Women with endometriosis, PCOS, and other hormone imbalances often report disrupted sleep. PMS can also affect sleep for some. (11)
5. Age + Menopause
As women age, changes in their bodies and hormones affect the quality of their sleep. Hot flashes can also interrupt sleep for perimenopausal and menopausal women, and postmenopausal women get less deep sleep and are more likely to wake up at night. (5)
Fortunately, there's a lot we can do to protect from these sleep disruptions. Use the following guidelines to change your habits and improve your sleep naturally!
How to Sleep Better Naturally
Manage Stress
Implement a relaxation routine before getting into bed, especially if you worry a lot at night. Taking a soaking bath with magnesium-rich Epsom salts, drinking chamomile or other herbal tea, deep breathing exercises, and diffusing lavender oil are all great ways to help with this.
Test for physical stressors like obesity, inflammation, gut infections/imbalances, hormone imbalances, and food sensitivities. These may not be perceived as easily as emotional factors that "stress you out", but they still need to be addressed. Complete the contact form on my Coaching Page to learn how to get tested.
Eat for Good Sleep
Limit caffeine, especially after noon.
Avoid eating dinner within 2 hours of bed.
Eat more of your protein in the morning and carbohydrates in the evening (protein requires a lot of energy to digest and can actually act as a stimulant and carbohydrate intake can reduce cortisol levels and prevent blood sugar from dropping too low). (8)
Eat magnesium rich-foods including dark leafy green, nuts and seeds, yogurt, beans, and legumes, or supplement with magnesium glycinate. (9)
Test for nutrient deficiencies and adjust your diet/supplements to correct these. For example, zinc, copper, B vitamins, choline, and vitamin D are common deficiencies that can impair hormone and neurotransmitter production (Serotonin and others) and compromise sleep. To learn more about nutrient testing and personalized diet/supplementation recommendations, complete the contact form on my Coaching Page. (12,13)
Eat prebiotics (fiber) and probiotics to support healthy gut microbes and reduce sugar, refined carbohydrates, and processed foods.
Mimic Natural Light/Dark Patterns
In the Morning: make sure you are exposed to sunlight once you get up, spend time outside during the day, and let natural light into your house and workspace.
In the Evening: Avoid all screens including TV, cell phones, and other electronic devices with artificial light 1 to 2 hours before you go to sleep. Dim the screens manually or with an app, or wear blue light-blocking glasses. (6)
Set a Bed Time that is in Sync with your Body's Natural Cycle
Set a "go to bed alarm" to remind you it's time to hit the sack! If you have a hard time sticking to it, set it 30 minutes earlier as a "get ready for bed" alarm.
Try to go to sleep and get up at the same time every day.
Try to be asleep by 10pm each night (our peak melatonin production is between 10pm and 2am).
Create a Nourishing Sleep Environment
Ban TVs and electronic devices in the bedroom to minimize artificial light and radiofrequency waves which interrupt your nervous system and can inhibit sound sleep. (7)
Reserve your bed for sleeping and intimacy only.
Balance Your Hormones
I love the DUTCH test for identifying and overcoming imbalances in stress and reproductive hormones – it can be done at home and provides more thorough feedback than blood or saliva tests. Complete the contact form on my Coaching Page to learn more.
Get Regular Exercise
Studies show that exercise promotes increased sleep efficiency and duration regardless of the mode and intensity of activity so engage in regular physical activity that challenges, but doesn't exhaust you. (10) Exercising in the morning or midday is less likely to disrupt nighttime sleep for most people.
---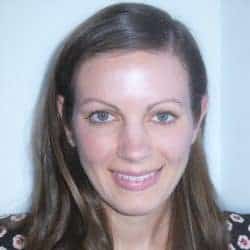 About the author: Sarah Fennewald is currently a Dietetic Intern at the University of Houston. She completed her B.S. in Dietetics at Fontbonne University in St. Louis, Missouri. Her goal is to use her nutrition knowledge to empower individuals to make real life changes that will improve their quality of life.
---
Disclaimer: Information on this site is intended only for informational purposes and is not a substitute for medical advice. Always consult with a trusted healthcare provider before implementing significant dietary change. Read additional disclaimer info here.

Sources:
Wood, B., Rea, M. S., Plitnick, B., & Figueiro, M. G. (2013). Light level and duration of exposure determine the impact of self-luminous tablets on melatonin suppression. Applied ergonomics, 44(2), 237-240.
Leone, V., Gibbons, S. M., Martinez, K., Hutchison, A. L., Huang, E. Y., Cham, C. M., … & Zale, E. (2015). Effects of diurnal variation of gut microbes and high-fat feeding on host circadian clock function and metabolism. Cell host & microbe, 17(5), 681-689.
Abbott, J. (2015). Here's how our hormones help us get to sleep. Retrieved from http://www.sciencealert.com/chemical-messengers-how-hormones-help-us-sleep
UCLA Sleep Disorders Center. (2017). Patient education: Sleep and women. Retrieved from http://sleepcenter.ucla.edu/sleep-and-women
van der Lely, S., Frey, S., Garbazza, C., Wirz-Justice, A., Jenni, O. G., Steiner, R., … & Schmidt, C. (2015). Blue blocker glasses as a countermeasure for alerting effects of evening light-emitting diode screen exposure in male teenagers. Journal of Adolescent Health, 56(1), 113-119.
Arnetz, B. B., Hillert, L., Åkerstedt, T., Lowden, A., Kuster, N., Ebert, S., & Wiholm, C. (2015). Effects from 884 MHz mobile phone radiofrequency on brain electrophysiology, sleep, cognition, and well-being.
Kresser, C. (2013). Ask the RD: Nutrition for better sleep and gaining weight on Paleo. Retrieved from https://chriskresser.com/ask-the-rd-nutrition-for-better-sleep-and-gaining-weight-on-paleo/
Abassi, B. & Kimiagar, S. (2014). The effect of magnesium supplementation on primary insomnia in elderely: A double-blind placebo-controlled clinical trial. Nutrition and Food Sciences Research, 1(1), 79.
Dolezal, B. A., Neufeld, E. V., Boland, D. M., Martin, J. L., & Cooper, C. B. (2017). Interrelationship between Sleep and Exercise: A Systematic Review. Advances in Preventive Medicine, 2017.
National Sleep Foundation. Women and Sleep. Retrieved from: https://sleepfoundation.org/sleep-topics/women-and-sleep

Kresser, C. (2016). The Functional Medicine Approach to Anxiety. Retrieved from: https://chriskresser.com/functional-medicine-approach-to-anxiety/

Kharrazian, D. (2013). Neurotransmitter Symptoms. Retrieved from: https://drknews.com/neurotransmitter-symptoms/.