Practical tips to optimize your marathon, triathlon, or other endurance training with real food!

Note from Dena: This guest post was written by Abbie Womack, Dietetic Intern, as part of a research partnership between Back To The Book Nutrition and post-graduate nutrition students from the University of Houston.
---
If you're currently training for a marathon, triathlon, or any other endurance event, you may be wondering about the best nutrition plan to fuel your training.
Endurance sports require a higher level of training and care for your body to cross the finish line in its healthiest state, and using real foods to give your body what it needs before, during, and after the event will help you reach peak performance and feel great doing it!
---
Before you begin…
Endurance events are not for everyone. Although a noble aspiration, these events can take a serious toll on your body if you are not in the right place to begin this level of training. If you are currently struggling with high levels of stress, burnout, or fatigue, I would encourage you to put your exercise goals to the side while you deal with those issues first. Holistic Nutrition Coaching can help with this.
Additionally, if you have a history of obsessive exercise or you can foresee this process becoming something that owns you rather than being an enjoyable goal to meet, you might want to consider a less taxing form of movement. You don't have to do an endurance event to exercise regularly, and if it will be unhealthy for you mentally, emotionally, or spiritually, it might be good to reconsider.
---
What defines an endurance event
Endurance exercise, also known as aerobic exercise, involves activities such as running, swimming, and biking that are sustained for greater than 1 hour.
Examples of endurance events:
Marathons and half marathons
Triathlons, mini triathlons, sprint triathlons
Cycling/bike races
Obstacle courses (i.e. Tough Mudders/Spartan races)
Intense training sessions lasting 1 hour or more
How the body uses food for fuel
Glucose and Glycogen as Primary Fuel Sources
First, a little background on how our bodies use various fuel sources. A non-exercising human body uses a combination of carbohydrates and fats to fuel everyday activities. However, in an exercising state, usage of nutrients shifts, and the main fuel source is carbohydrates (1). The body uses glucose, which comes from the breakdown of carbohydrates, to fuel the active muscles as well as continuing to fuel the brain and central nervous system.
Depending on what you have eaten and how long it has been since you ate, free glucose in the blood could last anywhere from 5-20 minutes. Next, the body turns to glycogen, which is a stored form of glucose that is found mainly in the liver. An average 150-lb person might have 1,800 calories worth of glycogen stores available (which last for around 2 hours, depending on the intensity of the exercise).
Can you use fat as fuel for endurance events?
Although carbohydrates have long been held as the primary fuel source for exercise, the recent ketogenic diet movement has prompted more athletes to explore training and competing on a low-carbohydrate, high-fat diet.
The idea is that when the body has limited carbohydrates, it turns to fat to produce energy. Once the transition to fat-as-fuel has taken place, body fat stores in most individuals far exceed the amount of glycogen stores they have. This bypasses the need to convert glycogen into glucose and also eliminates the need to snack during longer events to supplement depleted glycogen stores.
Research on whether athletes could use fat instead of carbohydrate for energy suggest that it is possible and some athletes report benefits to their performance; however, no definite advantage has been established (2-3). Additionally, many athletes find this diet difficult to adhere to, while a high-carbohydrate diet seems more natural (4).
It will be interesting to see how the research in this area develops in the coming years.
Note: This post contains affiliate links. By making purchases through these links, you pay the same amount for products, but a small portion of the sale will be sent my way to help support the mission of Back To The Book Nutrition. Thank you!
How to Fuel your Training with Real Food
So, how do you make sure you are getting the correct nutrition as an endurance athlete? You don't necessarily need to track how many grams of carbohydrate you eat every day, but you can try to start eating more foods high in carbohydrate and notice how it affects your performance.
Regardless of what time of day you exercise, you should eat 1-2 hours before your workout. This meal or snack should be rich in carbohydrates – sugar from those carbs will be the main source of energy for your workout. Below are some pre-workout ideas for easy, portable high-carb snacks made with real foods.
Pre-workout recipes:
How to Re-Fuel After Workouts with Real Food
For post workout re-fueling, your focus shifts from getting ready for exercise to recovering quickly. Re-fueling should happen no later than 30-60 minutes after exercise.
Protein is important for rebuilding muscles, and carbohydrates also need to be replenished. Although fat is slightly less essential, it will make for a complete snack that tastes great!
Post-workout recipes:
In Conclusion
Overall, there are many fun and tasty ways to get the fuel you need for your endurance event. Make sure to listen to your body and eat as often as you feel hungry, incorporating some of these snacks and meals to give you the nutrition you need to cross the finish line feeling like a star!
Stay tuned for Part 2 when we'll discuss 3 tips for using real food for race day success!
---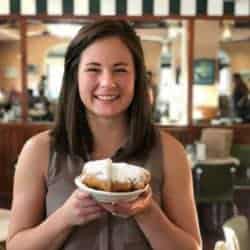 About the Author
Abbie earned her Bachelors and Masters Degrees in Nutritional Sciences from Oklahoma State University, and is currently completing her dietetic internship with the University of Houston before going on to work in the field of eating disorders. Abbie is newly married and enjoys swimming and eating ice cream!
---
Disclaimer: Information on this site is intended only for informational purposes and is not a substitute for medical advice. Always consult with a trusted healthcare provider before implementing significant dietary change. Read additional disclaimer info here.
References