Been to the farm recently?
We have. After three years of buying meat, poultry and eggs from Yonderway Farm, we finally made the 90 minute drive west of town to see for ourselves where our food comes from.
We loved it. We shouldn't have waited so long to do it, and neither should you!
If you've never visited a working farm, I'd encourage you to do it, and today I'm sharing 5 reasons why!
5 Reasons Everyone Should Visit a Farm
1. To bring the farm to life.
They say experience is the best teacher. Most of us won't get the chance to actually work on a farm, but visiting one is the next best thing. To see first hand the people who do the hard work of caring for animals or raising crops the old fashioned way, in order bring healthy, wholesome food your family – it's just beautiful. It's so much more than a package of meat or a bundle of produce off the grocery store shelf that came from who knows where and was treated who knows how.
2. To learn how your food is raised.
I'm very grateful to have my pick of grocery stores and natural markets close to my home where I can find just about any variety of any food I could ever want or need. But, what I can't get at those stores is first hand knowledge. I can't know for sure what "cage free," "free range," "natural" or "pastured" means to the particular farm where the food was was raised. Since there is little to no regulation of labeling claims like these, it's nearly impossible for me to know what I'm paying for (and sometimes I'm paying a lot for it!).
However, when we visited Yonderway Farm recently, this is what we saw: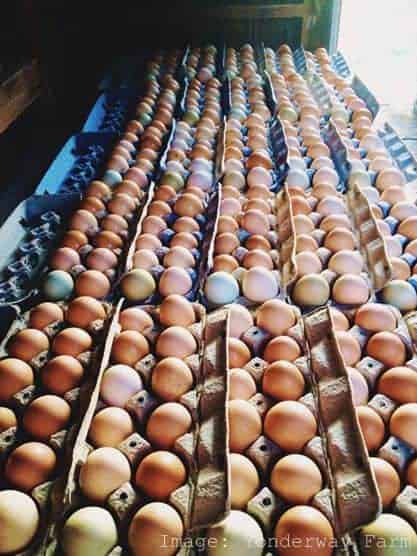 Now that's about as "natural" and "cage free" as it gets!
3. To connect with the farmer and his family.
Jason and Lynsey Kramer have become like local heroes in our parts. Magazines feature them. Restaurants and natural markets sell their products. They were even featured on a recent episode of the television show Junk Gypsies.
But, you know what?
They're also real people. With 4 precious and very real daughters. And a real love for the Lord and His creation. And a real appreciation for the thousands of people who purchase from their farm and support their family. And a real commitment to visiting with customers and answering their questions at monthly deliveries. I know all of this because of real conversations I've had with them over the past three years.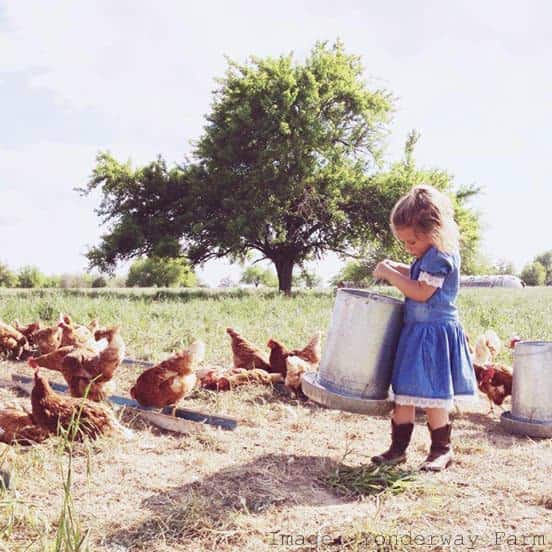 What's more, this real family started out where many of us are – living in the city, buying locally grown food in an attempt to feed their family well. They decided to try growing their own food using some family-owned land. One thing led to another, and now they're running their own farm within driving distance of several large cities, operating a store front, and making 45 deliveries to surrounding areas each month, not counting restaurants and storefronts that sell their products.
When asked what his favorite part is about farming, Jason quickly responds,
"It's an adventure that we get to do together as a family."
And this love of family shows. Whether in person, on Farmer Jason's and Lynsey's Instagram feeds, it's evident that the Kramers love one another deeply, and that they love farming together.
My husband and I love that we're supporting a family who's striving to honor the Lord and provide an amazing product. I could go on and on about the smoked sausage…and bacon…oh, and those eggs with the fluorescent orange egg yolks….but I'll restrain myself.
4. To meet others in the farm to table community.
Many farms, including Yonderway, welcome guests just about any time, our recent visit was part of "Open Farm Day," where customers and the public are invited to tour the farm, ask questions, and mingle with the farmers and one another. Over 50 families and countless little ones drove from all around to be a part of it. I love how food brings people together; and, even though we were touring the farm with a crowd of people we didn't know personally before arriving, there was a sense of camaraderie with so many who share similar values with regard to feeding their families. Of course, conversations at in-town deliveries and on social media also add to the sense of community.
5. To get out in nature.
Beyond the value of supporting local growers and feeding our family with wholesome food, it's just plain good to get out into the country sometimes. There's something about the "concrete jungles" where so many of us live that begin to suffocate something deep in our beings without us even realizing it. But, as I get out into wide open space with pastures and sunsets and dirt roads, something inside me settles a bit, exhales, and smiles. I truly believe that's something God designed inside of us to pull us toward Him and His creation.
Some of you have probably had the chance to visit a farm that operates with pre-Industrial Revolution farming methods to raise healthy crops or livestock. (If so, please comment below to share your experience!)
If you haven't, I want to encourage you to do it. It's an experience you won't forget; and I truly believe that most families, after seeing the farm in person, will be more motivated than ever to adjust other activities or expenses to make room in their calendars and budgets for supporting farmers and buying fresh, local food.