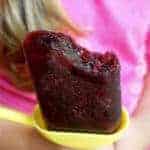 "Medicine" disguised as dessert! These immune boosting, cold and flu fighting popsicles are super sweet, and are cheap and easy to make.
Pour 1.5 oz of prepared Mombucus into each popsicle mold (about half full in my 3oz molds).

Fill the remainder of the mold with cranberry apple juice.

Freeze for a few hours or until set. Run hot water over the mold or allow to sit on the counter for a few minutes to loosen the popsicles before removing from the mold.
* To prepare Mombucus Immune Syrup:
Combine 1/2 cup organic elderberries and 2 cups water in a saucepan and bring just to a boil. Reduce heat and allow to simmer for about 20 minutes. Strain the juice, discard the berries and whisk in 1/4-1/2 cup of raw organic honey (to your taste). For more details, visit: http://www.backtothebooknutrition.com/fight-cold-and-flu-naturally/