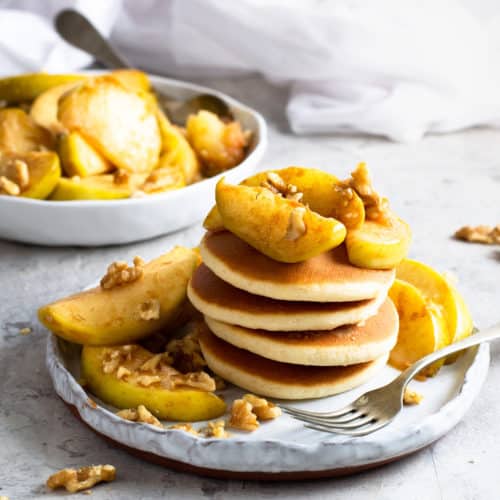 Print
10 Minute "Baked" Apples (Stovetop or Microwave)
Honey sweetened baked apples in only 10 minutes. Juicy, sweet, cinnamon scented apples that are perfect for a healthy dessert or breakfast. Eat them as they are, on top of ice cream, pancakes and so much more!

Servings
4
small servings 2 large
Chop apples and place in bowl/pot. Add remaining ingredients, except walnuts.

Cover and cook on medium-high heat for 6-8 minutes, stirring often.

Sprinkle with walnuts and serve.
The honey naturally sweetens the apples and helps create a caramel like glaze that coats the apples. You could also substitute maple syrup. I often use a blend of the two so the flavor of either one doesn't overpower the recipe.
The cinnamon really brings out the delicious sweet flavors in the apples and gives them a festive feel, you can add more or less to taste, or add nutmeg and other spices to your liking.
You can chop the apples into rough pieces or slices (medium thickness). The trick is not to chop them too small because they will cook much faster and soften too quickly.
You can store the cooled apples in the fridge in an airtight container for 1-2 days and use them to top desserts or breakfasts.
We also love adding a few raisins or chopped dates before cooking.