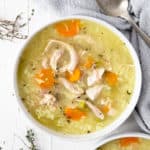 Print
20 Minute Rotisserie Chicken and Rice Soup
Gluten free and ready in only 20 minutes, thanks to the rotisserie chicken and prepared broth!

6

cups

homemade chicken broth/stock*

2

cups

water

2

large cloves garlic

minced or pressed

1

cup

chopped yellow onion

1

cup

sliced carrot

1

cup

sliced celery

1

bay leaf

1

Tbsp

sea salt

more or less to taste, depending on how salty your broth is

1/2

Tbsp

ground black pepper

or to taste

1/2

tsp

dried thyme

1

cup

white rice

I use organic basmati

1

rotisserie chicken

* I freeze my homemade broth in mason jars

then defrost a few at a time as I need them: Remove lids and place frozen jars in a pot of water on the stove over medium low heat until broth is fully defrosted.
Place all ingredients except rice and chicken in a stock pot and bring to a low boil. (If your chopping veggies as you go, start the broth + water on high heat and chop in the order listed, tossing each into the pot as you go to speed things up a little).

Add rice, reduce to a simmer, then cover and cook until rice is soft (12 minutes or so).

While rice is cooking, remove meat from rotisserie chicken and cut into bite size chunks.

Once rice is cooked, add chicken to the pot and give it all a good stir. Heat for a couple more minutes until chicken is hot.
Top Tips For Making The Best Rotisserie Chicken And Rice Soup
Use homemade broth/stock it's much more flavorful and makes a big difference to the end result of this soup. Plus there's no nasty additives or added salt.
Store you homemade broth in the freezer to make comforting and healthy soups whenever you need them.
Rinse the rice under cold running water using a kitchen strainer before adding to the soup (unless stated otherwise on the packet). This removes the surface starch from the rice which stops the rice clumping together and going all sticky and gummy.
Don't have rice? Use noodles...any will do!
This recipe calls for dried thyme but you can easily adapt it with other fresh or dried herbs such as parsley, rosemary or basil. You could even try a few red pepper flakes for a spicy kick.
Once you're done with the rotisserie chicken use it to make more broth (stock) for next time. Don't have a rotisserie chicken? Follow the steps below.
The beauty of this recipe is that it's super fast, yet still has all the rich flavor of traditional homemade chicken and rice soup. The key is using homemade broth, cooked low and slow for maximum flavor and nutrition. If you don't make your own broth, I'd suggest buying a whole chicken instead of the rotisserie chicken.
Add it to the pot at the beginning of cooking, and cook thoroughly (approximately 30 minutes) before adding the rice. This will add some extra flavor to the soup and it should still only take 40-45 minutes to cook.