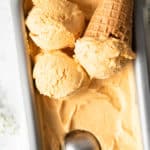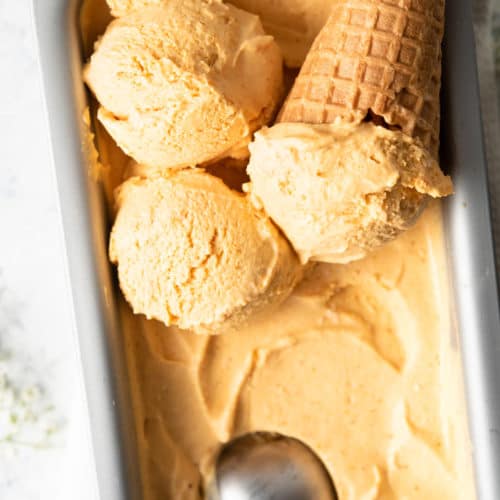 Print
Easy Pumpkin Ice Cream (5 minute, no churn recipe)
Super easy pumpkin ice cream recipe for fall – you only need 5 ingredients and 5 minutes to whip it up! (No ice cream maker needed)

Use an electric mixer to beat cream and milk to stiff peaks

Add remaining ingredients and mix on low until combined.

Cover and freeze several hours or until ready to serve.
Be careful not to overwhip the cream or the fat will separate and it'll resemble scrambled eggs. You'll know the cream is ready when it's thick, glossy and can hold without collapsing.
You can add extra flavorings to this ice cream why not try cinnamon, nutmeg or some a splash of liqueur for something a little extra special.
This pumpkin ice cream will store really well in the freezer for months just make sure that it's covered.
Let the ice cream thaw for 10 minutes before serving it'll be much easier to scoop.
When it comes to toppings you can add whatever you like, candied nuts are a delicious and healthy treat.