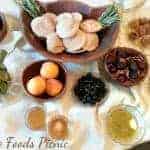 Sweet, juicy figs poached with a touch of cinnamon and garnished with a fresh walnut.
Heat the juice, honey, and cinnamon sticks in a saucepan over medium heat, stirring to combine.

Once the mixture is hot, add figs, cover and simmer until tender, about 10 minutes.

Use a slotted spoon to transfer figs to plate with stem end up.

Turn heat up to raise syrup mixture to a boil. Continue boiling until it thickens to your liking.

Pour syrup over figs, then gently press one walnut half into the stem end of each fig.