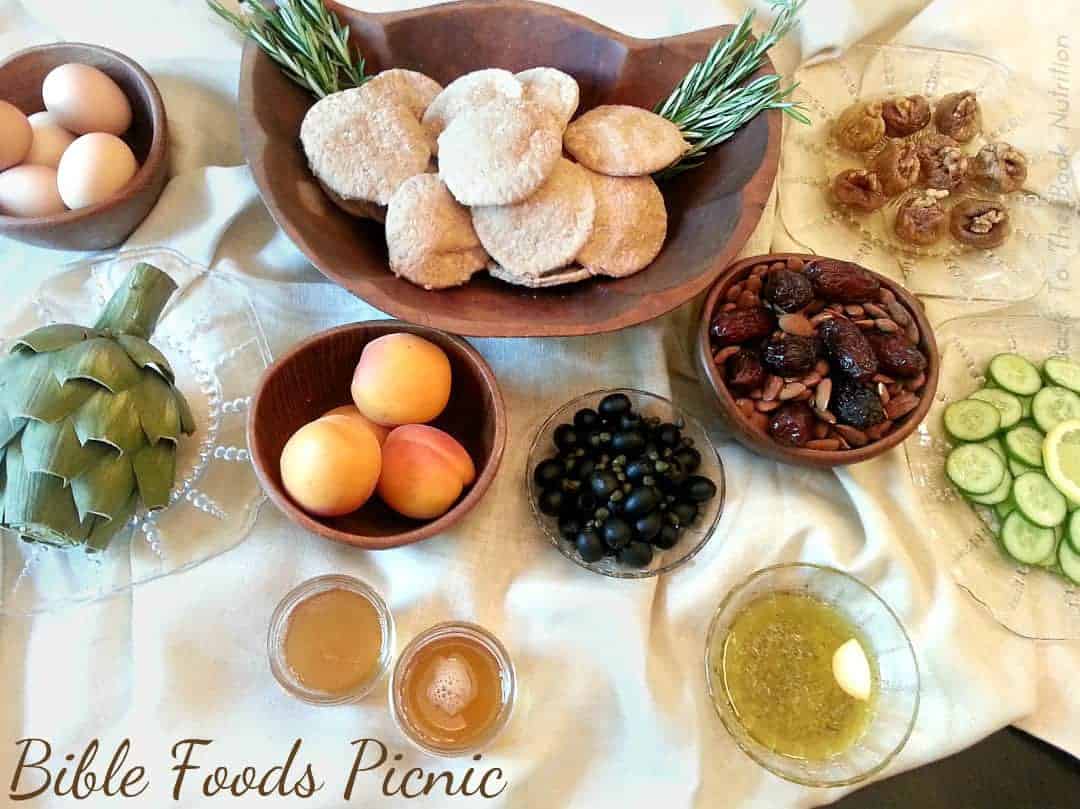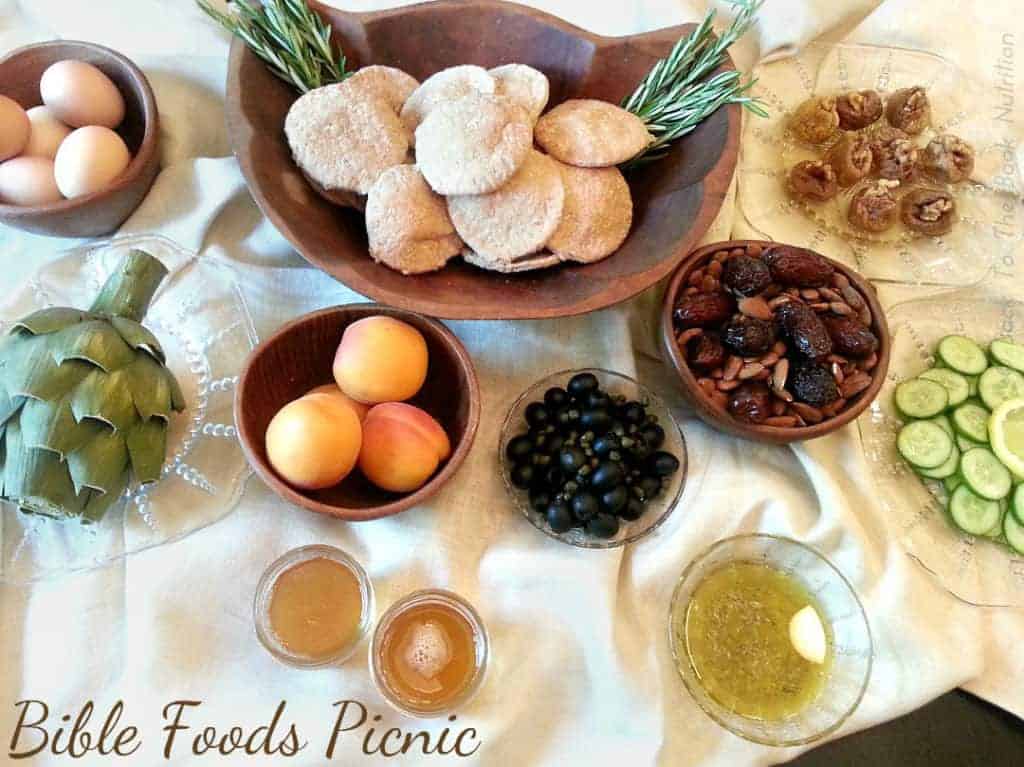 It's all about kids today! A Bible Foods Picnic is an idea that's lots of fun for kids and, I believe, can provide a meaningful experience for the whole family!
What is a Bible Foods Picnic?
It's simply this – a picnic full of foods similar to those that would have been served in biblical times.
Everything you need can be purchased at a regular grocery store, though an imported foods store might have some fun extras! It could be as basic as buying prepared pita bread, olives, almonds and pears. Or, you could spend time preparing authentic recipes. More on that later.
Why Serve a Bible Foods Picnic?
A bible foods picnic is very easy to put together and is a great way to experience first-hand what a meal during Jesus' day might have looked like.
Children – especially young children – need tangible ways to know that God and his Word are real and right and true. Older kids may enjoy learning about the health properties of different foods and learning about modern day cultures who still eat biblical foods as the mainstay of their diets.
This is also a great way to open up conversation about what real life would have been like in the days of the Bible. What did a normal day look like? What did families do together? With whom did Jesus share meals?
On top of all of that, it's just plain fun!
How To Prepare a Bible Foods Picnic
This can truly be as simple or as intricate as you'd like for it to be. Here are a few ideas to get you started.
The Setting:
Lay out a blanket on the floor. Place pillows around the edge for reclining if desired. Consider turning off the lights and eating by candle light.
The Attire:
Of course, dressing up is completely optional, and younger children will probably enjoy this more than older ones. When I did this at home a while back, my 4 year old loved getting to dress in "bible clothes" (aka: mom's robe and a linen fabric "headdress"). Anything from robes to bed sheets to extra fabric pieces can used as clothing. I also braided a few strips of scrap fabric into a tie for my daughter's headdress and a belt to go around her waist.
The Food:
A quick mental survey of foods mentioned in the bible is a good place to start. Here are a few examples:
Fruits – dates, pomegranates, figs, melon, apples, and grapes
Vegetables – olives, grape or fig leaves, cucumbers, onions, and fava beans
Proteins – fish, goat, lamb, beef, nuts, eggs and cheese
Grains – wheat, barley, millet and rye
Other – honey, garlic, milk, butter, various oils, herbs, and spices
In addition to whole food items like these, it's really fun to experiment with a few authentic recipes. For that, I'd very highly recommend getting the book, Food at the Time of the Bible
This book is beautifully illustrated and covers everything from the meaning of food to explanations of how specific foods were grown to over 45 different authentic recipes!
The Conversation:
Consider preparing a few questions or tidbits of information about life and food during bible times to get the conversation going.
The book above is a rich resource of pictures, archaeological and geographical information to shed light on the culture, the land, and the food of the Bible. Even if you don't prepare any of the recipes it provides, it's an excellent resource to add to your family library.
Of course, listing some biblical passages would be a great springboard as well.
Favorite Bible Foods Picnic Recipes
Hopefully, you're already planning a bible foods picnic of your own!
As you do, I want to share with you two favorite recipes from our first, very simple Bible Foods Picnic: Cinnamon Poached Figs with Walnuts and Spiced White Grape Juice (wine in the original recipe).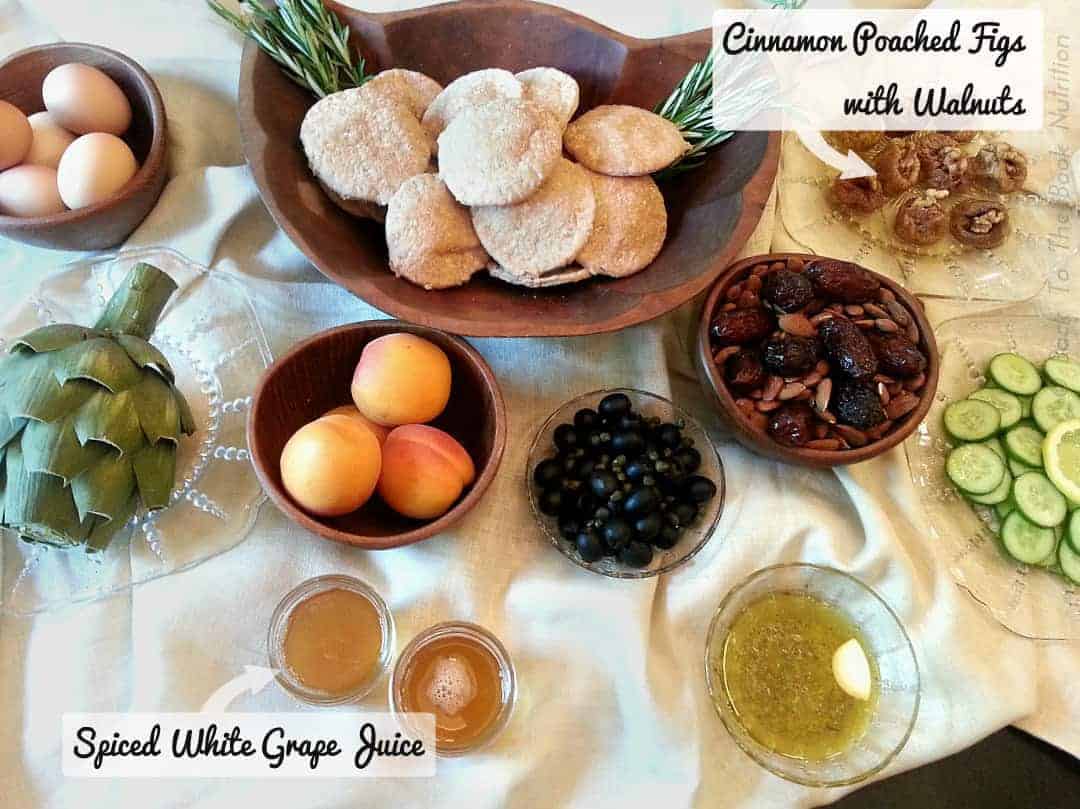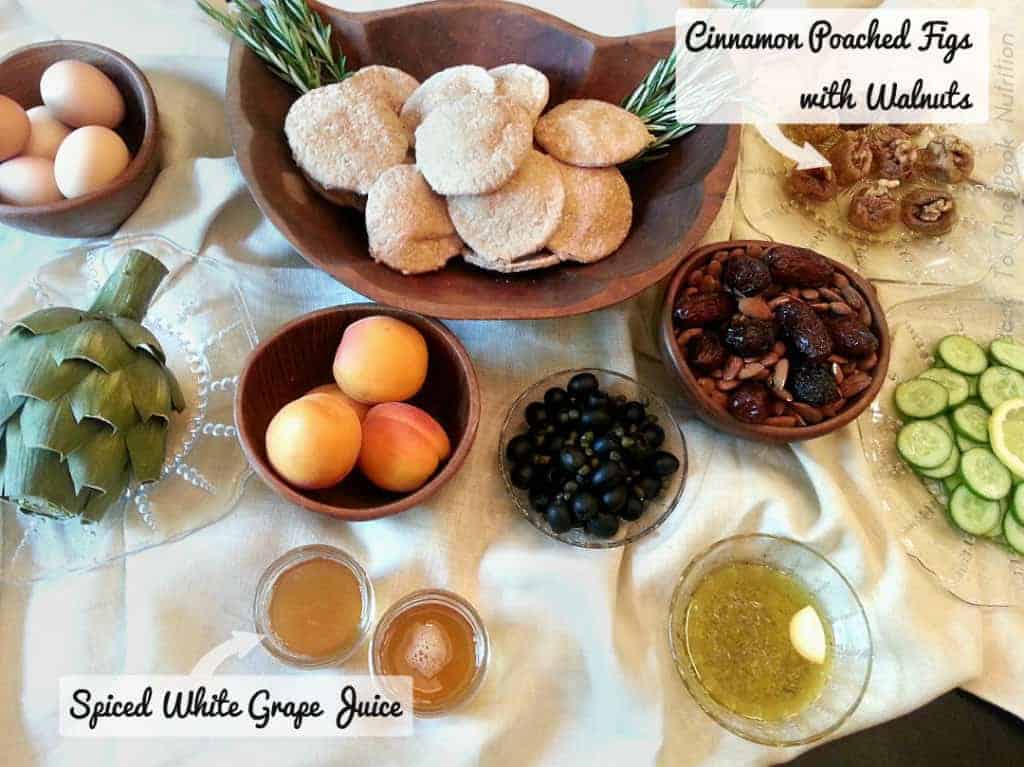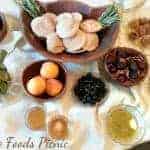 Cinnamon Poached Figs with Walnuts
Sweet, juicy figs poached with a touch of cinnamon and garnished with a fresh walnut.
Print
Pin
Rate
Ingredients
1/2

cup

apple juice

2

Tbsp

raw honey

1

cinnamon stick or a pinch of ground cinnamon

8

Fresh or dried figs

stems removed

8

walnut halves
Instructions
Heat the juice, honey, and cinnamon sticks in a saucepan over medium heat, stirring to combine.

Once the mixture is hot, add figs, cover and simmer until tender, about 10 minutes.

Use a slotted spoon to transfer figs to plate with stem end up.

Turn heat up to raise syrup mixture to a boil. Continue boiling until it thickens to your liking.

Pour syrup over figs, then gently press one walnut half into the stem end of each fig.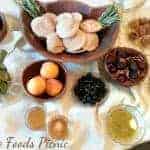 Spiced White Grape Juice
Sweet white grape juice, gently heated with dates and spices. Unique and delicious!
Print
Pin
Rate
Ingredients
16

oz

white grape juice

1

date

pitted and chopped

1

cinnamon stick

1/4

bay leaf
Instructions
Combine all ingredients in a saucepan and bring to a simmer for about 10 minutes.

Discard the chopped dates, cinnamon stick and bay leaf.

Serve warm.
Notes
The original recipe calls for white wine instead of juice, but this family friendly version was enjoyed by all! The serving size is just 4 ounces - a little goes a long way!
Adapted from Food at the Time of the Bible