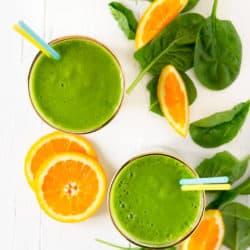 3 simple ingredients make a refreshing and citrussy-sweet smoothie! (Dairy free)
Keyword:
dairy free green smoothie, healthy smoothies
Servings
:
2
servings (16 oz)
Optional - for creamy version
Place oranges in blender, then frozen pineapple, followed by spinach.

Blend on low-medium speed until incorporated, then on high until smooth.

Makes 16oz.
Tips For Making This Orange Pineapple Green Smoothie;
Make sure to use frozen pineapple. It makes the smoothie thick and cold, if you used fresh pineapple it wouldn't have the same consistency. 
If you don't have pineapple frozen banana or 1-2 Medjool dates work well for thickening, but it won't be as zingy.
When selecting greens, I like "baby" versions since they're picked earlier and have a much softer texture than more mature greens. Spinach is my favorite because of it's silky smooth texture, but baby kale or other baby greens could be substituted as well.
If you don't have a high speed blender try tilting the blender and giving it a little shake if the ingredients get stuck. You can also stop it and stir the ingredients with a spoon then continue blitzing.
For a creamy version, add 1/2 cup coconut milk.