Dinner just got easier! These 5 tips will decrease your dinner stress and help you get healthy meals on the table!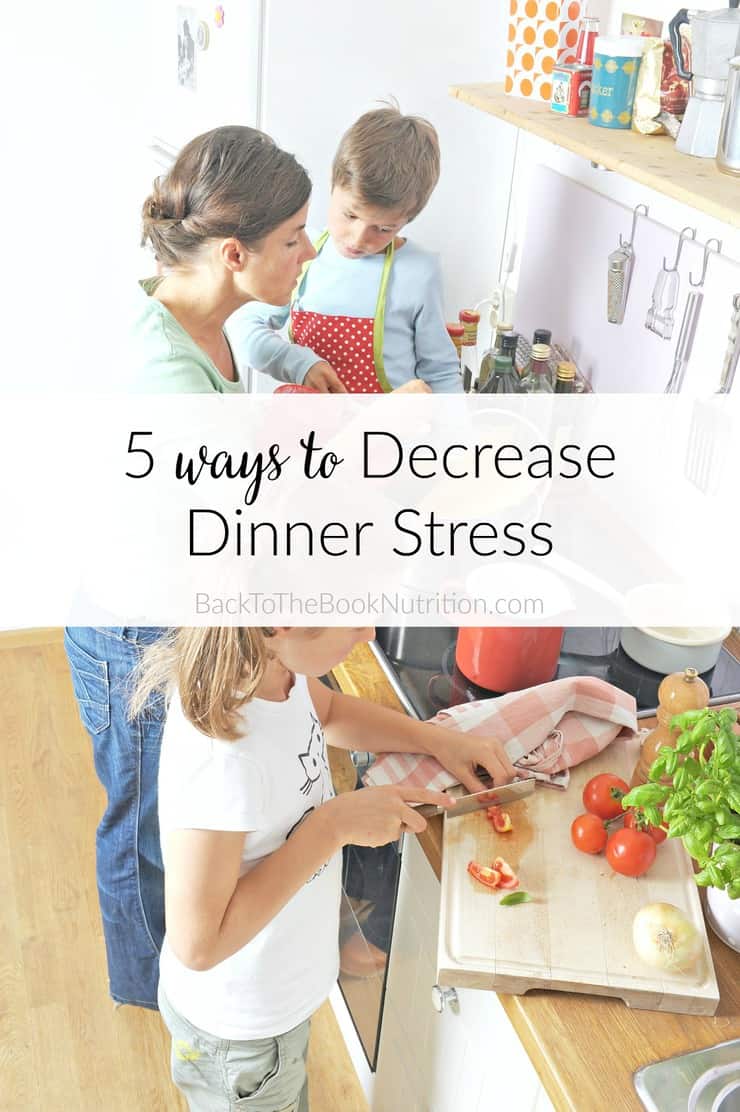 Couldn't we all use a little less stress when it comes to getting dinner on the table?
I know I could.
Even as a dietitian and food blogger, I sometimes struggle with consistently getting healthy meals on the table, on time, every single night.
Just in case you can relate, today I'm sharing 5 things that help me de-stress dinner time at my house.
5 Ways to Decrease Dinner Stress
1. Have the Groceries Delivered
Last year I splurged and bought a membership for a grocery delivery service and it was some of the best money I spent all year.
Yes, the membership cost money and yes, I tipped delivery staff. But I still think I saved money because there was no impulse buying or doubling up on sale items I may not have really needed!
Plus, saving me two hours round trip with kids in tow every week? WORTH IT.
2. Enlist the Kids
I'm a big believer in kids learning to cook (here are 12 reasons why!), both for their own benefit and to help mom out. If your kids are old enough and skilled enough, by all means – let them cook part or all of the dinner!
If not, teach them to set the table, clear the table, and pitch in with other non-cooking tasks that save you time.
3. Use Disposables
Sometimes it's not just getting dinner on the table that feels daunting, it's the thought of all those dishes you'll have to do afterward!
Why not just throw the dishes away instead?!
Making more trash isn't ideal. But buying paper plates and plastic utensils in bulk at Costco is one of the compromises I'm willing to make during this busy season of life to decrease dinner stress and help me keep healthy meals on the table.
4. Stock Healthy Back-up Dinners
No matter how perfectly you plan, we all have those days (or weeks?) when life just happens.
On those days, having a stash of healthy back up dinner options is the key to filling the gap between your weekly meal plan and ordering pizza.
Some of my favorite healthier back-ups are:
5. Get Go-To meal planning tools + recipes at your fingertips!
As with most important things in life, the key to winning the healthy dinner battle is having a good plan in place. Specifically, you need a meal planning tool that works for you and loads of recipes that fit your family's needs and preferences.
There are lots of resources out there – apps, printable meal plans, and recipes galore.
But one of my very favorite resources is Real Plans.
Real Plans is the most customizable meal planning service I've ever seen – it allows you to select for Classic, Dairy Free, Gluten Free, Whole 30, Paleo, Keto, AIP, and other categories of special diets. Plus, you can opt out of ingredients or food groups based on your family's allergies or preferences!
If that weren't all, Real Plans will send you defrost reminders, shopping lists, and more to help you put your plans into action!
Go ahead – give it a try! They offer a 30-day money back guarantee, so there's really no excuse! 😉
What are your favorite tips for Decreasing Dinner Stress?