Download your list of 25+ nontoxic beauty, skin care, and cleaning products I use and love! Plus, my easy, 3 step process for switching to natural products without the overwhelm!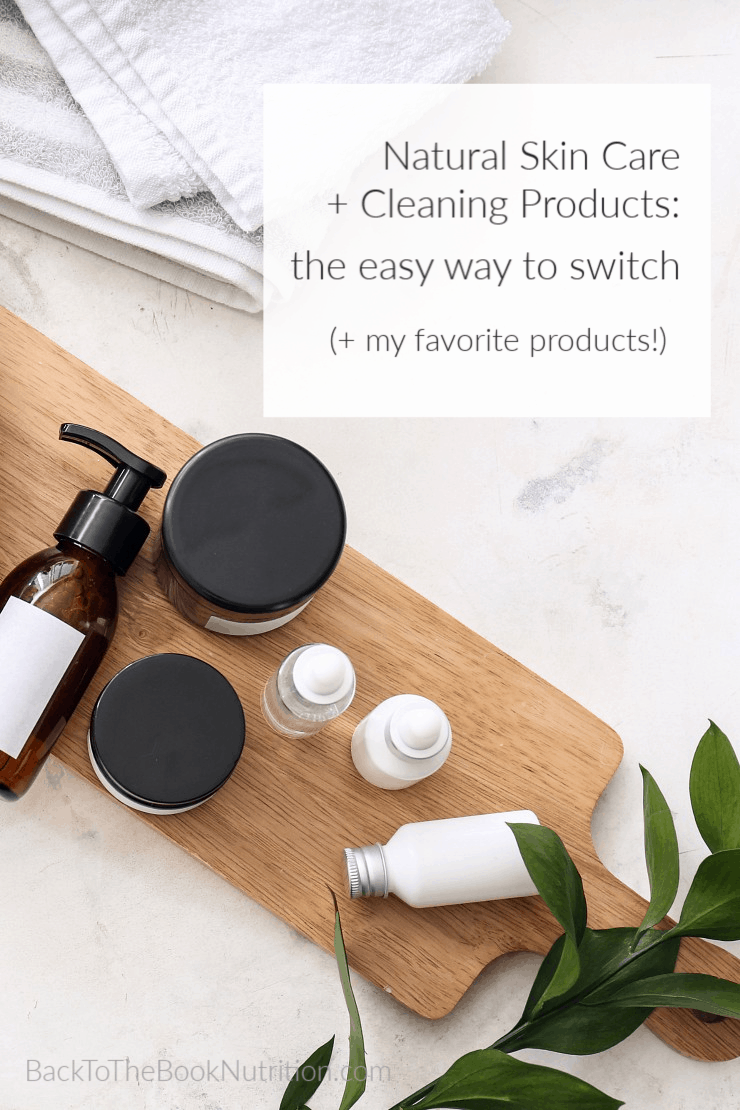 When one of my children developed eczema years ago, I started researching natural alternatives to our then conventional soap, laundry detergent, shampoo, and lotion. In the beginning, I mostly made DIY versions like this lotion.
The busier I got, the less time I had to make everything…and, to be honest, I just never was 100% happy with the performance of some of the products like homemade laundry and dish detergents. Fortunately, that was about the time the natural market really started exploding. These days I buy almost everything.
WHY SWITCH?
Our food, water, fabrics, personal care products, household cleaners, and even the air we breathe are all rife with toxins that have been linked to hormone imbalance, poor gut health, immune dysfunction, cancer, and more.
The body was designed to detoxify and remove harmful toxins, but our exposure to phthalates, parabens, fragrances, and more is fast outpacing our bodies' detox capabilities, especially when you add the fact that so many of us are burning the candle at both ends, hardly sleeping, and not getting the nutrition we need, all of which further impair detoxification.
In today's world, we won't be able to escape harmful chemicals entirely, but it's more important than ever to choose safer, nontoxic products where we can.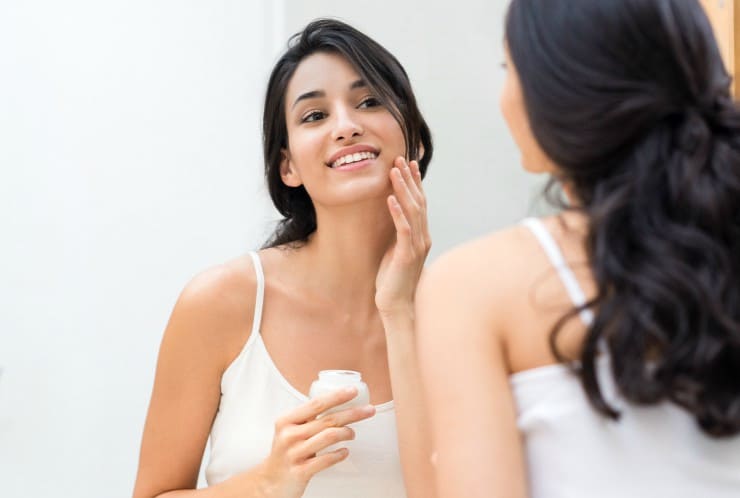 HOW TO SWITCH TO NATURAL SKIN CARE & CLEANING PRODUCTS THE EASY WAY
STEP 1: Make vs. Buy
Decide whether time or money is your bigger limitation. When it comes to switching to clean beauty and home products, you're most likely going to either spend more time making natural products yourself, or spend more money buying them. If money's tight, you may experiment with more DIY products first. If you're strapped for time, try buying natural products instead.
STEP 2: Do your research
We all know product packaging is mostly just advertising, and skin care and cleaning product manufacturers are notorious for "greenwashing" products to make them appear more natural than they really are….even cleaner brands like Seventh Generation and others! So always look up products or ingredients yourself – I like the Environmental Working Group's (EWG) Skin Deep Guide (for cosmetics and skin care) and their Guide to Healthy Cleaning (for household cleaners).
I love that EWG ranks products from 1-10 (1 being best and 10 being worse), based on their safety. But the number ranking is an average, so I always click on the product to view the number ranking for each individual ingredient – you'll sometimes see products with an average ranking of 1 or 2 (the best score possible), yet one of their ingredients is actually a 6 or 7! For any ingredients with higher scores, I look closely at the actual research cited that earned it that score to decide whether I'm comfortable using it.
STEP 3: Don't do it all at once
Just like other big changes in life, completely overhauling your beauty, skin care, makeup, laundry, and household cleaners all at once can be overwhelming (and expensive!). For most of us, it's more realistic to make changes gradually. Here are a few ways to do it:
OPTION A: REPLACE MOST FREQUENTLY USED ITEMS FIRST
Pick a few products that are the most frequently used by the most members of the household. Things like hand and body soaps, shampoo, and laundry detergent. Give yourself some time to research, try a few products (or recipes), and decide which ones you like the best. Once you've conquered these, pick a few more to focus on.
OPTION B: REPLACE AS YOU RUN OUT
Keep an eye on skin care and cleaning products throughout the house that will be running out soon. Start researching now so you have a safer replacement ready when the time comes. Maybe you're nearing the bottom of the laundry detergent – spend this week researching options and purchase or make one you'd like to try first.
OPTION C: REPLACE BY CATEGORY
Pick one category like makeup, laundry, hair products, or bath and shower items. Focus on replacing all items in that category before moving onto the next.
MY FAVORITE PRODUCTS!
I'm often asked what makeup, skin care, and cleaning products I use, so I put together a download with clickable links to all my favorite products – makeup, deodorant, shaving cream, laundry detergent – everything! You'll notice I use a wide variety of brands with a mix of different price points. It has taken me years of trial and error to settle on these, but it's so nice to finally be REALLY happy with everything I use!
All of these products have low EWG average scores, with a few ingredients tipping into the 3-4 range. My indulgence is the Skylar perfume, which avoids some of the most toxic chemicals found in traditional perfumes, but does include fragrance, which I generally avoid. But it's something I only use once every couple of months for the occasional fancy event or date night, so I'm okay with that. 🙂

Switching to nontoxic products takes time – Just be patient with the process and celebrate every safer step you're making! 🙂