This silky smooth DIY lotion whips up in minutes and is made from 100% all natural ingredients like shea butter, coconut oil, and essential oils so you can make it whatever scent you like. Includes options for thinner lotion texture or thicker hand cream.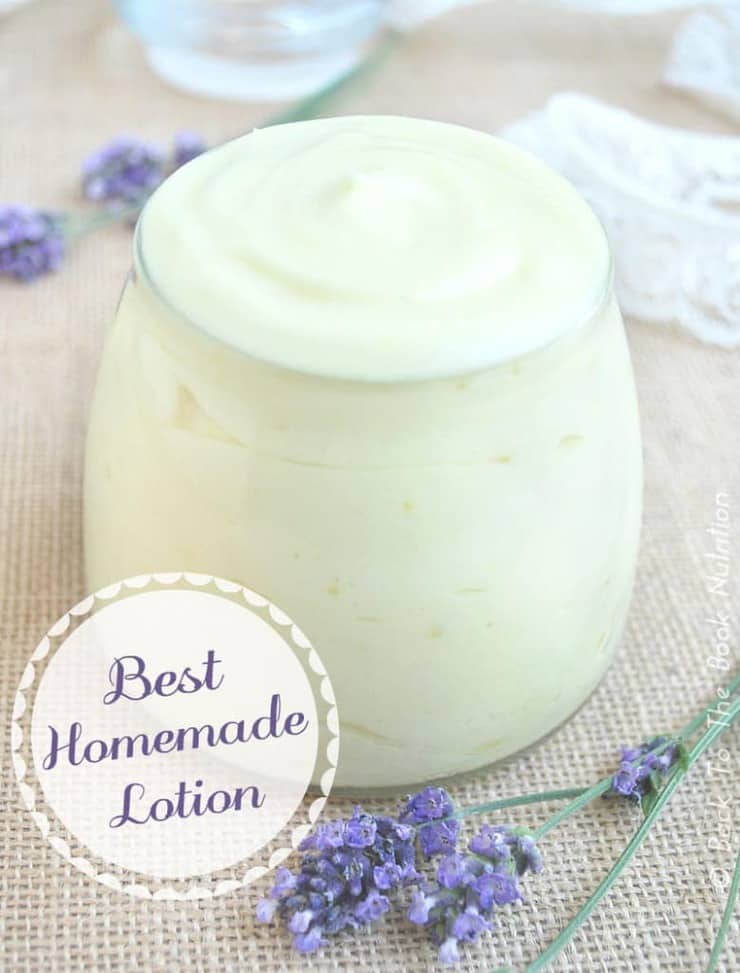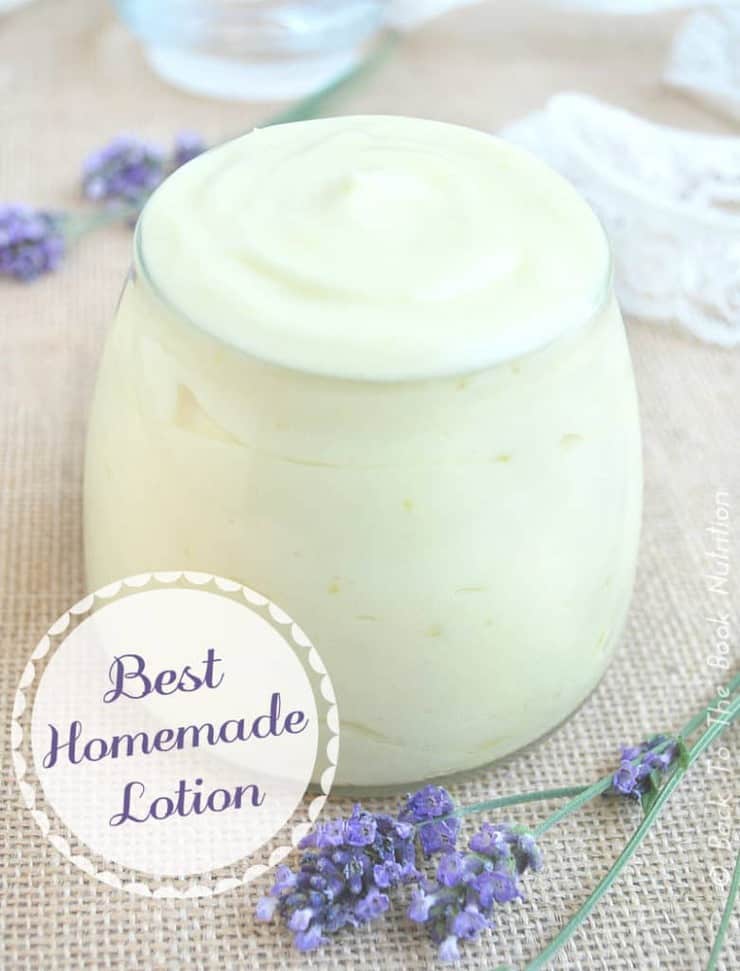 I've loved soft and flowery scented lotions every since my first encounter with Country Apple and Sun Ripened Raspberry. Does anyone else remember those?
Ah…the good ole days.
Except that I never knew to question what I was slathering all over my skin day in and day out.
My old favs were discontinued long ago, but here are the ingredients in Japanese Cherry Blossom, a top seller from that same bath and body store I used to love:
Water, glycerin, petrolatum, cetyl alcohol, cetearyl alcohol, dimethicone, fragrance (parfum), ceteareth-20, butyrospermum parkii (shea) butter, simmondsia chinesis (jojoba) seed oil, tocopheryl acetate, carbomer, isododecane, neopentyl glycol diheptanoate, tetrasodium EDTA, disodium EDTA, sodium dyroxide, bhy diazolidinyl urea, methylparaben, benzyl alcohol, propylparaben, alpha-isomethyl ionone, benzyl benzoate, benzyl salicylate, butylphenyl methylpropional, cinnamyl alcohol, citronellol, coumarin, hydroxyisohexyl 3-cyclohexene carboxaldehyde, linalool
Aaack! What is all that stuff? It's been a while since I took biochemistry, but I'm pretty sure some of is NOT supposed to be going into my body!
Sadly, buying more "natural" and "organic" alternatives can mean little more protection than the standard versions! This short clip from Environmental Working Group is pretty compelling:
Check out EWG's database to help find safer commercial products….or just make your own from a few simple ingredients that God designed, and know for certain what's going onto your skin!
If you're a regular reader, you might notice that the ingredients in this lotion are very similar to those in my 1-Step Homemade Shaving Cream…well, okay – so they're identical, with the exception of the lavender.
But, ever since I whipped up my first batch of shaving cream, I've been using it as my mainstay moisturizer – I love it so much, I started experimenting with other scents, and really thought this lavender blend deserved it's own post.
Ready to make a batch of the best homemade lotion for yourself? You'll just need an electric mixer, about 3 minutes, and 3 ingredients: Pure Shea Butter
, Pure Coconut Oil, and Lavender Essential Oil
(or any other essential oil).
And, with Mother's Day just around the corner, this would make a great gift!
Tips for Making the Best Homemade Lotion
Shea butters can vary widely in their scent. In my experience, the lighter (white) shea butters have the most mild scent and the darker (yellow) ones smell much stronger. I prefer the white for this recipe.
You can substitute cocoa butter for the shea butter too, which would give it a light chocolate scent, similar to my white chocolate and double chocolate body butters.
You can simply mix all ingredients at room temperature in a single step. But some have found it helpful to soften/melt the shea butter and coconut oil first to prevent any clumping. If you melt them all the way, you'll want to chill the mixture before whipping it.
If you like your lotion thicker like hand cream, be sure to add the melted beeswax pastilles.
Best Homemade Lotion
Everyday hand and body lotion - 3 ingredients, 3 minutes, and completely natural! Makes an excellent overnight moisturizer, especially if using those neat little white cotton hand gloves!
Keyword:
DIY lotion, homemade lotion
Instructions
Place all ingredients in a stand mixer or large bowl. Beat until soft peaks form, then transfer to glass storage containers.
Recipe Notes
This recipe makes a large batch of lotion - at least 20 oz. You'll need less of this than commercial moisturizers - just a dime size is plenty for both hands and arms.
Have you tried making your own hand lotion?
And – just for fun – I'd love to hear what your old favorites were if you also used to shop that the famous bath and body store – were you a Flowering Herbs kind of girl? Or Peony? Or maybe Honeysuckle?
If you enjoyed this, you might also like these other natural skin care ideas!