Hands down, the World's BEST banana bread – I've eaten a lot of banana bread in my life, and none has ever been able to top this favorite family recipe! Sweet, moist, and with plenty of ripe banana flavor, it's a classic comfort food that can served for breakfast or dessert. Includes flavor variations and cooking tips.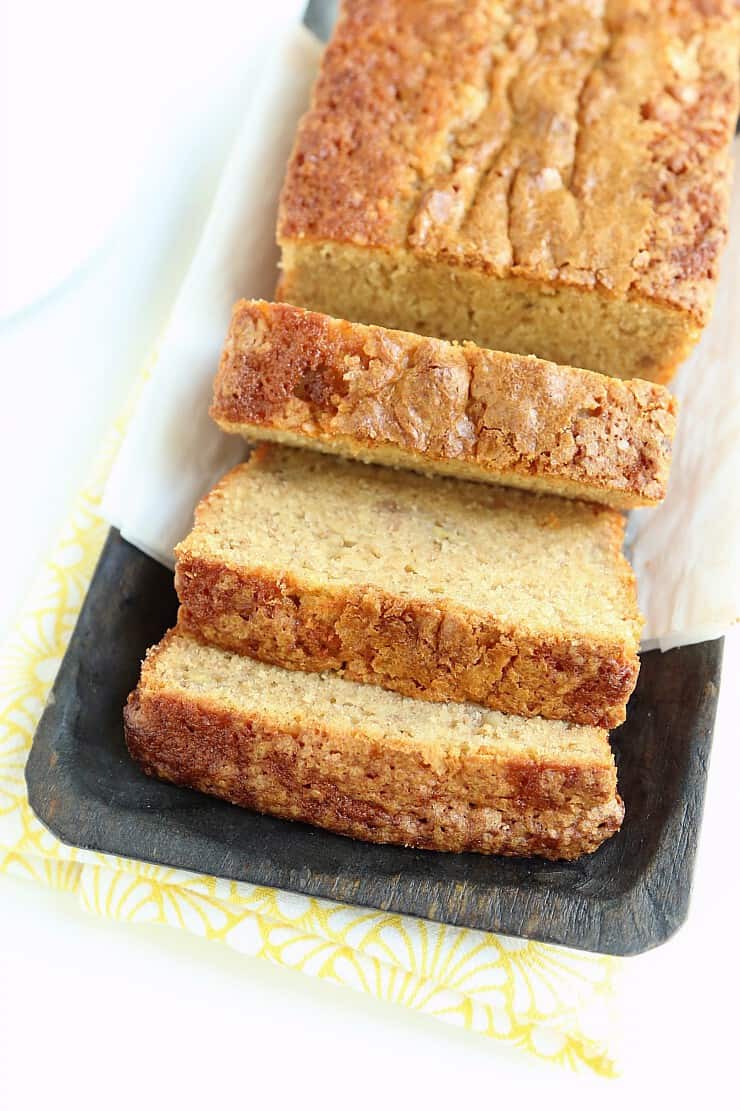 I realize it's a little bold to label something the World's Best Banana Bread. And I'm sure your mom and your great aunt and that sweet lady from your church all make a wonderful banana bread. I've had plenty of good banana bread over the years too but, none has ever topped this super moist and sweet recipe.
I adapted it from an old family recipe from one of my childhood friends. Everyone always agreed her mom's banana bread was the best and, with a couple of additional tweeks, I think this version is even better!
World's Best Banana Bread Recipe Variations
The ingredients in this recipe are also easily adaptable. Here are some variations I've tried and enjoyed over the years:
Banana Nut Bread
Add 1 cup chopped walnuts or pecans to the batter before pouring into the pan.
Maple Spice Banana Bread
Full of fall flavor and baked in adorable mason jars – Get the recipe here!
Banana Bread Muffins
Any of the above varieties baked in muffin tins.
Whole Wheat Banana Bread
Replace the all purpose flour with whole wheat ( I recommend ancient grain Einkorn whole wheat flour; reduce amount by 2 Tbsp to maintain moisture).
High Fiber Banana Bread
Use whole wheat flour, replacing about 1/4 cup of flour with ground flax or chia seeds.
Naturally Sweetened Banana Bread
Increase mashed bananas to 1 1/2 cups and replace sugar with a combination of 1/2 cup pure maple syrup and 1/2 cup raw honey.
…But today's version is about comfort food – the classic original. 🙂 Are your bananas still yellow? Here's a tip!
Kitchen Tip for Making Banana Bread with Yellow Bananas
If you have only unripe yellow bananas on hand, peel them, cut into chunks, and give them a quick heat in the microwave or in a small saucepan on the stove. This will convert some of their starches into sugars (mimicking the natural ripening process), making them softer and sweeter, just how you want them for banana bread! This method can be used for green bananas, but their strong flavor will still affect the taste of the bread, so I don't recommend using them.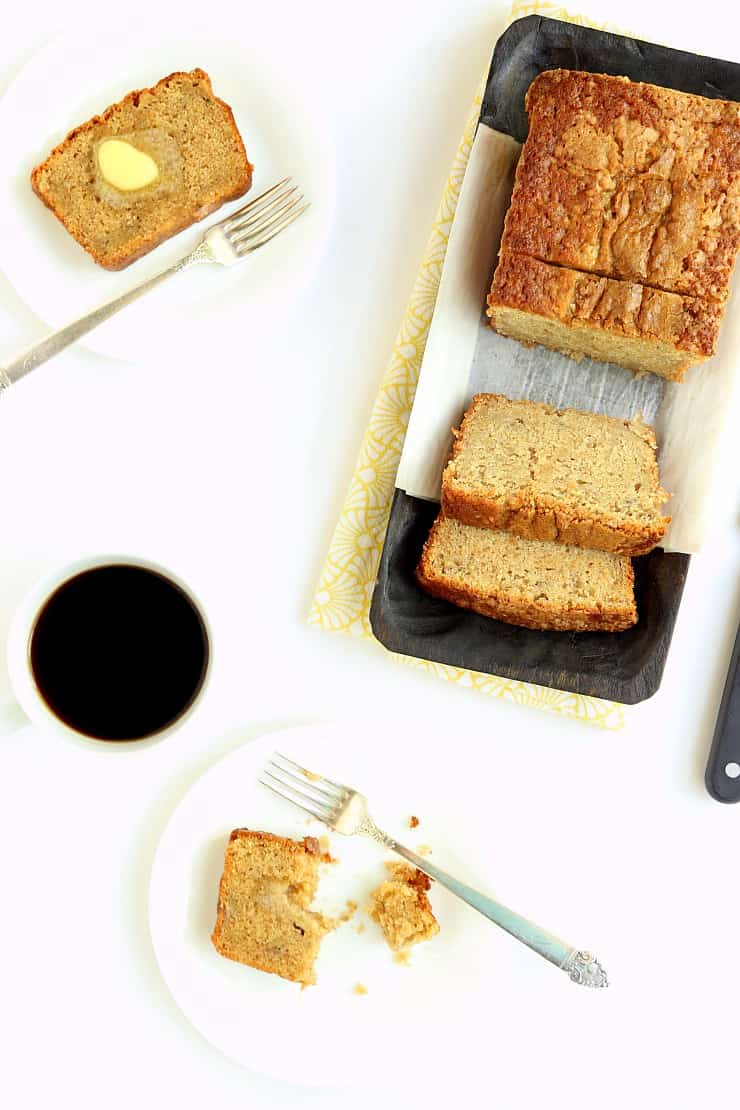 How to Make the World's Best Banana Bread
This is a classic quick bread recipe. Cream the butter and sugar, then add the eggs and vanilla. Mash the bananas and add those too.
Mix the dry ingredients in a separate bowl, then combine dry and wet. Pour the batter into a loaf pan and sprinkle a layer of sugar on top to give it that light crispy layer as it bakes.
Then slice, serve, eat, and repeat. 🙂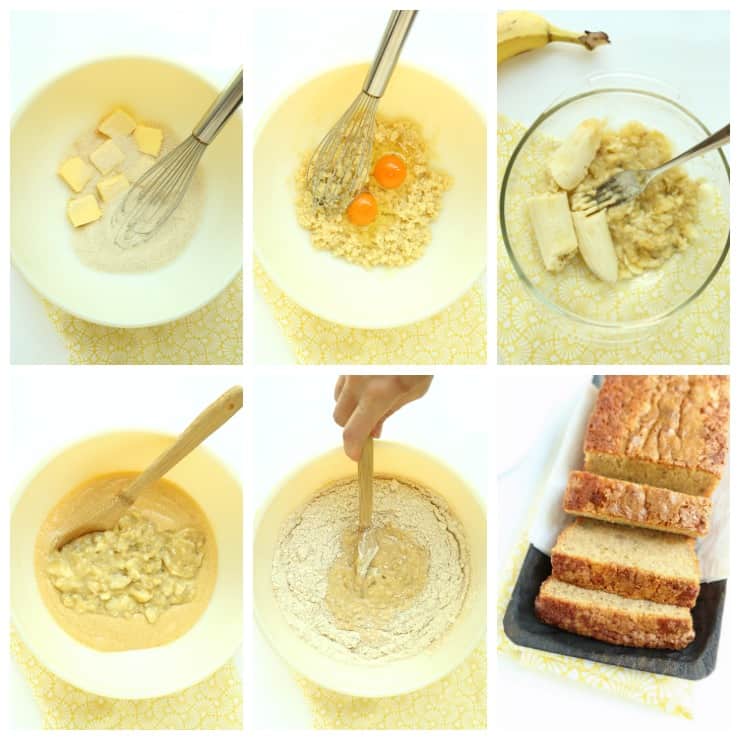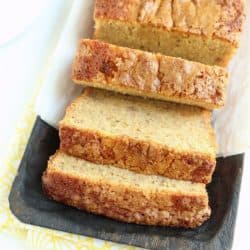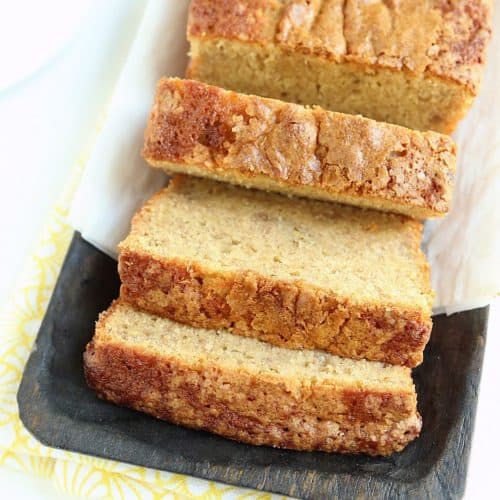 World's Best Banana Bread
The best banana bread recipe of all time - moist, sweet, and cake-like! Simple ingredients that are easily adaptable for lower fat, lower sugar, higher fiber, and more!
Instructions
Preheat oven to 350 degrees, then butter a large loaf pan or 9x9" square baking dish. Alternatively, line your pan with parchment.

In a large bowl, cream butter and sugar. Add eggs and mix until well combined.

Add mashed bananas and vanilla, stirring well.

In a separate bowl, mix together dry ingredients, then gradually stir into the wet ingredients until just mixed.

Pour batter into prepared pan and sprinkle generously with additional sugar.

Bake for 50-60 minutes or until a toothpick inserted into the center comes out clean. I always place a large rimmed baking sheet on the lower rack just in case it cooks over the edge of the loaf pan (mine never does, but it always comes close so I add the baking sheet every time just to be safe!). If needed, cover with foil toward the end of baking to prevent the surface from overbrowning.

Cool completely before slicing.
Recipe Notes
You can substitute any all purpose flour for the Einkorn flour.
Sprinkling the extra sugar on the surface before baking is optional, but I love the sweet crisp it adds to the surface!