These Ginger Cookies with Orange Clove Icing are reminiscent of pfefferneusse and are my favorite holiday cookie of all time! Made with ancient grain Einkorn flour and topped with a light, and delicious icing, they're super easy and fun to make.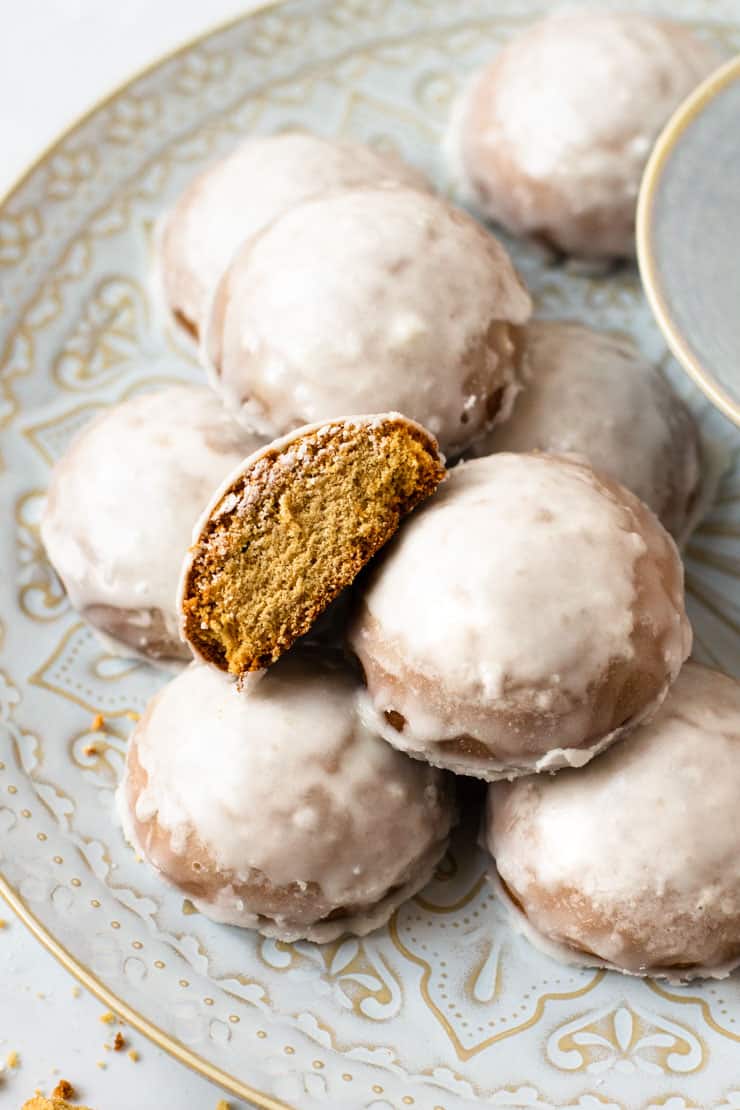 There's an ad slogan from a famous ice cream company here in the South – Blue Bell- that says,
"We eat all we can, and we sell the rest."
Growing up, I always thought it was cute – then, as a college student, I spent a day observing the dietitians that work at the Blue Bell factory (yes, they employ dietitians – I know, the irony), and learned that it wasn't just a catchy tagline – they really did allow employees to eat all they could! There were freezers in break rooms and everything!
Well, we're not selling these Best Ginger Cookies with Orange Clove Icing (not yet, anyway!), but we could definitely borrow a line from Blue Bell and say,
"We eat all we can, and we share the rest."
I made a double batch on Friday and – let me tell you – we did some serious damage in the 72 hours that followed. We did also share some with friends, my preschool Sunday School students (you're welcome, parents), and a few family members.
As of last night around 7pm, they're all gone.
How To Make The Best Ginger Cookies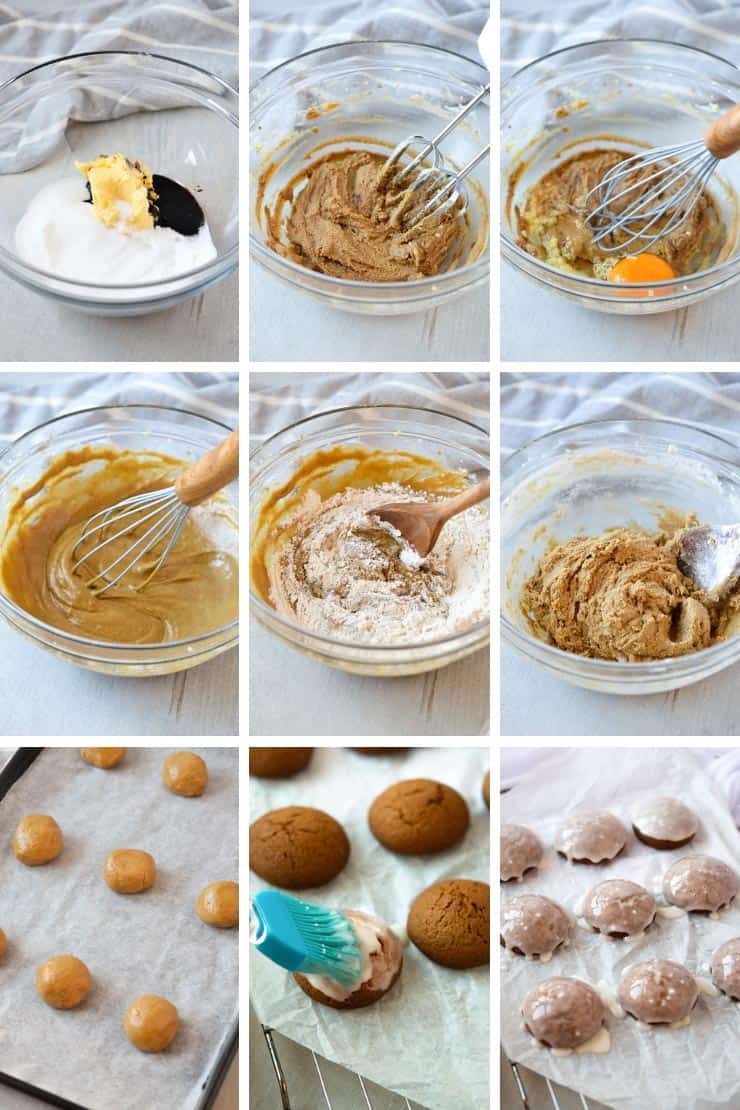 Note: This post contains affiliate links. By making purchases through these links, you pay the same amount for products, but a portion of the sale will be sent my way to help with blog expenses. Thanks!
Best Ginger Cookies – My New Favorite Christmas Cookie Recipe!
This perfect ginger spice cookie was inspired by my Soft Ginger Cookie recipe though, I have to admit, I think this version is even better! It's soft, sweet and combines the best holiday cookie flavors! They remind me of Pfefferneusse cookies, which I've always loved at holiday time.
For the first time, I used ginger paste and it worked beautifully – no tiny chunks of ginger randomly interrupting the Christmas cookie eating enjoyment. If you're using regular minced ginger, you might try pressing it with a garlic press to achieve a smoother, paste-like consistency.
The icing is a simple, powdered sugar glaze that I flavored with ground cloves and the tiniest amount of Sweet Orange essential oil (orange zest could easily be substituted). Orange and cloves just smell and taste like Christmas, and they work perfectly in this recipe!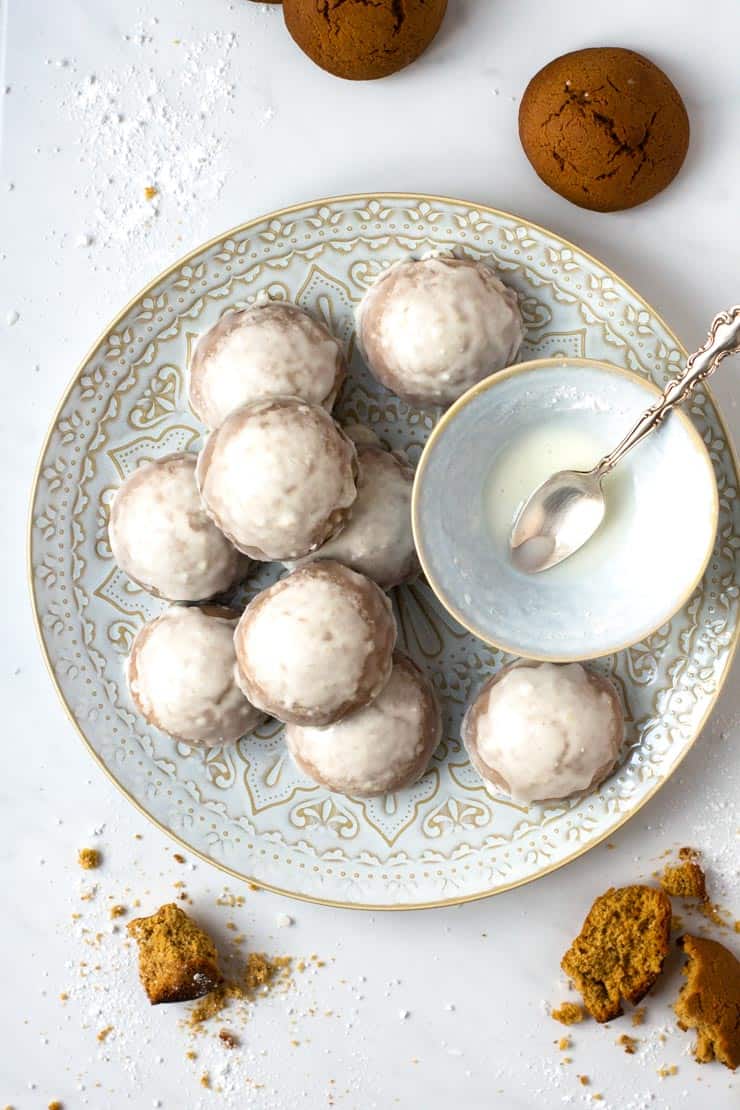 Kids of All Ages Will Love These Holiday Cookies!
The full size version of these cookies is my favorite, but I also made a batch of bite size cookies that I knew the kids would love! I rolled the dough into balls about the diameter of a nickel and then dipped them in the orange clove icing.
They're the perfect size for tiny little hands to grab, but would also make a great homemade treat to fill a coffee mug, mason jar, or other DIY Christmas gift container (like this?).
The mark of a well-loved treat is that my toddler tries to "save" it to make it last as long as possible. These little gems passed the test – my two year old carried two cookies around the house for nearly half an hour before we had to insist that he eat them or throw them away. When he heard that, he shoved them both into his mouth in one swift move. 🙂
Tips For Making The Best Ginger Cookies
If you don't have orange essential oil you can use orange zest or a small squeeze of fresh orange juice
The cookies will store well in an airtight container for up to 1 week and possibly longer without icing
These cookies can be frozen without icing, wrap tightly in plastic wrap, foil, and store in an airtight container
Keep the cookies in balls for a round and high cookies or flatten them slightly before baking for a flat shape
The amount of icing is to completely cover the cookies if you'd rather just drizzle the icing over you can half the amount
Make sure the cookies are completely cooled before icing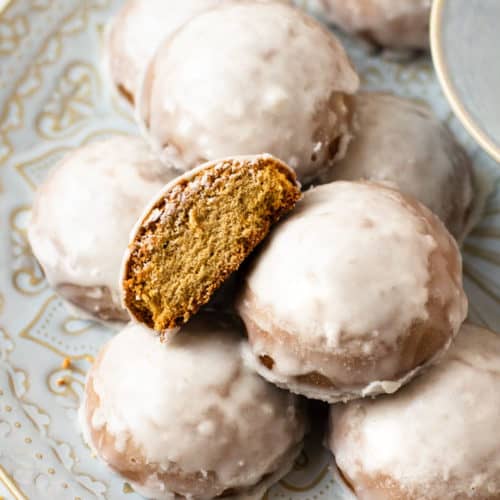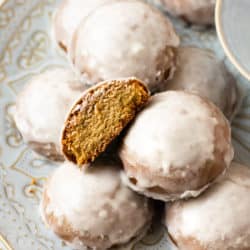 Best Ginger Cookies with Orange Clove Icing
The perfect soft ginger cookie with sweet orange clove icing. A new Christmas favorite!
Print
Pin
Rate
Ingredients
Ingredients for the Cookies
1/2

cup

butter,

softened

3/4

cup

organic fair trade sugar

2

Tbsp

backstrap molasses

1

pastured egg

1/2

tsp

pure vanilla extract

1

Tbsp

ginger paste

1 3/4

cups

Einkorn ancient grain flour

(can sub regular all purpose flour)

1/8

tsp

sea salt

1/2

tsp

ground cinnamon

1/4

tsp

ground cloves

1/4

tsp

ground nutmeg
Ingredients for the Icing*
2

cups

organic powdered sugar

1

tsp

pure vanilla extract

3

Tbsp

milk

2

drops Sweet Orange essential oil

or orange zest to taste

few pinches ground cloves

* This amount of icing makes enough to fully cover the cookies. If you're just drizzling

you could probably reduce the amounts by half
Instructions
Instructions for the Cookies
Preheat oven to 400 degrees.

In a large bowl, cream butter, sugar, and molasses.

Add eggs, vanilla, and ginger paste, and whisk to mix.

In a separate bowl, stir together the remaining dry ingredients, then gently stir into the wet mixture until well incorporated.

Using clean hands, roll dough into balls and place on parchment lined cookie sheets (12 balls per sheet).

Bake for 8-10 minutes or until the surface is firm and just begins to crack. Cool completely before icing.
Instructions for the Icing
Once cookies are completely cooled, transfer them to wax paper for icing. Dip the cookies upside down into the bowl of icing, or use a pastry brush to coat each cookie with a thin layer of icing (I prefer the brush).

Try to use just enough icing to coat the cookie without too much extra collecting on the wax paper.

Allow icing to harden completely before transferring to storage container.
Notes
This recipe makes about 2 dozen standard size cookies or 4-5 dozen bite-size cookies.
If you don't have orange essential oil you can use orange zest or a small squeeze of fresh orange juice
The cookies will store well in an airtight container for up to 1 week and possibly longer without icing
These cookies can be frozen without icing, wrap tightly in plastic wrap, foil, and store in an airtight container
Keep the cookies in balls for a round and high cookies or flatten them slightly before baking for a flat shape
The amount of icing is to completely cover the cookies if you'd rather just drizzle the icing over you can half the amount
Make sure the cookies are completely cooled before icing