Note: Free shipping available within the continental U.S., $3 flat rate shipping to Canada (Contact me for shipping charges to other countries)
About Multi-Bio Max
Multi-Bio Max is a high potency blend of 12 of the most widely studied probiotic strains plus prebiotic fiber (inulin) to help maintain optimal intestinal health.
This unique blend is specially formulated by a leading probiotic laboratory to withstand stomach acid, so capsules are effective when swallowed as well as when broken open and stirred into a food or beverage.
Multi-Bio Max is free of common allergens: milk/casein, eggs, fish, shellfish, tree nuts, peanuts, wheat/gluten, corn, yeast, and soybeans.
Product Label: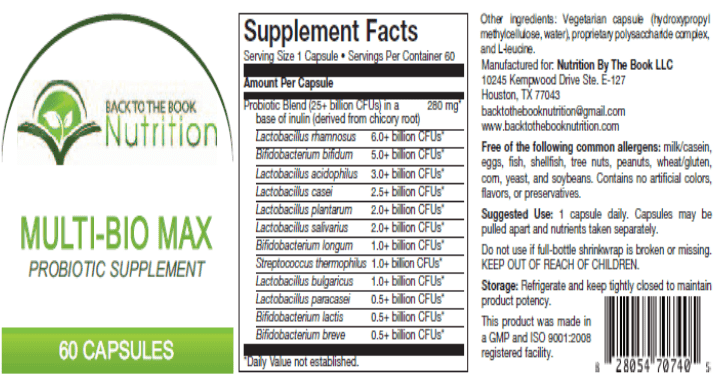 Multi-Bio Max FAQs
Why Should I Take Probiotics?
Probiotics help maintain a healthy balance of good and bad bacteria in the gut, which can alleviate gas, bloating, diarrhea, and constipation.
In addition, research shows probiotic supplements also benefit individuals with the following conditions: anxiety, depression, migraines, eczema, food allergies, autism, and more! (Read more here)
How Much Should I Take?
Each capsule contains 25 billion Colony Forming Units (CFUs). It is generally recommended that the healthy public take between 25-100 billion CFUs daily.
If you are new to probiotics, begin with 5-25 billion, and gradually increase to allow your gut time to adjust to the changes.
Individuals with dysbiosis or chronic illnesses may require much higher doses than 100 billion CFUs/day. Discuss personalized dosing recommendations with your healthcare provider.
Should I Take Them with Food or on an Empty Stomach?
There is limited data to answer this question. Some studies indicate better absorption when taken with food, or up to 30 minutes before a meal. We know that, in nature, probiotics naturally occur in foods and beverages.
I recommend taking probiotic supplements with the first bite of a fiber-containing meal since research shows "prebiotic" fibers enhance their utilization by the body.
But, the bottom line is take them when you can consistently remember to take them!
Can Kids Take Probiotics?
Absolutely! Research has linked probiotic supplementation in infants and children with significant improvements in colic, eczema, allergies, hyperactivity, autism, and more.
Discuss with your child's healthcare provider before beginning, especially in the case of premature infants or immunocompromised children.
Are There Any Side Effects?
Probiotics are generally well tolerated. However, some individuals – especially those with a history of antiobiotic use, yeast overgrowth, or a poor diet – may experience temporary symptoms of "die-off".
Essentially, unhealthy organisms in the body are dying off as a result of probiotic therapy, which can result in headaches, flu-like symptoms, or GI symptoms such as constipation, cramping, or diarrhea.
If these are experienced, take a one week break, then re-start at a very low dose (1/4 to 1/2 of a capsule per day), very gradually increasing as tolerated.
Who Should Not Take Probiotics?
Probiotics are considered safe for most individuals. However, it is always advisable to discuss supplementation with a healthcare provider prior to taken them, particularly in the case of premature infants, immunocompromised children, or the elderly.
Those with Small Intestinal Bacterial Overgrowth (SIBO) may not tolerate Multi-Bio Max since they already have an overgrowth of Lactobacillus in the small bowel. (Read more about SIBO here)
In addition, those with Fermentable Oligosaccharides, Disaccharides, Monosaccharides, and Polyols (FODMAPs) senstivitiy may not tolerate this product since it includes inulin as a source of prebiotic fiber. (Read more about FODMAPs here)
Should Multi-Bio Max be Refrigerated?
Yes, it should be refrigerated once received to maintain maximum potency. It is also stored at refrigeration temperatures prior to shipping.
Do you Ship Refrigerated?
Standard shipping does not include refrigeration since studies of this formulation indicate very little die off of organisms when maintained outside of refrigeration temperatures for up to one month. (After that point, die off does ensue).
In addition, capsules are overfilled to compensate for any minimal amount of die off during transport.
If you still prefer cold shipment, we offer a $2 charge to add ice packs to your order. This option can be selected at checkout. Ice packs will remain chilled for 48 hours on average, buffering your probiotic supplement from extreme heat.

Disclaimer: Information on this site is intended only for informational purposes and is not a substitute for medical advice. Always consult with a trusted healthcare provider before initiating any dietary supplements or implementing significant dietary change. Multi-Bio Max is not intended to diagnose, treat, cure or prevent any disease. Any health claims made with regard to Multi-Bio Max have not been evaluated by the FDA.