Most people believe that probiotics help replace good bacteria depleted by antibiotics, but recent studies have raised new questions about whether probiotic supplements do more harm than good. We review the pros and cons, and answer frequently asked questions to help you decide whether you should take probiotics with antibiotics!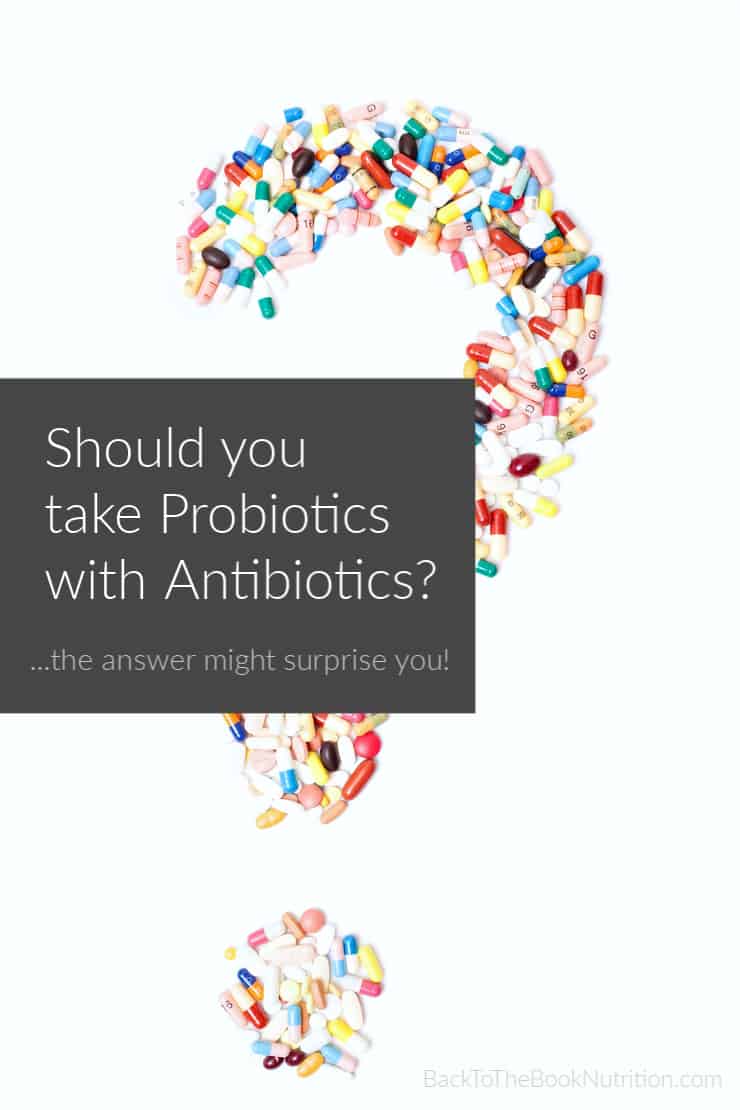 Note from Dena: This post was written by Pallavi Abraham, PhD and Dietetic Intern, as part of a research partnership between Back To The Book Nutrition and post-graduate nutrition students from the University of Houston.
---
One of the most common questions people have about probiotics, and one that has had the most varied responses from practitioners over the years, is "Should I take probiotics with antibiotics?"
Today we'll review what the science has to say, including some recent studies that raise new questions about taking probiotics with antibiotics. But first, let's take a look at exactly how antibiotics affect gut health.
How Antibiotics Damage the Gut
Antibiotics are powerful drugs used to treat infections caused by bacteria. They reduce or clear infection by stopping the bacterial growth or by killing them. But, antibiotics can also have negative effects on gut health.
Dysbiosis – Antibiotics disturb the balance of "good and bad" bacteria in the GI tract.
Antibiotic-associated diarrhea (ADD) – Dysbiosis can lead to diarrhea as the number of these and other harmful bacterial species increase: Clostridium difficile (C.difficile) – responsible for 20-30% of ADD cases; Klebsiella pneumonia; and Staphylococcus aureus.
Non-dysbiosis related diarrhea – In addition to ADD being caused through dysbiosis, diarrhea can also result from antibiotics directly interacting with the intestinal muscles and stimulating motility of the gut. Sources : (1, 2)
Yeast overgrowth in the gut – Broad-spectrum antibodies wipe out good bacteria like Lactobacillus from the gut and most likely from other mucosal sites. Without enough Lactobacillus the vaginal environment becomes conducive for increase in numbers of yeasts such as Candida albicans. Sources: (3, 4)
Vaginal bacterial or yeast infections –in turn can be a problem, causing chronic vaginal inflammation and bacterial or yeast infection (vaginal candidiasis) (5, 6, 7).
Increasing gut inflammation – One way by which antibiotics increase inflammation is through C. difficile infection that arises due to antibiotic induced dysbiosis. C. difficile produces two main toxins, toxin A and B that cause inflammation of the large intestine (colon). This condition is also called pseudomembranous colitis, and can be measured using fecal calprotectin (FC) levels (8, 9).
Promoting Leaky Gut – Antibiotics can increase intestinal permeability (a term describing the control of material passing from inside the gastrointestinal tract through the cells lining the gut wall, into the rest of the body) either indirectly through dysbiosis or directly by thinning the mucous membrane lining of the gut wall, thus making it "leaky". Different classes of antibiotics have varying effects on intestinal permeability). Source: 10
Increasing antibiotic resistance of gut bacteria – Especially with repeated use of antibiotics.

Should I take probiotics with antibiotics?
The answer to this question is not as black and white as we once thought. Much research is available and ongoing to guide us to more definitive recommendations. Until then, we must weigh the evidence both for and against probiotic supplementation during and after antibiotic use.
Pro's of Taking Probiotics with Antibiotics
Replace healthy gut bacteria –

Probiotics restore healthy bacteria and function of the gut. Recent studies have revealed that

probiotics colonize the gut for a shorter period of time than previously thought, and that their activity is affected by characteristics of the individual taking them (baseline gut health, immune function, etc.) (11).
Enhance immune function – As probiotics transiently colonize the gut, they act in different ways to enhance immune function. For example, probiotic strains acidophilusLafti L10, casei CRL-431, and L. rhamnosusGG all enhanced immune responses in the host via different pathways (16)
Reduce yeast overgrowth – Saccharomyces boulardii can help control or reduce the risk of developing yeast infection caused by overgrowth of the fungus C. albicans (17, 18).
Reduce Bacterial Vaginosis – Evidence suggests that oral supplementation with spore based probioitc Bacillus coagulans reduces the recurrence of vaginal infection (19).
Enhance Antibiotic effects: Studies show that probiotic supplementation with antibiotics, bolster the positive effects of antibiotics. For example, patients who supplemented with oral probiotic (prOVag®) plus antibiotics for treatment of bacterial vaginosis stayed infection free for a longer time than patients who did not receive the probiotic (20).
Relieve diarrhea – Preliminary results are promising for spore based probiotics (in the Bacillus family), but most of the research has shown the most benefits from probiotic strains that produce lactic acid, including (7, 12, 13, 14, 15) :
Lactobacillus rhamnosus GG- reduced duration of diarrhea symptoms
Lactobacillus acidophilus – reduced C. difficile associated diarrhea
Lactobacillus bulgaricus – reduced ADD symptoms
Saccharomyces boulardii – relieved C. difficile infection, and lowered prevalence of diarrhea in children antibiotics for ear infections and respiratory infections.
Note: The first three probiotic strains represent "traditional probiotics" while the fourth one represents the "beneficial yeasts"
Con's of Taking Probiotics with Antibiotics
Until recently, harmful effects of probiotics in the context of antibiotics have not been well-documented. Two very recent studies revealed some surprising new findings and more study will be needed to help us better understand the possible downsides of probiotic supplementation.
Delay in restoration of natural gut microbiome – New research indicates that it took about 5 months for the natural gut microbiome to be restored in people who were given probiotic supplementation (at least 25 billion active bacteria of the following species: B. bifidum, L. rhamnosus, L. lactis, L. casei subsp. casei, B. breve, S. thermophilus, B. longum subsp. longum, L. casei subsp. paracasei, L. plantarum and B. longum subsp. infantis) twice a day, for 4 weeks, after (not during) an antibiotic course, when compared to only 1-2 days in the group receiving auto Fecal Microbiota Transplantation (auto-FMT), and 21 days in the group of people who received no intervention (22).
Theoretical concerns about fungicemia and bacterial sepsis – these concerns are based on older studies and a few case reports in immune-compromised individuals that surmised there could be a connection between probiotics and fungicemia or sepsis. Recent human clinical trials have not shown any links (23).
More studies are needed to confirm these results and to say for sure whether probiotics should be taken after antibiotics. "Person-specific" factors, when probiotics are taken (during antibiotics vs. after), and type and dose of probiotics all likely play a role in determining whether or not an individual should take them (11)

The Bottom Line
It may be premature to say that probiotics should not be taken with (alongside) antibiotics as their potential overall health benefits certainly outweigh their less known harmful side effects, at least at this point. It will be interesting to see how future studies confirm or deny the concerns raised by recent research.
Frequently Asked Questions (FAQs) about Taking Probiotics with Antibiotics
If you choose to take probiotics with antibiotics you may be asking some of these questions.
Q: If I take probiotics with antibiotics, which one(s) should I use?
A: Studies have shown that different probiotics have different benefits. It depends to a great extent on your health status, age, genetic factors, the antibiotic you are being treated on and the duration of the therapy.
For Antibiotic Associated Diarrhea (ADD):
Lactobacillus rhamnosus GG
Lactobacillus acidophilus
Lactobacillus bulgaricus
Saccharomyces boulardii
For general probiotic support, consider a combination of:
Q: What dose of probiotic should I take?
A: Dosage of the probiotic is strain-specific. So it depends on which probiotic you choose to take. It may range anywhere between 10 million to 100 billion CFUs/day. Common doses of each of the three main types of probiotics are listed here.
Q: Should kids take the same doses as adults?
A: Yes, pediatric dosing is generally similar to adult dosing when it comes to probiotics. Common dose ranges for each type are: 10-100 billion CFUs/day of traditional (Lactobacillus/Bifidobacter) probiotics; 3-6 billion CFU Saccharomyces boulardii); and 2-4 billion spore cells of spore forming probiotics.
Q: Should I take probiotics while I am on antibiotics, or wait until I'm done?
A: Considering that probiotics reduce damage caused by antibiotics, improve digestive health, and build the immune system weakened by antibiotics, current literature suggests it is well worth taking probiotics both during and for several months after antibiotics.
Q: Should I take probiotics at the same time of day I take my antibiotics or separate them?
A: Probiotics should be taken at least two hours apart from prescription antibiotics or herbal antimicrobial products.
Q: How long should I continue taking probiotics?
A: More study is needed to fully answer this. Many clinicians recommend taking probiotics during and for several months after antibiotics.
Q: Should I take probiotics if I have a compromised immune system?
A: It may not be advisable to take probiotics if you are critically ill, have a compromised immune system, have "leaky gut", or are suffering from acute pancreatitis. Consult your health care provider before taking.
Q: What about Fecal Microbiota Transplant (FMT)?
A: FMT also known as stool transplantation is a procedure in which stool from a healthy donor is transferred to a patient for treating several different conditions, including recurrent C. difficile infection. FMT may enhance the microbial diversity and help re-establish the intestinal microbiota composition that the patient had before antibiotic treatment (25). Research is ongoing, and we'll likely hear much more about this as more studies are published (24).
How can I do FMT?
It's not recommended to be performed at home due to the risk of contracting infections.
Usually, a gastroenterologist administers FMT after procuring the material from reliable sources like OpenBiome and performing a battery of tests.
FMT can be delivered via colon, naso-enteric tube or through oral capsules, and the cost may vary from $600 to $1,500 depending on the route of delivery.
Auto-FMT uses a similar procedure but the patient's own stool is collected and stored before antibiotic treatment, then is administered after treatment.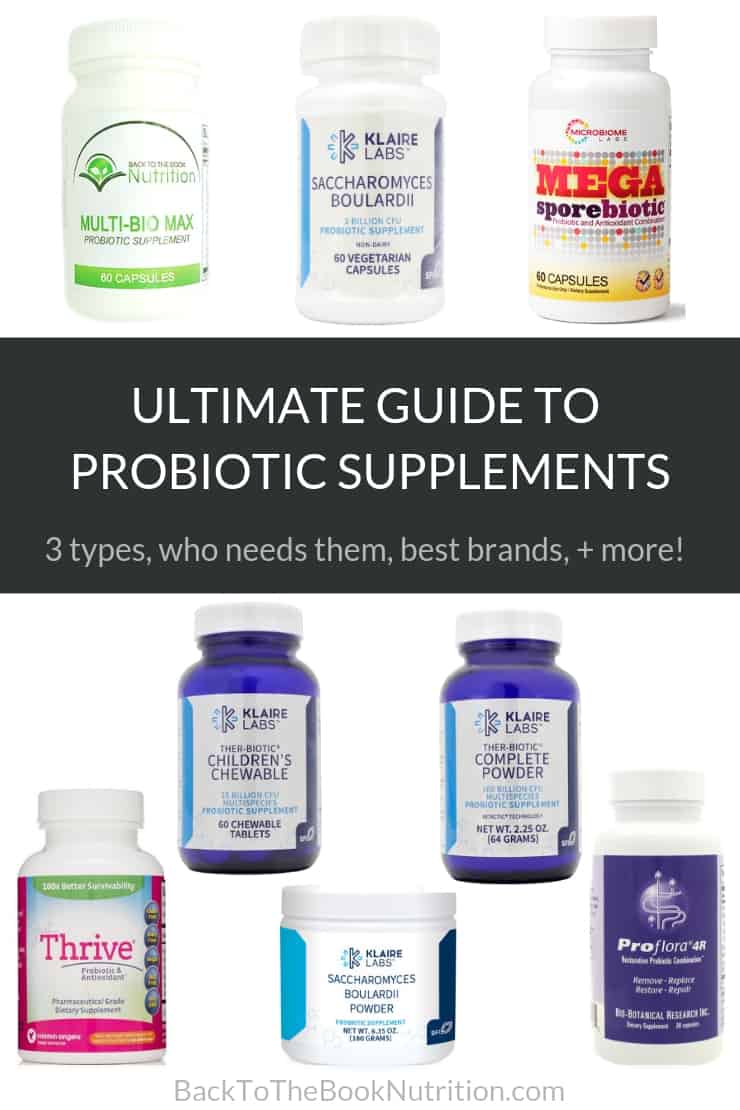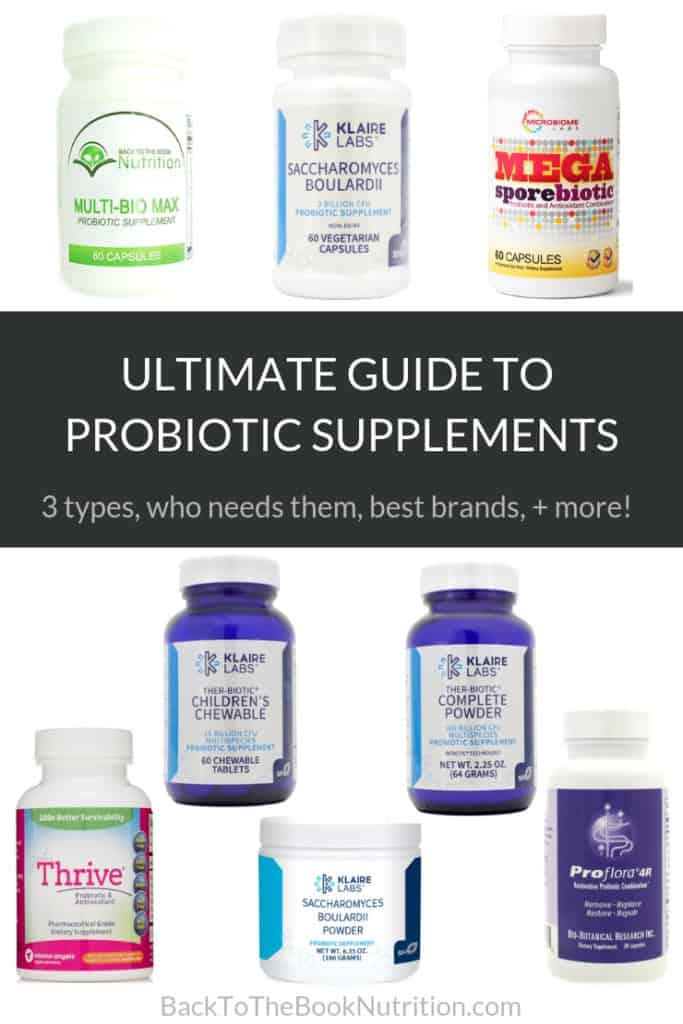 ---
About the Author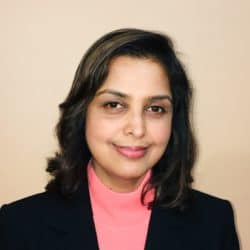 Pallavi Abraham is currently a dietetic intern at the University of Houston. Driven by real life events, she embarked on her journey to become a dietitian after earning a PhD in Biochemistry and gaining extensive experience in cancer research at The University of Texas MD Anderson Cancer Center. She is passionate about becoming a clinical dietitian and practicing in the field of integrative and functional nutrition. Pallavi is married with two school going kids and in her free time loves to travel with her family.
---
Disclaimer: Information on this site is intended only for informational purposes and is not a substitute for medical advice. Always consult with a trusted healthcare provider before implementing significant dietary change. Read additional disclaimer info here.
References
1. https://www.sciencedirect.com/topics/pharmacology-toxicology-and-pharmaceutical-science/antibiotic-associated-diarrhea.
2. Högenauer, C., et al. (1998). Mechanisms and Management of Antibiotic‐Associated Diarrhea. Clinical infectious diseases: an official publication of the Infectious Diseases Society of America. 27. 702-10. 10.1086/514958. https://www.researchgate.net/publication/13488492_Mechanisms_and_Management_of_Antibiotic-Associated_Diarrhea
3. Samonis G, et al. Prospective evaluation of effects of broad-spectrum antibiotics on gastrointestinal yeast colonization of humans. Antimicrob Agents Chemother. 1993 Jan;37(1):51-3. PubMed PMID: 8431017; PubMed Central PMCID: PMC187603. https://www.ncbi.nlm.nih.gov/pmc/articles/PMC187603/
4. https://www.healthline.com/health/yeast-infection-from-antibiotics
5. Huffnagle GB, Noverr MC. The emerging world of the fungal microbiome. Trends Microbiol. 2013 Jul;21(7):334-41. doi: 0.1016/j.tim.2013.04.002. Epub 2013 May 17. Review. PubMed PMID: 23685069; PubMed Central PMCID: PMC3708484. https://www.ncbi.nlm.nih.gov/pmc/articles/PMC3708484/
6. Francino MP. Antibiotics and the Human Gut Microbiome: Dysbioses and Accumulation of Resistances. Front Microbiol. 2016 Jan 12;6:1543. doi: 10.3389/fmicb.2015.01543. eCollection 2015. Review. PubMed PMID: 26793178; PubMed Central PMCID: PMC4709861. https://www.ncbi.nlm.nih.gov/pmc/articles/PMC4709861/
7. Yoon MY, Yoon SS. Disruption of the Gut Ecosystem by Antibiotics. Yonsei Med J. 2018 Jan;59(1):4-12. doi: 10.3349/ymj.2018.59.1.4. Review. PubMed PMID: 29214770; PubMed Central PMCID: PMC5725362. https://www.ncbi.nlm.nih.gov/pmc/articles/PMC5725362/
8. https://my.clevelandclinic.org/health/diseases/17718-pseudomembranous-colitis
9. Fecal Calprotectin Level Reflects the Severity of Clostridium difficile Infection Jieun Kim, Heejung Kim, Hyun Ju Oh, Hyung Sun Kim, Youn Jee Hwang, Dongeun Yong, Seok Hoon Jeong, Kyungwon Lee Ann Lab Med. 2017 Jan; 37(1): 53–57. Published online 2016 Nov 1.doi: 10.3343/alm.2017.37.1.53 PMCID: PMC5107618. https://www.ncbi.nlm.nih.gov/pmc/articles/PMC5107618/
10. Antibiotic Treatment Affects Intestinal Permeability and Gut Microbial Composition in Wistar Rats Dependent on Antibiotic Class Monica Vera-Lise Tulstrup, Ellen Gerd Christensen, Vera Carvalho, Caroline Linninge, Siv Ahrné, Ole Højberg, Tine Rask Licht, Martin Iain Bahl PLoS One. 2015; 10(12): e0144854. Published online 2015 Dec 21. doi: 10.1371/journal.pone.0144854 PMCID: PMC4686753. https://www.ncbi.nlm.nih.gov/pubmed/?term=PMC4686753.
11. Zmora N, et al. Personalized Gut Mucosal Colonization Resistance to Empiric Probiotics Is Associated with Unique Host and Microbiome Features. Cell. 2018 Sep 6;174(6):1388-1405.e21. doi: 10.1016/j.cell.2018.08.041. PubMed PMID: 30193112. https://www.ncbi.nlm.nih.gov/pubmed/30193112
12.Hempel S, et al. Probiotics for the Prevention and Treatment of Antibiotic-Associated Diarrhea: A Systematic Review and Meta-analysis. JAMA. 2012;307(18):1959–1969. doi:10.1001/jama.2012.3507. https://jamanetwork.com/journals/jama/fullarticle/1151505
13. Agamennone, V., et al. (2018). A practical guide for probiotics applied to the case of antibiotic-associated diarrhea in The Netherlands. BMC gastroenterology, 18(1), 103. doi: 10.1186/s12876-018-0831-x. https://www.ncbi.nlm.nih.gov/pmc/articles/PMC6091175/pdf/12876_2018_Article_831.pdf
14. Gao XW, et al. Dose-response efficacy of a proprietary probiotic formula of Lactobacillus acidophilus CL1285 and Lactobacillus casei LBC80R for antibiotic-associated diarrhea and Clostridium difficile-associated diarrhea prophylaxis in adult patients. Am J Gastroenterol. 2010 Jul;105(7):1636-41. doi: 10.1038/ajg.2010.11. Epub 2010 Feb 9. PubMed PMID: 20145608. https://www.ncbi.nlm.nih.gov/pubmed/20145608
15. Kotowska M, et al. Saccharomyces boulardii in the prevention of antibiotic-associated diarrhoea in children: a randomized double-blind placebo-controlled trial. Aliment Pharmacol Ther. 2005 Mar 1;21(5):583-90. PubMed PMID: 15740542. https://www.ncbi.nlm.nih.gov/pubmed/15740542
16. Yan F, Polk DB. Probiotics and immune health. Curr Opin Gastroenterol. 2011 Oct;27(6):496-501. doi: 10.1097/MOG.0b013e32834baa4d. Review. PubMed PMID: 21897224; PubMed Central PMCID: PMC4006993. https://www.ncbi.nlm.nih.gov/pmc/articles/PMC4006993/
17. Moré MI, Swidsinski A. Saccharomyces boulardii CNCM I-745 supports regeneration of the intestinal microbiota after diarrheic dysbiosis – a review. Clin Exp Gastroenterol. 2015 Aug 14;8:237-55. doi: 10.2147/CEG.S85574. eCollection 2015. Review. PubMed PMID: 26316791; PubMed Central PMCID: PMC4542552. https://www.ncbi.nlm.nih.gov/pmc/articles/PMC4542552/
18. Murzyn A, et al. Capric acid secreted by S. boulardii inhibits C. albicans filamentous growth, adhesion and biofilm formation. PLoS One. 2010 Aug 10;5(8):e12050. doi: 10.1371/journal.pone.0012050. PubMed PMID: 20706577; PubMed Central PMCID: PMC2919387. https://www.ncbi.nlm.nih.gov/pmc/articles/PMC2919387/
19. Ratna Sudha M, et al. Clinical Study of Bacillus coagulans Unique IS-2 (ATCC PTA-11748) in the Treatment of Patients with Bacterial Vaginosis. Indian J Microbiol. 2012 Sep;52(3):396-9. doi: 10.1007/s12088-011-0233-z. Epub 2011 Sep 23. PubMed PMID: 23997330; PubMed Central PMCID: PMC3460128. https://www.ncbi.nlm.nih.gov/pmc/articles/PMC3460128/
20. Heczko, P., et al. (2015). Supplementation of standard antibiotic therapy with oral probiotics for bacterial vaginosis and aerobic vaginitis: A randomised, double-blind, placebo-controlled trial. BMC Women's Health.15. 10.1186/s12905-015-0246-6. https://bmcwomenshealth.biomedcentral.com/articles/10.1186/s12905-015-0246-6
21. (omitted)
22. Suez J, et al. Post-Antibiotic Gut Mucosal Microbiome Reconstitution Is Impaired by Probiotics and Improved by Autologous FMT. Cell. 2018 Sep 6;174(6):1406-1423.e16. doi: 10.1016/j.cell.2018.08.047. PubMed PMID: 30193113. https://www.ncbi.nlm.nih.gov/pubmed/30193113
23. Land MH, Rouster-Stevens K, Woods CR, Cannon ML, Cnota J, Shetty AK. Lactobacillus sepsis associated with probiotic therapy. Pediatrics. 2005 Jan;115(1):178-81. PubMed PMID: 15629999. http://pediatrics.aappublications.org/content/115/1/178.full
24. Cammarota G, Ianiro G, Gasbarrini A. Fecal microbiota transplantation for the treatment of Clostridium difficile infection: a systematic review. J Clin Gastroenterol. 2014 Sep;48(8):693-702. doi: 10.1097/MCG.0000000000000046. Review. PubMed PMID: 24440934. https://www.ncbi.nlm.nih.gov/pubmed/24440934
25. Taur Y, et al. Reconstitution of the gut microbiota of antibiotic-treated patients by autologous fecal microbiota transplant. Sci Transl Med. 2018 Sep 26;10(460). pii: eaap9489. doi: 10.1126/scitranslmed.aap9489. PubMed PMID: 30257956. https://www.ncbi.nlm.nih.gov/pubmed/24440934