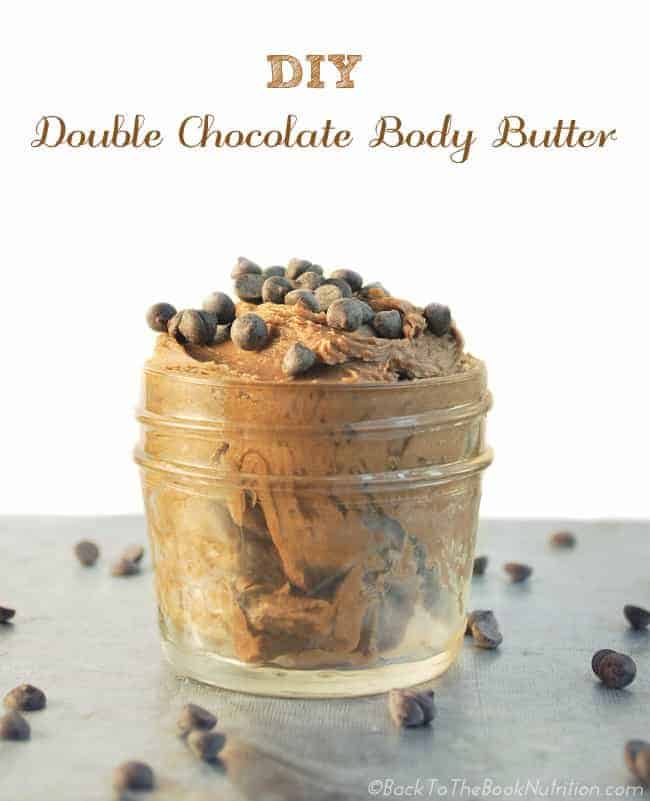 I don't know about you but, the colder and drier the winter air gets, the more fanatic I get about lotions and lip balms.
I already have a go-to lotion recipe, so I wasn't looking to develop another, but then I had an idea…
Note: This post contains affiliate links. By making purchases through these links, you pay the same amount for products, but a portion of the sale will be sent my way to help with blog expenses. Thanks!
Chocolate Isn't Just for Eating
Here's how it started.
I really love white chocolate. I probably like dark chocolate more, but white chocolate is a pretty close second. (Hence the dark and white chocolate versions of my Ultimate Homemade Hot Chocolate recipe)
So, this holiday season, I got it in my head that I was going to make my own white chocolate from healthier ingredients….and then share it with you!
Great idea, right?
Wrong.
After reading and pinning and printing and taste testing, none of the batches of homemade white chocolate I made tasted as good as the organic white chocolate
I've bought in the store and online.
I was glad to have avoided the soy lecithin and powdered milk in store-bought bars but – let's face it – if it doesn't taste good, it really doesn't matter how healthy it is, right?
Fortunately, the homemade white chocolate debacle wasn't a total loss. While handling all that cocoa butter I bought to make it, I realized I had accidentally discovered the best natural moisturizer I had ever used!
My hands weren't greasy, but they were softer and smoother than they had been in a long time!
DIY Body Butter – The Ultimate Moisturizer
Back to the computer for a little more research, then into the kitchen for lots of measuring, melting, mixing, and smelling and – Voila!
Thick, luxurious hand cream that looks and smells good enough to eat!
In fact, when I walked into the other room to tell my daughter something, she immediately smelled it and asked if I had chocolate for her. That's my girl!
This would make a fantastic gift for the chocolate lover in your life! (Psst – here are some cute little glass jars
perfect for gifting)
How to Make DIY Double Chocolate Body Butter
To get started, here's what you'll need:
Cocoa butter
Almond Oil
(could substitute vitmain E oil, jojoba oil, avocado oil, etc.)
Raw Cacao powder (could substitute cocoa powder)
Got your supplies together? Great, here's the recipe!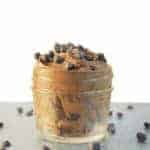 DIY Double Chocolate Body Butter
Luxurious body butter that looks and smells good enough to eat! Perfect for the true chocolate lover!
Ingredients
1

cup

cocoa butter

approximately 5 oz

1/2

cup

pure virgin coconut oil

mine is a soft solid at room temperature

1

tsp

beeswax pastilles

2

Tbsp

almond oil

1

Tbsp

pure vanilla extract

1 1/2

Tbsp

raw cacao powder
Instructions
Melt cocoa butter, coconut oil, and beeswax in a small saucepan on the stove or in a glass bowl in the microwave. Whisk occasionally during heating.

Remove from heat and whisk in the remaining ingredients.

Allow mixture to cool in the fridge (will take a few hours), then whip by hand with a wire whisk (which is what I did) or in a stand mixer (which will yield a lighter and fluffier texture).

Transfer to storage containers (makes approximately 16 oz).

To use, dab a tiny amount (half a dime) on finger and massage into both hands.
Recipe Notes
1. The cooled mixture has a firm texture - If you want a lighter, fluffier body butter, use an electric mixer to whip the chilled mixture to soft peaks.
2. For Chocolate Mint Body Butter, add 8 drops of peppermint essential oil.
3. Regular and mint flavors both make great lip balm too!
4. In case you're wondering, this does NOT turn your skin brown.
5. I originally didn't include the beeswax but, over time the mixture became more oily. Adding the small amount of beeswax provides just enough drying to give a nice, moisturizing texture without leaving any oily residue.
Body Butter Q&A
If you're new to homemade skin products, you may have a few questions. Here are some answers, but please leave a comment below the post if you have other questions!
Does this leave a brown color on the skin?
Nope! Don't ask me why, but it doesn't. 🙂
Can you eat it?
Technically, yes, but it's unsweetened so it doesn't taste great.
Are there other uses for it?
Yes – it makes a great lip balm!
Can you add other scents?
Yes! A few drops of essential oil can be added before chilling. I added 8 drops peppermint oil and loved the chocolate mint smell!
Do you have tips for cleaning the dishes after making this?
I sure do!
1. First, use paper towels to wipe pans, bowls, utensils and mixer blades (ingredients aren't water soluble, so they won't rinse off well with water alone). If possible, reheating them just enough to liquify any remaining ingredients makes it really easy to carefully wipe them down with a paper towel.
2. Next, use your hands to rub liquid soap onto the surface of the bowls, utensils, etc., helping release any residue from the ingredients.
3. Last, thoroughly rinse with warm water.
If you enjoyed this post, you may also like my other homemade skin care recipes: