80 ideas for buying healthy, Costco prepared foods – breakfast, lunch, dinner, snacks, drinks, and frozen treats. Includes prices for in store and online shopping, plus a free printable shopping list!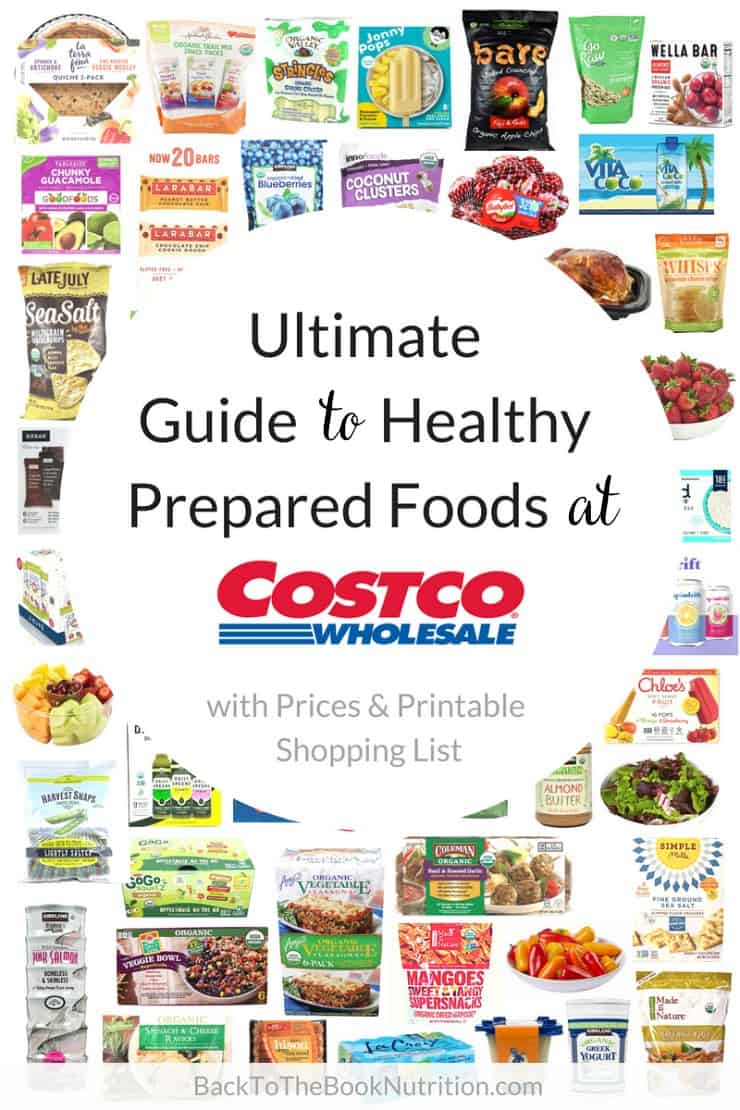 I get constant requests from busy women wanting ideas for the best meals and snacks that are fast, easy, affordable, healthy, satisfying, and require little or no prep work.
It's hard to find options that fit all those requirements but, if you're going to find them, Costco is the best place to look!
Of course, we all prefer to feed our families from-scratch meals with whole, organic, and locally grown ingredients at every single meal. And that should continue to be the goal most of the time. But, when you just need a fast and easy back up that's healthier than drive through or take out, this ultimate guide has you covered!
Ultimate Guide to Buying Healthy Prepared Foods at Costco + Printable Shopping List
Before we jump in, here are a few summary thoughts about this list.
How to use this guide:
Online prices are for Costco's Same Day delivery via Instacart, available to Costco members living in areas where Instacart delivers, regardless of Instacart membership. This means higher prices (typically a few dollars more per item), but the delivery fee Instacart usually charges is waived. For non-perishable items, Costco's 2 day delivery service may have lower prices.
Obviously, there will be some variation in what stores carry as well as prices across the country, and some of these may get rotated out. But my experience has been that Costco stocks similar types of items, even if brands change. Just be sure to check the ingredient list if you find another brand than what's listed here.
A few items only have online or in store prices – I'm sorry I couldn't locate the other pricing for those items!
Most items are ready to eat, but some require some basic prep (cooking oatmeal, heating frozen veggies to go with dinner)
This probably goes without saying, but the staple ingredients for healthy, real food meals and snacks should be fruits, vegetables, nuts, and healthy proteins. I'd suggest using only 1-2 of the more processed offerings listed (i.e., ravioli, bread, mac and cheese, chips, etc.) per week to limit refined flours and vegetable oils.
It's ideal to buy meats, poultry, eggs, dairy, and even organic produce from local farmers since it's rare to find the same quality of ingredients in prepared foods. But this list is perfect for those who don't have consistent access to local, organic foods…and for those those of us who do, but sometimes just need a healthy back up plan!
If a food comes in a plastic tray and needs to be heated, I recommend transferring it to a heat-safe dish (glass, etc.) before heating in the microwave or oven.
I didn't list every single option for categories like fresh fruits and vegetables, frozen fruits and vegetables, and raw and dry roasted nuts…just know there are a lot of all of them to choose from at Costco.
Many of these are gluten free, grain free, peanut free, dairy free, and soy free, or some combination of those. I didn't mark each food with these restrictions – but, if you need any of those, you have plenty of choices in this guide!
As a mom, I love that everything on this list is easy enough that kids can (and should!) make it themselves. Obviously, younger ones might not be able to heat foods themselves, but even they can make a their own plate with cold items and dry goods listed.
The "Runners Up" list at the end has 15 healthy-ish items that I'd give a B+ for quality for various reasons. These would be fun occasional treats that are still healthier than most processed foods.
All product images are from Costco's Same Day Service site or manufacturer web sites.
Neither this post nor the printable shopping list are affiliated with or endorsed by Costco.
9 Healthy Prepared Breakfasts from Costco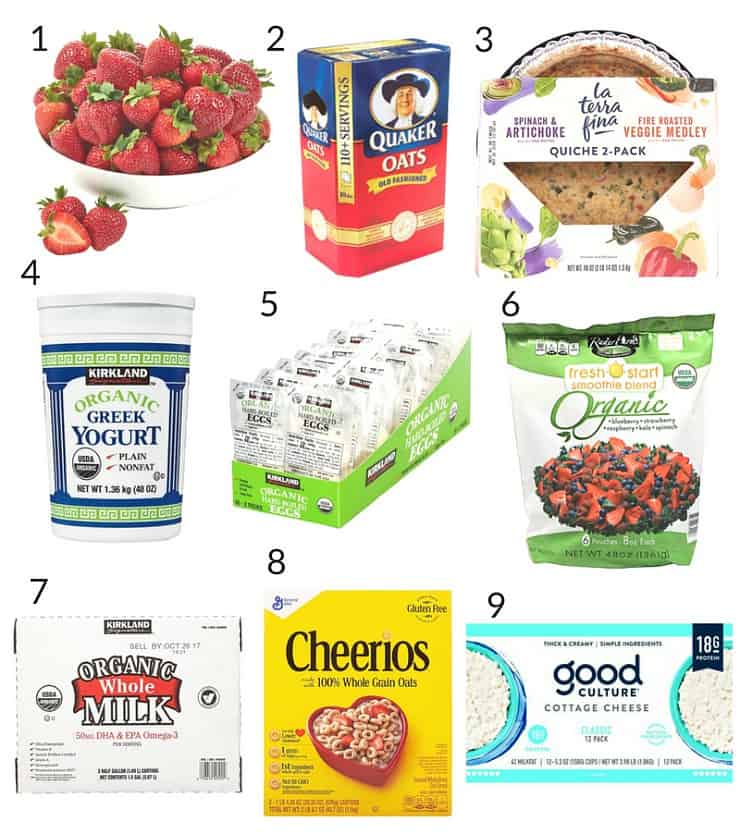 Fresh Organic Strawberries $6.19/2 lbs online, $5.99/2 lbs in store
Quaker brand Old Fashioned Rolled Oats – $9.99/10 lbs online, $7.99/10 lbs in store
La Terra Fina Quiche 2- pack: Spinach & Artichoke and Fire Roasted Veggie Medley – $14.89/2-pack online
Kirkland Organic Greek Yogurt – $7.09/48 oz online, $5.99/48 oz in store
Organic Hard Boiled Eggs -$12.39/32 eggs online, $9.99/32 eggs in store
Fresh Start Organic Smoothie Blend (frozen section) – $14.89/6-8 oz packs online, $11.99/6-8oz packs in store
Whole Organic Milk – $14.69/3-half gallon cartons online, $11.99/3-half gallon cartons in store
Cheerios brand Gluten Free Cheerios Cereal- $6.99/40 oz online, $5.79/40 oz in store
Good Culture brand Cottage Cheese singles – $12.39/12 servings
20 Healthy Prepared Lunches from Costco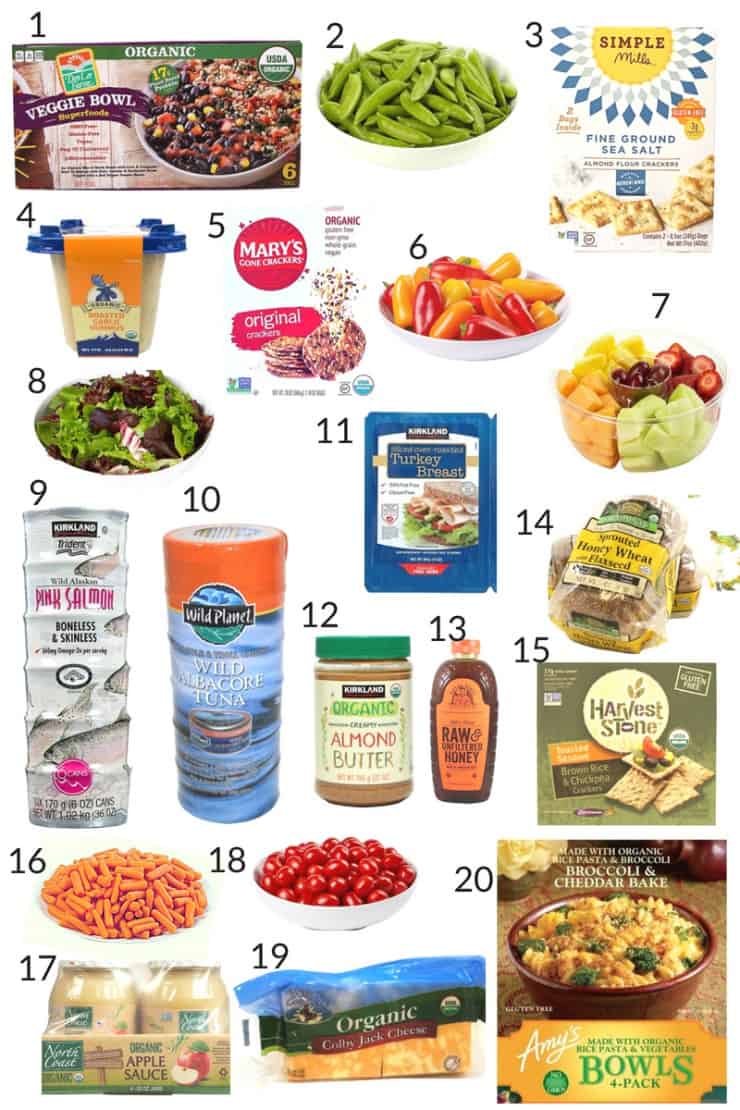 Don Lee Farms Organic Veggie Bowl with Superfoods (frozen section)- $18.59/6 bowls online, $14.99/6 bowls in store
Sugar Snap Peas – $5.89/1.5 pounds online, $4.69/1.5 pounds in store
Simple Mills Almond Flour Crackers with Sea Salt – $11.19/2-8.5 oz bags online, $8.99/2-8.5 oz bags in store
Blue Moose Roasted Garlic Hummus – $6.99/32 oz online, $5.59/26 oz in store
Mary's Gone Crackers – $10.49/20 oz online, $8.39/20 oz in store
Mini bell peppers – $7.49/1.5 lbs online
Fresh Cut Summer Fruit Tray – $12.99/3 lbs online, $9.99/3 lbs in store
Organic Spring Mix Salad -$4.99/16 oz online, $3.99 in store
Kirkland Wild Alaskan Canned Salmon – $16.19/6-6 oz cans online, $12.99/6-6 oz cans in store
Wild Planet Wild Albacore Tuna – $18.59/6-5 oz cans online, $14.99/6-5 oz cans in store
Kirkland Oven Roasted Turkey Breast Slices – $12.39/42 oz online
Kirkland Organic Almond Butter – $15.89/27 oz online, $12.79/27 oz in store
Nature Nate's Raw Unfiltered Honey – $17.09/48 oz online, $14.99/48 oz in store
Alpine Valley Sprouted Honey Wheat and Flaxseed Bread – $7.49/2 loaves online, $4.59/2 loaves in store
Harvest Stone Brown Rice and Chickpea Crackers -$10.69/20 oz online, $8.69/20 oz in store
Organic mini carrots – $7.49/5 lbs online, $4.59/5 lbs in store
North Coast Organic Applesauce – $13.69/4-33 oz jars online, $9.99/4-33 oz jars in store
Grape Tomatoes – $6.89/12 oz online, $5.49/2 lbs in store
Organic Creamery Colby Jack Cheese Slices – $8.89/1.5 lbs in store
Amy's Organic Gluten Free Bowls: 3-Cheese & Kale and Broccoli & Cheddar – $16.99/4 bowls in store
19 Healthy Prepared Snacks from Costco
As a rule, I encourage kids and adults alike to includes veggies at every snack. Feel free to borrow from the raw veggie options in the lunch list above to add to these!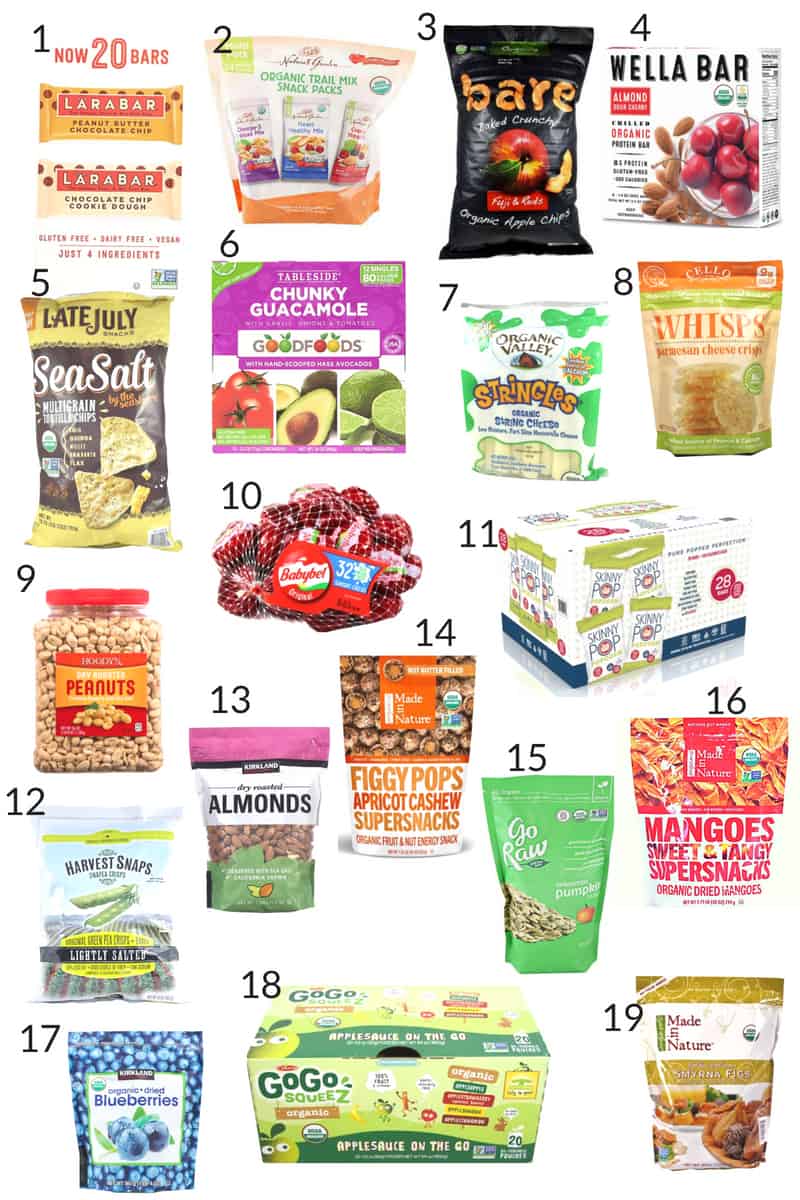 Larabars – $16.89/20 bars online, or $13.79/20 bars in store
Nature's Garden Organic Trail Mix snack bags – $19.89/24 bags online, $15.99/24 bags in store
Bare Organic Fuji Apple Chips – $12.39/14 oz online, $8.99/14 oz in store
Wellabar Protein Bars – $18.99/15 bars in store
Late July Multigrain Tortilla Chips – $8.09/28 oz online, $6.49/28 oz in store
Good Foods Guacamole Single Serve Packs – $13.69/12 singles online, $10.99/12 singles in store
Organic Valley Cheese Sticks – $8.69/24 sticks online
Cello Whisps Parmesan Cheese Crisps -$12.39/9.5 oz online, $9.99/9.5 oz in store
Hoody's Dry Roasted Peanuts – $6.99/3 lbs online, $5.59/3 lbs in store
Babybel brand mini cheese rounds – $13.69/32 rounds online
Skinny Pop brand Individual Popcorn Bags – $14.50/28 bags online, $12.99/28 bags in store
Calbee Original Snap Pea Crisps – $8.29/20 oz online, $6.69/20 oz in store
Kirkland Dry Roasted Almonds – $14.29/2.5 lbs online, $11.49/2.5 lbs in store
Made in Nature Figgy Pops – $14.89/20 oz online, $10.99/20 oz in store
Go Raw Sprouted Pumpkin Seeds – $12.39/18 oz online, $9.99/18 oz in store
Made in Nature Organic Dried Mango – $21.09/28 oz online, $16.99/28 oz in store
Kirkland brand Organic Dried Blueberries – $16.99/20 oz online, $12.99/20 oz in store
GoGo Squeeze Organic Applesauce Pouches Variety Pack – $13.69/20 pouches online, $10.99/20 pouches in store
Made in Nature Organic Dried Smyrna Figs – $17.29/40 oz online, $14.99/40 oz in store
10 Healthy Prepared Dinners from Costco
These are great main dish options – be sure to add veggies or whatever other healthy, real food side dish you like!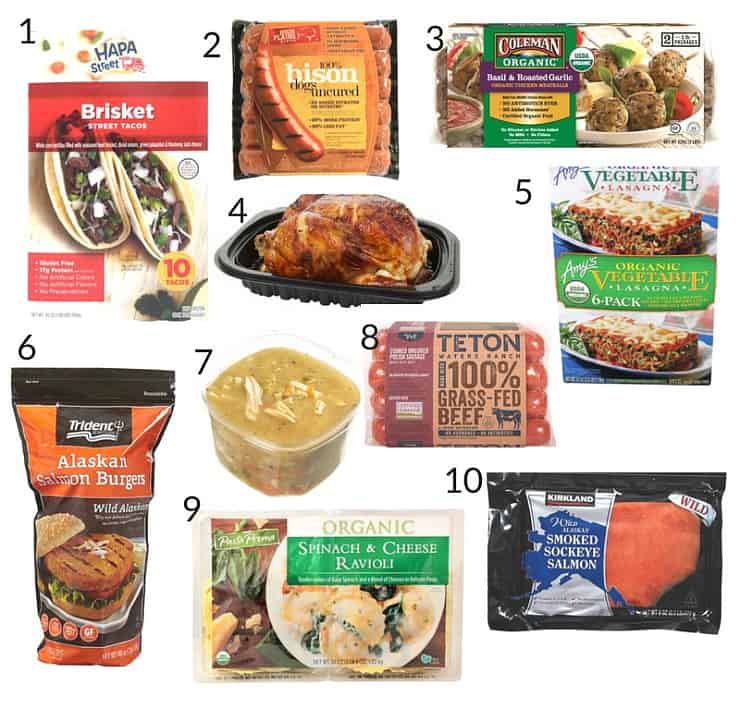 Hapa Street Brisket Street Tacos (frozen section) – $18.59/10 tacos online, $14.99/10 tacos in store
High Plains 100% Bison Dogs – $23.59/27.6 oz online, $18.99/27.6 oz in store
Coleman Organic Chicken Meatballs – $17.39/2 lbs online, $13.99/2 lbs in store
Rotisserie Chicken – $6.99 each online, $4.99 each in store
Amy's Organic Vegetable Lasagna- $24.79/6 pack online, $19.99/6 pack in store
Trident Wild Alaskan Salmon Burger Patties (frozen section) -$19.89/12 online, $15.99/12 in store
Rotisserie Chicken Noodle Soup – $12.39/64 oz online
Teton Waters Ranch 100% Grass Fed Beef Polish Sausage – $17.29/36 oz online, $13.79/36 oz in store
Pasta Prima brand Organic Spinach and Cheese Ravioli – $13.09/10 servings
Wild Alaskan Smoked Salmon – $23.19/16 oz online, $18.99/16 oz in store
7 Healthy Drinks + Frozen Treats from Costco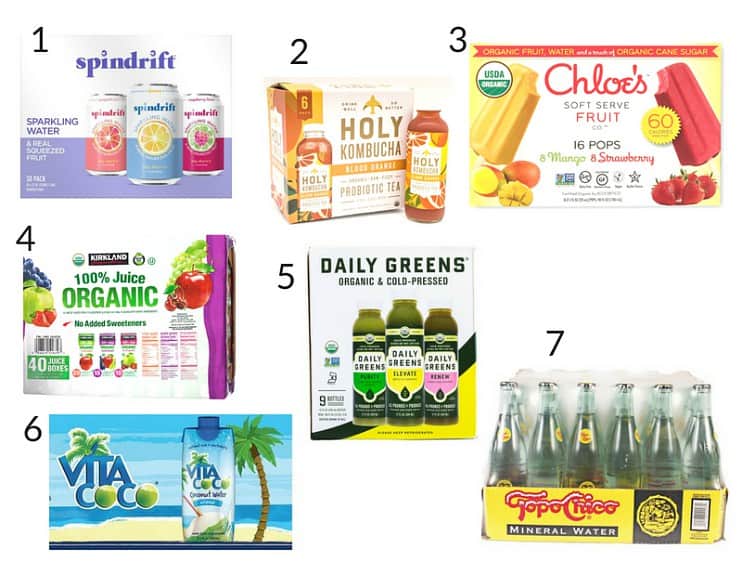 Spindrift Sparkling Water with Real Fruit -$18.59/30-12 oz cans online, $14.99/30-12 oz cans in store
Holy Kombucha – $14.69/6-16.9 oz bottles in store only
Chloe's Organic Frozen Fruit Pops (10 Mango, 10 Strawberry) – $9.99/20 popsicles in store
Kirkland brand 100% Organic Juice Box Variety Pack – $14.50/40 boxes, 6.75 oz each
Vita Coco Pure Coconut Water – $24.79/18-11 oz cartons online, $19.99/18-11 oz cartons in store
Daily Greens Juices -$23.59/9-12 oz bottles online, $18.99/9-12 oz bottles in store
Topo Chico Mineral Water – $24.79/30-12 oz bottles online
Runners Up – 15 Healthy(ish) Prepared Foods from Costco
Most of these made the Honorable Mention list because of slightly higher amounts of added sugars, the presence of natural flavors, or ingredients like soybean oil that we should try to minimize. They're considerably "cleaner" than lots of other convenience foods, but I'd still reserve them as very occasional treats rather than weekly staples.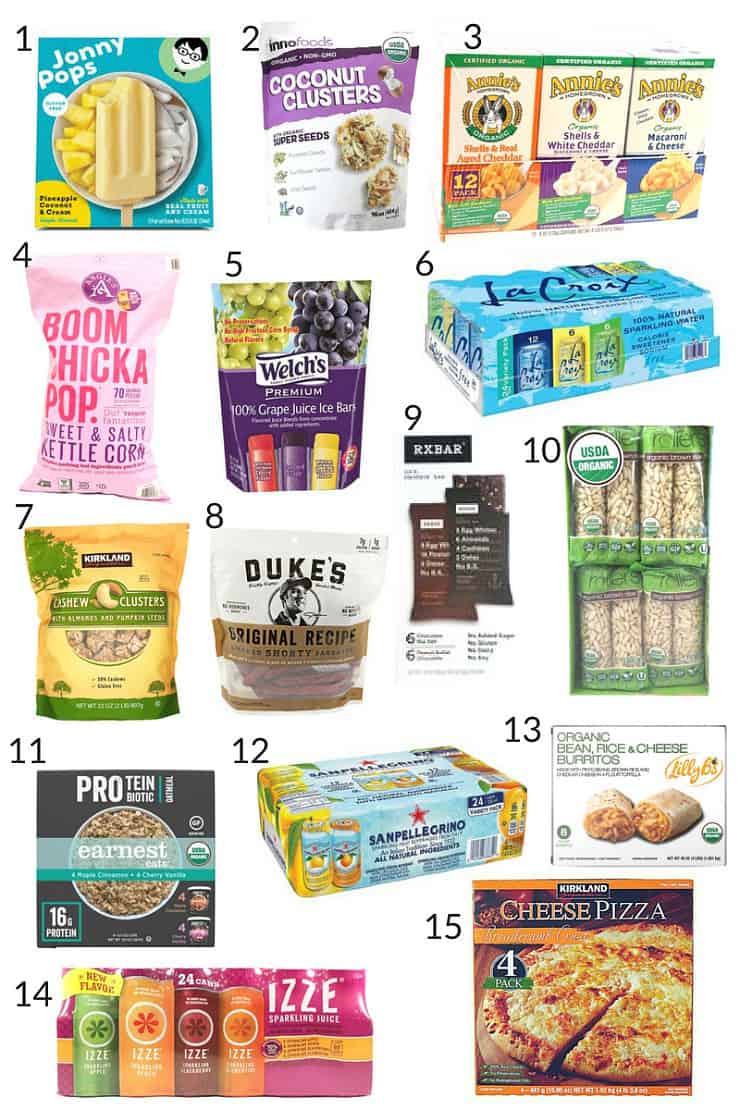 Johnny Pops popsicles (8 Pineapple Coconut Cream, 8 Mango Cream) – $12.99/16 pops in store
Inno Foods Organic Coconut Clusters – $10.69/16 oz online, $8.59/16 oz in store
Annie's Organic Mac and Cheese Variety Pack – $16.19/12 boxes online
Boom Chicka Pop Kettle Corn – $7.39/23 oz bag online, $5.89/23 oz bag in store
Welch's 100% Grape Juice Ice Bars for freezing – $11.89/52 bars online, $9.99/52 bars in store
La Croix Flavored Sparkling Water -$9.79/24 cans online, $7.89/24 cans in store
Kirkland brand Cashew Clusters – $13.69/2 lbs online
Duke's Smoked Shorty Sausages – $14.49/16oz online
Rx Bars – $20.79/12 bars online or $16.99/12 bars in store
Bamboo Lane Crunchy Brown Rice Rollers – $11.19/16 ct online, $8.99/16 ct in store
Earnest Eats brand Protein and Probiotic Oatmeal Cup – $18.59/8 cups online
San Pellegrino Sparkling Fruit Beverage – $21.09/24 cans online, $16.99/24 cans in store
Lilly B's Organic Bean, Rice, and Cheese Burritos (frozen section) – $12.39/8 burritos online, $9.99/8 burritos in store
Izze Sparkling Juice -$17.99/24-8.4 oz cans online, $14.49/24-8.4 oz cans in store
Kirkland brand Cheese Pizza – $12.39/4 pizzas online, $9.49/4 pizzas in store
Free Printable Healthy Costco Shopping List
Download this list to your device or print for easy access when you shop!

Check out these other healthy shopping guides!