The ultimate list of healthy snacks for kids (and adults) – all are made from nutrient dense, real foods and are gluten free with no added sugars, no refined oils, and no artificial or natural flavors. Perfect for school lunch, on the go travel, or just for stocking your pantry. Includes a free download with links for easy shopping!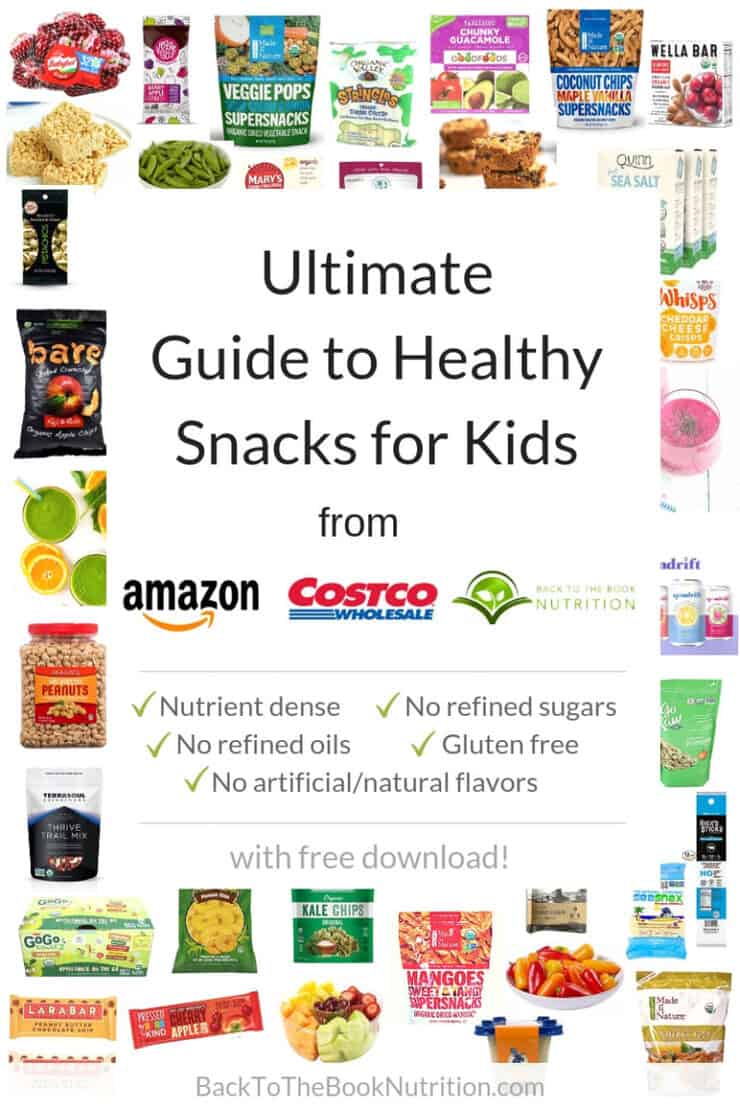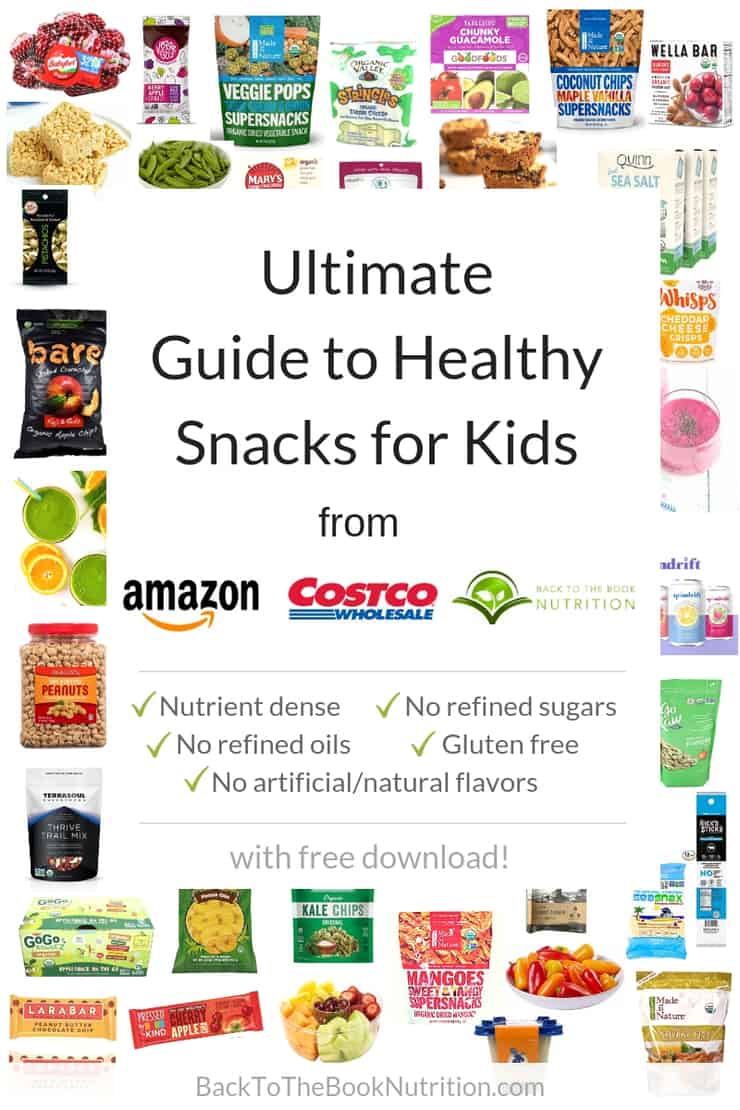 Snack foods bare around a $65 billion per year industry (Source), with "healthy" snacks making up an increasing percentage of that. Needless to say, there are a LOT of snacks to choose from., and it can be overwhelming trying to figure out which ones are actually healthy. Health claims like "organic," "gluten free," and "natural" are slapped onto products that are loaded with refined oils, added sugars, and natural flavors – all things I aim to avoid.
So I've made it easy for you! I've compiled a huge list of the healthiest snacks for kids (and adults), all made from nutrient dense, real foods without all the added junk! I've divided them into categories: Snacks you can buy on Amazon, snacks you can buy at Costco, and snack recipes you can make yourself. I've even included a healthy drinks section as well as a few tips and snack organization gear at the end!
Packaged Healthy Snacks for Kids
Why I chose these packaged snacks:
No added sugar
Gluten free
No artificial or natural flavors
No refined oils (canola, sunflower, etc.) like you'll find in lots of other "healthy" snack foods
All are made from nutrient dense, real foods
Most come in single serve packs kids can easily grab themselves, or that you can throw in their lunch box, backpack, or sports bag.

Note: This post contains affiliate links. By making purchases through these links, you pay the same amount for products, but a portion of the sale will be sent my way to help with blog expenses. Thanks!
Packaged Healthy Snacks on Amazon
Some of these items can be found in your local stores at cheaper prices but, if convenience is king, Amazon is one of the fastest and easiest ways to stock your snack pantry. – for purchase links to all of these items, download the free PDF version of this list! (Items are listed clockwise, starting at the top left in the graphic above)
Rhythm Kale Chips (Original, Cool Ranch, Zesty Nacho, and others)
Made in Nature Figgy Pops Supersnacks
Quinn Just Sea Salt Microwave Popcorn
Made in Nature Maple Vanilla Coconut Chips Supersnacks
Inka Chips Plantain Chips
SeaSnax Roasted Seaweed Grab and Go Packs (made with olive oil)
Made in Nature Veggie Pops Supersnacks
WholeMe Almond Coconut Grain-Free Clusters
Wildway Grain Free Granola Snack Packs
Veggie-Go's Organic Fruit and Veggie Strips
Roasted and Salted Pistachios snack bags
Nick's Sticks 100% Grass Fed Beef Sticks
Cello Whisps Cheese Crisps
Bare Apple Chips
Natierra Organic Beet Chips
Double Joy Pineapple Coconut bars (100% fruit)
Kind Pressed Bars (100% fruit)
Veggiecopia Pitted Green Olives snack bags
Justin's Almond Butter squeeze packs
Safe Catch Elite Wild Tuna pouches
Mozzarella Moon Cheese
Quad Pack Dry Roasted Mixed Nuts
Terrasoul Superfoods Thrive Trail Mix
Health Warrior Organic Pumpkin Seed Protein Bars
Larabars
That's It Bars (100% fruit)

Packaged Healthy Snacks at Costco
I've tried to include individually packaged snacks when possible here but, obviously, that's not always possible at bulk-buy stores like Costco. The entire list is gluten free and refined sugar free with no refined oils and no artificial or natural flavors. I've also included a few fresh fruits and veggies that are easy to grab and go since Costco has such great prices on them and since they're so healthy. (Items are listed clockwise, starting at the top left in the graphic above)
Organic Valley Stringles string cheese
Wellabars
Larabars
Bare Organic Apple Chips
Made in Nature dried mango
Blue Moose Hummus
Good Foods single serve guacamole packs
Mini bell peppers
Babybel Gouda cheese wheels
GoRaw Sprouted Pumpkin Seeds
Cello Whisps Parmesan cheese crisps
Grape tomatoes
Hoody's Dry Roasted Peanuts
Made in Nature Figgy Pops
Baby carrots
GoGo Squeeze applesauce pouches
Mary's Gone Crackers Original Savory crackers
Snap peas
Kirklands Dry Roasted Almonds
Kirklands Raw Pecans
Fresh fruit tray
Made in Nature dried figs

Healthy Snack Recipes for Kids
If you enjoy making homemade snacks, here are a few of my favorite kid-approved recipes. All gluten free and refined sugar free. (Items are listed clockwise, starting at the top left in the graphic above)
Chocolate Peanut Butter Rice Crispy Treats
Easy Probiotic Fermented Carrots
Almond Butter Freezer Fudge
Creamy Strawberry Beet Smoothie
Orange Pineapple Green Smoothie
Peanut Butter Rice Crispy Treats
Oatmeal Raisin Breakfast cookies
Easy Coconut Water and Fresh Berry Popsicles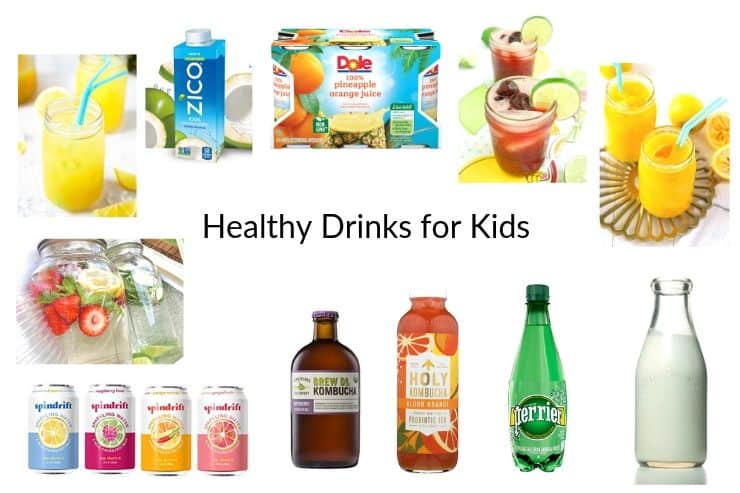 Healthy Drinks for Kids
Obviously, water should be our main beverage, but all kids enjoy something different every now and then. Here are my favorite health drinks with no added sugars or flavors. (Items are listed clockwise, starting at the top left in the graphic above)
Homemade Pineapple Lemonade
Coconut water
100% juice boxes/pouches/cans – double check that they don't have natural flavors (It's harder than you think!)
Homemade Cherry Limeade
Homemade Mango Lemonade
Milk – organic and raw (if possible) from a trusted source
Perrier
Kombucha – Brew Dr. (sold at Whole Foods) and Holy Kombucha (Sold at Whole Foods and Costco) are my favorites because they don't add sugar after the fermentation process
Spindrift
Infused waters

Healthy Snack Organization at Home + On the Go
I'm a minimalist when it comes to snack storage and organization, but a few basic tips and products can really help keep your snacks organized at home and when you travel. (Items are listed clockwise, starting at the top left in the graphic above)
Keeping healthy snacks visible is key – make sure kids can see and reach the snacks you want them to eat!
Rotate them to keep things interesting – To avoid snack overhwelm and waste, bring out just a few packaged snack options at once.
Buy extra chip clips – I prefer larger ones that kids can handle easily
Reusable snack bags (I prefer washable bags made with organic cotton)
Stainless water bottles
Plastic storage bins that fit nicely on fridge and pantry shelves for easy access and organization
A collapsible, hanging bin is great for the car – it can be used for snack storage or as a trash can
FREE DOWNLOAD – ULTIMATE GUIDE TO HEALTHY SNACKS FOR KIDS
Download this list with clickable links for easy reference and shopping!