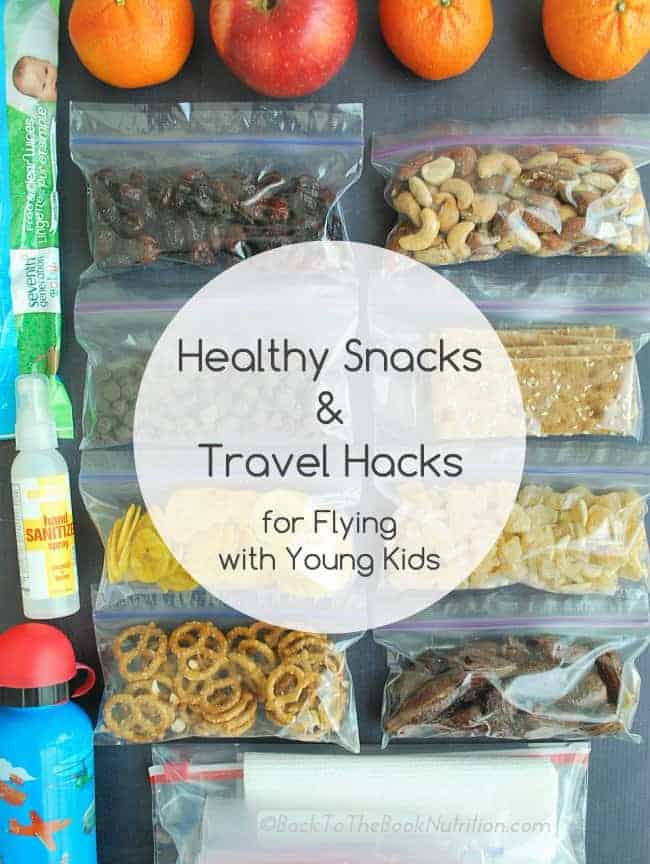 My family and I spent last week traveling around England…It was a fabulous trip – full of God's natural beauty, relaxation, sight seeing, meeting great people, and enjoying great food!
This was actually our second international trip with our children and it went much more smoothly than the first one! Today, I'm sharing the tips and tricks we've learned to make international travel with young kids healthy, fun, and safe!
Not leaving the country? No worries – many of these tips apply to domestic travel as well!
Note: This post contains affiliate links. By making purchases through these links, you pay the same amount for products, but a portion of the sale will be sent my way to help with blog expenses. Thanks!
Healthy Snacks for Young Kids
If you have kids, you know how important snacks are – and even more so when schedules are altered and unfamiliar foods are served at meal times. Here are five tips I use to ensure we've got access to healthy and appealing snacks on the plane and on the ground.
1. Include healthy and "nearly healthy" options
When I'm competing with bright colored bags of chips, candies, and other junk foods calling out to my kids in airport kiosks, I buy a few special items that aren't in our regular snack rotation – things like chocolate chips, banana chips
, and pretzels
.
The kids were so excited about the special snacks from home that they didn't even notice when I politely declined the plastic tray of heavily processed and reheated "dinner" the flight attendant offered. Instead, they filled up on food that was healthier, better tasting, and way less likely to lead to food poisoning!
2. Choose mess-free snacks
Snacks that require squirting, spooning, or spreading aren't something I want to deal with on the plane. I choose whole fruits, dried fruits, nuts, and crackers/pretzels that are bite sized or close to it.
I also pack each item in its own plastic zipper bag so leftovers can be resealed and saved for later.
3. Pack Your Own Water Bottles!
You can't bring liquids through security, but you can bring empty water bottles
from home. Purchase a large bottle of water after you clear security and divide it among the kids' bottles you packed.
Personal drink bottles come in very handy during the vacation as well – filling each with water before leaving your hotel will avoid confusion,save money, and cut down on waste.
4. Wipes, Hand Sanitizer, etc.
It's incredibly helpful to have hand sanitizer and wipes with you for pre-snack squirting and after snack clean-up. Consider buying a travel pack of wipes, or placing a small stack in a plastic zipper bag so you don't have to lug around a standard size package of wipes.
This trip I also packed a few paper towels from home and they came in handy to clean up a larger water spill on the plane (Those tiny square napkins from the airline just won't cut it if you've got a real spill).
5. Organize snacks in plastic zipper bags
I try to use plastic sparingly at home but, when we travel, I organize everything in resealable plastic bags of various sizes. I splurge and by the slider bags

when available since I know the kids can seal them easily too.
Gallon Zipper Bag #1 (pictured above, in carry-on for departing plane ride)
Snack bags of individual snack items, plus a quart sized bag with hand sanitizer, paper towels, and empty sandwich bags for filling with snacks or using to collect any trash
Gallon Zipper Bag #2 (for vacation)
Similar to Bag #1 but with a different variety of snack items, packed in checked luggage
Gallon zipper bag #3 – (for returning plane ride)
Similar to Bag #1 but with a different variety of snack items, packed in checked luggage
Travel Hacks for Families with Young Kids
Beyond the snacks, we've learned some life-chaning (okay, maybe not life-changing, but definitely trip-changing!) hacks for making travel smoother and safer.
1. General Tips
Age of kids
Obviously, you can't change this, but realize when you plan your trip that, the younger they are, the more work the trip will be. My son being 2 1/2 years old on this trip (vs. 1 1/2 when we took our first international flight) made everything about this trip significantly easier.
Tell them what to expect
Prep kids for airport, plane ride, transport to hotel, etc. as you go. Be near them to explain when something new is happening. For example, the sound of the plane taking off and landing can be pretty scary to a child and having you talking into his ear about how the loud sound is helping the plane take you up into the air to go on vacation can be very reassuring.
2. Travel Safety
RideSafer travel vest (car seat alternative)
This one is a game changer. These amazing Ride Safer vests
are light weight, are very easy to put on and take off, and meet all federal safety standards! On our first international trip last year, we hauled our Britax carseat through the airports, into taxis, and around Ecuador for an entire week. I'm not exaggerating when I say it was miserable.
This year, my husband bought one of these vests for our little guy. I packed it in my backpack and whipped it out just before we hopped into a taxi. It was amazing! They're a little pricey but so worth it – and you can always resell it online to recover about 2/3 of your money.
Bubble Bum inflatable booster seat
We actually bought a Bubble Bum
for my daughter (then 4 1/2 years old) to take on our last trip. It's around $30, inflates in under a minute, and also meets all U.S. safety standards.
In addition using it on vacation, it comes in very handy at home when my daughter needs to ride in someone else's car that doesn't have a spare car seat or booster.
3. Security for Young Kids
ID bracelets
Adjustable ID wrist bands or handwritten notes in your child's pocket are a very affordable security measure. Include parents' names, phone numbers (don't forget to include the country code if traveling internationally!), and any allergies or other instructions. We've been very happy with these Vital ID bracelets
: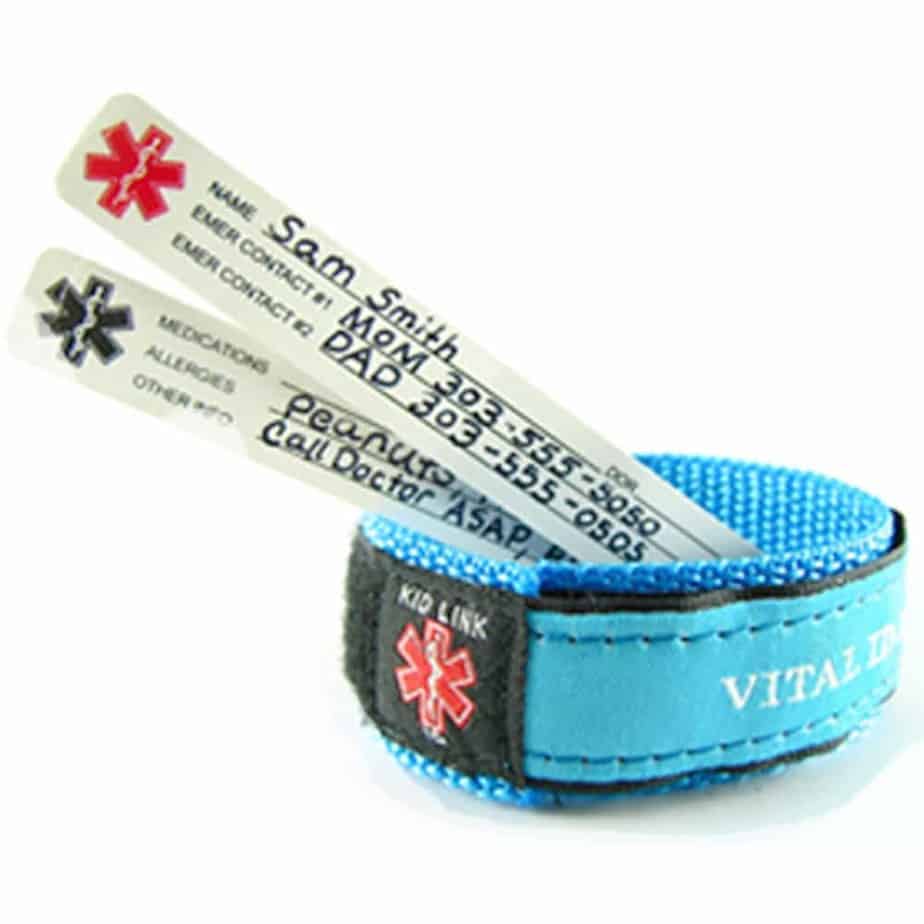 Practice asking for help
Teach your child when and how to ask for help. We rehearsed the different situations when a child might need to ask for help, who to ask, and what to say.
To keep it simple, we taught our 2 1/2 year old to simply raise the arm with the wristband on it and say, "Call my Daddy." One night in the bed, he was practicing on his own. He'd raise his little arm in the dark and whisper, "Call my Daddy." Fortunately, he didn't need to use it during the trip, but it was comforting to know he understood what to do!
4. Travel Gear for Toddlers and Young Kids
Umbrella stroller
If you have a toddler or young preschooler, a light weight umbrella stroller
is really all you need. It gets the job done and is much easier to handle when getting in and out of taxis and trains, and moving through more narrow doorways and hallways in other countries.
Roller backpack
We bought a nice sized roller backpack
with a handle and put my 5 year old in charge of hers and the 2 year old's carry on items. It was super helpful and easy for her to manage, and I think she actually enjoyed feeling big like everyone else with carry on luggage.
Kids sized headphones
Having a set of children's headphones is so helpful for the iPad or in flight movies and games. The freebies on the plane are way too big for kiddos and will be nothing but frustrating. Just trust me on that one.
On site crib or rollaway rental
On our first trip to Ecuador, we took our own pack and play because there wasn't another option. But our hotels in England all offered nightly rental of a pack and play ("cot").
There are third party companies in many countries that will deliver pack and plays as well as other baby/toddler items to your hotel. Here are a couple of posts with links to rental companies abroad:
Baby Equipment Rentals from Have Baby Will Travel
Baby Equipment Rental on Arrival from Family Travel Forum
Noise machine
Even if you don't use a noise machine at home, consider buying one to take with you to drown out the sibling chatter and hotel hallway noise. We've been very happy with this inexpensive noise machine that has a variety of tones and adjustable volume.
Do you have any tips for healthy, safe, and fun travel with kids?