Get my top tips for domestic and international travel with young kids + over 30 must-have products to keep your kids safe, healthy, and happy on your next trip or vacation! Includes free download with product links.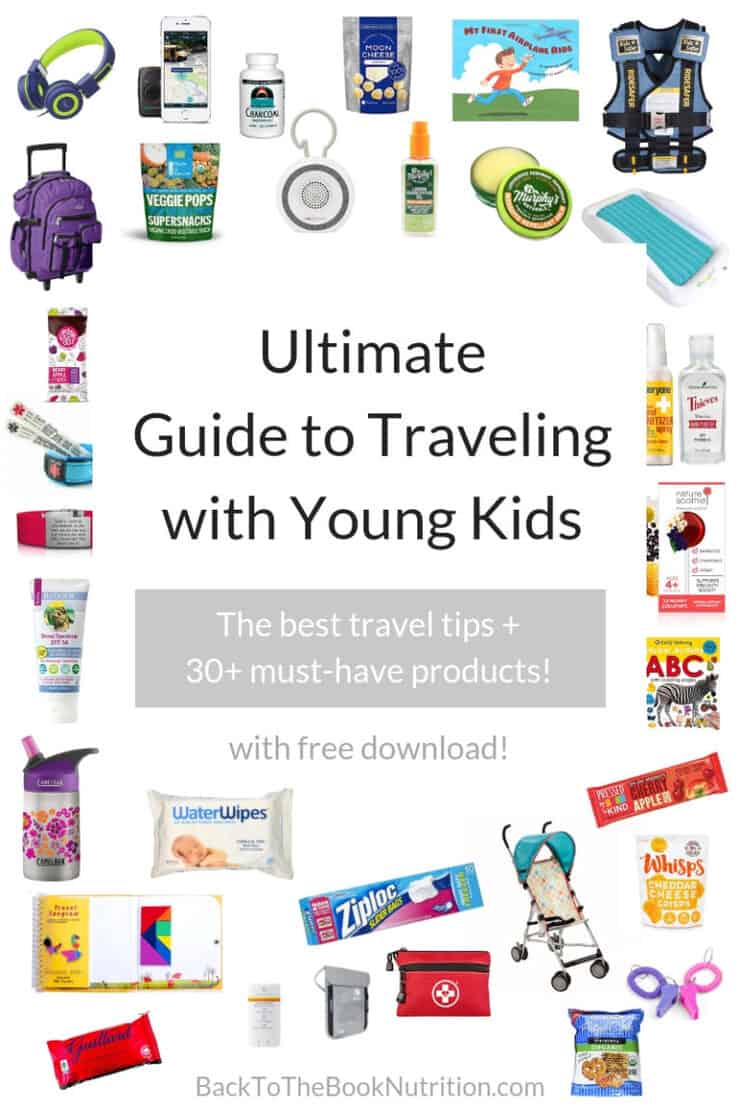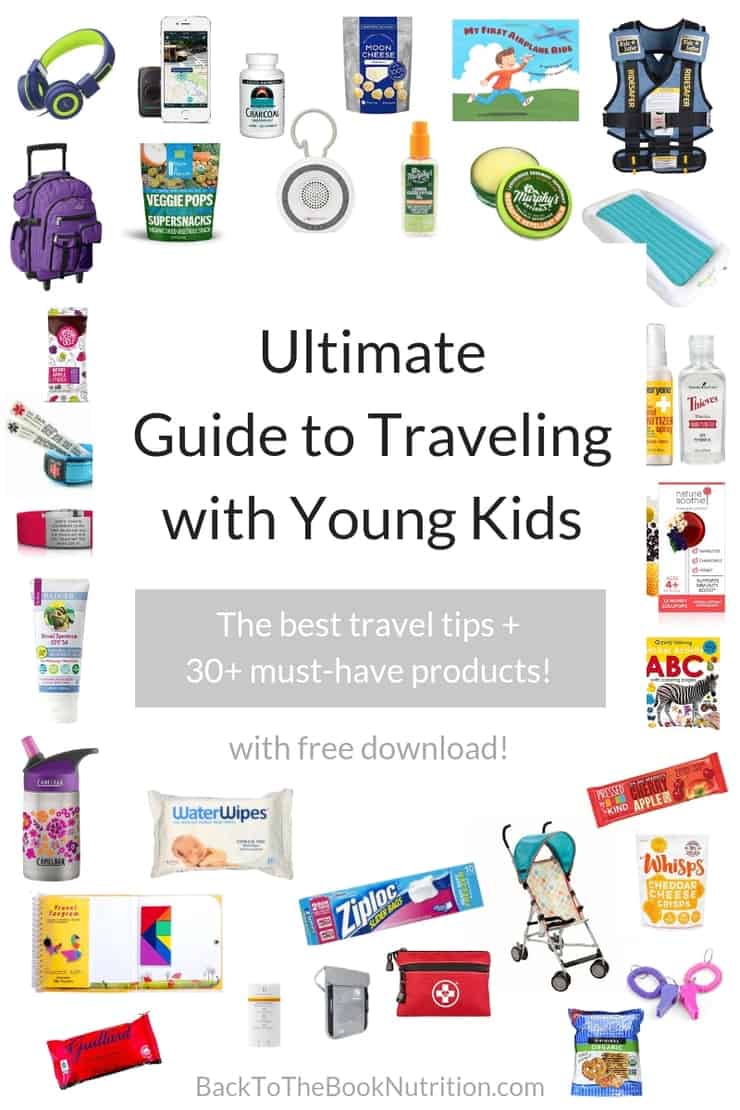 My family and I have taken multiple domestic and international trips with young kids – some in the car, some on a plane. Some to large cities, some to more rural areas. Some where English was spoken, some where we had to survive on my rusty Spanish skills.
Over the years, we've learned a lot about what to do – and what not to do – when traveling with young kids. Today, I'm sharing our best tips and gear to help make your travel with kids healthy, fun, and safe!
Get the Right Travel Documents
If you're flying, you'll want to plan ahead to be sure you have the correct paperwork for your children.
Domestic Travel Documents for Kids
The TSA doesn't require children under 18 to carry identification, but you should also check with your airline to be sure they don't have requirements of their own.
International Travel Documents for Kids
Regardless of your destination, your child will need a U.S. passport to travel internationally. Some countries require other documents as well, such as birth certificates, signed statements from parents' as to the child's parentage, etc.
The best place to look for requirements specific to your destination country is the U.S. State Department's web site. Click "Countries and Areas" on the top menu bar, then click your destination country. Once on the country page, click "International Travel Information," then "Entry, Exit, and Visa Requirements." Scroll down until you see information related to traveling with minors. If none is listed, you may need to visit your destination country's foreign affairs site to learn more.
I find RFID protected passport holders with multiple pockets very helpful to carry mine and the kids passports, as well as a few other essentials, under my clothing when we travel so they're never out of sight.
Note: This post contains affiliate links. By making purchases through these links, you pay the same amount for products, but a portion of the sale will be sent my way to help with blog expenses. Thanks!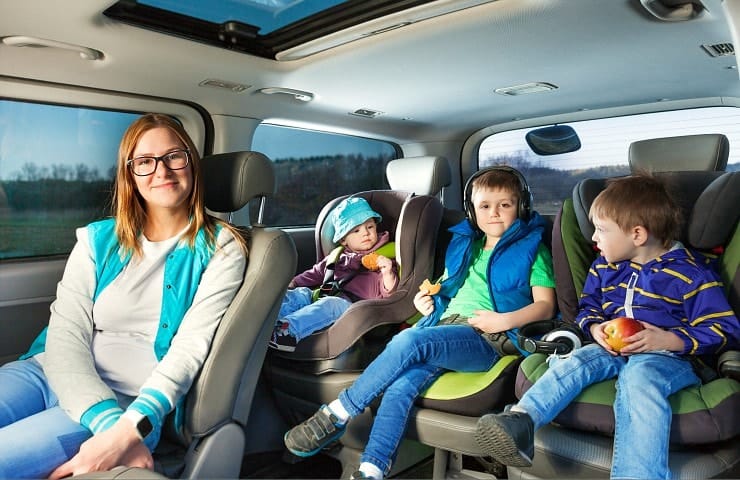 Tell them what to Expect
A few weeks before your trip, start preparing them little by little for aspects of the trip that may be unfamiliar to them. For example, one day share about what it's like to fly on a plane if that's how you'll be getting to your destination.
Consider some simple role play such as working together to create a "plane" from dining chairs with belts strapped around them for seat belts. Sit next to them and walk them through what it looks, feels, and sounds like as all the people get on, as the engines start up, and as the plane takes off, flies, and lands. Prepare them for their ears feeling funny and popping when the plane goes up and when it comes down, and tell them they'll get to have a drink or a sucker as a fun treat during that time. I found books like My First Airplane Ride to be very helpful too!
Do the same for other aspects of the trip such as eating out, sightseeing, being in large crowds of people, staying in hotels, etc.
I don't shy away from telling my kids about the hard parts of the trip – I acknowledge that we may feel tired or bored or homesick at points, and that's okay. I just remind them that some of our routines will be the same (you can take your teddy bear with you, we'll still read a book at night, etc.), and that we will have lots of fun adventures that they will enjoy.
Plan Extra Stops
Whether you're traveling by car or plane, your kids are probably strapped into a seat much longer than they're used to. Plan to give them some extra time at pit stops and layovers to get some of that pent-up energy out.
Locating play areas and green spaces is awesome, but not necessary – just find some place where they can run around. I even know one mom who takes a coach's whistle with her and has her kids do running and calisthenic drills in the parking lot at pit stops on their all-day driving trip to visit family! 🙂
Plan for a Slower Pace on the Trip
Remember, young kids need more sleep and down time than adults, and long days packed with activities can be hard on them. Plan to start your mornings a little later than you would when traveling without kids, plan fewer activities per day, and schedule in some breaks between activities for your children to rest and decompress. Quiet activities like books, coloring, or playing with a few small toys from home are perfect for these times.
Skip this, and both you and your kids will be sorry. Ask me how I know. 😉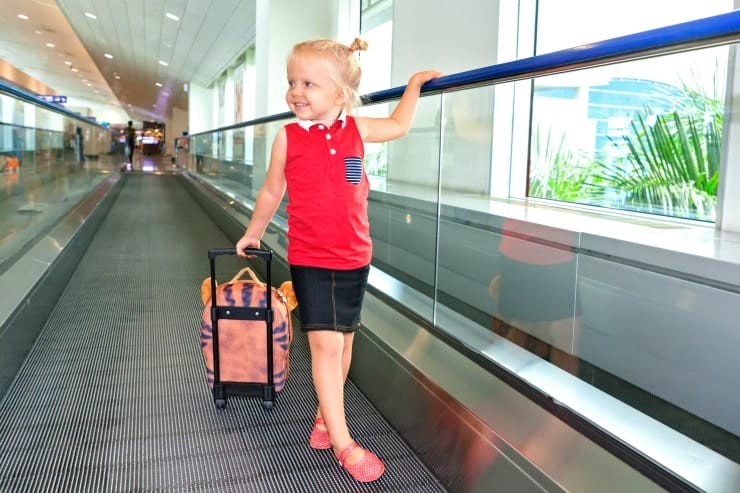 5-4-3-2-1 Method for Packing Carry On's for Young Kids
For younger kids, I pack their clothes, toiletries, etc. in a checked bag. But packing their carry on (or "seat bag" for car trips) is a joint effort. Kids LOVE having their own roller backpack they can pull themselves, and they love helping to pack it. Just be sure the dimensions meet the carry on requirements if you're flying!
The 5-4-3-2-1 packing method for carry on's
5 snacks – Remember, no liquids or gels over 3 oz can go through security! See below for my favorite healthy snacks.
4 activities/games/books – I always buy a few new, travel-friendly activities for them to choose from, like magnetic tangrams, sticker activity books, and Water Wow books.
3 toys/lovies – Keep in mind, there's always a risk these could get lost so you have to weigh out whether your child would be more disappointed to leave them at home, or to lose them on the trip – and there's always the option of writing notes and postcards to the lovie who stays behind at home. 🙂
2 changes of clothes – Pack each outfit in its own gallon zipper bag so the soiled clothes can be sealed inside after the change.
1 water bottle – Remember to empty this before going through security! These stainless water bottles with straws are perfect for young kids.
Don't forget to add a note with parent names and contact information inside one of the pockets of the backpack in case it gets lost!
Healthy Snacks for Traveling with Young Kids
If you have young children, you know snacks are an essential part of keeping them happy, especially on trips when they're out of their normal routine and staying in unfamiliar places. Here are a few tips I use to ensure we've got a steady flow of healthy snacks the kids will love and I'll feel good about feeding them, whether on a plane, in the car, or in a hotel.
Include healthy and "healthy-ish" options
I always load up on super healthy packaged snacks before we travel, trying to include snacks that include protein and/or fat to help keep kids satisfied between meals, and veggies when possible since vacation meals don't always include as many of those as we're used to at home.
My Ultimate Guide to Healthy Snacks for Kids has over 70 of my favorite real food snacks: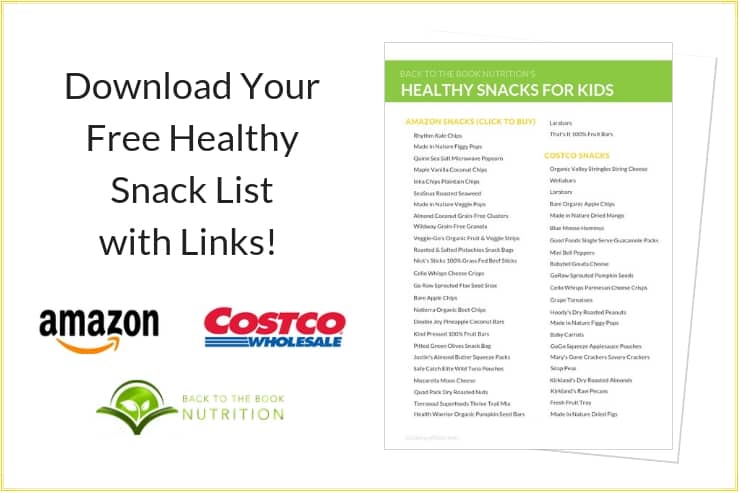 But I'm not dumb. When I'm competing with bright colored bags of chips, candies, and other junk foods calling out to my kids in airport kiosks and hotel lobbies, I'm also willing to buy a few special, healthy-ish treats the kids love and that they don't get very often – things like chocolate chips, pretzel crisps.and natural suckers to help with popping ears as the plane takes off and lands.
Don't forget the Wipes and Hand Sanitizer!
It's incredibly helpful to have hand sanitizer for pre-snack squirting (I like Thieves essential oil sanitizer from Young Living or Everyone brand sanitizer ) and wipes for after snack clean-up (I like Water Wipes).
I've also packed a few paper towels from home which have come in handy to clean up a larger spills in the car or on the plane (Those tiny square napkins from the airline just won't cut it if you've got a real spill).
Organize snacks, sanitizer, and wipes into 3 bags
I try to use plastic sparingly at home but, when we travel, I organize everything in resealable plastic bags of various sizes. I splurge and by the gallon size slider bags
when available since I know the kids can seal them easily too.
Gallon Zipper Bag #1: Healthy snack foods, plus a quart sized bag with hand sanitizer, paper towels or wipes, and empty sandwich bags for doling out smaller quantities of snacks or using to collect any trash. Pack this in the car or carry-on for the departing trip/plane ride.
Gallon Zipper Bag #2: Similar to Bag #1 but with a different variety of snack items. Pack this in your luggage for use during the vacation.
Gallon zipper bag #3: Similar to Bags #1 & 2 but with a different variety of snack items. Pack this in your luggage to be added to the car or carry-on for returning trip/plane ride home.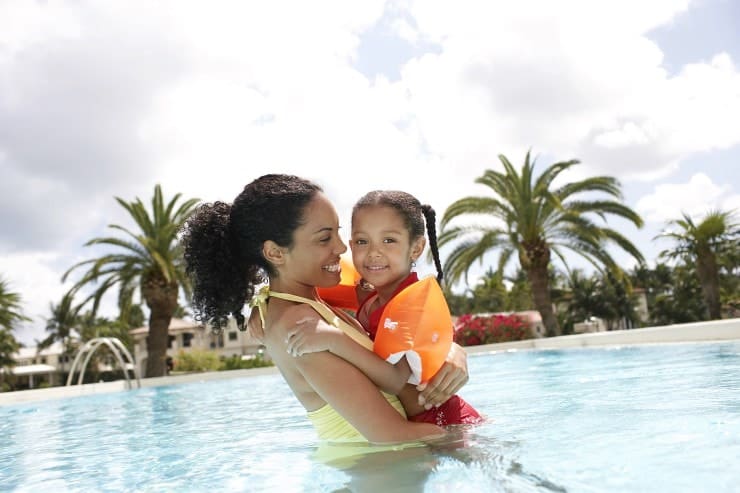 Keeping Young Kids Safe When Traveling
Our family is serious about safety, especially since we started traveling when our kids were very young. Here are some of the tips and gear that have been the most helpful to keep our kids safe and put our minds at ease!
ID Bracelets
Adjustable ID wristbands that include parents' names, phone numbers (don't forget to include the country code if traveling internationally!), and any allergies or other instructions. We've been very happy with these Vital ID bracelets that are waterproof and don't slip off easily (pictured below), but these lower profile silicone bands also look nice. If you don't have time to order the bracelets, a handwritten note with the same information can be put in your child's pocket.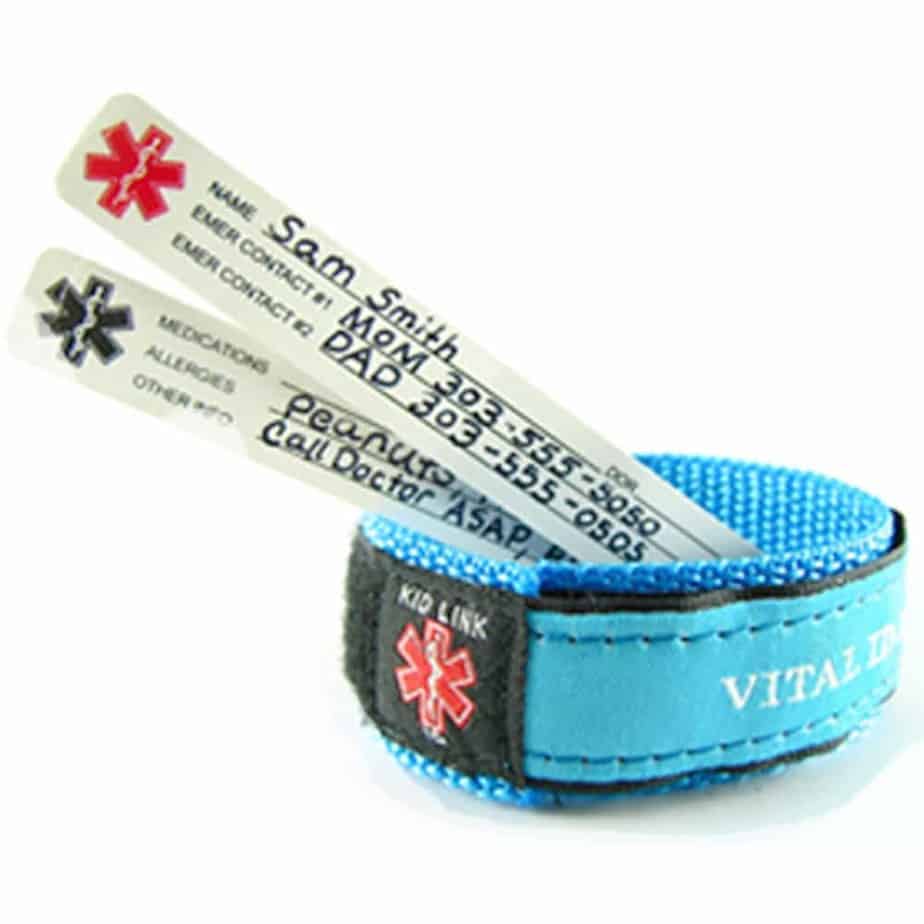 Practice asking for help
Teach your child when and how to ask for help. Rehearse the different situations when they might need to ask for help, who to ask, and exactly what to say. Repeat this lesson several times during the weeks leading up to your trip so your child has time to learn the "script" well.
To keep it simple, we taught our 2 1/2 year old to simply raise the arm with the wristband on it and say, "Call my Daddy." One night in the bed, we noticed on the monitor that he was practicing on his own. He'd raise his little arm in the dark and whisper, "Call my Daddy." Fortunately, he didn't need to use it during the trip, but it was comforting to know he understood what to do!
Whistle
A simple whistle in a child's pocket can be a very effective "alarm system" even very young children can use if they get separated from you. We let them blow them a few times when they first arrived, then made a rule that the whistles were to be used only for safety during our trip.
Use a GPS Tracking device
If you want to go a step further, consider buying a GPS tracking device your child can wear like Angel Sense (domestic only) or Trackimo GPS watch (has domestic and international service) that allow you to track your child's location in real time.
Ride Safer Vest
This one is a game changer. These amazing Ride Safer vests are light weight, are very easy to put on and take off, and meet all federal safety standards! On our first international trip, we hauled our huge car seat through the airports, into taxis, and around Ecuador for an entire week. Not to mention the pack and play, stroller, suitcases and two children we were trying to keep up with! I'm not exaggerating when I say it was miserable.
For the next trip, my husband bought a Ride Safer vest for our little guy. I packed it in my backpack and whipped it out just before we hopped into a taxi. It was amazing! They're a little pricey but so worth it – totally legal, safety tested, and you can always resell it online to recover at least half what it cost!
Bubble Bum Inflatable Booster Seat
This is another one we didn't know about on our first trip. Now I'm a huge Bubble Bum fan! They cost around $30, inflate in under a minute, and meet all U.S. safety standards.
In addition using it on vacation, it comes in very handy at home when my daughter needs to ride in someone else's car that doesn't have a spare car seat or booster.
First Aid Kit
A compact and light weight first aid kit is always a good idea, because you just never know when you'll need it. When we travel, I usually add in a few doses each of essential medications for pain, upset stomach, allergic reaction, motion sickness, etc. I've recently started adding activated charcoal capsules that the adults can swallow or that can be opened and stirred into a beverage for the kids in case of food borne illness. We rarely ever take them, but it's good to know they're there.
Sunscreen, Insect Repellent, etc.
If you'll be spending more time outdoors on your trip, consider taking sunscreen, bug spray, or other topical products to keep kids healthy and safe. At home, we don't use these products very often, but travel takes us to more rural areas, areas nearer the equator (hello, Equador!), and to areas where insects may be different and carry different diseases than at home.
So, when we travel, I'm more liberal with sunscreen (Badger and Beauty Counter are my favorites) and insect repellent (these small spray bottles made with lemon eucalyptus oil, or the same repellent in a balm form are great for travel!).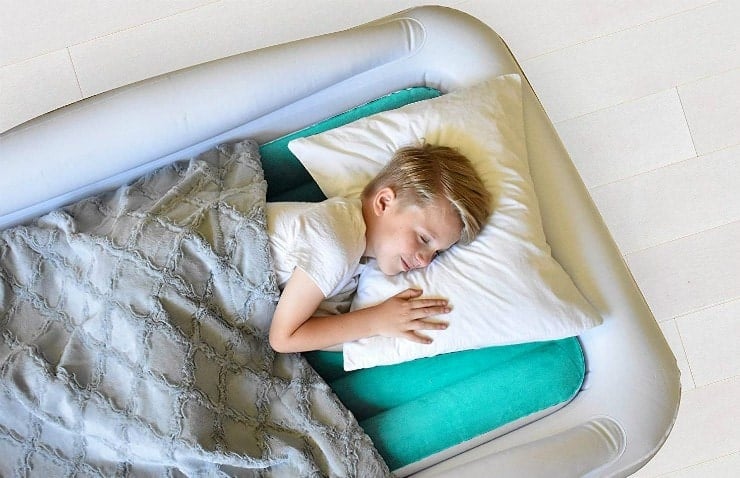 Best Travel Gear for Young Kids
In addition to the gear mentioned above, here are a few other pieces of essential travel gear for traveling with kids. Keep in mind, you'll be schlepping whatever gear you pack, in addition to your suitcases and sometimes a child who's too tired to walk. I'm speaking from experience here when I say, don't overdo it!
Umbrella stroller
If you have a toddler or young preschooler, a light weight umbrella stroller is really all you need. It gets the job done and is much easier to handle in airports, when getting in and out of taxis and trains, and moving through more narrow doorways and hallways, especially in other countries.
Inflatable Bed
I wish we had known about these in those early days of traveling with young kids! Inflatable beds with side bumpers are perfect for toddlers up through young kids. They even included the air pump and a fitted sheet so you're ready to go! Weights of inflatable beds seem to range from 4-10 pounds (the one linked above is on the heavier side, but is also larger to accommodate taller kids and it gets great reviews!
On site crib, pack and play, or roll away rental
On our first trip to Ecuador, we took our own pack and play because we didn't know about the inflatable beds and because there wasn't another on-site option for our then toddler. But our hotels on a trip to England the next year all offered affordable nightly rental of a pack and play ("cot") that was set up in the room when we arrived. It's definitely an option worth asking about if you need something with rails or bumpers and don't want to lug your own bed with you.
There are third party companies in many countries that will deliver pack and plays as well as other baby/toddler items to your hotel. Here are a couple of posts with links to rental companies abroad:
Baby Equipment Rentals from Have Baby Will Travel
Baby Equipment Rental on Arrival from Family Travel Forum
If renting isn't an option, you can always consider purchase an inexpensive blow up mattress or pack and play once you arrive that can be left for the next renter once you're gone. For older children, simply ask about additional roll away beds in the hotels where you're staying. Most offer them for a nominal fee.
White Noise machine
Even if you don't use a noise machine at home, consider buying one to take with you to drown out the sibling chatter and hotel hallway noise. I'd suggest buying a lightweight and inexpensive white noise machine that is battery operated and that has a variety of tones and adjustable volume.
And yes, there are white noise apps for your phone, but I'm not a fan of having wifi devices so near a child's body (or an adult's, for that matter!) all night long.
Devices + Screens
At home, the kids don't do a lot of screens, and they don't have their own devices. But, on vacation, I'm not above movies and games to keep them occupied in the car or on the plane. I try to save the screens until we've gone through our other travel snacks and activities.
I prefer to put the screens away once we get to our destination so we can focus on each other and the trip we've planned, but you'll have to decide what works best for your family.
Kids sized headphones
Having a set of kids' headphones is so helpful for the iPad or in flight movies and games, and for screen time during the trip. The freebies on the plane are way too big for kiddos and will be nothing but frustrating. Just trust me on that one.
FREE DOWNLOAD – ULTIMATE GUIDE TO TRAVELING WITH YOUNG KIDS
Download this list with clickable links to my top 30 must-have products for traveling with kids!