Everything you need to know about the 3 stages of Perimenopause, including typical age, common symptoms, and hormones changes to watch for at each stage of this transition toward menopause.
Note from Dena: This post was co-written with Mollie Francis, Dietetic Intern, as part of a research partnership between Back To The Book Nutrition and post-graduate nutrition students from the University of Houston.
---
Are your periods changing? Do you have symptoms you have never experienced before – hot flashes, insomnia, anxiety, or more belly fat? Are you between the ages of 35 and 50? You could be in perimenopause.
Read on to know for sure!
What is Perimenopause?
Perimenopause is the 2-10 year process of your ovaries gradually phasing out of their role of making hormones (1). Progesterone begins to steadily decline first; then estrogen starts heading downward after an initial period of volatility.
The fall in hormones during this stage of life is caused by a reduction in the number of follicles (fluid filled sacs that mature in the ovaries). When your ovarian follicles have reached a very low level, you stop having periods completely. On the one year anniversary of your final period, perimenopause is officially over and menopause has begun.
When Does Perimenopause Start?
Perimenopause can start earlier than you think. For most American women, it's in their early 40's, but can be as early as 35 for some.
In the U.S., the average age of menopause is 51. Genetics play a huge part in determining when a woman will go through menopause so, if your mother went through menopause at 45, then you are likely to go through menopause around that same age and perimenopausal symptoms could begin up to 10 years before that (1,2).
FACTORS THAT AFFECT TIMING OF PERIMENOPAUSE & MENOPAUSE: (3,4,5)
Genetics are the strongest factor in determining when menopause (and therefore perimenopause) happens. Environment, lifestyle, and other factors can also affect things, but usually result in shifts of months – not years.
Earlier menopause and perimenopause is associated with:
Having your first period at age 12 or earlier
Women who have never given birth to a child
Short menstrual cycles (<25 days)
Smoking
Lower Weight/Lower Body Mass Index (BMI)
Poor nutrition and stress in early childhood
Endometriosis
Oophorectomy (surgical removal of ovaries, with or without hysterectomy)
Other hormonal imbalances
Later menopause and perimenopause is related to:
Irregular menstrual cycles
Women who have given birth to 2 or more children
Higher Weight/Higher Body Mass Index (BMI)
PCOS (Polycystic Ovary Syndrome)
Menopause that occurs before the age of 40 is called primary ovarian insufficiency (POI) and is considered premature or early menopause. POI can be related to genetics, certain medical treatments, and rarely, autoimmune diseases, but often has no known cause. Schedule a visit with your doctor if you have concerns about POI or if POI runs in your family.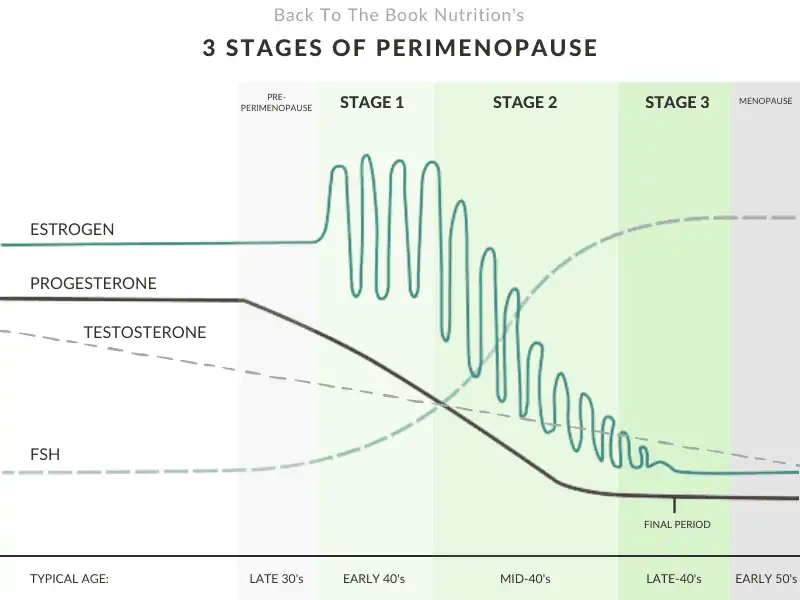 Am I in Perimenopause?
If all this is sounding familiar, you may be asking, "But how do I know for sure if I'm in perimenopause?" There's no single test to definitively tell you whether you're in perimenopause (though hormone testing can give helpful insights). The bottom line is, if you're over 35, and are seeing patterns that line up with the signs and symptoms below, congratulations- you're probably perimenopausal. 😉
The Stages of Perimenopause
Stages of perimenopause aren't well defined in the medical community. Historically, most researchers and doctors have divided it into 2 stages (early and late), while some have proposed 4 stages (6,7,8,9). This 3 stage breakdown strikes a balance between the two, and seems to reflect many women's experiences.
Remember, perimenopause is all about variability – your hormones are in a constant state of flux, and your timeline and symptoms may look different than other women around you or that what's outlined below.
Stage 1
What happens in Stage 1:
The number of follicles in the ovaries is low
Estrogen dominance is common, mostly due to the drop in progesterone but also because estrogen hasn't begun to fall
Follicle Stimulating Hormone (FSH) level is normal
Ovulation may still occur regularly (pregnancy is possible)
Anemia can result from heavy periods
Common Stage 1 symptoms:
More intense PMS
Increased anxiety or depression
Menstrual pain or cramps
Shorter menstrual cycle
Heavier periods/Longer period bleeds
Sleep disturbances
Low libido
Stage 2
What happens in Stage 2:
The number of available follicles is even lower
Progesterone falls even lower
Estrogen levels may swing high and low
FSH may swing high and low
Ovulation becomes less frequent (pregnancy is possible but less likely)
Common Stage 2 Symptoms:
More intense Stage 1 symptoms
Irregular periods – length of menstrual cycle may vary by 7 days or more
Skipped periods
Hot flashes and night sweats
Carb sensitive/insulin resistant
Weight gain
Stage 3
What happens in Stage 3:
Progesterone levels are very low
Estrogen levels are low and may continue to swing, but not as much
Ovulation is rare (pregnancy is unlikely)
LH may be high
FSH may be high
Common Stage 3 Symptoms:
Menstrual cycles become very spread out – between 2 and 11 months apart.
Period flow may become more scant
Hot flashes and night sweats become more frequent
Extra belly fat
Vaginal dryness
Skin becomes more dry and saggy
Hair loss
Symptoms of perimenopause may appear in any of the 3 stages of perimenopause. When a woman goes 12 months without a period, perimenopause has ended, and she is in menopause. And yes, even if you go 11 months without a period, and then you have one again, you are still in perimenopause until you make it through a full year period-free.
A NOTE ON BIRTH CONTROL AND HORMONE REPLACEMENT THERAPY
Hormonal birth control artificially suppresses your own hormones and replaces them with synthetic ones, so your experience may differ from the typical pattern above, making it difficult to know what stage of perimenopause you're in.
Hormone replacement therapy (HRT), whether bioidentical or synthetic, also affects your hormone levels and therefore may affect symptoms. Many women benefit from hormone therapy during this stage of life. Work with your prescribing doctor to be sure your levels are being monitored closely and dosing adjusted appropriately as you progress through the stages of perimenopause and menopause.
How Do I Manage the Symptoms of Perimenopause?
If you are experiencing symptoms mentioned above, it's always wise to check with your doctor first so other issues can be ruled out. But, if your symptoms are a result of perimenopause, remember it's a perfectly normal life transition – not a disease – and there are lots of natural things you can do to help you feel great through this transition – diet, exercise, supplements, bioidentical hormones, and more!
---
About the Co-Author:
Mollie Francis is currently a dietetic intern at the University of Houston working toward her goal of becoming a Registered Dietitian. She is a Group Fitness Instructor and has a passion for helping others achieve wellness through diet and exercise. In her free time, Mollie enjoys running and spending time with her family.
---
Disclaimer: Information on this site is intended only for informational purposes and is not a substitute for medical advice. Always consult with a trusted healthcare provider before implementing significant dietary change. Read additional disclaimer info here.
References:
Read More