Chicken and Rice Soup is one of my favorite comfort food dinners and is perfect for sharing with friends who are sick. Gluten free and ready in only 20 minutes, thanks to the rotisserie chicken and prepared broth!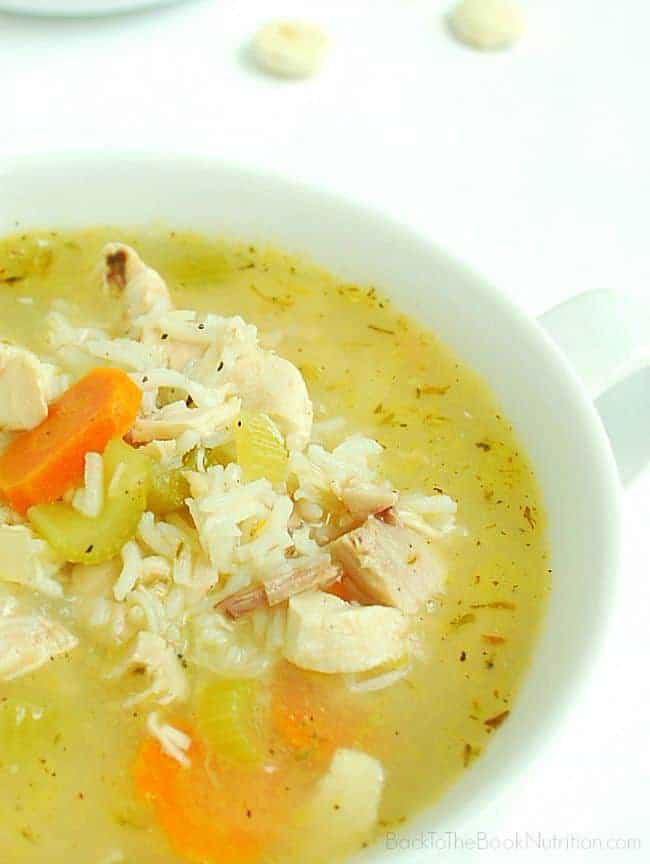 This 20 Minute Chicken and Rice Soup was a life saver last week when I was nursing my sick 3 year old, running between to doctor visits, and getting my oldest off to her first week of kindergarten (yes, we just started back!).
Every mama knows – when a little one gets hit by a stomach bug, the whole household is affected. Cleaning, cooking, and sleeping go out the window, and are replaced by snuggling, movie watching, and extra laundry.
Once my little buddy was finally on the mend, I wanted to make him some "real food" he could enjoy and that would be good for him too. I defrosted some homemade chicken broth from the freezer, and got out a few staple ingredients. My sweet mother-in-law delivered a rotisserie chicken from her grocery run and we were in business!
Note: This post contains affiliate links. By making purchases through these links, you pay the same amount for products, but a portion of the sale will be sent my way to help with blog expenses. Thanks!
20 Minute Rotisserie Chicken and Rice Soup
The keys to this fast and easy chicken and rice soup are the homemade chicken broth and the rotisserie chicken.
If you've never made homemade broth before, check out my super simple method for Crock Pot chicken broth. It's easier than you think, can be made ahead and frozen in pint-sized mason jars for quick defrosting, and makes a night-and-day difference in the flavor (and nutrition) of your soups!
Rotisserie chickens aren't something I normally buy but, without a pastured chicken from our local farmer in the fridge, and with limited time to spend in the kitchen, I was grateful for the quick and easy substitution that saved me at least 20 minutes! If you have the chicken and a little more time, by all means, go that route.
I love that this 20 Minute Rotisserie Chicken and Rice Soup is a simple, nourishing recipe when someone's recovering from illness, but that it's a recipe we can all enjoy! And it's gluten free, which is important for more and more families these days.
In fact, we had enough left over to share with friends who were having a rough week too. It's such a blessing to make and share healthy, homemade food with others in need!
20 Minute Rotisserie Chicken and Rice Soup
2015-09-12 06:48:46
Ingredients
6 cups homemade chicken broth/stock*
2 cups water
2 large cloves garlic, minced or pressed
1 cup chopped yellow onion
1 cup sliced carrot
1 cup sliced celery
1 bay leaf
1 Tbsp sea salt (more or less to taste, depending on how salty your broth is)
1/2 Tbsp ground black pepper (or to taste)
1/2 tsp dried thyme
1 cup white rice (I use organic basmati)
1 rotisserie chicken
* I freeze my homemade broth in mason jars, then defrost a few at a time as I need them: Remove lids and place frozen jars in a pot of water on the stove over medium low heat until broth is fully defrosted.
Instructions
Place all ingredients except rice and chicken in a stock pot and bring to a low boil. (If your chopping veggies as you go, start the broth + water on high heat and chop in the order listed, tossing each into the pot as you go to speed things up a little).
Add rice, reduce to a simmer, then cover and cook until rice is soft (12 minutes or so).
While rice is cooking, remove meat from rotisserie chicken and cut into bite size chunks.
Once rice is cooked, add chicken to the pot and give it all a good stir. Heat for a couple more minutes until chicken is hot.
Notes
The beauty of this recipe is that it's super fast, yet still has all the rich flavor of traditional homemade chicken and rice soup. The key is using homemade broth, cooked low and slow for maximum flavor and nutrition. If you don't make your own broth, I'd suggest buying a whole chicken instead of the rotisserie chicken. Add it to the pot at the beginning of cooking, and cook thoroughly (approximately 30 minutes) before adding the rice. This will add some extra flavor to the soup and it should still only take 40-45 minutes to cook.
Back To The Book Nutrition https://www.backtothebooknutrition.com/
Here are some other favorite soup recipes!