We're talking pasta this week – and not just any pasta. Real pasta – authentic, al dente, Italian pasta.
Italian Meatballs
Millions of people claim to know how to make "perfect Italian meatballs" – 6.8 million, according to Google.
Well, call me number 6.8 million-and-1 because, I'm telling you, these things are perfect.
Tender, pasture-raised beef and pork, fresh Italian parsley and basil, and just enough of a salty bite from the Pecorino Romano cheese.
They are truly the best possible compliment to a bowl of al dente spaghetti.
Affordable, Easy and Healthy
Want to know why else I love these meatballs?
They're affordable
I used higher end products like pastured eggs and meats and and the cost was just over $19, including the package of imported Italian spaghetti noodles. Considering this recipe feeds up to 8 people, that's as little as $2.40 per person! Not bad for the best spaghetti and meatballs I've ever had!
They're easy to make
One of the reasons I had never made meatballs myself, was because I assumed they were difficult to make. Not true. I just stirred the meatball ingredients together in a large mixing bowl, and started rolling them into balls and tossing then into the pan. Plus, this recipe only cooks for about 30 minutes over the stove – much quicker than some of the recipes I read which called for over and hour in the oven!
They're healthy
You know I love this one, especially with one child who's pickier than she used to be. Any time I can find delicious ways to incorporate more vegetables into a dinner, I do it. It doesn't always go over well, of course. But this time? It totally worked. Both kids (and both adults) scarfed them down and asked for more. If spinach and mushrooms aren't your favorites, other veggies would work well too – carrots, kale, and squashes all come to mind as good substitutes.
Classic Italian Meatballs with Spinach and Mushrooms
Authentic Italian meatballs that are affordable, easy to make, healthy, and kid-approved – ooh, and did I mention that they freeze well too? What's not to love?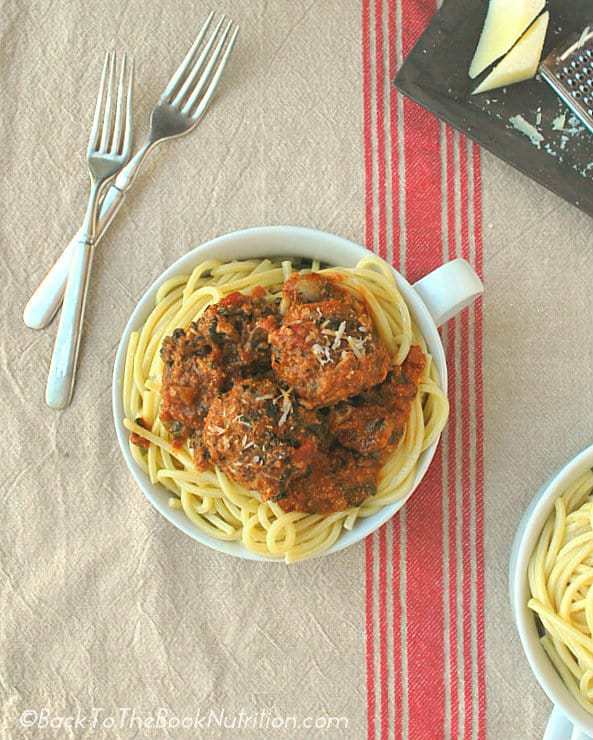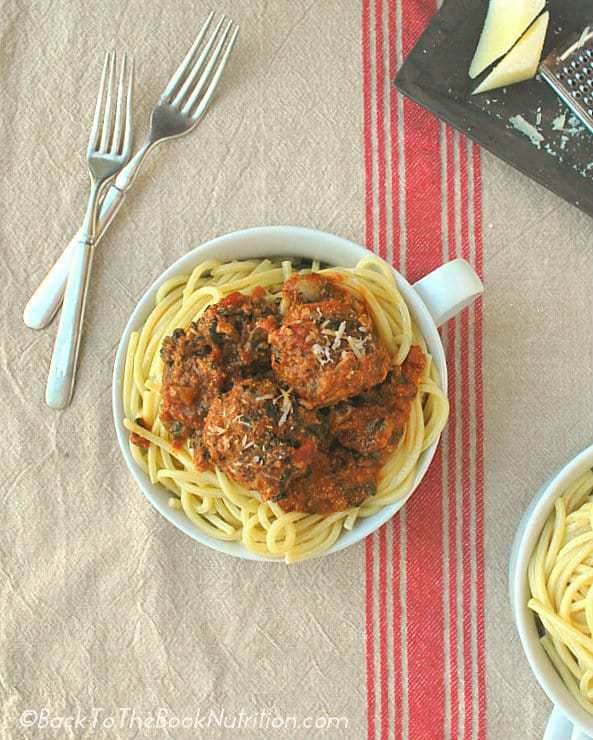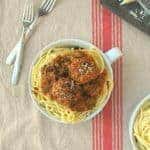 Classic Italian Meatballs with Spinach & Mushrooms
The best Italian meatball recipe - plus, they're affordable, easy to make, and healthy too! Serve alone or over spaghetti.
Print
Pin
Rate
Ingredients
2

eggs

4

oz

white mushrooms

finely chopped

3

oz

baby spinach leaves

finely chopped

2

cloves

garlic

pressed

1/4

of a large yellow onion

minced

1

Tbsp

chopped Italian parsley

1

Tbsp

chopped basil

1/2

c

grated Pecorino Romano cheese

plus more for garnish

3

Tbsp

Italian breadcrumbs

1/2

pound

pastured ground beef

1/2

pound

pastured Italian sausage

casings removed

1/2

tsp

sea salt

reduce to 1/4 tsp if not serving over pasta

3

Tbsp

water

2

Tbsp

white wine

1-2

Tbsp

ghee or lard

enough to coat the bottom of the cooking pot when melted

12

oz

or more of homemade or store bought marinara sauce (we like our spaghetti and meatballs with just enough marinara so that the flavor of the pasta comes through, but if you like it saucy, you could increase the marinara to 20-24 ounces).
Instructions
Set aside half of the chopped mushrooms and spinach for use in the sauce.

In a large mixing bowl, lightly beat the eggs, then add remaining mushrooms and spinach and the next 10 ingredients (garlic through water) to the bowl.

Use clean hands or a wooden spoon to mix.

Melt ghee/lard over medium high heat in a large skillet or Dutch oven.

Form the meatball mixture into golf ball sized balls and drop into the pan as they are formed.

Brown meatballs on all sides (turn them with a spoon occasionally to ensure even browning). As you do this, some bits of a few meatballs may separate and collect on the bottom of the pan. No worries - they'll add a meaty flavor and nice, chunky texture to the sauce!

While the meatballs are browning, start a pot of spaghetti or other pasta if desired.

Once meatballs are browned (should take 12-15 minutes), deglaze the pan with the white wine, using a wooden spoon to scrape the bits off the bottom. If you prefer not to use white wine, skip this step.

In a small mixing bowl, stir together the marinara sauce and the reserved spinach and mushrooms. Pour over the meatballs, folding gently with a silicone spatula to mix without breaking the meatballs.

Cover and simmer for 15 minutes or so, or until the spinach and mushrooms in the sauce are fully cooked.

Top with additional grated Pecorino Romano and serve alone or over hot pasta.
Notes
These meatballs are perfect for spaghetti, but could also be served without pasta. They store well in the fridge for several days and the freezer for several months.
Here are a few other Italian favorites you might enjoy!