Rich and creamy feta yogurt dressing, with just the right amount of kick from fresh lemon, garlic and shallot. A new favorite at our house, it's super easy to whip up and can be used in so many ways.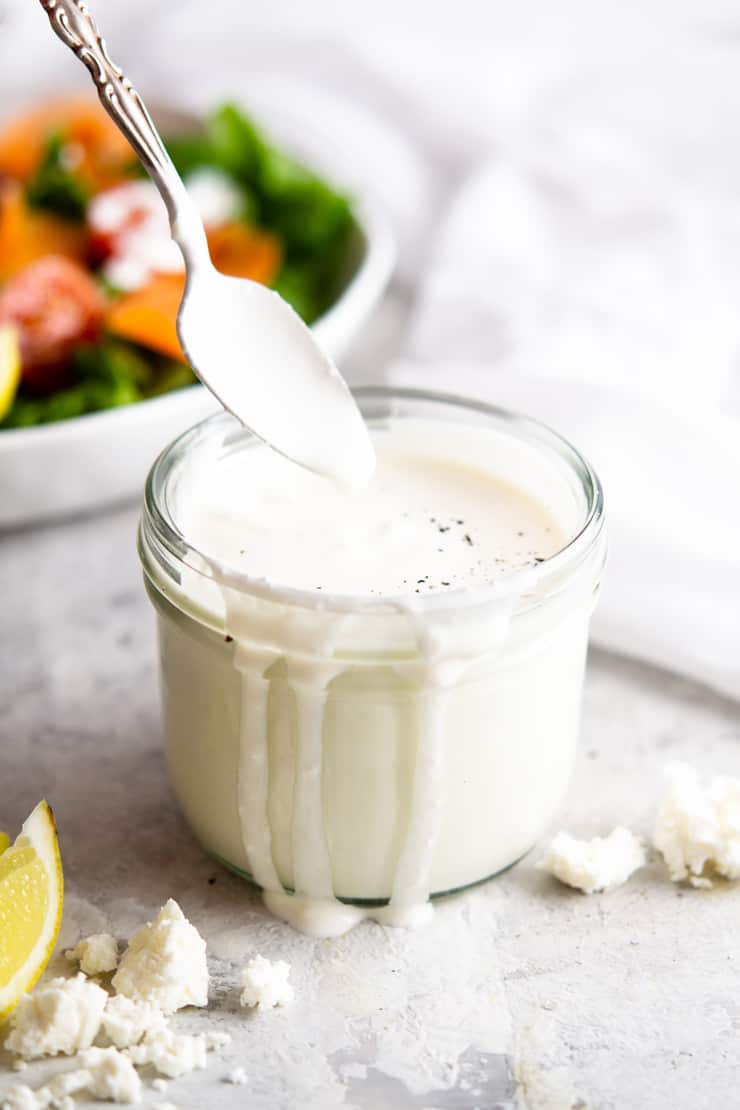 Feta cheese is one of my very favorite foods.
I add it to omelets, pizza, fish and pasta, and have even been known to eat it all by it's wonderful, salty self. So obviously, it's also my go-to cheese for salads.
And what's the best part of any good salad?
The dressing, of course!
How to Make Creamy Feta Yogurt Dressing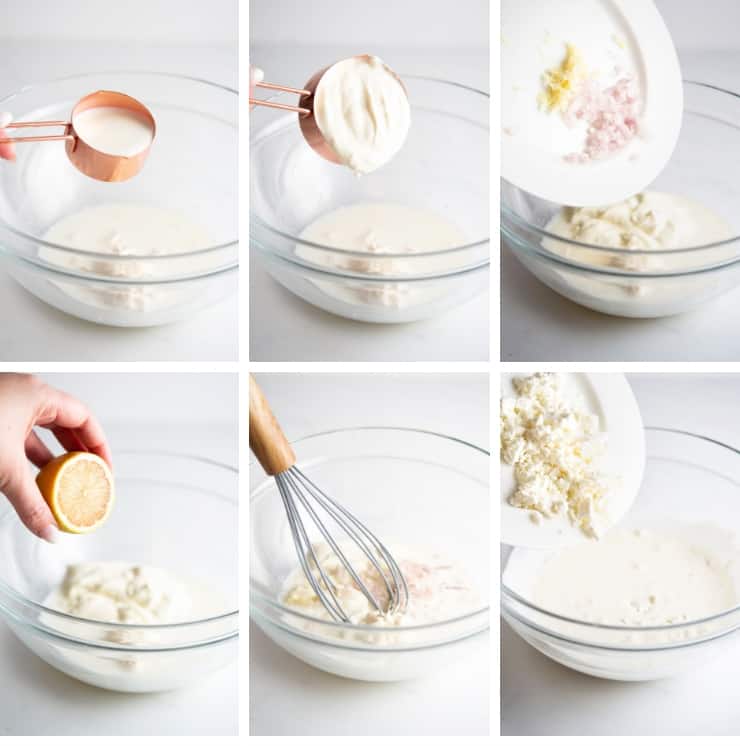 This salad dressing recipe was inspired by the homemade blue cheese dip I made for dunking those Bacon Wrapped Avocado Fries a couple of weeks ago.
This recipe is every bit as rich and creamy, only with feta cheese. I also added a little fresh lemon juice, minced shallot and pressed garlic to give it just the slightest kick. Not too much – just enough to make it interesting.
Not surprisingly, I loved it. (Did I tell you I have a serious thing for feta cheese? ♥ )
What was really unexpected was my otherwise-feta-neutral husband's response.
He actually said – are you ready for this??
Him: This is my favorite dressing in the whole world!
Me: Um….whaa?
Him: It's awesome.
Me: I mean, I love it because it's feta but, c'mon – you like it better than your favorite steak house ranch? Better than your favorite wedge with blue cheese? Better than my homemade Greek we all love? (I didn't remind him about that Warm Bacon Dressing that left me literally licking the spoon)
Him: Yeah.
Me: Really?
Him: Yes.
Me: Wow…well, thank you. *totally cool exterior whilst mental squeals and back flips commence*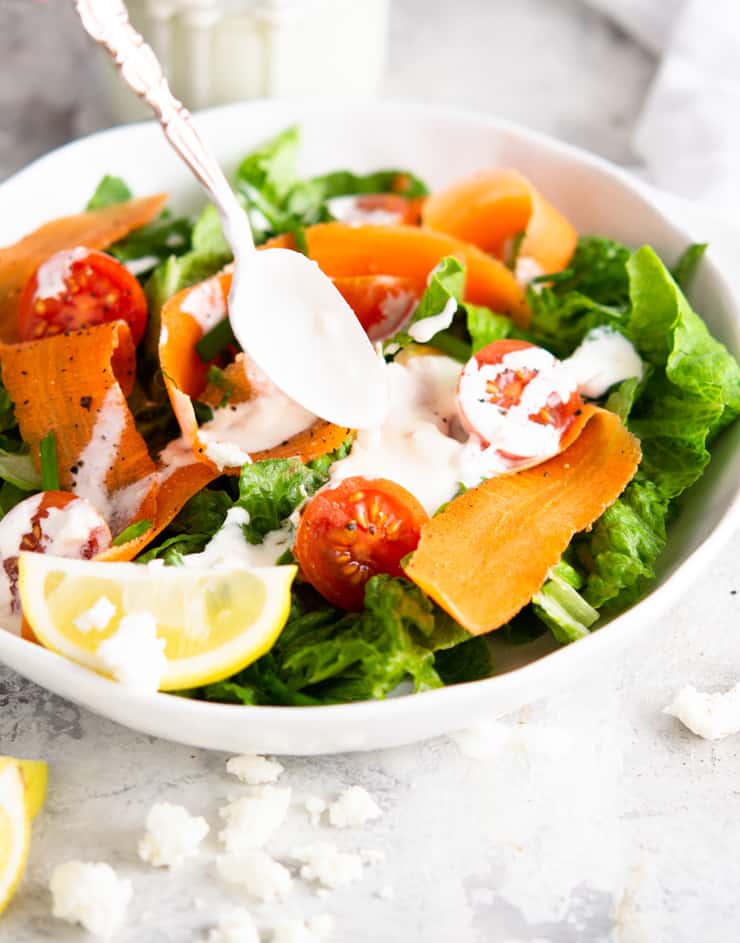 Top Tips for Making a Creamy Feta Yogurt Dressing
Use this dressing drizzled over salad, as a dip for potato wedges or over grilled veggies
Use the highest quality feta cheese possible, it really does make a difference to the end result
The dressing can be stored in the fridge for 1-2 days, do not freeze
This recipe will thicken in the refrigerator. Bring it out about 10 minutes prior to serving to return it to a pourable consistency.
Sour cream or creme fraiche also works well instead of yogurt
Red onion would also work well instead of shallot just make sure to chop it very finely
So grab ahead of your favorite lettuce and give this recipe a whirl! If you do, I'd love for you to leave a comment to share what you thought of it!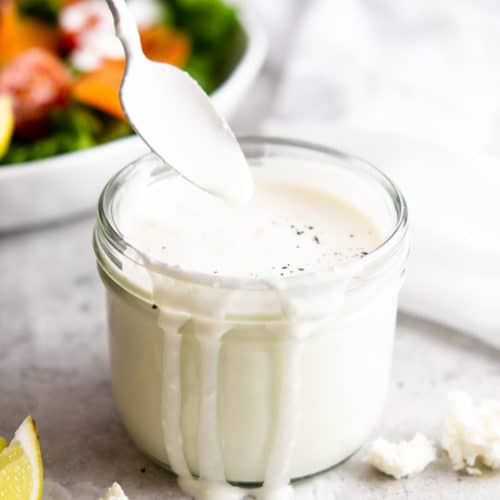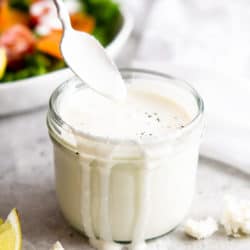 Creamy Feta Cheese Dressing
Rich and creamy feta cheese dressing, with just the right amount of kick from fresh lemon, garlic and shallot. A new favorite at our house!
Print
Pin
Rate
Ingredients
1/4

cup

homemade or store-bought mayonnaise

1/4

cup

whole milk

I use raw

1/2

cup

plain

whole milk yogurt or sour cream

1/4

tsp

sea salt

or more, to taste

1 1/2

tsp

fresh lemon juice

2

cloves

garlic

pressed or very finely minced

1

tsp

very finely minced shallot

red onion would be a good substitute

1/2

cup

crumbled feta cheese
Instructions
In a small bowl, whisk all ingredients except feta cheese.

Stir in the crumbled feta.

Serve immediately or store in fridge until ready to use.
Notes
Use this dressing drizzled over salad, as a dip for potato wedges or over grilled veggies
Use the highest quality feta cheese possible, it really does make a difference to the end result
The dressing can be stored in the fridge for 1-2 days, do not freeze
This recipe will thicken in the refrigerator. Bring it out about 10 minutes prior to serving to return it to a pourable consistency.
Sour cream or creme fraiche also works well instead of yogurt
Red onion would also work well instead of shallot just make sure to chop it very finely