There are so many options when it comes to testing for gluten and other food sensitivities. We review three good options with pros and cons of each to help you pick which gluten sensitivity test is right for you!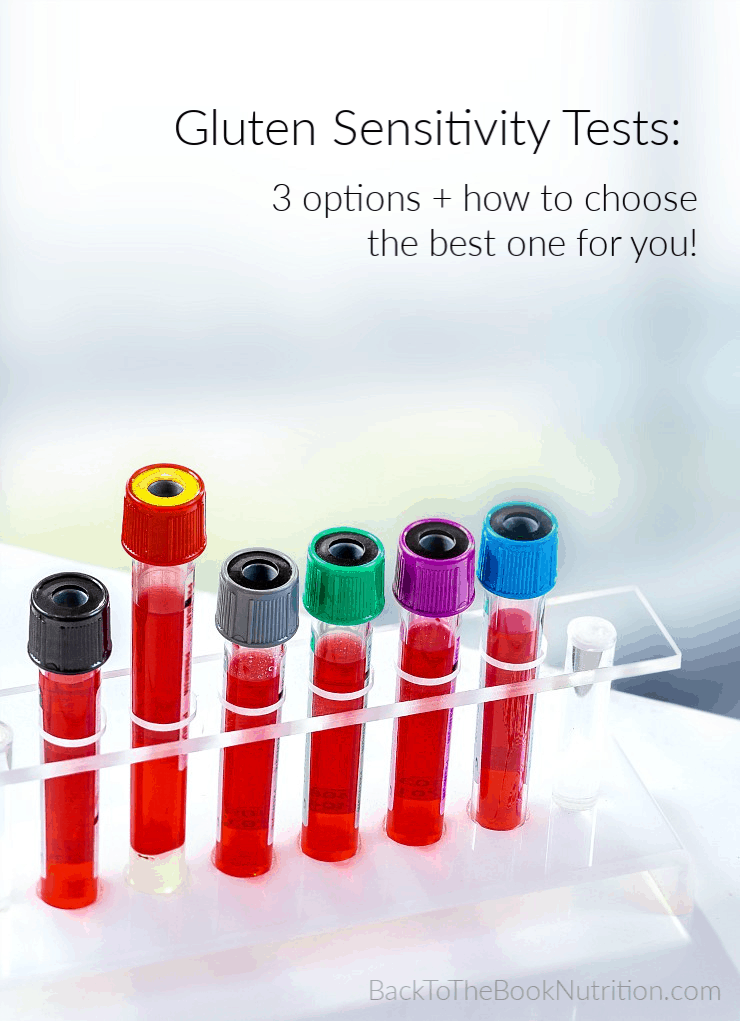 We've talked before about how gluten isn't necessarily bad for everyone, and how someone's sensitivity to gluten can change over time.
But if you're one of a growing number of people who suspects you are sensitive to gluten right now, testing can be a great next step for you! So today we'll break down three main testing options and the pros and cons of each to help you decide which one to choose.
But first, a quick summary of who should consider testing in the first place.
Who should consider testing for gluten sensitivity?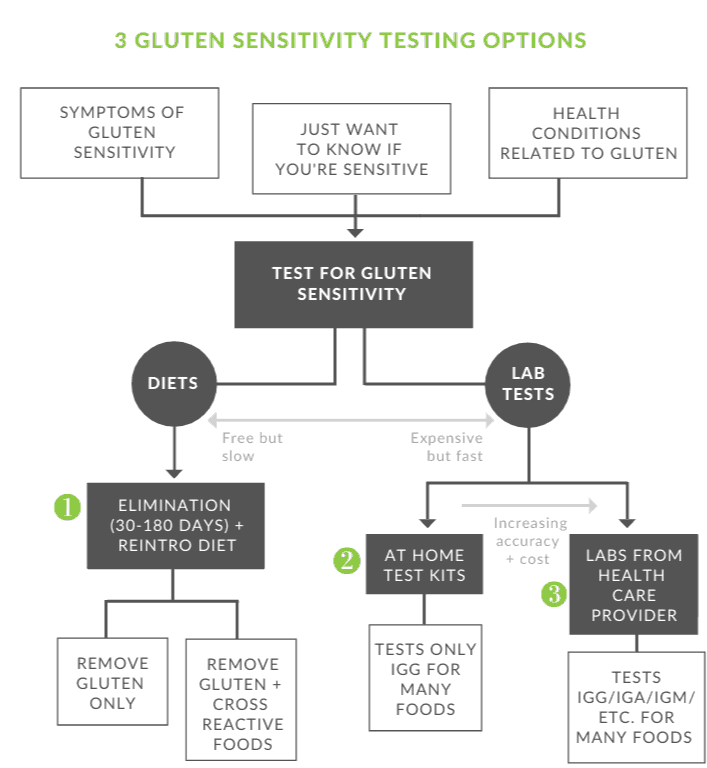 Gluten Sensitivity Test – 3 Options + How to Choose the best for you!
When it comes to testing for gluten sensitivity – or any food sensitivity, for that matter – choosing the right path can be overwhelming. Here's a break down of the testing options pictured above, and considerations to help you pick the best one for you!
1. Elimination + Reintroduction Diet
For many people, making diet changes is the first step in the gluten testing journey. And it's not a bad place to start IF you do it the right way.
GO GLUTEN FREE THE RIGHT WAY
First, decide whether you want to eliminate only gluten containing foods, or also cross reactive foods. Cross reactive foods are foods that do not contain gluten, but are more likely to cause reactions in people who are gluten sensitive. This is a great article that explains more about cross reactions.
To get all the details to help you go gluten free the right way, including lists of nutrient dense gluten free foods, cross reactive foods, common pitfalls when going gluten free, and links to gluten free recipes and resources, download my free, 10 page Complete Guide to Going Gluten Free!

DON'T FORGET THE REINTRODUCTION!
Many people underestimate the importance of a reintroduction phase to help confirm which specific foods are causing reactions. Once you've eliminated all gluten (or gluten and cross reactive foods) for at least 30-180 days, consider reintroducing the foods you eliminated one at a time to monitor for reactions. This is especially important if you eliminated cross reactive foods, and would like to incorporate as many of those as possible back into your diet.
I recommend reintroducing one new food per week, eating 1-2 servings on Monday, then again on Wednesday, watching closely for reactions throughout the week. If Sunday rolls around and you haven't experienced a return of any of your symptoms, that food may be safe for you. Keep it in and move on to the next one. If you react to it, keep it out for a while longer before attempting the reintroduction again.
Some people feel so good once they eliminate gluten, they prefer not to reintroduce it at all. That's completely fine, as long as you're eating a nutrient diet with a variety of different whole foods daily.
BOTTOM LINE – ELIMINATION/REINTRODUCTION DIETS:
PROS – Free; No special tests or equipment needed
CONS – Takes time; May miss other reactions to foods not eliminated
2. At Home Test Kits (Everlywell, etc.)
At home kits that test for gluten and other food sensitivities have become more common in recent years. On the one hand, it's great that these direct to consumer companies are helping individuals easily and affordably get some insights into their sensitivities. At the time this article was published, the price for an Everlywell Food Sensitivity Test was $159. That's not bad, considering it tests for gluten + 95 other foods.
One down side is that Everlywell and others like it only test for IgG reactions, not IgM, IgA, Type III, and Type IV reactions, which can all cause gluten sensitivity reactions as well. So if your IgG test comes back clear, but you're still having symptoms, it may be because the particular type of reaction is one that wasn't tested for, putting you right back at square 1.
Another thing to be aware of is that this method of testing will only identify a reaction if you've eaten that food recently. So, if you've already been gluten free for some time (or have removed other foods on the list of items being tested), you won't register a reaction simply because you haven't been exposed to them recently enough.
BOTTOM LINE – AT HOME TEST KITS:
PROS – Fairly affordable; Tests a moderate number of foods; Can order it yourself
CONS – Not comprehensive; Requires you to eat the food (gluten, etc.) to be able to identify a reaction
3. Comprehensive Lab Tests Ordered by Providers
Most holistic and functional medicine providers like myself order much more comprehensive food sensitivity tests for clients. There are a few good options out there, but I offer the Lymphocyte Response Assay (LRA) test by the ELISA/ACT lab.
Why I use the LRA food sensitivity test:
Identifies all known reactions aside from acute IgE allergies (IgG, IgA, and IgM)
Does not require exposure to identify a reaction
Tests for a wide range of foods, food additives, chemical toxins, and environmental irritants
Choose from 144-504 items to be tested
These specialty tests do cost more, but can offer much more accurate and helpful information than the at-home kits sold to consumers. This can really expedite healing for those who've struggled to figure out their food sensitivities by trial and error with restrictive diets for months or even years!
BOTTOM LINE – LRA COMPREHENSIVE FOOD SENSITIVITY TEST:
PROS – More accurate; More comprehensive; Doesn't require exposure to identify a reaction
CONS –More expensive; Must be ordered by a health care provider