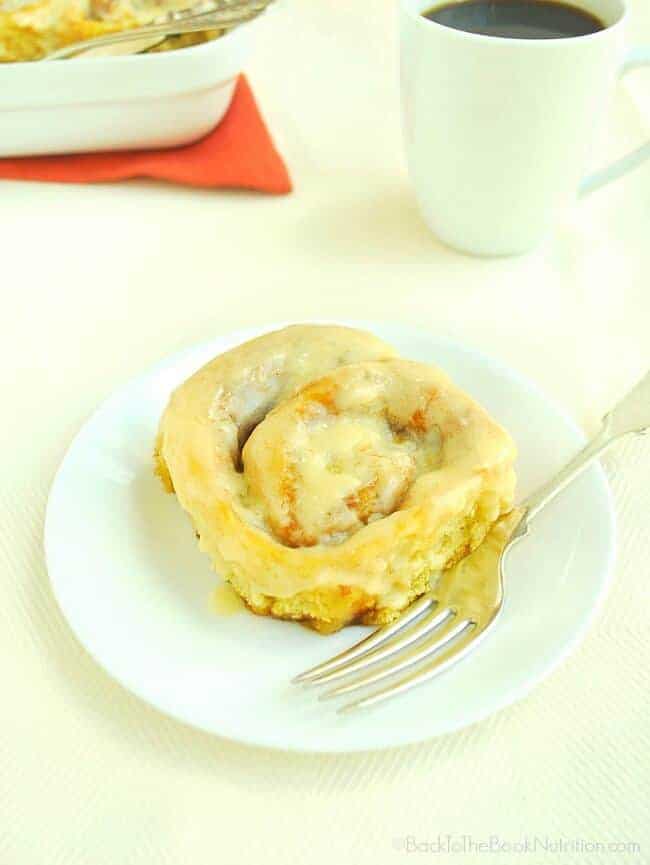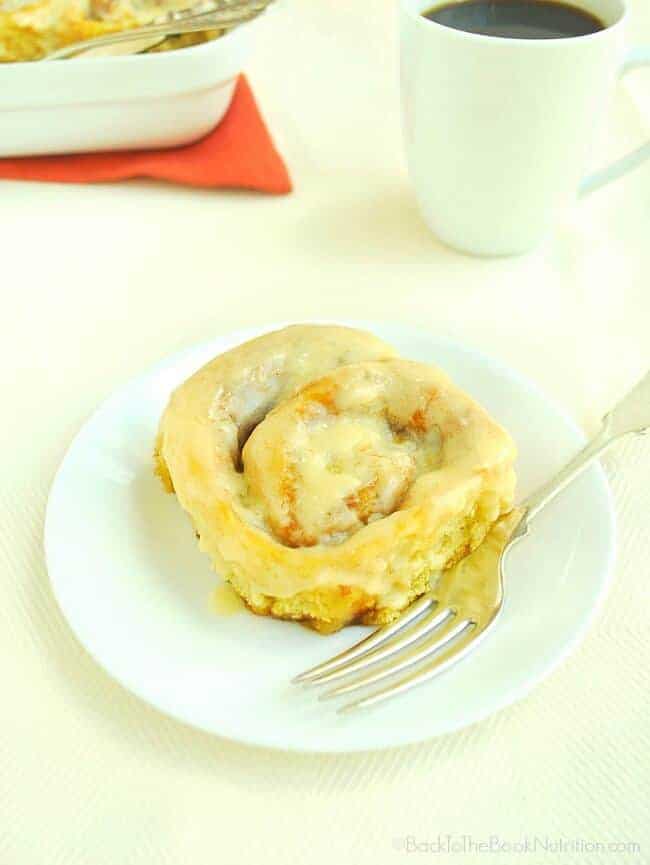 I'm a sucker for desssert-y breakfast foods, and homemade cinnamon rolls are the ultimate in that category!
So Thanksgiving week seemed like the perfect time to share this recipe for homemade Pumpkin Cinnamon Rolls with pumpkin pecan filling and cream cheese icing! Add a cup of dark coffee and it's fall breakfast perfection!
The Best Pumpkin Cinnamon Rolls Ever! – from Sourdough Starter
First thing's first, because I know some of you are wondering…these cinnamon rolls are NOT SOUR! The bubbly sourdough starter give them a light and fluffy texture, but didn't change the flavor in the least. If I hadn't baked them myself, I never would have known they were made with sourdough starter.
It may have been the pumpkin puree I added to the dough or the fact that I use an Alaskan sourdough starter from Cultures for Health (less sour and lower maintenance than some other strains). Regardless of how it happened, they weren't sour in the least – they were 1,000% sweeeeeeeet!
In fact, I'm going to boldly say they're the BEST pumpkin cinnamon roll recipe of all time! My sample size was only 6 people, but we collectively oohed, aaahed, and mmm'd like a thousand times before we polished off that last roll. Seriously, I'd take these over pumpkin pie any Thanksgiving Day!
They'd also be perfect for a special weekend breakfast or holiday brunch!


Homemade Pumpkin Cinnamon Rolls with Pumpkin Pecan Filling and Cream Cheese Icing
A soft and fluffy cinnamon roll dough is important for great rolls but, in my opinion, the filling and the icing are what really make the best cinnamon roll recipes stand out above the rest. And both in this recipe are amazing!
Just the right amount of pumpkin pie spice and chopped pecans add a classic fall touch to the brown sugar filling. And that soft and sweet cream cheese icing (or Mascarpone, which is what I had on hand) melts just enough to seep down into the roll, giving you a blissful marriage of the two when you cut into it!
From-scratch cinnamon rolls are a labor of love (and time!). But, that's what makes our favorite holiday recipes so special, right?!
And once you take that first bite, it will all have been worth it. Guaranteed!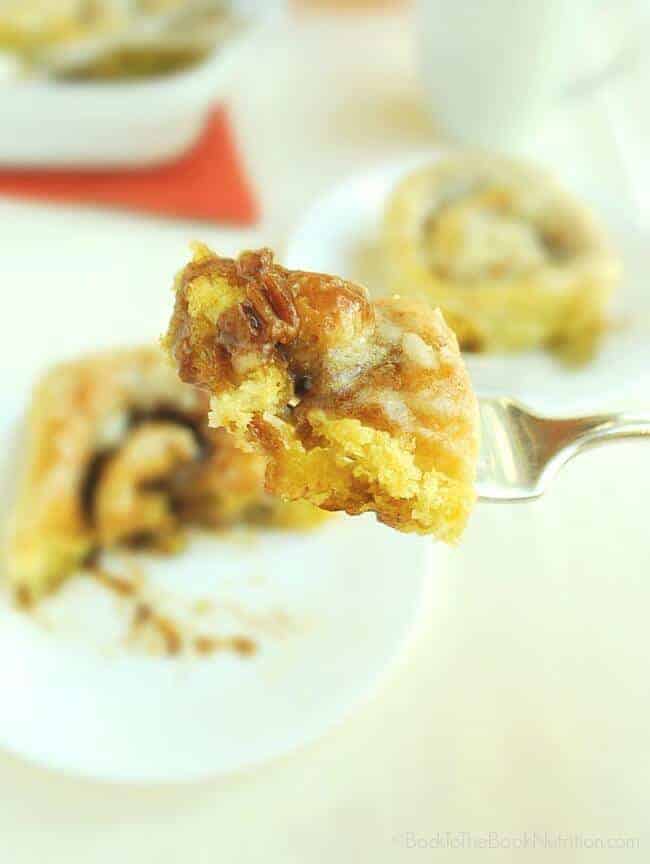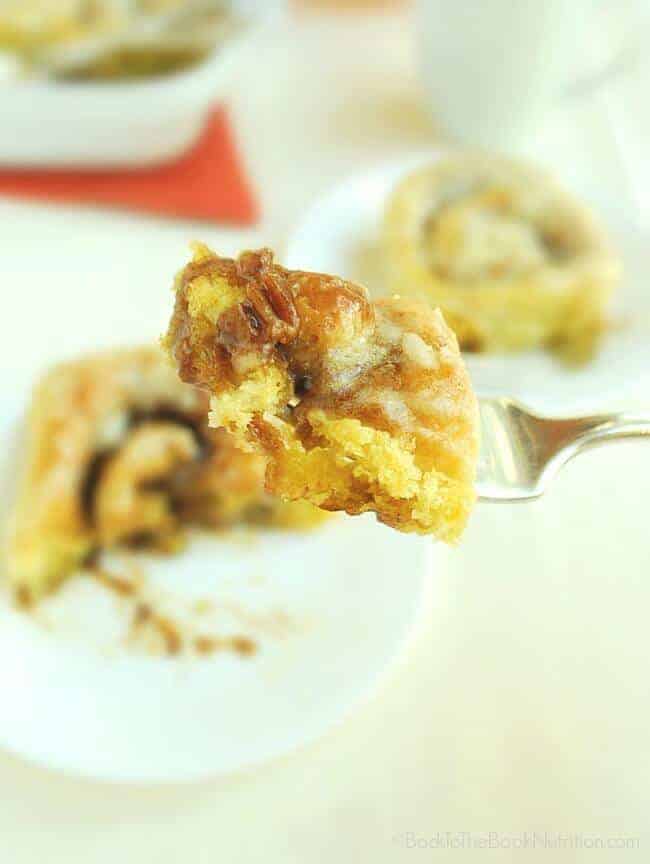 Note: This post contains affiliate links. By making purchases through these links, you pay the same amount for products, but a portion of the sale will be sent my way to help with blog expenses. Thanks!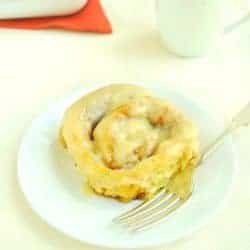 Best Pumpkin Cinnamon Rolls (from Sourdough Starter)
Just the right amount of pumpkin pie spice and chopped pecans add a classic fall touch to the brown sugar filling
Print
Pin
Rate
Ingredients
Ingredients for the Dough
1

cup

sourdough starter

I use Alaskan sourdough starter from Cultures for Health, well fed and bubbly (I remove my stored starter from the fridge and feed it 3-5 times before using)

1/2

cup

milk

1

tsp

pure vanilla extract

4

Tbsp

sugar/evaporated cane juice

1/4

tsp

sea salt

1

Tbsp

pastured butter

1/4

cup

pumpkin puree

Pastured ghee

or coconut oil/lard for oiling the bowl (I buy this ghee)
Ingredients for the Filling
3

Tbsp

pastured butter

melted

3

Tbsp

pumpkin puree

3/4

cup

brown sugar

1/2

cup

chopped pecans

2

tsp

pumpkin pie spice
Ingredients for the Icing
6

Tbsp

butter

at room temperature

6

Tbsp

cream cheese

at room temperature

1.5-2

cups

powdered sugar

depending on desired thickness

3/4

tsp

pure vanilla extract
Instructions
Combine dough ingredients in a stand mixer with dough hook attached (or in a large mixing bowl, if mixing by hand). Mix on low-medium speed for about 5 minutes, until dough almost forms a ball but is still a little sticky. Add a little more flour if dough is too wet.

Use a paper towel or clean fingers to lightly coat the inside of a large, oven-safe bowl with ghee. Place the dough ball inside the bowl and cover with a moist towel. Allow to rise in a warm place (I put mine inside the oven with only the oven light turned on). Allow to rise for 3-5 hours.

Before bringing the dough out of the oven, use clean fingers or a paper towel to lightly coat the inside of a 9x9 pan or small casserole pan with ghee for baking the rolls. Set aside.

Transfer the risen dough to a floured surface and roll out to a large rectangle shape.

Use a pastry brush to brush the melted butter evenly across the rolled out dough.

Mix the remaining filling ingredients and spread evenly across the buttered dough. Leave a 1/2 inch border of dough around the edge of the rectangle without filling.

Gently roll the dough up lengthwise then use a very sharp knife to cut into 8-10 rolls.

Transfer the sliced rolls to the baking pan, allowing some room between each for them to "grow" and push together during the second rise.

Cover the pan of sliced rolls with a towel and allow to rise for another 2 hours. The rolls should expand to nearly cover the bottom of the dish.

Preheat oven to 350 degrees (or 300 degrees for convection ovens). While oven is preheating, mix the icing.

Bake rolls for 25 minutes (15-20 for convection) or until the tops are a light golden brown and are slightly firm to the touch. These rolls are nice and thick, so I'd suggest using a knife to cut into the center roll to ensure it's cooked all the way through.

Allow the rolls to cool slightly before icing them. Serve warm.
Check out these other great pumpkin recipes!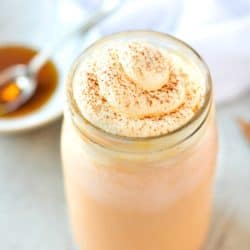 2 Minute Pumpkin Spice Milk (aka: No coffee pumpkin spice latte)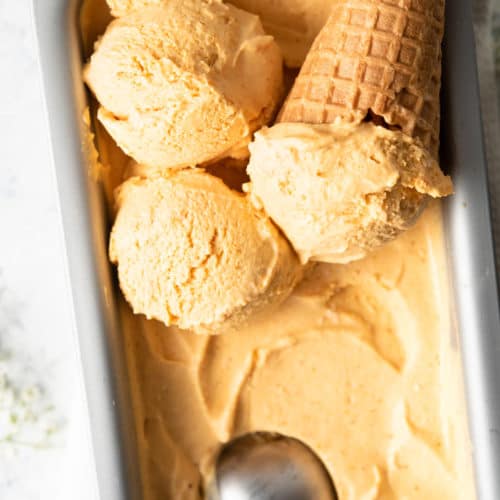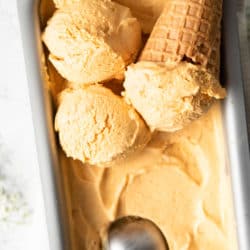 5 Minute No Churn Pumpkin Ice Cream

Pumpkin Snickerdoodles with Einkorn flour