We're busting 7 common myths about eating disorders and disordered eating with the facts and the research to back them up!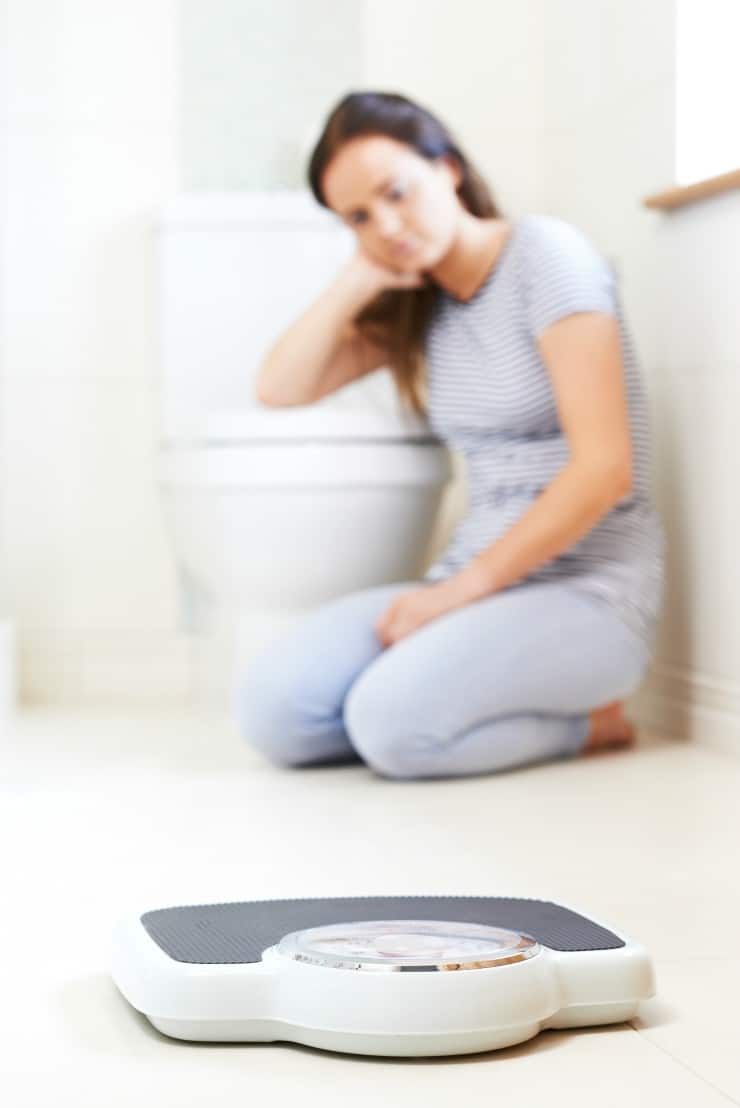 Note from Dena: This guest post was written by Abbie Womack, Dietetic Intern, as part of a research partnership between Back To The Book Nutrition and post-graduate nutrition students from the University of Houston.
---
Eating disorders (EDs) are a serious class of mental illnesses that cause a variety of extreme eating behaviors. They affect up to 24 million people of all ages and genders in the U.S. and have the highest mortality rate of any mental illness (1).
Surprisingly, despite a widespread basic awareness about EDs, there is still a lot of misunderstanding about them. Today, we're setting the record straight about 7 common eating disorder myths.
7 Common Myths About Eating Disorders
Myth #1: Eating Disorders are a choice.
An eating disorder develops due to a "perfect storm" of genetic predispositions, biological factors, and social pressures. Underlying triggers for eating disorders include childhood bullying, trauma, and dysfunctional family relationships, and these often co-occur with other mental health conditions such as obsessive-compulsive disorder, depression, anxiety, and social phobia (1).
Myth #2: Eating Disorders are all about the food.
Eating disorders are complex psychological illnesses that cannot simply be solved by logically convincing the person to change their eating behaviors. Often the person suffering from an ED views their disorder as a coping mechanism and a necessary tool to gain control over their lives. Treatment involves recognizing the underlying triggers for the disease and learning appropriate coping skills that do not involve disordered behaviors.
Myth #3: Eating Disorders are not that serious.
While EDs affect only a small percentage of the population, they have the highest death rates of any mental illness, both from medical complications and suicide (1).
Myth #4: Eating Disorders are a female-only problem.
EDs affect people of both genders. In fact, around one-third of all EDs are in males(4). Males are at a higher risk of dying, in part because they are often diagnosed later since many people assume males don't have eating disorders. (1)
Myth #5: It is impossible to recover from an Eating Disorder.
Many people have gone through treatment and seen resolution of medical complications and significant improvement of mental distress. Treatment can take a long time for some people, but many options are available and recovery is very possible.
Myth #6: If you aren't underweight, you don't have an Eating Disorder.
Those suffering from certain eating disorders actually tend not to be underweight, including Binge Eating Disorder, Bulimia Nervosa, and a lesser known category of EDs called "Other Specified Feeding & Eating Disorders" (OSFED). OSFED is the most commonly diagnosed group of eating disorders and includes:
Night Eating Syndrome – recurrent episodes of night eating, either after evening meal or in the middle of the night
Atypical (subclinical) Anorexia Nervosa – weight still in normal range despite anorexic behaviors and weight loss
Atypical (subclinical) Bulimia Nervosa – less frequent binge episodes
Purging Disorder – purging without binging
Myth #7: If you haven't been diagnosed with an eating disorder, you don't have a problem.
"Disordered eating" refers to someone who exhibits eating disorder-like behaviors but does not necessarily meet all the criteria for an actual eating disorder diagnosis (2). However, disordered eating can have a similar impact on mental and physical health and can often lead to an eating disorder, and therefore must be taken seriously.
Click here to learn 6 signs your diet is really a disordered eating.

Types of eating disorders + symptoms of each
Now that we've addressed some common myths about EDs, let's take a look at the official definitions, symptoms, and health consequences of specific eating disorders. It's important to remember that an individual may exhibit symptoms of multiple eating disorders at once or during different seasons of their life.
1. Anorexia nervosa
This is a condition marked by weight loss (or failure to gain appropriate weight in growing children), distorted body image, and extreme restriction of calories/food. People with anorexia may engage in compulsive exercise, laxative abuse, purging (vomiting), and/or binge eating.
Criteria for Diagnosis (1)
Restriction of food leading to significantly low body weight
Intense fear of gaining weight or becoming fat, despite being underweight
Disturbance regarding weight or shape and denial/distortion of low weight
Common signs & symptoms: Dramatic weight loss; preoccupation with weight, food, calories, fat grams, and dieting; complaints of abdominal pain, constipation, constant coldness, and/or tiredness; denial of feeling hungry; concerns about eating in public and withdrawal from social activities.
Health consequences: Breakdown of muscle tissue for fuel, including the heart (risk for heart failure); electrolyte depletion due to purging; slowed digestion (gastroparesis); amenorrhea (loss of menstrual cycle)
2. Bulimia nervosa
This condition is characterized by a cycle of binging and compensatory behaviors such as vomiting or laxative abuse.
Criteria for Diagnosis (1)
Eating a large amount of food in a short period of time (binge) 1x/week for 3 months
Lack of control during episode
Recurrent variety of compensatory behaviors to prevent weight gain (laxatives, purging, exercise, or fasting)
Self-evaluation is influenced highly by body image and weight
Signs & symptoms: Evidence of purging behaviors (frequent trips to bathroom after eating, signs of vomiting); calluses on back of hands/knuckles from self-induced vomiting; discolored/stained teeth; extremely concerned with weight and body shape; evidence of binges (disappearance of large amounts of food, empty wrappers/containers)
Health consequences: Wide fluctuations of weight (up and down); severe acid reflux; dental complications; salivary gland swelling; electrolyte depletion due to purging
3. Binge Eating
This condition is similar to bulimia but lacks the compensatory behaviors for binges.
Criteria for Diagnosis (1)
Eating a large amount of food in a short period of time 1x/week for 3 months
Lack of control during episode
Eating rapidly, eating until overly full, eating when not hungry, eating alone, and/or feeling guilt/depressed after binges
Signs & symptoms: Disappearance of large amounts of food; appears uncomfortable eating around others; steals or hoards food; extreme concern with weight/body shape
Health consequences: Significant weight fluctuations (up and down); stomach cramps and other GI complaints; rupture of stomach; insulin resistance/type 2 diabetes
4. Orthorexia
This condition is in the process of being formally recognized by the Diagnostic and Statistical manual and does not have diagnostic criteria. However, it is a serious condition defined as an obsession with proper or "healthful" eating (1).
Signs & symptoms: Compulsive checking of ingredient lists/nutrition labels; cutting out food groups (i.e. all carbs, all sugar, all dairy, all meat); spending hours per day thinking about food; showing high distress levels when "safe" or "healthy" foods are unavailable
Health consequences: May lead to malnutrition; other consequences similar to anorexia
5. Other Specified Feeding & Eating Disorders (OSFED)
This category makes up 70% of eating disorder cases among adults and adolexcents (5). OSFED was previously called Eating Disorders Not Otherwise Specified (EDNOS) and includes:
Night Eating Syndrome (NES) – characterized by recurrent episodes of night eating, either after evening meal or in the middle of the night.
Purging Disorder – repeated purging behaviors to control weight/shape in the absence of binge behaviors.
Atypical versions of anorexia and bulimia – meets all criteria for anorexia/bulimia except:

Weight being within normal range despite significant weight loss (anorexia)
Binge/purge behaviors occurring at lower frequency (bulimia)
6. Other Eating Disorders
Avoidant Restrictive Food Intake Disorder (ARFID) is similar to anorexia in the severe restriction of certain food types but is not related to body image distress or fear of fatness. It is diagnosed when an eating disturbance (related to sensory qualities of food and/or concerns about consequences of eating) leads to a failure to meet nutritional needs (1).
Pica involves consuming non-food items such as hair, dirt, chalk, and paint chips (1). It often occurs with other mental health disorders but can also be a sign of iron-deficiency anemia and/or malnutrition.
Rumination Disorder occurs when someone regularly regurgitates food, seemingly as a subconscious reflex (as opposed to purging, which is intentional). It can occur in children with developmental disabilities and often appears during a time of significant stress (3).
Compulsive exercise is not necessarily an eating disorder but is often associated with eating disorders. It involves exercise that significantly interferes with life activities and a regimen that someone maintains regardless of schedule conflicts, injury, or social withdrawal. Exercise is often viewed as giving permission to eat.
Eating Disorder Resources
If you think you or someone you love may be suffering from an eating disorder or disordered eating, reach out to Dena here or call The National Eating Disorders Association's helpline during normal business hours for support, resources, and treatment options: (800) 931-2237.
Check out these related posts: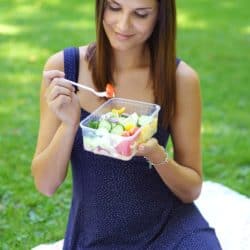 ---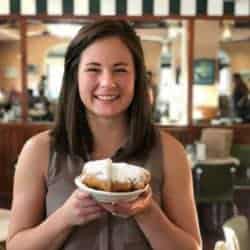 About the Author: Abbie earned her Bachelors and Masters Degrees in Nutritional Sciences from Oklahoma State University. She completed her dietetic internship with the University of Houston and became a registered dietitian in 2018, before being hired by the Center for Discovery eating disorder treatment program. Abbie is newly married and enjoys swimming and eating ice cream!
---
Disclaimer: Information on this site is intended only for informational purposes and is not a substitute for medical advice. Always consult with a trusted healthcare provider before implementing significant dietary change. Read additional disclaimer info here.
References
https://www.aboutkidsgi.org/upper-gi/rumination-syndrome.html

"Preventing Chronic Disease: October 2008: 07_0164." Centers for Disease Control and Prevention.

https://www.waldeneatingdisorders.com/;