Dieting and weight obsession are the cultural norm. So how do you know if your diet is really disordered eating or an eating disorder? Here are six warning signs.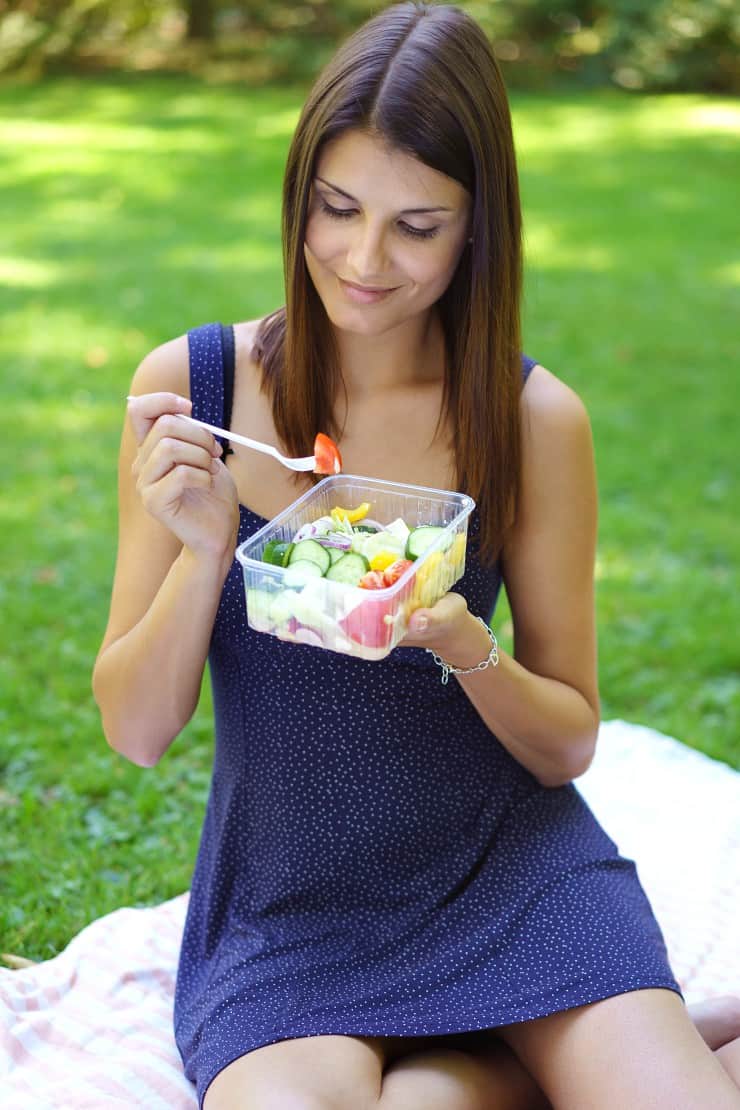 Note from Dena: This guest post was co-written with Abbie Womack, Dietetic Intern, as part of a research partnership between Back To The Book Nutrition and post-graduate nutrition students from the University of Houston.
---
Let's just get this out there right up front. Dieting doesn't always equate to disordered eating. But the potential is always there.
And in our weight- and diet-obsessed culture, we need to be aware of the warning signs that our attitudes and behaviors toward food and our bodies are tipping into disordered eating.
Dieting + Disordered Eating: what the research says
In a study of over 16,000 adolescent girls, those who dieted moderately were 5 times more likely to develop an eating disorder, and those who severely limited energy intake were 18 times more likely (2). In a similar study of 2,000 adolescents, dieting behaviors were associated with a 1.5-fold increase in binge eating behaviors, as well as greater weight gain (3).
But the problem isn't just with teen girls. We live in a diet culture – we're constantly bombarded with messages that idolize body weight and appearance, and most of us have at least one friend or family member on a diet at any given time. We've been trained to judge our health by our physical appearance, and to order our decisions about food and exercise to improve that appearance.
The result? A society where many people operate from a disordered mindset about food and their bodies. And, it's so culturally acceptable that most of them don't even realize it!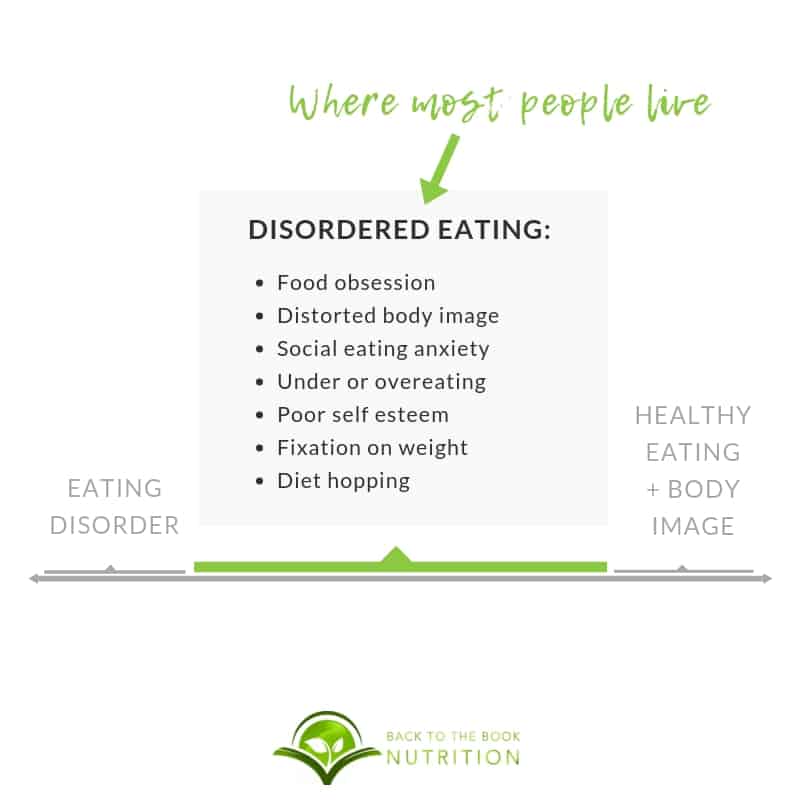 ---
Definition: Eating Disorders vs Disordered Eating
"Disordered eating" (DE) refers to someone who exhibits eating disorder-like behaviors but does not necessarily meet all the criteria for an actual eating disorder diagnosis. However, DE can have a similar impact on mental and physical health and can often be the precursor to an eating disorder, and therefore must be taken seriously. (1,2) Learn more about eating disorders and disordered eating here.
---
6 Signs Your Diet is Really Disordered Eating
Here are six warning signs that your diet maybe leading you down the path toward disordered eating.
1. Your diet takes over your life
Pursuing a certain diet for medical/health reasons can begin innocently enough, but when restrictions become absolute rules that determine what you can and cannot do in life and make you feel like a "bad person" when you do not follow them, you may be developing disordered eating habits.
2. Your diet causes you to avoid social situations
If you find yourself very anxious about social situations that involve food, or avoiding social situations for fear of having to eat something restricted, this could be a sign of disordered eating.
As a side note, "therapeutic diets" recommended by a healthcare practitioner in order to address a diagnosed condition can be tricky. On the one hand, there may be good reasons for avoiding social eating at least for a time to care for your body and speed your recovery. On the other hand, they can become a slippery slope of overrestriction and fear for some. Work with a licensed practitioner who appreciates the emotional and psychological aspects of therapeutic diets, and who can provide a timeline and clear guidelines as to when and how you can participate in social gatherings that involve food.
3. Your diet causes you to undereat
Diets – especially those that restrict a certain food groups (i.e. grains, dairy, animal protein) – can limit calories and lead to too much weight loss, possible nutrient deficiencies, and an unhealthy preoccupation with food and weight. Even if you're on a restricted diet for medical reasons, it's important to ensure you're getting enough calories and listening to your body to know when to eat more.
4. You're always looking for the next diet to finally fix your food issues
Moving from diet to diet, hoping each one will be the last one and you'll finally be able to stop dieting, may be a sign of deeper problems that won't be solved by simply abiding by certain eating rules.
If your weight fluctuates wildly between gain and loss as you jump from one diet to the next, it might be important to stop and ask yourself why you really eat the way you do and whether it has gone too far.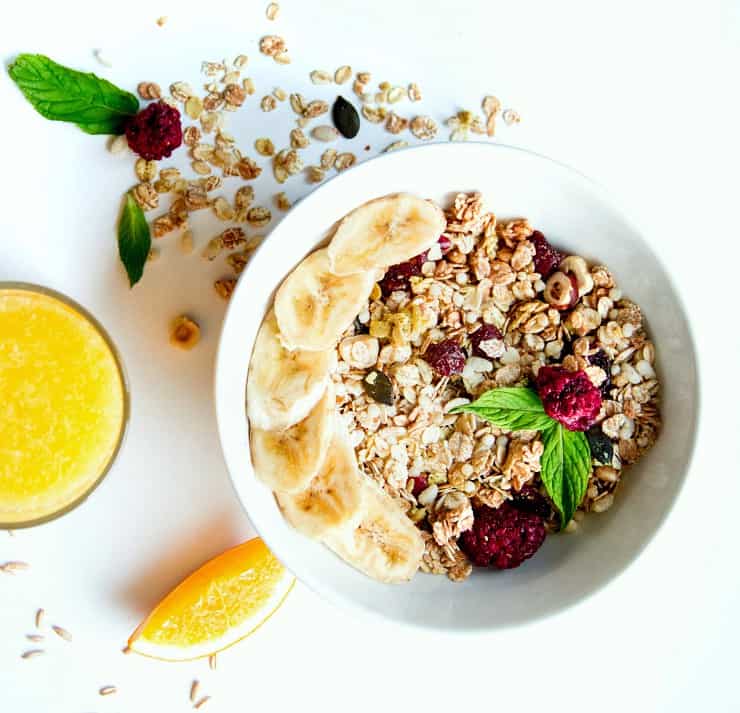 5. Your diet becomes your identity
It's normal to have a sense of satisfaction when you're making healthy food choices, or to feel a sense of disappointment when you don't eat as well. But if you find yourself struggling with more volatile thoughts and feelings about eating and your body and tied to your self-worth (i.e., "I can't believe I ate that. I feel gross. I have no self control, no wonder I can never lose weight!"), your diet may be overstepping its bounds.
6. Your diet competes with your faith
Often eating disorders/disordered eating are rooted in deep-seated beliefs about valuing (and almost worshiping) an ideal body image, gaining control over your life, and/or attaining perfection in eating. Although spirituality may not be relevant for everyone, people of many faiths will find these eating disorder beliefs to be contradictory to their religious beliefs.
For me (Abbie), I misdiagnosed my disordered eating as a struggle with overeating and an obsession with food. I would often pray for God to heal me from these problems, but I see now that I was idolizing an ideal body size, and my obsession with food was coming from restricting food and overdoing exercise in order to attain that goal. In essence, I was trying to manipulate God in order to gain what I most wanted.
Freedom came for me the moment I realized my true problem and finally decided to surrender my ideal body image in order to truly worship God again. I had to release myself from many rules I had placed on my life, but I believe God stepped in the moment I surrendered. It has only been through the power of the Holy Spirit to continually fight against lies that I have found freedom from disordered eating.
If you wonder whether your own struggles with food and body image are rooted in spiritual issues, Finding Balance may be a helpful resource.
Resources for those struggling with EDs or Disordered Eating
Eating disorders and disordered eating are becoming more common in our world today, and it is important to be familiar with the warning signs to recognize if you or a loved one might be on the spectrum. Many resources are available to help – Don't be afraid to reach out!
Free screening tools like these can help identify whether professional help is needed:
A variety of treatment levels exist to help people with EDs/disordered eating, including outpatient, partial hospital, residential, and inpatient. A licensed professional can help determine which level of care is appropriate.
To find treatment centers and ED professionals in your area, search this website or this one.
The National Eating Disorders Association has a helpline available for support, resources, and treatment options for you or your friend. Call at (800) 931-2237 anytime during weekday business hours.
Stay tuned for next week's post with tips to help you support a friend or loved one who has an eating disorder or disordered eating!
Check out these related posts: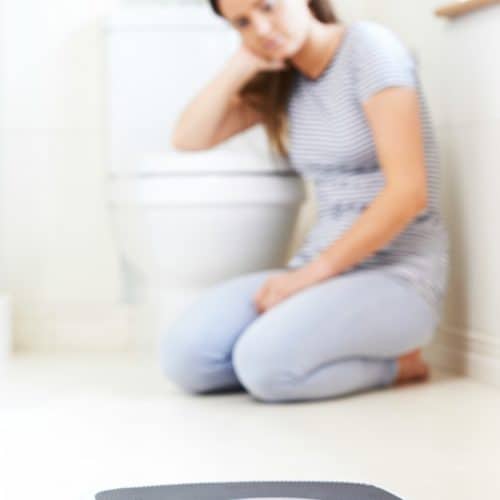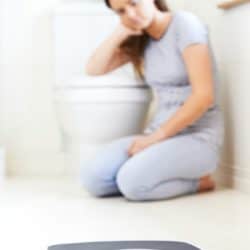 ---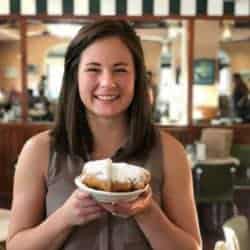 About the Co-Author: Abbie earned her Bachelors and Masters Degrees in Nutritional Sciences from Oklahoma State University. She completed her dietetic internship with the University of Houston and became a registered dietitian in 2018, before being hired by the Center for Discovery eating disorder treatment program. Abbie is newly married and enjoys swimming and eating ice cream!
---
Disclaimer: Information on this site is intended only for informational purposes and is not a substitute for medical advice. Always consult with a trusted healthcare provider before implementing significant dietary change. Read additional disclaimer info here.
References