Ditch the bloating, gas, stomach pain, and other IBS symptoms. Find out your root cause(s) and learn how to fix it for good!

Note from Dena: This post was co-written with Meredith Sorensen, Dietetic Intern, as part of a research partnership between Back To The Book Nutrition and post-graduate nutrition students from the University of Houston.
---
Irritable Bowel Syndrome (IBS) affects tens of millions of people worldwide, including twice as many women as men. Sadly, most people with IBS endure symptoms for years without relief because they're never told what's causing it or how to fix it.
First things first…Irritable Bowel Syndrome (IBS) is not a true diagnosis, but a gut issue presenting a collection of symptoms.
COMMON IBS SYMPTOMS:
Abdominal pain

Bloating

Heartburn or indigestion

Passing excessive amounts of gas

Urgent need to defecate

Constipation, diarrhea, or both

Nausea

Anxiety

Depression

Loss of appetite

Food sensitivities

Rosacea, eczema, hives, and other skin rashes (

1

)

Fatigue (

2

)

Brain fog

Headaches/Migraines (

3

)

Fibromyalgia (

4

)
Conventional medicine falls short for many IBS patients because available medications and treatments just attempt to manage the symptoms rather than addressing the variety of root causes (5).
What Causes IBS?
Here are some of the most common root causes to look for.
1. Chronic stress
It's hard not to be chronically stressed these days. Unfortunately, it significantly decreases how much stomach acid, digestive enzymes, and bile our bodies make. The result? We can't fully break down and absorb our foods, resulting in classic IBS symptoms like gas, bloating, heartburn, and more.
On top of the everyday demands we all face, personality types can place additional stress on our bodies. If you consider yourself a very driven or "Type A" personality, you likely struggle even more with producing digestive juices.
2. Low stomach acid
Low stomach acid (aka: hypochlorhydria) is the "first domino" to fall for many people with IBS. This sets off a cascade of downstream issues with poor digestion of foods, bacterial or yeast overgrowth, leaky gut, and more. Low stomach acid is usually a result of:
Chronic stress

Proton Pump Inhibitors (PPI's) like Nexium, Prilosec, etc.

H2 Blockers like Pepcid, Zantac, etc.

Zinc deficiency (z

inc helps make stomach acid; but low stomach acid also reduces absorption of zinc and other minerals, creating a vicious cycle)
3. Not making enough digestive enzymes
Most of our digestive enzymes to help break down carbohydrates, fats, and proteins are made by the pancreas, but smaller amounts are released by the small intestinal lining. When digestive enzyme levels are low, we can't fully break down our foods, which can cause gas, bloating, bacterial and/or yeast overgrowth, leaky gut, and food sensitivities. The most common causes of low digestive enzyme levels are:
Chronic stress
Low stomach acid (the amount and concentration of our stomach acid signals enzyme release)
Celiac Disease (which damages the small intestinal wall)
Damage to the pancreas
Severe inflammation or damage to the small intestinal wall unrelated to Celiac

Download the Meal Time Checklist for Better Digestion now!
4. Antibiotic use
You are 3 times more likely to develop IBS within 4 months of taking antibiotics. (6) Antibiotics (particularly levofloxacin and metronidazole) drastically change the microbial balance of the gut, raising risk of dysbiosis and/or yeast overgrowth that trigger IBS symptoms.
5. Food poisoning
1 in 9 people who get food poisoning develop what is called "Post-infectious IBS". It can take a long time to develop, and people may forget they even had food poisoning.
Foodborne pathogens (like Salmonella, Shigella, E.coli, etc.) release a toxin into your body that looks a lot like a naturally-occurring protein that helps maintain a healthy gut. Your body starts to fight off the naturally occurring protein, leading to inflammation, diarrhea, and nerve damage in the gut.
Foodborne pathogens can also compete with "good bacteria" and yeasts for nutrients, throwing off the microbial balance and giving rise to IBS symptoms.
6. Small Intestinal Bacterial Overgrowth (SIBO):
Originally thought to be an abundance of bacteria growing in the small intestine, SIBO is now better understood as small intestinal dysbiosis that includes overgrowths of some organisms alongside undergrowths of others. SIBO often occurs when the body's internal means to maintain microbial balance are disrupted, as can happen with low stomach acid, reduced GI motility, or inadequate immune defenses. (7)

7. Candida or other Yeast Overgrowths
Having too much yeast in either the small intestine (called "SIFO" – small intestinal fungal overgrowth) or the large intestine can bloating, gas, and other IBS symptoms that look very similar to bacterial overgrowths.
8. Not enough "Good" Bacteria
Bacterial and yeast overgrowths get a lot of attention in the IBS world. But some people with IBS don't have overgrowths at all – in fact, on stool testing, some people have low levels of all gut bugs, including their normal flora ("good" bacteria).
This can happen as a result of taking antibiotics, or due to dietary imbalances (low fiber, low dietary variety, restrictive dieting, carnivore diets, etc.) that don't provide enough of the foods good bacteria need to thrive.
9. Parasites
Stomach acid is one of the body's first lines of defense against incoming parasites, so parasitic infections often go hand in hand with low stomach acid. Parasites commonly linked to IBS include:
Blastocystis hominis

Commonly in IBS with diarrhea (

8

)

Transmitted through contaminated food or water, exposure to a day care environment, or exposure to animals (CDC, 2020).

Cryptosporidium parvum (C. parvum)

Associated with abdominal pain and sensitivity to gut distension (

8

)

Spread through drinking contaminated water or touching face with contaminated hands (CDC, 2020).

Giardia

People infected with giardia are more likely to have IBS even six years after contamination (

9

).
10. Food sensitivities or intolerances
Food sensitivities involve the body's immune reaction to a variety of foods, whether healthy and unhealthy. Ironically, many chronic IBS sufferers accumulate sensitivities to the foods they eat most often, even "healthy" foods. This is usually a result of Leaky Gut, which can perpetuate food sensitivities by increasing immune exposure to food proteins that "leak" through the gut wall.
Food intolerances occur when the body cannot process or digest certain foods. A few common intolerance in people experiencing IBS are:
FODMAP intolerance – FODMAPs are a collection of short-chain carbohydrates (sugars) found in many foods and food additives that are not absorbed properly in the gut, and trigger IBS symptoms.
Lactose Intolerance – Lactose is the naturally occurring sugar in milk. Some people are born with lactose intolerance, while others can develop it later in life. Asian heritage significantly increases the likelihood of lactose intolerance.
Fructose malabsorption and sucrose malabsorption – Foods high in sucrose or fructose, such as cookies, cakes, soft drinks, breads, crackers, fruits, and breakfast cereals (fermentable carbohydrates), are common triggers (10)
Histamine intolerances – Intolerances to histamine can contribute to some of the most severe symptoms of IBS. Foods and supplements high in histamines may need to be limited, along with immune support and correction of overgrowths of histamine producing organisms in the gut. (More info on histamines and mast cells in IBS below)

11. Leaky Gut
Gaps between cells in the intestinal wall are not as tight as they should be, allowing food proteins and other particles to seep through, triggering an immune response and inflammation. The official term is "enhanced intestinal permeability," more commonly known as Leaky Gut. (11)
Chronic stress

Gluten exposure in gluten sensitivity individuals

Exposure to other food allergies and sensitivities

Exposure to glyphosate and other chemical toxins
Low fiber diets
Low zinc

Dysbiosis (imbalance of "good" and "bad" bacteria or yeasts in the gut)

Bile acid malabsorption

Infectious gastroenteritis

Some medications (NSAIDs, antibiotics, hormonal birth control, etc.)
12. Thyroid dysfunction
If your thyroid isn't dialed in (yes, you can still have thyroid problems even if your labs are "normal"), it can slow down or speed up digestion.
Specifically, low thyroid function (hypothyroidism) can reduce stomach acid, digestive enzymes, and bile, and can cause constipation. On the flips side, high thyroid function (hyperthyroidism) can increase digestive juices and speed up motility, leading to diarrhea.
13. Motility Disorders that speed up or slow down the gut
Constipation and diarrhea are classic IBS symptoms that can happen for a variety of reasons. In some cases the GI tract moves too fast or too slow for one of these reasons (17):
Serotonin imbalances (low serotonin seems to slow motility and promote constipation; high serotonin seems to speed it up and promote diarrhea)
Nerve dysfunction (i.e., the Vagus nerve and many other nerves that drive muscle contractions along the gut to move stool through can become dysfunctional)
Chronic stress alters motility
14. Stressful life events or trauma
We already mentioned chronic stress reducing stomach acid and other digestive juices. But single, acutely stressful or traumatic events also affect how the nervous system interacts with the gut (often referred to as the "gut-brain connection") and can contribute to IBS symptoms. Here are some interesting links (17, 18):
At least half of IBS sufferers identify a stressful event that happened just before symptoms began.
Early life stressors and trauma have been linked to IBS and other GI conditions.
PTSD has been linked to IBS.
Traumatic brain injuries from car accidents, severe sports injuries, etc. can cause Leaky Gut and other GI dysfunctions that could result in IBS symptoms
15. Histamine/Mast Cell Disorders
About 2/3 of patients with IBS have mast cell clusters in the colon, which release histamines that can aggravate reactions to foods and other substances as well as IBS symptoms. (16) If also have seasonal allergies, intense food reactions, itchy skin, or other skin issues like eczema, hives, rosacea, or rashes, the likelihood of mast cell involvement in your IBS is more likely.
16. Mold and Mycotoxins
Studies in petri dishes and an animals indicate mold and mycotoxins can disrupt bacterial balance in the gut. (19) More research is needed to clarify the specific effects in humans, but we definitely see clinically that chronic exposure to mold – especially in the 25% or so of the population that are more sensitive to it – can contribute to IBS symptoms.
17. Heavy metal exposure
Copper:

Copper and zinc compete with each other to be absorbed by the body. High copper levels result in zinc deficiency, worsening IBS symptoms.

Imbalanced copper to zinc levels also contribute to psychological factors associated with IBS such as fatigue, anxiety, and depression (

15

).

Exposures: Copper IUD, tap water, copper pots and pans

Nickel:

Some people are more sensitive to nickel, and can exhibit IBS symptoms when they are exposed to it through food

(

16

)

Ni-rich foods include tomato, cocoa, beans, mushrooms, broad-leafed vegetables, whole-wheat flour, corn, onion, garlic, shellfish, nuts, and foods contained in aluminum boxes.

Mercury:

Mercury can disrupt the gut microbiome and damage the gut lining, leading to dysbiosis and leaky gut.

Potentially from dental fillings made out of amalgam (which is 50% mercury). If you have these types of fillings, consider having them safely removed by a biological dentist to improve IBS symptoms.

Various fish and seafood naturally contain mercury, but also have some selenium present to help reduce its impact. Here's a full list of mercury content of various fish.
Mood disorders are present in about 70% of patients with IBS. Unfortunately, this leads to physical symptoms being dismissed when doctors imply or overtly state, "it's all in your head."
While chronic stress, trauma, serotonin imbalances, and other factors mentioned above can definitely drive depression, anxiety, and other psychological disorders, so can experiencing abdominal pain, having a limited diet, and not participating fully in social activities. More study is needed to determine whether psychological disorders actually cause IBS or just co-occur with it. Either way, addressing both the psychological and the physical aspects will yield the best outcomes. (17)

There IS Hope! – How to Fix IBS for good
This story (written by my client Julia, pictured above) is proof that it is possible to fix IBS and live virtually symptom free.
Far too many people suffer for longer than they need to because they're bootstrapping their healing with IBS diets, probiotic supplements, and cookie cutter protocols that worked for others, but may not address their own root causes.
If you really want to fix your IBS, you have to figure out what your root cause or causes is/are and address those. The list above can help you narrow it down, but I highly recommend working with a licensed practitioner experienced in IBS to help you get some good gut testing and develop a comprehensive plan to resolve all of your root causes (most people have several!) and minimize your risk for IBS recurrence.
---
About the Co-Author: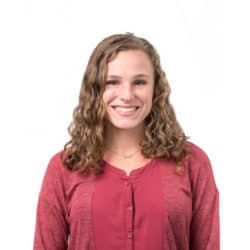 Meredith Sorensen is originally from northern Michigan, but moved to Houston to be a D1 cross-country and track runner for the University of Houston. She completed her B.S. and is currently pursuing her M.S. and completing the dietetic internship at the University of Houston. She is passionate about learning and working with female athletes to optimize health, performance, and longevity in sport.
---
Disclaimer: Information on this site is intended only for informational purposes and is not a substitute for medical advice. Always consult with a trusted healthcare provider before implementing significant dietary change. Read additional disclaimer info here.
References: