If you're exhausted, overwhelmed, and have trouble focusing or finding your words, you may have adrenal fatigue (aka: HPA Axis Dysregulation). Learn how to know if you have it, and what to do about it!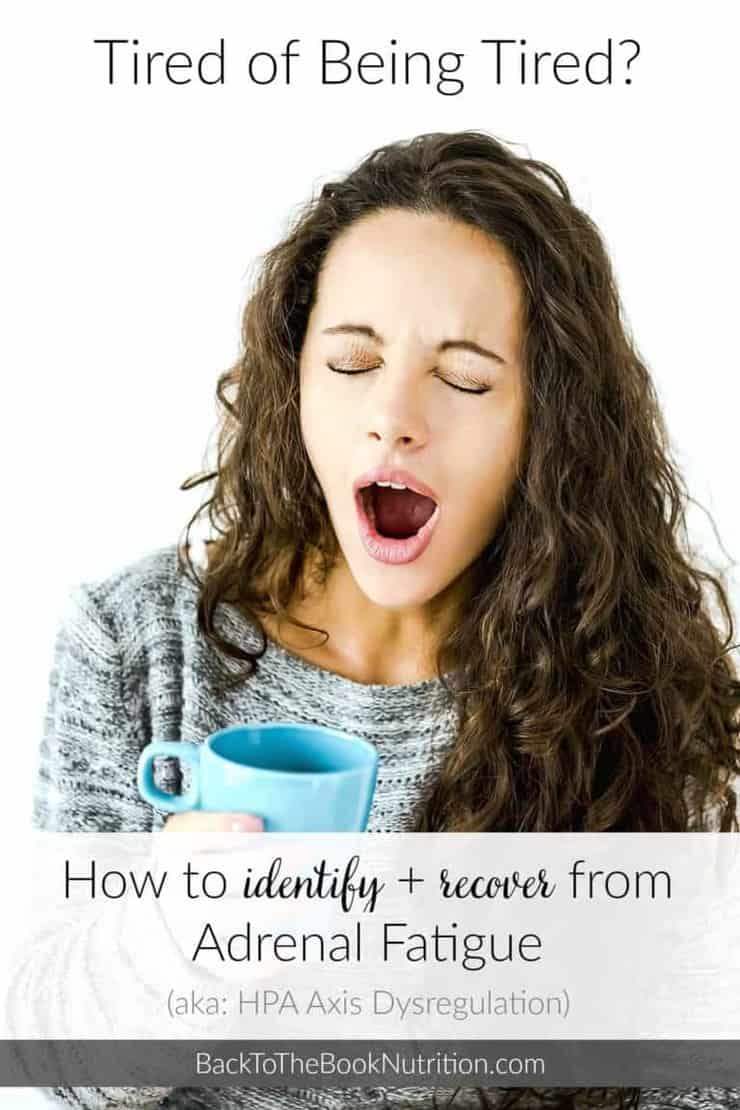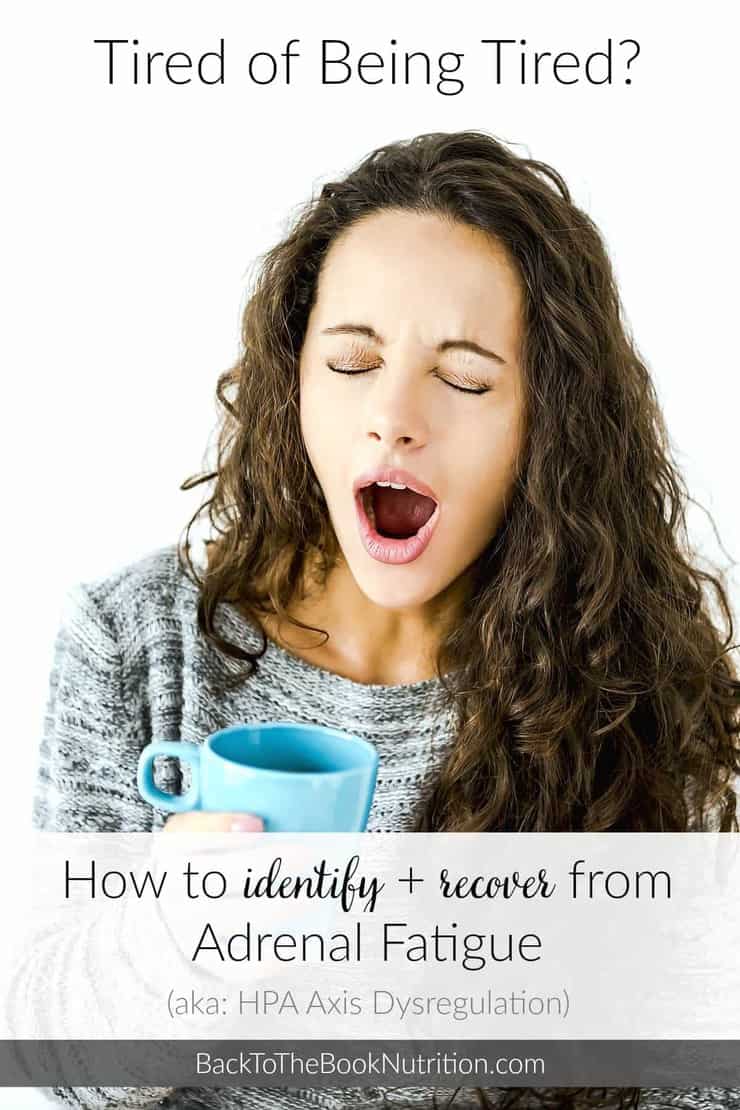 Note from Dena: I'm excited to share this guest post on such an important topic. It was written by Marla Ramos, Dietetic Intern, as part of a research partnership between Back To The Book Nutrition and post-graduate nutrition students from the University of Houston.
---
Feeling exhausted? Overwhelmed? Not quite yourself?
Our bodies are made to be resilient. They can rise to the challenge when we need to meet a deadline, make a big decision, or escape a dangerous situation. If they're healthy, our bodies also know how to calm down once the stress has passed.
But, in today's world, the stress never stops. And when our bodies are constantly bombarded with crisis after crisis, wires get crossed in our stress response system and we eventually burn out.
WHAT IS ADRENAL FATIGUE/HPA AXIS DYSREGULATION?
Hypothalamic-Pituitary-Adrenal Axis Dysregulation/Dysfunction (HPA-D for short) is what many call "Adrenal Fatigue", but the term HPA-D more accurately describes what is really going on in the body.
What does the HPA Axis Do?
In order to fully understand HPA-D, we need to first understand the HPA axis and how it works. They Hypothalamic-Pituitary-Adrenal Axis is just that – a network made up of the hypothalamus (in the brain), pituitary (also in the brain), and the adrenal glands (which sit on top of the kidneys).
The HPA axis is involved in:
Fetal development of the lung, liver, and gut
Maintaining blood glucose levels while asleep or fasting
Control of the immune function
Blood pressure regulation
Thyroid hormone production
Responding to acute stress ("Fight or Flight")
When the brain senses stress of any kind, the hypothalamus signals the pituitary, and then the adrenals to release stress hormones like adrenaline and cortisol, like this: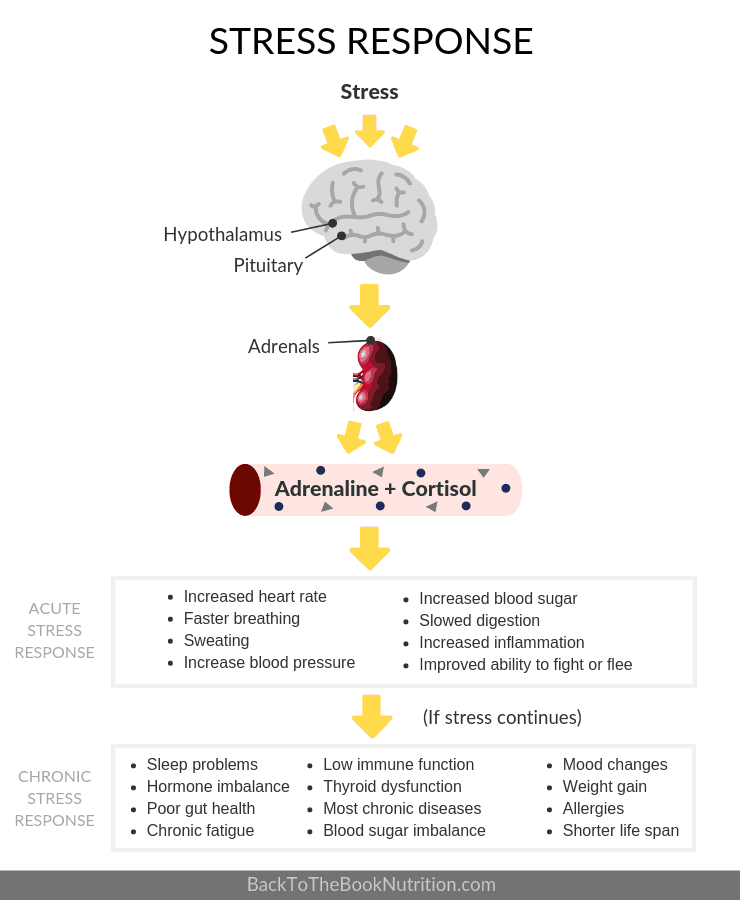 When the HPA axis is functioning properly, the right amount of stress hormones are released in response to stress (this is the "fight or flight" mechanism), then they subside and return our body to "rest and digest" mode.
But, when we're constantly stressed, this rhythm becomes disrupted and we can suffer the effects of chronic stress pictured above.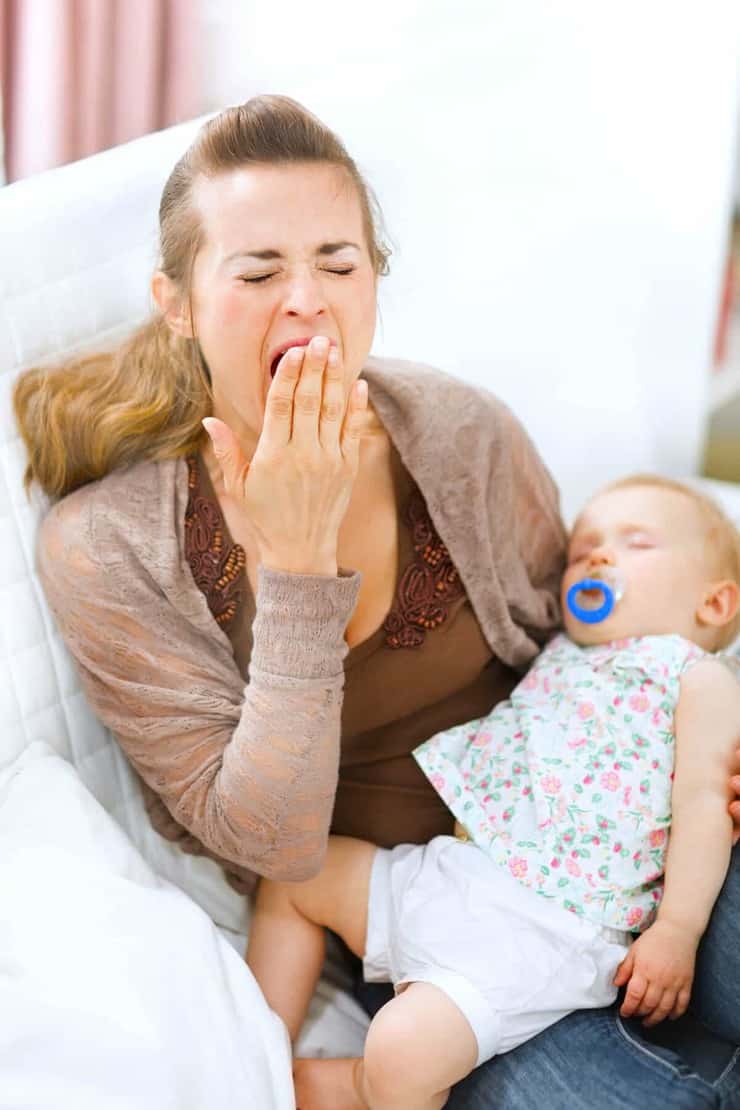 WHAT CAUSES HPA-D?
The short answer is, stress. This isn't just limited to perceived stress, either. In today's world, our bodies are constantly bombarded by things that trigger a stress response from the HPA axis.
Common Sources of Stress
Stressful situations, whether acute or chronic
Big life events, whether positive or negative (weddings, deaths, etc.)
Disrupted sleep
Poor diet
Stimulants (caffeine/sugar)
Poor blood sugar control
Exhaustive work schedule
Excessive exercise
Physical injury
Food intolerances
Toxins
Chronic infections (H. pylori, etc.)
Autoimmune conditions
HPA-D can lead to or exacerbate inflammation, compromised immune function, and other health conditions…and at the same time certain health conditions can lead to HPA-D. It is a vicious and complex cycle and we're still learning more about how it works and what to do about it.
CONDITIONS RELATED TO HPA-D
Insulin resistance
Weakened immune system
Alzheimer's disease
Cardiovascular disease
Type 2 diabetes
Stroke
Obesity
Memory loss
Muscle wasting
Chronic Fatigue Syndrome
Infertility
Sex hormone imbalance
Thyroid dysfunction
(Sources: 6, 14-19, 21)
HOW DO I KNOW IF I HAVE HPA-D?
Most of us have at least some degree of HPA axis dysfunction, simply because we live in today's world. The symptoms and signs of HPA-D include:
SIGNS AND SYMPTOMS OF HPA-D
Severe fatigue
Waking up feeling unrested, even with adequate sleep
Brain fog, forgetfulness all the time
Blood sugar imbalances
Exhausted by mid-morning
Need for caffeine or sugar to get you through the day
May get a second wind in the evening
May have insomnia (tired, but wired)
Decreased ability to handle stress
Cold hands and feet
Poor exercise tolerance and recovery
Difficulty losing weight
Increase in belly fat
Thyroid imbalances
Sugar or salt cravings
Light headed/dizzy when you go from laying down to standing up
Low blood pressure
Electrolyte imbalance
Increased allergy/asthma symptoms
Constantly getting sick
Low libido
Hair loss
Blurred vision
Afternoon headaches
Weak nails
Menstrual cycle irregularities for females
Infertility
HPA-D AND THE THYROID
The adrenal glands and the thyroid work closely together. This is why many of the symptoms for HPA-D resemble hypothyroid symptoms.
HPA-D can directly affect the thyroid's function by increasing thyroid hormone resistance and depressing the body's ability to convert thyroid hormone (T4) to its active form (T3). This can lead to hypothyroid symptoms, even if TSH and other thyroid hormone levels are normal.
HOW TO TEST FOR HPA-D
As with many other conditions, HPA-D should be confirmed by tests prior to starting any treatment to avoid unnecessary medication use. Because there are so many pieces to the puzzle that is HPA-D, you want to be sure that treatment is tailored to your personal situation.
There are two tests that are recommended for the detection of HPA-D.
Saliva Test – Measures cortisol levels on waking and throughout the day.
DUTCH Test – (Dried Urine Test for Comprehensive Hormones) Comprehensive hormone test that combines the benefits of blood, urine, and saliva testing in one to measure cortisol and other stress hormones as well as reproductive hormones.
---
Note from Dena:
If you don't already have a practitioner who can order these tests and discuss the results with you, I'd be happy to help! Schedule a free, 10 minute discovery call to learn more!
---

HOW DO I TREAT HPA-D?
Treatment for HPA-D is multifaceted – if done right, you should see improvements right away (within 1-2 months), but full recovery can take 6-24 months, or even longer, depending on severity.
1. DECREASE AND MANAGE STRESS
Treating the underlying cause involves eliminating or at least doing less of the things that originally contributed to HPA-D. (Sources: 3, 23, 26)
If you notice your finances are getting out of hand, the first thing you do is sit down and create a budget, then commit to steps you will take to stick to it. The exact same approach is necessary here.
I highly encourage you to set aside time to evaluate the stressors in your life, and create a plan to reduce and manage them better. My free, Stress Management Guide has already helped many clients and readers walk through this process step by step, and I know it will help you too!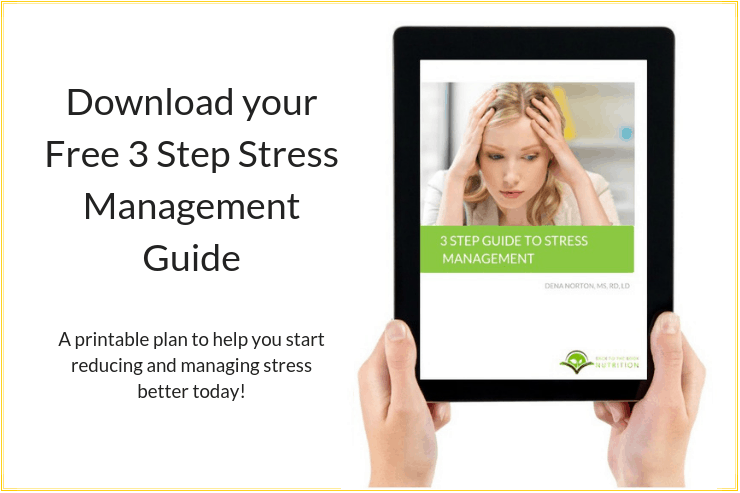 2. PRIORITIZE SLEEP AND REST
The importance of good sleep and adequate rest cannot be overstated because they are both so critical for assuring your body that it's safe and helping it to shift from "fight or flight" into "rest and digest" mode.
I'm not exaggerating when I say, you will not recover from HPA-D if you don't carve out time for both of these consistently.
Tips for prioritizing sleep and rest:
Get 8-10 hrs of quality sleep each night
Rest when you feel tired
Reserve at least 30 minutes each day of personal time for relaxing activities like enjoying a hot bath, reading a good book, prayer, etc.
Choose gentle exercises like stretching or leisurely walks rather than high intensity ones
More tips are outlined in the free Stress Management download mentioned above.
3. Add More Joy and Fun to your Life!
Few adults feel they have the luxury of taking time to do things just for the sake of fun. But giving yourself permission to enjoy simple pleasures in life are another powerful way to nurture your body and soul, and to recover from HPA-D. (Sources: 5, 24, 25)
Schedule time for your hobbies (if you don't have one, find one!)
Play with your kids
Spend time outdoors just enjoying nature
Find a purpose/volunteer
Linger over a meal with good friends
Set aside time to spend alone with your spouse
Laugh more
4. Eat Real Food to Balance Your Blood Sugar + Hormones
What you eat can absolutely help or hinder your recovery from HPA-D (Sources: 1, 10, 11, 27). Here are some basic guidelines:
Eat real food – mostly whole, minimally processed foods like fruits, vegetables, nuts, seeds, beans and legumes, wild caught fish, meats/poultry/eggs from animals raised on pasture, whole grains, etc.
Minimize refined sugar
Always include protein or fat when you eat
Eat breakfast within an hour of waking and eat regular meals throughout the day
Minimize or remove caffeine
5. Consider Adaptogenic Herbs Supplements
Adaptogenic herbs help support the proper functioning of the HPA axis, and can help bring your stress response back into balance. Most providers agree a combination of adaptogens work better than individual herbs.
Some herbs are not recommended during pregnancy or with some medical conditions, so it is always recommended that you speak with a qualified healthcare practitioner to determine which herbs are right for you. (Sources: 29, 30)
Ashwagandha (Withania somnifera)
Eleuthero/Siberian ginseng (Eleutherococcus senticosus)
Panax ginseng
Astragalus root (Astragalus membranaceus)
Schisandra (Schisandra chinensis)
Rhodiola rosea
Holy basil
Licorice root (Glycyrrhiza glabra)
---
Note from Dena:
This combination adaptogen blend has helped a number of my clients improve their energy and stress levels:
---
FINAL THOUGHTS
We all know that life is about so much more than checking things off of our "To-Do List" (as satisfying as that may be). But, as hard as it can be to slow down and give our body the nurture and rest that it needs, it is absolutely critical for our HPA axis and our overall health!
Want help overcoming HPA Axis Dysfunction?
Dena has helped many clients with HPA Axis dysfunction recover their energy and regain their health, and she can help you too!
---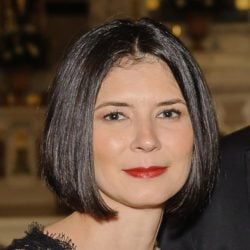 About the author: Marla Ramos is a Dietetic Intern, with a B.S. in Human Nutrition and Foods from the University of Houston. She has a particular interest in gut health due to her own personal experience with Crohn's Disease.
---
Disclaimer: Information on this site is intended only for informational purposes and is not a substitute for medical advice. Always consult with a trusted healthcare provider before implementing significant dietary change. Read additional disclaimer info here.
References
Leproult, R., et al. (1997) Sleep loss results in an elevation of cortisol levels the next evening, Journal of Sleep Research & Sleep Medicine, 20:10, 865-870.
Juster, R, et al. (2011). A clinical allostatic load index is associated with burnout symptoms and hypocortisolemic profiles in healthy workers.

(deleted)

(deleted)

(deleted)

Hurley, L., Morgan, A. (1952) Carbohydrate metabolism and adrenal cortical function in the pantothenic acid-deficient rat, Journal of Biological Chemistry, 195, 583-590.

(deleted)

Daubenimier, J., Kristeller, J., Hecht, F., Maninger, N., Kuwata, M., Jhaveri, K., …Epel, E. (2011) Mindfulness intervention for stress eating to reduce cortisol and abdominal fat among overweight and obese women: An exploratory randomized controlled study, Journal of Obesity, doi: 10.1155/2011/651936.
Brureau, A., Zussy, C., Delair, B., Ogier, C., Ixart, G., Maurice, T., Givalois, L. (2013) Deregulation of hypothalamic-pituitary-adrenal axis functions in an Alzheimer's disease rat model, Neurobiology of Aging, 34:5, 1426-1439, doi: 10.1016/j.neurobiolaging.2012.11.015.
Rosmond, R., Bjorntorp, P. (2000) The hypothalamic-pituitary-adrenal axis activity as a predictor of cardiovascular disease, type 2 diabetes and strok, Journal of Internal Medicine, 247:2, 188-197.
Incollingo Rodriguez, A., Epel, E., White, M., Standen, E., Seckl, J., Tomiyama, A. (2015) Hypothalamic-pituitary-adrenal axis dysregulation and cortisol activity in obesity: A system review, Psychoneuroendocrinology, 62, 301-318, doi: 10.1016/j.psyneuen.2015.08.014.
Almela, M., Hidalgo, V., Villada, C., Espin, L., Gomez-Amor, J., Salvador, A. (2010) The impact of cortisol reactivity to acute stress on memory: Sex differences in middle-aged people, Stress, 14:2, 117-127, doi: 10.3109/10253890.2010.514671.
Braun, T., Zhu, X., Szumowski, M., Scott, G., Grossberg, A., Levasseur, P….and Marks, D. (2011) Central nervous system inflammation induces muscle atrophy via activation of the hypothalamic-pituitary-adrenal axis, Journal of Experimental Medicine, 208:12, 2449-2463.
Papadopoulos, A., Cleare, A. (2012) Hypothalamic-pituitary-adrenal axis dysfunction in chronic fatigue syndrome, Nature Reviews Endocrinology, 8, 22-32, doi: 10.1038/nrendo.2011.153.
Majzoub, J. (2006) Corticotropin-releasing hormone physiology, European Journal of Endocrinology, 155, S71-S76.
Jeong, K., Jacobson, L., Widmaier, E., Majzoub, J. (1999) Normal suppression of the reproductive axis following stress in corticotropin-releasing hormone-deficient mice, Endocrinology, 140:4, 1702-1708.
Rege, N., Thate, U., Dahanukar, S. (1999) Adaptogenic properties of six rasayana herbs used in Ayuvedic medicine, Phytotherapy Research, 13:4, 275-291.