You can't be truly healthy without a healthy gut – learn 5 reasons why!
We hear a lot about gut health these days. But, despite all the buzz, I'm always surprised by how many of my clients don't understand why gut health is so critical to their overall health.
You really can't be truly healthy unless your gut is healthy – here's why.
1. Thyroid Function Depends on a Healthy Gut
The thyroid gland produces inactive thyroid hormone (T4) which must be converted to its active form (T3) at various sites throughout the body, including the gut. In fact, 20% of active thyroid hormone (T3) production is dependent on healthy gut bacteria! (1)
We also know that a leaky gut (this is when the intestinal lining is damaged, allowing food particles, toxins, and other waste products to re-enter circulation) can cause the immune system to overreact, attacking tissues from one's own body. When the attack targets the thyroid, autoimmune conditions like Graves Disease or Hashimoto's Thyroiditis can result. 
In addition, certain gut infections like Blastocystis hominus and Yersinia enterocolitica have been very strongly linked to Hashimoto's Thyroiditis. (1,2) Whether the infections are the proverbial chicken or egg in these situations is yet to be determined.
Interestingly, the thyroid-gut relationship goes the other way too. Every cell in the body needs thyroid hormone to function properly, including cells that make up the intestinal tract. For example, an overactive thyroid (hyperthyroidism) can lead to diarrhea, while low thyroid levels (hypothyroidism) can result in constipation. 
Learn the best foods for thyroid health here and learn which thyroid tests you need and how to get them here!
2. Brain Health Depends on a Healthy Gut
Did you know that most of our brain neurotransmitters are produced in the gut, including 90% of our serotonin? (3) It's no surprise then that an unhealthy gut increases the risk for anxiety, depression, and other mental health issues, and improving gut health can allow for significant improvement in these and other mood disorders.
Again, the gut-brain connection is a two-way street. Brain health directly affects our bowel movements in more than one way. One of the most important is through the vagus nerve, which runs between the brain and gut, and depending on stress, anxiety, an other triggers, signals the gut to move (or not to move!). Disruption of vagal nerve activity has been linked to diarrhea, constipation, and even conditions like Irritable Bowel Syndrome (IBS) and Small Intestinal Bacterial Overgrowth (SIBO). 
3. Stress Management Depends on a Healthy Gut
Research has shown that an imbalance of healthy and unhealthy bacteria compromises the function of the body's stress axis (HPA-axis), and leads to increased reports of "feeling stressed". We know that this, in turn, produces more cortisol, which can damage the gut lining, interfere with thyroid function, and  exacerbate HPA-axis dysfunction. (1,4)
Supplementing with Lactobacillus and Bifidobacter species of probiotics, on the other hand, improves the stress response and decreases individuals reports of feeling stressed. (3-5)
Looking for a probiotic with Lactobacillus and Bifidobacter strains? My Multi-Bio Max Probiotic is a high-potency probiotic that contains 12 different strains of Lactobacillus and Bifidobater for a combined total of 25 Billion CFUs in every capsule. It consistently gets great reviews from customers, plus comes with fast, free shipping!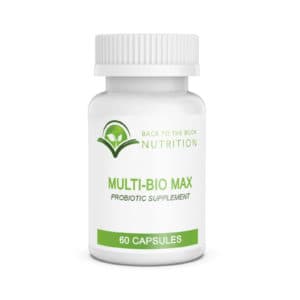 4. Hormone Balance Depends on a Healthy Gut
Hormone byproducts, as well as toxins and other waste products are eliminated with the stool . However, if stool remains in the gut too long (constipation), or if the gut is leaky, these substances can be re-absorbed, which can increase circulating hormone levels and lead to hormonal imbalances like estrogen excess. This has implications not only on monthly menstrual cycles, but also on estrogen related conditions like heart disease, osteoporosis, endometriosis, and breast cancer. (6)
In turn, hormones can also affect gut function. Female hormones (estrogen and progesterone) can alter bowel movements, causing some women to experience either diarrhea or constipation around the time of their period.
Note: This post contains affiliate links. By making purchases through these links, you pay the same amount for products, but a small portion of the sale will be sent my way to help support the mission of Back To The Book Nutrition. Thank you!
5. Proper Immune Function Depends on a Healthy Gut
Some researchers estimate that at least 70% of our immune system resides in our gut. In fact the thin layer of gut lining is all that separates the intestinal contents from the gut associated lymphatic tissue (GALT), which is essentially a well-coordinated army of immune activity. Messages travel across the gut lining to inform the GALT about unwanted substances travelling through (e.g., partially digested food particles, chemical toxins, and byproducts from viruses, bacteria, and yeasts).  (7)
If frequent exposure to these foreign substances continues over time, excessive inflammation and damage to the gut lining can occur, leading to a "leaky gut". If not corrected, leaky gut can give rise to autoimmunity, which is essentially a case of mistaken identity where the body's overreactive immune system mistakes its own tissue for that of these foreign substances, and attacks itself. (8)
Learn more about gut health from these great resources!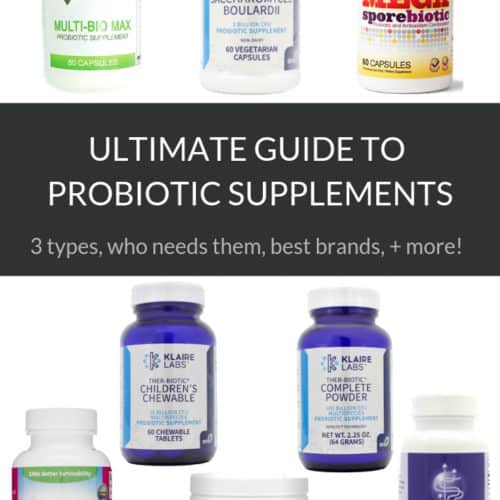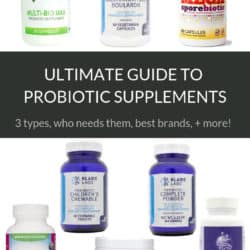 Sources: