The first time I ate pulled pork was when a dear friend made it for us after our first baby was born.
I appreciated every single meal delivered during that precious and exhausting season of life…but I LOVED the pulled pork dinner!
I got the recipe from my friend and have tweaked it to make it my own, and today I'm sharing this family favorite with you!
Pulled Pork – an Easy Dinner for Busy Weeknights
This pulled pork is one of my go-to recipes for busy weeknights, and for good reason.
It's simple
All you need are a few pantry staples and a pastured pork butt or shoulder roast, which I always have in the freezer for this very recipe.
It's versatile
It's equally delicious in the oven or the slow cooker. The spices can be increased or decreased as desired. Sliced onions or bell peppers can be added if you like them. It can be served with a side of cole slaw, on top of a baked potato, or as a sandwich. The possibilities are endless.
It's great left over
We all know I'm a huge fan of leftovers, and I love that the whole family's glad to see this one again on the second night!
Easy Pulled Pork in the Oven or Crock Pot (+ Best BBQ Sauce)
One of my favorite go-to recipes for busy weeknights!
Ingredients
1 3-4

pound

pastured pork butt or shoulder roast*

4

tsp

pure maple syrup

3

tsp

sea salt

2

tsp

ground black pepper

1

tsp

ground red pepper

cayenne

3

tsp

garlic powder

2

tsp

smoked paprika

* A butt roast will have more fat

adding more moisture. If using shoulder or other leaner cut, consider adding 2-4 Tbsp water
Instructions
For Oven Method
Preheat to 425 degrees.

Line roasting pan with 2-4 sheets of heavy duty foil that can be folded up around the roast to make a pouch (I stack them in a cross formation so all sides of pouch will seal when folded).

Place the roast, fat side up in the middle of the foil.

In a small bowl, mix remaining ingredients with a spoon to form a paste.

Rub the paste over the top and all sides of the roast (will be a thin layer).

Bring the edges of each foil sheet to the top and fold over one another to create a sealed pouch.

Place roast in oven and turn heat down to 325 degrees.

Cook for 2.5 hours or until internal temperature reads at least 145 degrees and meat separates easily using a fork. Baste with its own juices midway through cooking if desired.

Baste the cooked roast again, reseal the foil pouch, and allow to rest on the counter for a few minutes.

Transfer roast to cutting board and use two forks or a knife and a fork to shred/cut the meat as desired. Place meat in a bowl and add juices from foil pouch along with a few spoonfuls of Diana's homemade BBQ sauce (Click the image below for recipe), stirring to mix.

Serve with additional BBQ sauce.
Crock Pot Method
Same as above, but forego the foil pouch if desired, instead placing the roast directly into the Crock Pot. Cook on low for 6-8 hrs or until internal temperature is at least 145 degrees. Proceed with basting, shredding, and adding BBQ sauce similar to oven method.
Recipe Notes
Sliced shallots or onion can be cooked with the pork if desired. Simply lay these on the bottom of the foil pack or Crock Pot, place the uncooked and seasoned pork on top, and follow the cooking instructions above.
Easy, Homemade BBQ Sauce
The perfect compliment to this easy pulled pork is my friend, Diana's Easy, Homemade BBQ Sauce. Like homemade salad dressings, BBQ sauce is something I am committed to making myself – not only for health reasons, but because the flavor is a thousand times better!
Diana's BBQ sauce is made without refined sugar or corn syrup and has an incredible depth of flavor unlike any other recipe I've tasted (and I'm from Texas, y'all, so I've had plenty!). It's truly amazing and really takes the flavor of this pulled pork over the top!
Visit My Humble Kitchen to get the Easy, Homemade BBQ Sauce recipe!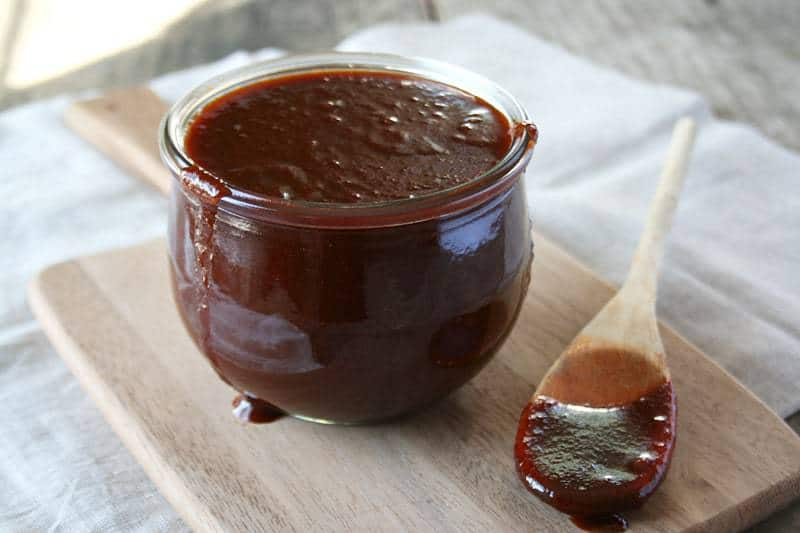 Check out these other easy recipes for busy weeknights!