Delicious, homemade Ranch dip in only 5 minutes! Plus, it's made with just 5 real food ingredients so it's healthier than pre-made dips and Ranch seasoning packets from the store!
We're on a dip kick at our house lately. And, with July 4th coming up, I just had to share one of the latest favorites – this 5 minute Ranch Dip!
Note: This post contains affiliate links. By making purchases through these links, you pay the same amount for products, but a portion of the sale will be sent my way to help with blog expenses. Thanks!
Easy, Healthy 5 Minute Ranch Dip
This simple dip comes together in a few short minutes and can be made with just five, real food ingredients: sour cream, season salt, onion salt, dried dill, and dried parsley.
It's the perfect last minute appetizer for your next party, and would make a killer veggie or chip dip for your July 4th cookout or summer picnic.
And can we talk chips for a minute? I'm always asked for healthy product recommendations, so I want to plug my two favorite brands of healthy potato chips:
Avocado Oil & Sea Salt Kettle Cooked Potato Chips by Boulder Canyon, and
Coconut Oil and Sea Salt Potato Chips from Jackson's Honest*
* The Amazon price on Jackson's Honest chips is outrageous, but wanted you to be able to take a look at the product. You can also find both brands on the shelves at Whole Foods for $3 to $3.50 per bag)…a little pricey, but literally the only chips (besides my own homemade chips) I've found that aren't fried in unhealthy oils.
Okay, back to the dip!
In addition to being a big hit at your next party, this easy recipe is also a must-have in your mom-chef arsenal. It's a proven fact that kids will scarf down their veggies if they have something good to dip them in. My kids are pretty good eaters but, with this dip, they eat twice as many raw veggies they normally would!
Plus, it's is so easy, my kids can make it themselves, which earns the recipe double points!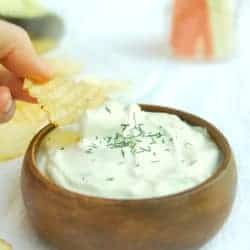 Healthy 5 Minute Ranch Dip
Ingredients
1 1/2

tsp

onion salt

1

tsp

season salt

1/2

tsp

dried parsley

1/4

tsp

dried dill

16

oz

sour cream
Instructions
Stir all ingredients together. Can serve right away or refrigerate for a few hours to let the flavors mix.
Check out these other great summer recipes!