Cool, refreshing, and light, this all natural mango lemonade is made with fresh fruit and a touch of honey and is ready in only 5 minutes. With tips on the easiest way to cut a mango and cleaning up, this refined sugar free summer drink couldn't be easier and really hits the spot on hot summer days!
I live in Texas, so ice cream, popsicles, and lemonade are an absolute must for surviving the summer. And if you love an ice cold summer drink as much as I do, I've got a treat for you!
This one happened by accident when we got home from the pool hot and thirsty. I happened to have a lemon and some mangoes in the fridge, so I whipped out the immersion blender (if you don't have one – you need one!), and just a few minutes later we had this super refreshing, all natural mango lemonade!
Note: This post contains affiliate links. By making purchases through these links, you pay the same amount for products, but a small portion of the sale will be sent my way to help support the mission of Back To The Book Nutrition. Thank you!
Easy, All Natural Mango Lemonade
Making homemade lemonade is so easy, and I love adding other fruits to put a fun spin on the flavor. My all natural pineapple lemonade is still a household favorite!
All you need are lemons, water, honey (optional), and whatever fresh fruit or juice you like. For this mango lemonade, I used fresh mango chunks and blended them with the other ingredients right in the glass.
It only took 3 minutes to make there was hardly any cleanup!
Check Out The Easy Step By Step Photos Below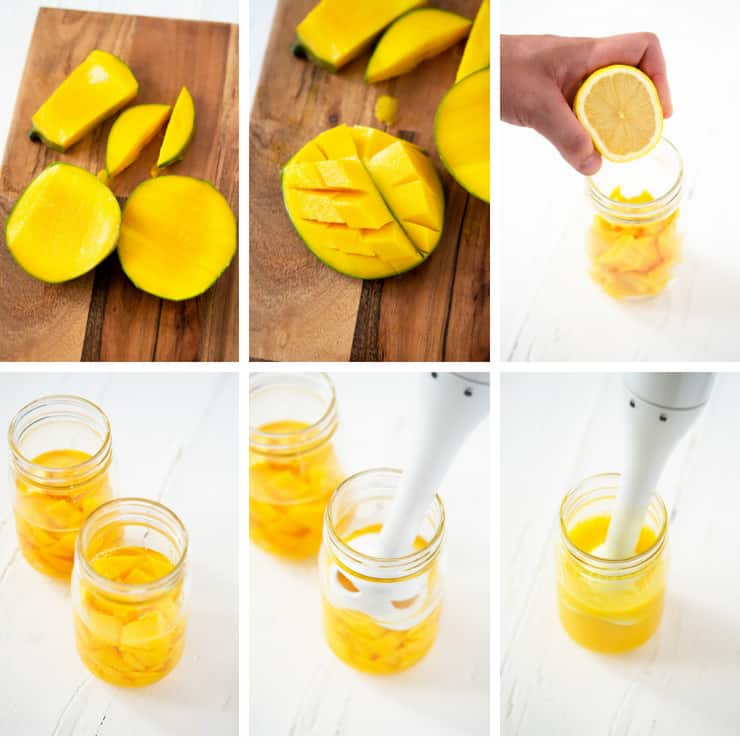 ---
**Kitchen Tip – How to Clean an Immersion Blender in Only 20 Seconds!**
Place a squirt of dish soap and some water in a glass, and turn the blender on. Then just rinse it under running water!
---
How To Cut A Mango – Making Mango Lemonade;
Hold the mango upright with the narrow ends at the top and bottom
Cut straight down the middle until you feel the hard core
Tilt the knife to cut around the core until you reach the bottom
Do the same with the other side (you should have 2 sides and 1 middle piece)
Cut as much of the sides from the middle piece as you can without cutting off any tough core pieces and discard the core (photo 1 above)
Use a knife to cut diagonal slices over the yellow mango without piercing the skin (photo 2)
Push the skin of the mango in and cut off the cubes of mango (photo 2)
Real Food Treats for Summer
I've had many conversations with my kids about why I don't buy certain snack foods and sugary drinks they see their friends having.
But, when I make homemade treats using real foods straight from nature – like this mango lemonade – they see that healthy, whole foods really can be just as good or better than junk food. In fact, the older they've gotten, the more they pick up on "fake" sweeteners, colors, and preservatives in foods and actually prefer the real stuff.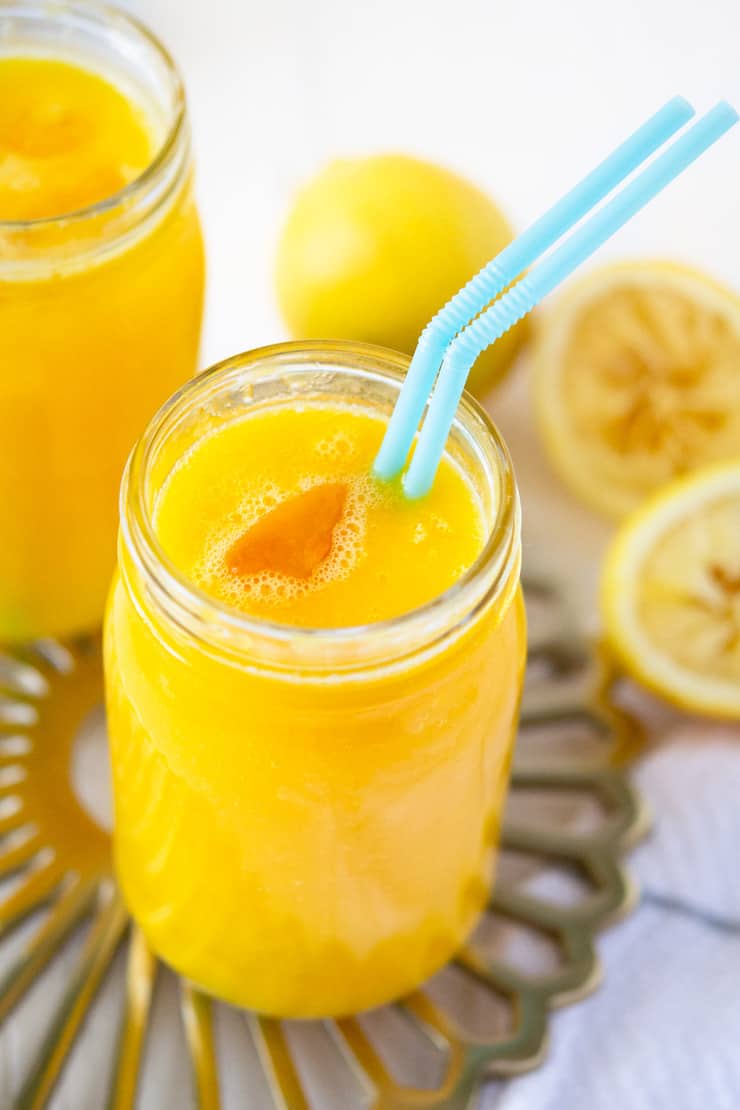 Check Out These other Healthy Summer Recipes!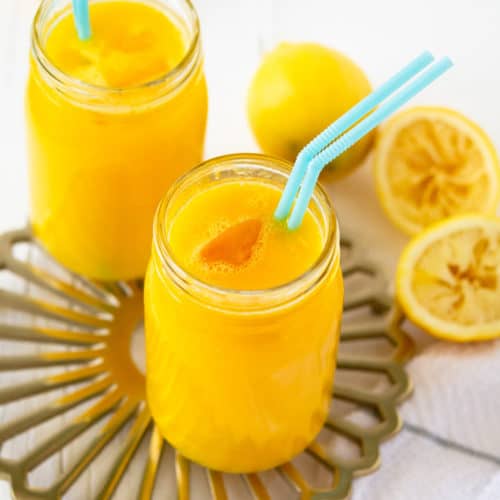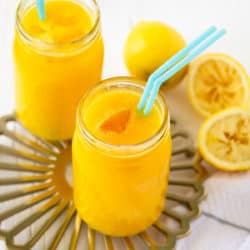 All Natural Mango Lemonade
Cool, refreshing and light this all natural mango lemonade is made with just 3 ingredients and ready in only 5 minutes. Made with fresh fruit and honey.
Print
Pin
Rate
Ingredients
2

cups

mango chunks

about 2 fresh mangoes

Juice of 1 medium lemon

12

oz

water

1-2

tsp

raw honey

optional
Notes
If serving more than 2, multiply recipe as needed and blend in a standard blender, then pour over ice to serve.
How To Cut A Mango - Making Mango Lemonade;
Hold the mango upright with the narrow ends at the top and bottom
Cut straight down the middle until you feel the hard core
Tilt the knife to cut around the core until you reach the bottom
Do the same with the other side (you should have 2 sides and 1 middle piece)
Cut as much of the sides from the middle piece as you can without cutting off any tough core pieces and discard the core (photo 1 above)
Use a knife to cut diagonal slices over the yellow mango without piercing the skin (photo 2)
Push the skin of the mango in and cut of the cubes of mango (photo 2)