Easy, refreshing 2-ingredient Coconut Water and Fresh Berry Popsicles made with strawberries, blueberries, and raspberries. They're for July 4th, but also great all summer long! Gluten free, dairy free.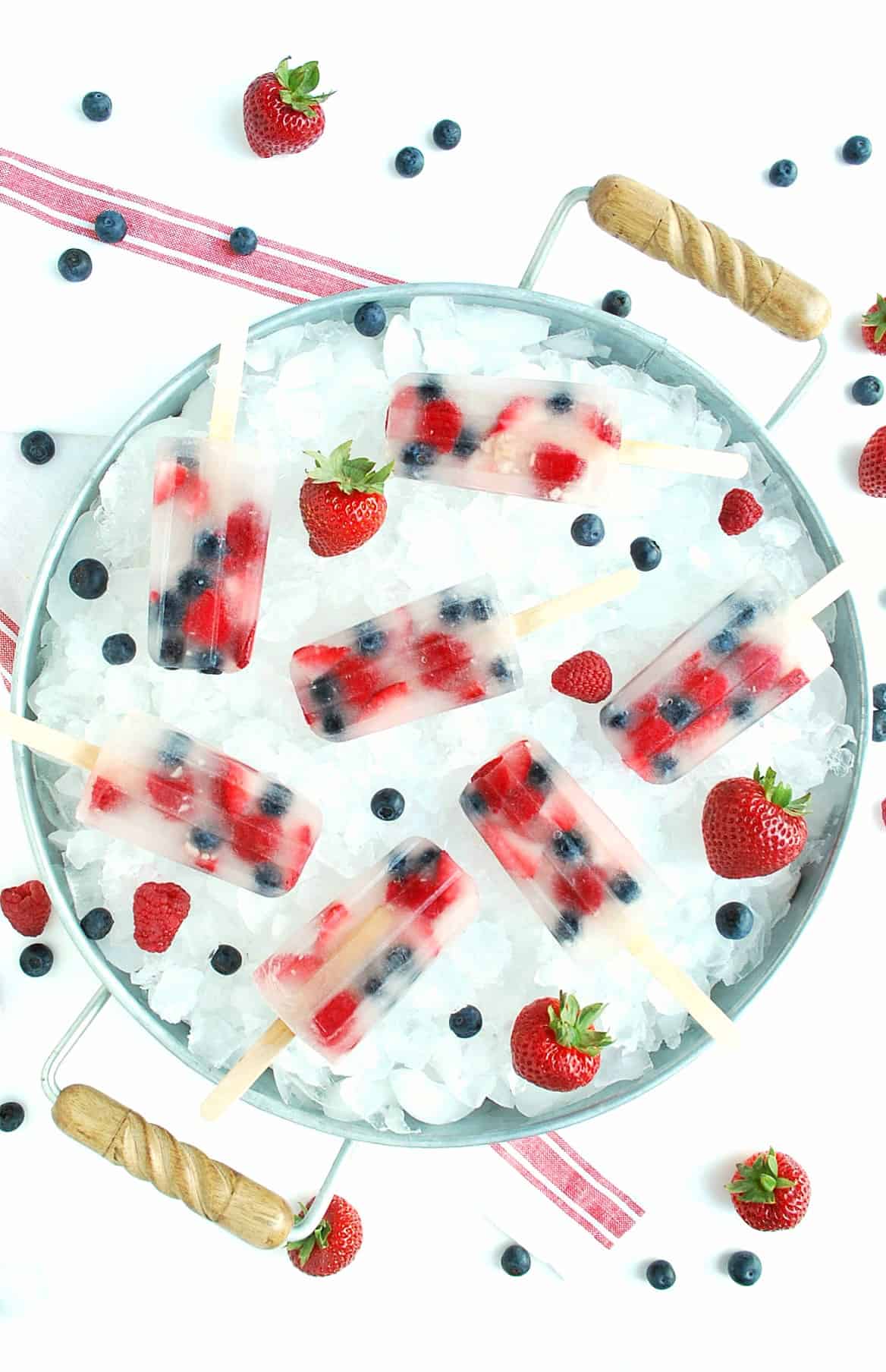 With July fourth coming up, I'm excited to share these easy, healthy, and super festive Coconut Water and Fresh Berry Popsicles with you!
Plus, I'll tell you how to pick the best coconut water (including my top 3 favorite brands), and which ones to avoid!
Easy Coconut Water and Fresh Berry Popsicles
I'm a fan of homemade popsicles of all kinds. But July fourth calls for something red, white, and blue, so today it's coconut water popsicles with fresh strawberries, blueberries, and raspberries!
These couldn't be any easier – just drop some berries into popsicle molds, then fill with coconut water and freeze.
A few hours later, they'll be the hit of the July 4th party. No one needs to know they took virtually zero effort!
Note: This post contains affiliate links. By making purchases through these links, you pay the same amount for products, but a portion of the sale will be sent my way to help with blog expenses. Thanks!
Coconut Water – What NOT to Buy
Coconut water has been touted as a healthy substitute for Gatorade and soda. It's true that pure coconut water is a good source of electrolytes like sodium and potassium, and has a refreshing flavor.
As a result, tons of coconut waters have flooded the market, some even sold by soda manufacturers like Pepsi and Coca Cola (How's that for irony?). Not surprisingly, the most popular brands of coconut water have added sugars, flavors, and fillers on the ingredients list.
Ingredients in top selling Zico's supposedly "pure" coconut water:
coconut water from concentrate, water, cane sugar, coconut cream (coconut extract, water), cocoa processed with alkali, natural flavors, carrageenan, gellan gum.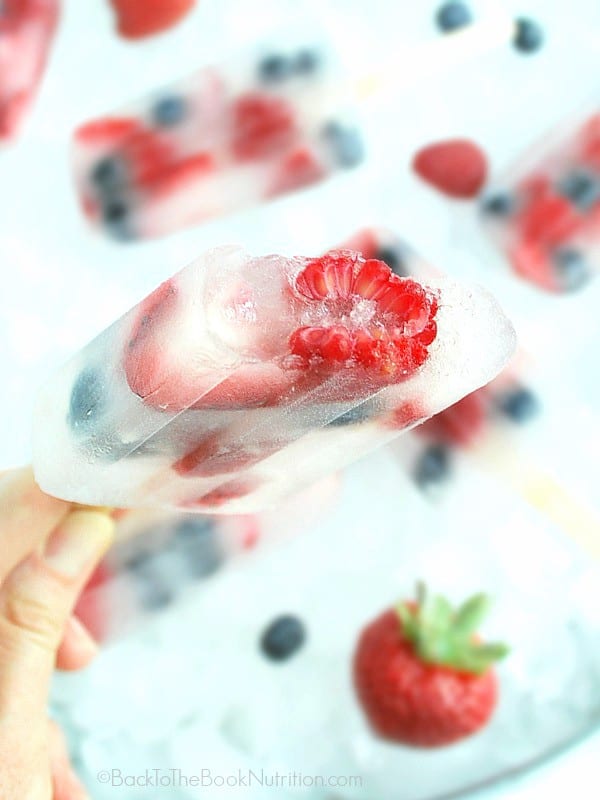 How to Choose the Best Coconut Water
My Top 3 Favorite Brands of Coconut Water:
1. Harmless Harvest
100% raw, unpasteurized coconut water from USDA certified organic coconuts. No added sugars or flavors.
2. Amy & Brian
100% coconut water with no added sugars or flavors, and they offer "with pulp" (I used this one for my popsicles) or "pulp free" versions. It's also one of the cheapest and is carried by both health food stores and regular grocery stores.
3. Harvest Bay
100% coconut water with no added sugars or flavors. Pasteurized at low temperatures for only a couple of seconds.
Of course, even better than packaged coconut water would be drinking it straight from the coconut! Learn how to open a coconut to get coconut water, using nothing more than a paring knife!
Whether store bought or straight from a fresh coconut, coconut water and fresh berries make the perfect pair in these super refreshing and naturally sweet Independence Day popsicles!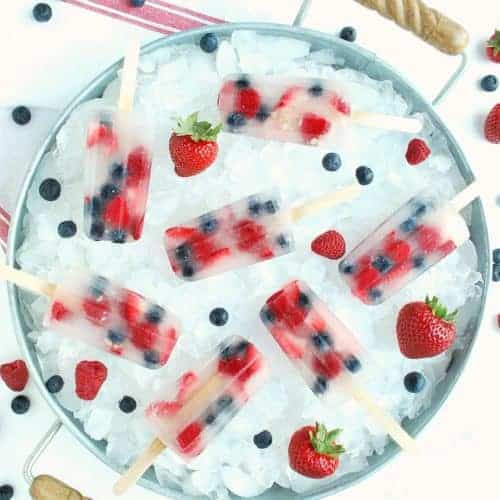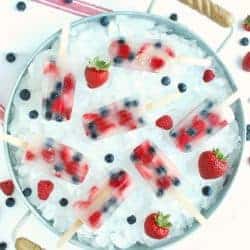 Ingredients
2.5

cups

Fresh Berries

I used blueberries, raspberries, and sliced strawberries

40

oz

Coconut Water

I used Amy and Brian's Coconut Juice
Instructions
Drop beries into popsicle molds (smaller pieces will go to the bottom, others will have to be gently nudged into the mold using a butter knife or extra popsicle stick).

Pour coconut water over the berries to fill the popsicle mold, then insert popsicle sticks.

Cover and chill for several hours.

Allow to sit on counter at room temperature for a few minutes for easy release from the molds.