PCOS is usually treated with birth control or medications like metformin to regulate blood sugar, but neither of these resolve the root causes of the condition. Find out what really causes PCOS and learn 8 steps you can take to overcome it naturally!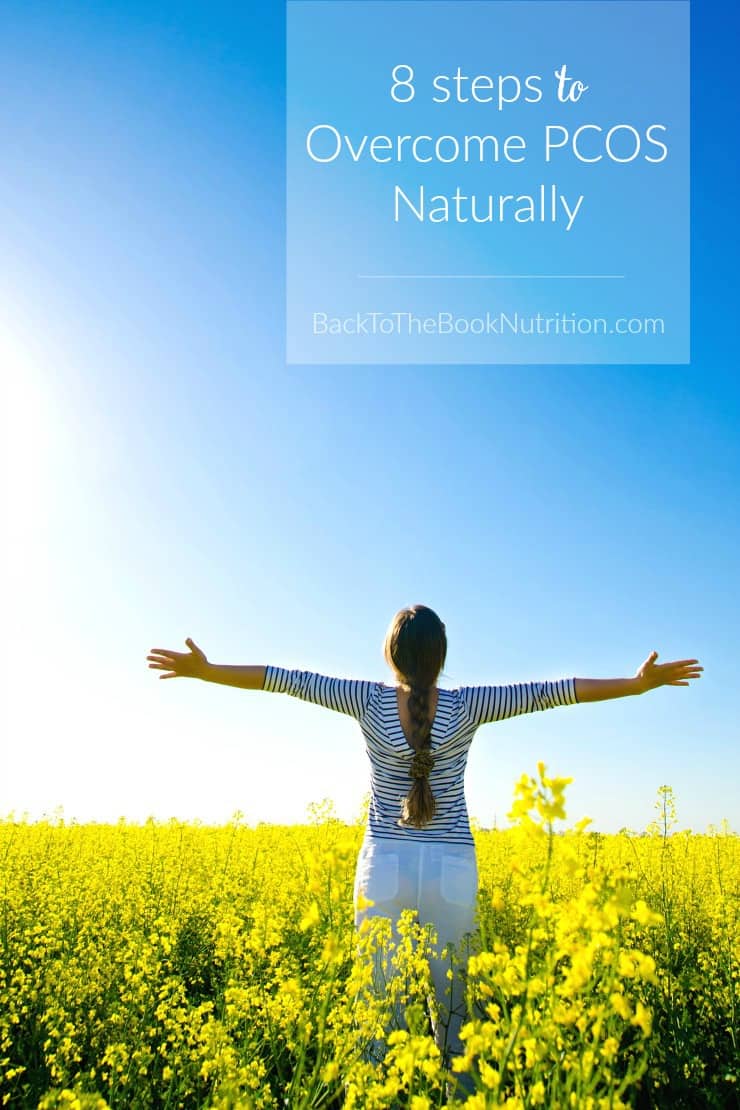 Note from Dena: This post was written by Sarah Kaufman, Dietetic Intern, as part of a research partnership between Back To The Book Nutrition and post-graduate nutrition students from the University of Houston.
---
Polycystic Ovarian Syndrome – or PCOS – is the most common hormonal disorder among women in their reproductive years, leaving many who suffer with no clear path to relief. Between figuring out the various types of PCOS and managing complications related to the syndrome, one can feel overwhelmed and hopeless. Since it is such a complex condition and symptoms can vary between women, it is easy to feel alone in the struggle.
But you're NOT alone – there are ways to overcome PCOS naturally! You just need to identify the root cause of your PCOS, and learn what treatment approaches work best for you.
Most Common Symptoms of PCOS
Infertility

Irregular periods

Fatigue

Mood changes

Headaches

Excess hair growth (usually in "male" places – chin, upper lip, back, etc.)

Diabetes

Weight gain

Acne

Hair loss (usually from the top of the head)

Recurring infections

Joint pain

Skin conditions

Pelvic pain

Sleep problems

Polycystic ovaries (not in all cases)
It is important to understand the reason you are experiencing symptoms of PCOS is because you are not ovulating regularly. Not ovulating regularly triggers a slew of secondary symptoms such as hormonal imbalances, infertility, hair loss, acne, etc.
But you must find out the reason your ovulation is abnormal if you want know how to address your PCOS most effectively.
5 types of PCOS
Many people – and even many healthcare providers – have a single picture of what they think PCOS symptoms are and what women with PCOS look like. But, according to PCOS expert Lara Briden, ND, there are five main types of PCOS, each with their own unique symptoms.
1. Insulin Resistant
High insulin levels can cause the ovaries to make more androgen hormones (male sex hormones) such as testosterone.
Symptoms of insulin resistant PCOS:
Unstable blood sugar- you could be experiencing this if you feel faint or shaky when hungry
Excess weight around your belly
Dark patches in the folds of skin
Trouble losing weight
2. Pill or Post-Pill Induced
The pill and other forms of hormonal birth control suppresses ovulation in which can lead to a diagnosis of PCOS.
Common symptoms of post-pill induced PCOS:
Had normal periods prior to taking birth control
Elevated luteinizing hormone (LH) on blood test
3. Inflammatory
Inflammation in the body affects ovulation, hormone receptors, and androgens. Inflammation can result from obesity, illness, autoimmunity, food sensitivities, chronic stress, and a variety of other factors.
Common symptoms of inflammatory PCOS:
Headaches
Joint pain
Skin conditions
Vitamin D deficiency
Abnormal blood count
4. Hidden Cause
Causes that may fly under the radar that affect ovulation:
Too much soy in diet, thyroid disease, vegetarian diet, iodine deficiency, artificial sweeteners, too little starch in diet.
Common symptoms of hidden cause PCOS:
Various symptoms depending on actual root cause
5. Stress Induced
Androgens (male hormones) released during the stress response are converted to testosterone without any involvement with insulin and independent from the ovaries. (1)
Common symptoms of stress-induced PCOS:
Anxiety
Restlessness
Mood changes
Withdrawal from daily life
Muscle wasting
Sadness
Lack of motivation
Aches and pain
Confusing Right?
Obviously, PCOS is not just one condition – it comes in a variety of shapes and sizes. So it's easy to understand why PCOS is difficult to manage. Not only does the proper underlying cause need to be pinpointed, a tailored game plan needs to be formed to battle the symptoms that each individual woman is experiencing.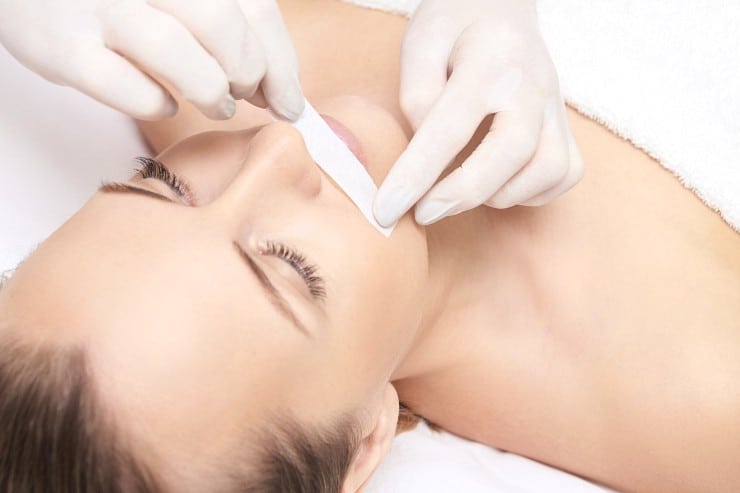 Conventional Medical Approaches to Managing PCOS
While many of these medications can help manage symptoms for women suffering from PCOS, they can come with side effects and may not fully address the root cause of the condition.
1. Hormonal Birth Control
Most pills, patches, injections, and other forms of hormonal birth control contain a mix of synthetic versions of estrogen and progesterone to prevent ovulation. Many women are led to believe that birth control works for PCOS by "balancing" these hormones, but this is misleading. Hormonal birth control actually works to suppress these hormones which can mask the underlying cause of PCOS.
Birth control also brings with it a host of problems, including infertility/delayed fertility, depression, hypothyroidism, and nutrient deficiencies, among others. Read more about short and long term side effects of hormonal birth control here.
2. Metformin
Metformin is a medication that makes the body more sensitive to insulin and helps lower elevated blood glucose levels, insulin levels, and androgen levels. It is also used to help women ovulate to help achieve pregnancy.
Metformin unfortunately has a number of side effects including aching and fatigue, GI issues such as abdominal pain, nausea and irregular bowel movements, anemia, B12 and other nutrient deficiencies, and low blood sugar.
3. Clomid
Clomid is a medication given to try to induce ovulation in women who do not ovulate on their own.
The downside of using Clomid is it can cause mood swings, blurred vision, hot flashes, breast tenderness, headaches, and abdominal or pelvic pain.
4. Spironolactone
Spironolactone is an anti-androgen used to treat excess hair and acne.
Note: Spironolactone is NOT safe for pregnancy. This drug can actually aggravate some of the PCOS symptoms by causing irregular periods as well as increased hair growth or hair loss.

8 Steps to Overcome PCOS Symptoms Naturally
There are a number of holistic approaches that can be tailored to your specific underlying cause of PCOS with the help of a professional (link to Dena Norton bio). Given the complexity of the disorder, treatment will never be one size fits all, but there are natural ways that anyone affected can implement into their daily routine regardless of what type of PCOS they have.
1. Fix Your Gut
Gut health is inextricably linked to hormone health and overall health, so it makes sense that improving your gut health can help manage PCOS.
Eat more plant foods
All varieties of plant foods – including vegetables, fruits, beans, legumes, nuts, seeds, and whole grains – provide good sources of nutrients and prebiotic fiber for a healthy balance of gut bacteria. Aim for at least half of what you eat to be plants with a variety of different colors.
Eat fermented foods
Fermented foods are rich in lactobacilli, probiotic bacteria that can benefit your health.
Sauerkraut

Yogurt

Kimchi

Tempeh

Kefir

Kombucha
Take a probiotic supplement
Probiotics are live microorganisms, usually bacteria, that support immune function, help maintain a healthy balance of good and bad bacteria in the gut, and other healthy functions. A 2017 study showed probiotics improved clinical, hormonal, and inflammatory markers in PCOS patients. Ask your healthcare provider which specific probiotic strains are best for you. (2)
Get your gut tested
If the above steps aren't enough to resolve your gut related symptoms, consider working with a holistic practitioner like Dena to order a comprehensive stool test that can identify pathogens, yeast and bacterial overgrowths, gluten sensitivity, leaky gut, and more.
2. Eat Real Food
Research has shown real food diets may help with PCOS. This includes a variety of vegetables, fruit, whole grains, beans, quality proteins, and healthy fats. (3)
What to eat:
Mostly plants – these should make up 50% of your plate (vegetables, fruits, beans, legumes, nuts, avocados, virgin olive and coconut oil, etc.)

Carefully sourced animal foods – these should make up 25-50% of your plate (wild caught fish/seafood, grass fed meats and eggs, organic dairy – I prefer raw, traditional cooking fats)

Select, minimally processed foods (optional) – these should make up no more than 25% of your plate (rice, whole grains, healthier convenience foods)

Occasional treats – Most of us can indulge a little here and there, just make sure you're keeping it in check.
What about low carb and keto for PCOS?
Several studies have evaluated low carb and keto diets in overweight or obese women with PCOS. These show promising results including weight loss, improvement in insulin sensitivity and blood sugar control, better hormone balance, and increased ovulation. (5)
But because very low carbohydrate diets may not be best for women with some forms of PCOS, discuss this with your provider before you begin.
3. Eat Antioxidant Rich Foods
Antioxidants protect your cells from the effects of free radicals and can help reduce an overabundance of inflammation in the body. Inflammation affects ovulation, hormone receptors, and adrenal androgens.
Foods rich in antioxidants:
Blueberries

Goji Berries

Pecans

Artichoke

Kidney beans

Cranberries

Blackberries

Cilantro

Any other varieties of plant foods
Also, a specific antioxidant called N-Acetylcysteine or NAC was shown to decrease body mass index and improve hirsutism, fasting insulin, free testosterone, menstrual irregularity and lipid profile equally as well as metformin in women with PCOS. (4)
4. Manage Your Stress
Stress is your body's way of responding to any kind of demand or threat, and may play a role in causing irregular or missed periods. This can include physical stresses (i.e., poor blood sugar control, illness, gut dysfunction, etc.) as well as emotional stress (i.e., trauma, demanding schedules, exciting life events). Stress Learn more about stress and HPA-axis dysfunction (aka: adrenal fatigue) here.
Alleviate stress by:
Meditating

Exercising, but not overdoing it

Enjoying hobbies

Taking breaks

Controlling blood sugar

Eating enough calories

Eating real, nutrient dense foods

Getting adequate sleep

Balancing work and life

Address underlying illnesses, gut imbalances, etc.
5. Reduce Inflammation
Inflammation is the body's way to remove harmful stimuli. This can be caused by stress, the environment, poor gut health, excess body weight, immune imbalances, and poor eating habits (consider avoiding inflammatory foods like alcohol, dairy, processed meats, and sugar).
Foods that reduce inflammation:
Ginger
Green tea
Dark Chocolate
Salmon or other Omega-3 rich foods
Turmeric
Chia Seeds
Garlic
Nuts
Magnesium supplement
Other ways to reduce inflammation:
Manage stress with methods listed above
Achieve and maintain a healthy weight
Exercise, but don't overdo it
Identify and address underlying infections, food sensitivities, etc.
Manage autoimmunity if present
6. Balance Your Hormones
Hormone imbalance is becoming more prevalent and it can happen for a variety of reasons. Learn everything you need to know about balancing hormones naturally here!
If you still have issues it may be beneficial to work with a licensed holistic practitioner for a tailored plan.
7. Balance Blood Sugar
Insulin resistance and PCOS often go hand in hand. It is important to monitor your blood sugar levels and take steps to get it under control.
How to balance your blood sugar:
Eat real food
Don't eat too much
Limit sweets, sugary drinks and refined foods
Limit alcohol intake
Be active
Manage your stress
8. Supplement Wisely
There are a variety of supplements that can be taken to support PCOS, in addition to basics like a high quality multivitamin-mineral, fish oil, etc. Remember, which of these may work for you depends on the root cause of your PCOS. And, as always, discuss supplements with your provider before taking.
Supplements to support PCOS:
Spearmint tea (not a true supplement but can be used daily to lower androgens)
Resveratrol
Chromium
B6
Licorice
Saw Palmetto
Chaste Tree
Diendolylmethane (DIM)
Berberine
Alpha Lipoic Acid (ALA)
Myo-inositol
Maca and other adaptogens
Living Well with PCOS
Implementing these strategies into your everyday routine can help improve your PCOS symptoms and your overall health so that living well with PCOS becomes a reality. Every case is different and finding the root causes of your PCOS, and targeted approaches to addressing it, are critical for success.
If you've struggled to get your PCOS under control, don't lose heart! Keep learning, keep listening to other women's stories, and keep searching for a trusted practitioner who can guide you on your journey to health!
---
About the Author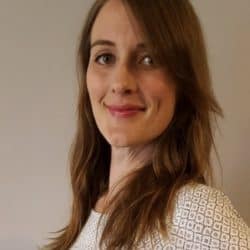 Sarah Kaufman is a Dietetic Intern at the University of Houston. She graduated with a B.S. in Human Nutrition and Dietetics at Metropolitan State University of Denver. Through her own personal struggles with nutrition she developed a passion for helping others find a balanced lifestyle in order to achieve great health.
---
Disclaimer: Information on this site is intended only for informational purposes and is not a substitute for medical advice. Always consult with a trusted healthcare provider before implementing significant dietary change. Read additional disclaimer info here.
References:
1. Lara Bridan. Treatment for 4 Types of PCOS. Treat the Cause. https://www.ncbi.nlm.nih.gov/pmc/articles/PMC5372867/
2. Nearmeen M. Rashada, Amal S. El-Shal, Abadelaziz I. Amin, Manar. H. Solimand. Effects of probiotics supplementation on macrophage migration inhibitory factor and clinical laboratory feature of polycystic ovary syndrome. Journal of Functional Foods. https://www.ncbi.nlm.nih.gov/pmc/articles/PMC5372867/
3. Lisa J. Moran, Jessica A. Grieger, Gita D. Mishra, Helena J. Teede. The Association of a Mediterranean-Style Diet Pattern with Polycystic Ovary Syndrome Status in a Community Cohort Study. Nutrients-Open Access Journal of Human Nutrition. https://www.ncbi.nlm.nih.gov/pmc/articles/PMC5372867/
4. Oner, G, Munderis II, Clinical, endocrine and metabolic effects of metformin vs N-acetyl-cysteine in women with polycystic ovary syndrome. Eur J Obstet Gyne https://www.ncbi.nlm.nih.gov/pubmed/21831508
5. McGrice, M. and Porter, J. The Effect of Low Carbohydrate Diets on Fertility Hormones and Outcomes in Overweight and Obese Women: A Systematic Review. Nutrients. 2017 Mar; 9(3): 204. https://www.ncbi.nlm.nih.gov/pmc/articles/PMC5372867/