Today I'm sharing my best autoimmune diet and lifestyle tips to help you boost energy, overcome brain fog, improve gut health, reduce stress, and live well naturally with autoimmune disease! And discussing where medications and medical interventions fit.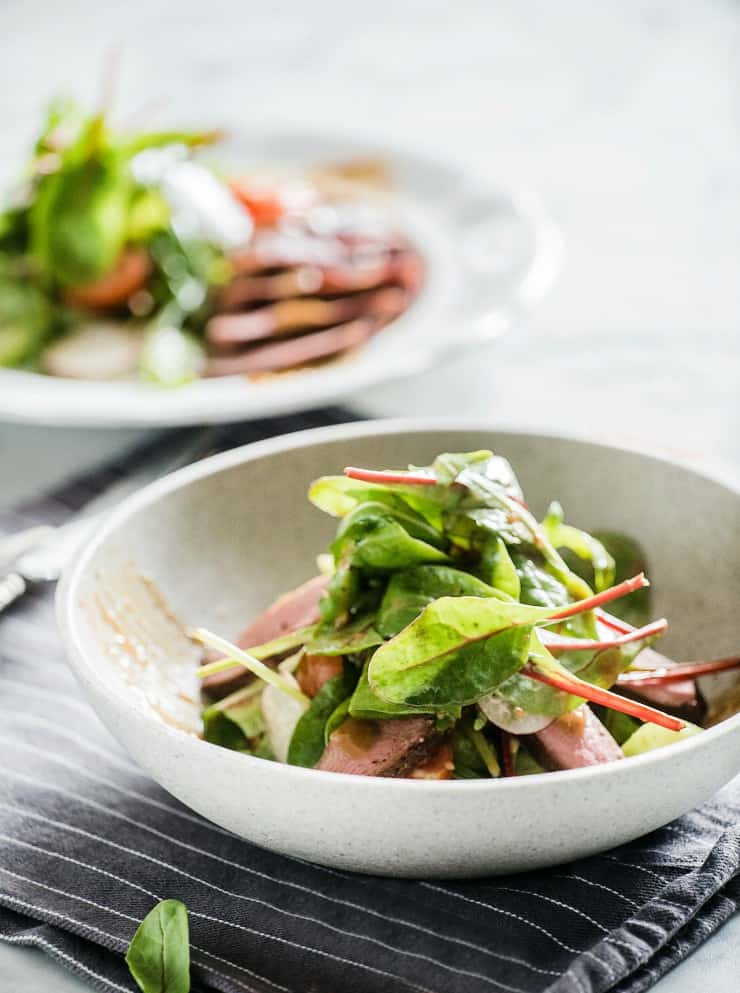 Note from Dena: This post was co- written with Sarah Kaufman, Dietetic Intern, as part of a research partnership between Back To The Book Nutrition and post-graduate nutrition students from the University of Houston.
---
In Part 1 of this series, we learned what causes autoimmunity and answered the question, "Why are so many more women than men getting autoimmune diseases?" Today, we'll discuss the best autoimmune diet and holistic lifestyle tips to help you regain your health and live well with autoimmunity.
Best Autoimmune Diet + Lifestyle Tips
1. Best Autoimmune Diet
Eat Real Food
Whether or not you try a formal "autoimmune diet," the most important thing to do is to eat a variety of unprocessed whole foods – fish, meats, eggs, and lots of colorful produce. At the same time, cut back on refined foods, added sugars, and alcohol – or even cut them out for a period of time to see how you feel.
Eating in this way maximizes nutrients your immune system and your entire body need to thrive, and minimizes foods and food additives that have been linked to inflammation and immune reactions/flares.
Try Autoimmune Protocol (AIP) or other Autoimmune Diets?
If you want more strict and structured guidelines for your eating, and you haven't yet tried it, spending 30-90 days testing out AIP or other "healing diets" for autoimmunity can be helpful.
Just 6 weeks on the AIP diet led to autoimmune remission for 73% of participants who, prior to the study, had not achieved remission on immunosuppressive medications and other conventional medical treatments for their Irritable Bowel Disease (IBD), which includes Crohn's Disease and Ulcerative Colitis. (2)
AIP INCLUDES:
Wild caught fish and shellfish
High quality meats and organ meats
All vegetables except nightshades (see below)
Fruit
Seeds
Healthy fats (traditional animal fats like tallow and lard, olive oil, avocado oil, palm oil, coconut oil, etc.)
AIP OMITS:
All grains
Dairy
Legumes
Eggs
Nuts
Nightshade vegetables (tomatoes, potatoes, eggplant, peppers, etc.)
Refined sugar
Alcohol
Processed oils
FAVORITE AIP RESOURCES:
Other gluten free, anti-inflammatory, whole foods diets that can help autoimmune disease include the Wahl's Protocol for Multiple Sclerosis or the Specific Carbohydrate Diet (SCD) for Crohn's and Ulcerative Colitis.
Caution with Long Term "Healing Diets"!
Nutrient deficiencies and food obsession are real and can have serious negative consequences.
Deficiencies in calories, macronutrients (fat, carbs, protein), and/or micronutrients are VERY common on healing diets. Not to mention the mental/emotional burden of feeling restricted, obsessed with food, or unable to fully participate in family meals or social gatherings.
Because of this, I view autoimmune/healing diets as a worthwhile short term trial to reduce inflammation and help you identify any obvious triggers. After 1-3 months, if you're seeing great results, consider a structured reintroduction of foods to help identify which you can tolerate and which ones you may want to leave out for longer.
If you don't see results after 1-3 months, my advice would be to set the diet aside and resume a more broad and sustainable eating plan that includes mostly whole foods and minimal refined foods. Work to view this not as a "failure" on your part, but as a helpful learning experience that allows you to proceed more confidently with other healing modalities.
Note: This post contains affiliate links. By making purchases through these links, you pay the same amount for products, but a portion of the sale will be sent my way to help with blog expenses. Thanks!
2. Fix Your Gut
We discussed Part 1 how an inflamed and "leaky gut" can allow undigested food proteins and other particles to pass through the gut lining and back into circulation, triggering the immune system to attack and increasing the likelihood that it will eventually start attacking your own body tissues.
Repairing leaky gut and addressing other infections and imbalances in the gut that made it leaky in the first place, is essential to regaining your health with autoimmune disease.
In addition to the relationship of overall gut health and leaky gut to autoimmunity, the following autoimmune conditions have been linked to overgrowth of certain gut microbes. All of the microbes below are tested for on the GI-MAP comprehensive stool test that I (Dena) run for clients.
AUTOIMMUNE CONDITIONS LINKED TO GUT MICROBES (5):
Hashimoto's Thyroiditis: Blastocystis hominis, Yersinia, H.pylori, Epstein Barr Virus (EBV)
Graves' Disease: Yersinia, H.pylori
Rheumatoid Arthritis: Citrobacter, Klebsiella, and Proteus
Psoriatic Arthritis: Citrobacter, Klebsiella, and Proteus
Ankylosing spondylitis: Salmonella, Citrobacter, Klebsiella, Proteus
Inflammatory Bowel Disease (IBD), including Crohn's and Ulcerative Colitis: Cytomegalovirus, Klebsiella
PANDAS (

Pediatric Autoimmune Neuropsychiatric Disorders Associated with Streptococcal Infections

): Streptococcus

Autoimmunity in general: E.coli and Proteus
HOW TO FIX YOUR GUT WITH AUTOIMMUNE DISEASE:
Switch to an anti-inflammatory whole foods diet, ideally one that is gluten free, dairy free, and with minimal sugar intake. (1)
Go a step further and adopt a diet specific for autoimmunity, such as AIP.
Eat in a relaxed environment and chew your food well to stimulate more "digestive juices" (stomach acid, enzymes, etc.) that help your body break down and absorb your food.
Manage your stress since chronic stress decreases digestive juices, giving way to overgrowth of yeast and bacteria. More on stress below.
Optimize your sleep since enough good quality sleep is critical for optimal gut health. More on sleep below.
Get a comprehensive stool test so that specific pathogens, infections, and over-growths can be identified and corrected.

3. Get Proper Sleep + Rest
Sleep and rest are two different things, and both are important for feeling your best with autoimmune disease. Overnight sleep is like a good diet, and daytime naps and rest are like vitamins to supplement your diet.
During overnight sleep, our immune system is actively fighting off infection, lowering inflammation, balancing Th1 and Th2 activity (which is imbalanced in autoimmune disease), and calming our HPA-axis (which helps regulate stress response and is often imbalanced in autoimmune disease). (4) Most people with autoimmunity find they need more sleep than they did before their diagnosis.
Scheduling naps when needed, and carving out time for rest, relaxation, and leisure can also help immensely with fatigue and other autoimmune symptoms, especially if you have a hard time getting enough or good quality sleep overnight. Just be sure your napping doesn't interrupt your overnight sleep.
4. Reduce + Manage Your Stress
Stress is your body's way of responding to any kind of demand or threat, and may play a role in the development of autoimmune disease. This can include physical stresses (i.e., poor blood sugar control, illness, gut dysfunction, etc.) as well as emotional stresses (i.e., trauma, demanding schedules, exciting life events). (3)
Remember that autoimmunity itself is a constant physical stress on the body, so those with autoimmune conditions will need to work harder to reduce stress in other areas of life in order to feel well.
MANAGE STRESS BY:
Saying "no" to unnecessary commitments
Taking "breath breaks" throughout the day – try the 4-7-8 breathing technique to lower stress
Establishing consistent sleep schedule & bedtime routines
Napping when needed

Practicing daily prayer, journaling, meditation, etc.

Setting healthy boundaries in relationships

Exercising, but not too much (more below)

Enjoying hobbies

Eating a nutrient dense diet – our stress response is dependent on nutrients

Balancing blood sugar

Addressing underlying illnesses, gut imbalances, etc. that put stress on the body
5. Support Proper Immune Function
Your body's immune system is a network of cells, tissues, and organs that work together to protect the body. In autoimmune disease, wires have gotten crossed and the immune system attacks its own tissue, thinking it is a foreign invader. Supporting your immune system goes hand in hand with diet, gut health, and stress management since all of these directly impact immune function.
SUPPORT IMMUNE FUNCTION BY:
Eating a nutrient dense, whole foods diet as discussed above.

Improving gut health as discussed above.

Minimizing stress as discussed above.

Getting enough and good quality sleep as discussed above. Remember, you may need more sleep than others and more than you did before your autoimmune diagnosis.

Quitting smoking – Smoking damages immune cells like T lymphocytes which kill virus infected cells.

Practicing good hygiene to avoid contagious illnesses. The number one way to do this is by washing your hands. Avoiding common illnesses is more important for those with autoimmune conditions because it can trigger a flare-up.

If you've done everything else listed here, and still aren't getting the results you want, consider working with a practitioner who can help you explore Th1 vs Th2 dominance and adjust your foods and supplements accordingly.
6. Exercise, but not too much
Remember that exercise is a form of stress on the body, and it's only beneficial if the body is healthy and resilient enough to recover well from it. Some people with autoimmune conditions will only be able to do gentle stretching while others may be able to engage in more vigorous exercise.
Experiment with different forms, frequency, and intensity of exercise to find a routine that adds to your energy and overall feeling of wellness, rather than depleting you. Always listen to your body, and pull back if you see an increase in fatigue or other autoimmune symptoms.

7. Balance Your Hormones
Hormones play a significant role in immune function, and hormone imbalances like those listed below can all increase inflammation and promote autoimmune activity.
Estrogen excess
Low progesterone
Thyroid imbalance
Insulin resistance
Leptin resistance
Cortisol imbalance
Learn more about balancing reproductive hormones naturally here!
If you still have issues, it may be beneficial to work with a licensed practitioner who can help arrange functional medicine testing and create a personalized plan for optimal hormone balance and immune function.
8. Be Open to Medications
Autoimmunity is no joke. The effects of uncontrolled or ongoing flares can cause miserable symptoms, and can take a huge toll on the body. I see many clients who understandably want to "heal autoimmunity naturally." To be honest, I would probably feel the exact same way in their shoes.
And I do think it's reasonable to try to find dietary and natural approaches that help. But if those aren't enough to keep your autoimmune disease under control, adding medications can be a very helpful tool.
The goal is to optimize your food, supplements, and lifestyle so that you need less medication and fewer medical interventions. But when they're needed, they're needed. My experience has been that the best autoimmune management comes with this both-and approach.
9. Set Realistic Expectations + Expect Flares
Living with an autoimmune disease affects every aspect of life – what you used to do and what your body needs now may be very different. It's important to take some time to establish new expectations about your energy levels, your ability to handle stress, how much sleep you need, what you eat, and the other areas discussed above.
Extend love and acceptance to yourself as you find your "new normal", just the same as you would for a friend or a loved one with the same condition.
And remember, everyone with autoimmune disease will experience symptom flares. Some will need medications. Some will need other medical interventions. These aren't a sign of weakness or failure on your part, but are just a part of living with autoimmunity. Take them as a sign to pull back, get some extra rest, and nurture your body. Over time, the more consistently you implement the guidelines discussed above, the less frequent and less severe your flares will likely be.
---
About the co-author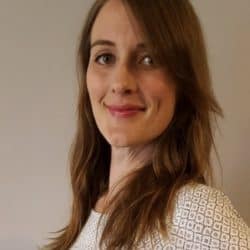 Sarah Kaufman is a Dietetic Intern at the University of Houston. She graduated with a B.S. in Human Nutrition and Dietetics at Metropolitan State University of Denver. Through her own personal struggles with nutrition she developed a passion for helping others find a balanced lifestyle in order to achieve great health.
---
Disclaimer: Information on this site is intended only for informational purposes and is not a substitute for medical advice. Always consult with a trusted healthcare provider before implementing significant dietary change. Read additional disclaimer info here.
References:
1. Aaron Lerner, Yehuda Shoenfeld, Torsten Matthias. Adverse effects of gluten ingestion and advantages of gluten withdrawal in nonceliac autoimmune disease. Nutrition Reviews. https://www.ncbi.nlm.nih.gov/pubmed/29202198
2. Konijeti, G.G., et al. Efficacy of the Autoimmune Protocol Diet for Inflammatory Bowel Disease. https://www.ncbi.nlm.nih.gov/pmc/articles/PMC5647120/
3. Stojanovich L, Marisavljevich D. Stress as a trigger of autoimmune disease. US National Library of Medicine. https://www.ncbi.nlm.nih.gov/pubmed/18190880
4. Nayyab, A., et al. Human immune system during sleep. Am J Clin Exp Immunol. https://www.ncbi.nlm.nih.gov/pmc/articles/PMC5768894/
5. Diagnostic Solutions. The GI MAP Microbial Assay Plus (White Paper). https://www.diagnosticsolutionslab.com/sites/default/files/gi-map-white-paper-01-2018.pdf